Welcome to 2019! I love the beginning of the year because it feels like a fresh start … until the second week of January when I return to all my old bad habits.
At least we can always look forward to new and exciting things happening at Disneyland, and 2019 is going to be a big, BIG year. The BIGGEST since the 60th anniversary, I think.
If you're planning on visiting The Disneyland Resort in 2019, here are all the things you can look forward to!
What's New at Disneyland in 2019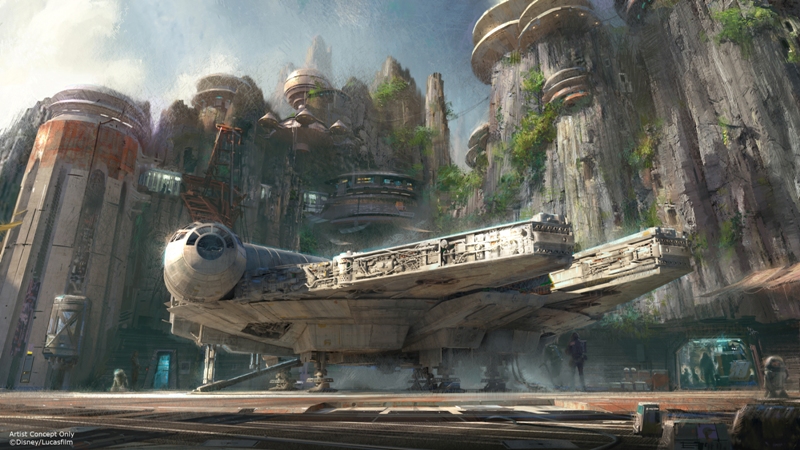 Star Wars Land: Galaxy's Edge
A long time ago …. Star Wars Land was announced for both Disneyland Park and Disney's Hollywood Studios. 2019 seemed so far away back then, but it's finally here! Disneyland's Star Wars Land officially opens in the summer (no exact date yet but the rumor is June).
Star Wars Land will include two new attractions – Millenium Falcon: Smugglers Run and Star Wars: Rise of the Resistance. Guests can also visit Oga's Cantina which will serve blue milk. Star Wars Land promises to be a very immersive experience and I can't wait until opening day (even though lines will be insaaaaaane).
Get Your Ears On
2019 is the year of celebrating Mickey and Minnie's 90th birthdays! Starting in January, you'll see all kinds of limited-time entertainment, decor, and merch. "Mickey's Mix Magic" nighttime projections show will debut January 18, and Mickey's Soundsational Parade returns January 25 with a new float.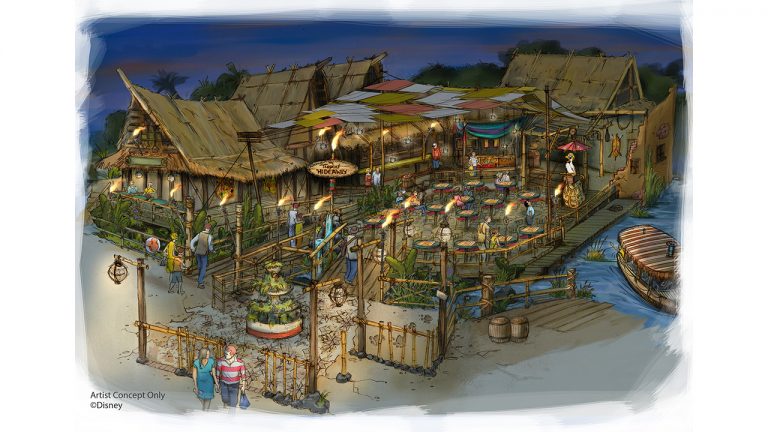 The Tropical Hideaway
You lucky people, you! The Tropical Hideaway technically opened in late 2018 but I'm including it in the 2019 round-up because I'm so excited about it! This new quick-serve dining area is located inside Disneyland park between The Enchanted Tiki Room and Jungle Cruise, in the long-time closed and vacant Aladdin's Oasis spot. At Tropical Hideaway you can order exotic delicacies like Baos, chilled ramen salad, Lumpia, fresh fruit, and Dole Whip. But not just the famous pineapple Dole Whip! Other flavors will be available, such as orange or raspberry (flavors subject to change).
Castle Refurbishment
There's an exterior refurbishment for Sleeping Beauty Castle on the schedule for January 7 through "spring." Permits show they will be doing some repairs to the roof, which was badly damaged in some areas by the Diamond Anniversary overlay. This will be at least a two month refurb, at minimum, which means the castle might be covered in scaffolding or even hidden by a cloth tarp, as they did in preparation for the Diamond Anniversary in early 2015.
Photo from 2015 refurbishment
At this point it's unknown the level of work being done on Sleeping Beauty Castle, but I'll update this article as soon as we know.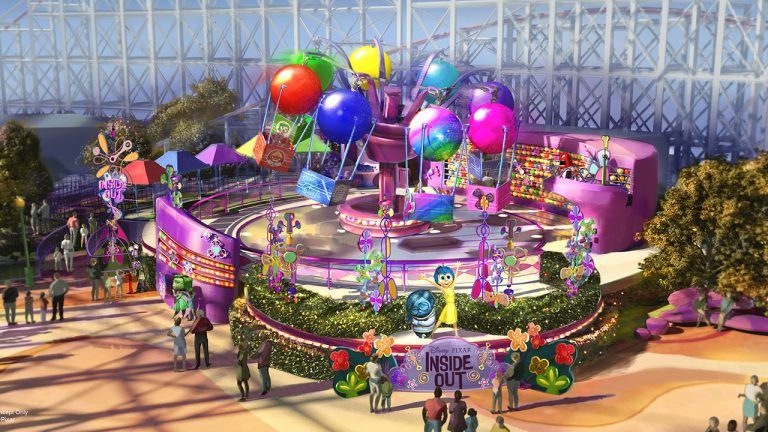 Jessie's Critter Carousel and Inside Out Emotional Whirlwind
The re-theming of Disney California Adventure's Pixar Pier isn't quite done yet! 2019 will bring two new attractions. Jessie's Critter Carousel will replace the former Triton's Carousel adjacent to Toy Story Midway Mania, and Inside Out Emotional Whirlwind (rumored to be a re-themed Flik's Flyers) should appear next to Bing Bong's Sweet Stuff.
Ballast Point and Black Tap Craft Burgers & Beer
The popular San Diego brewing company Ballast Point will open a location in Downtown Disney sometime in 2019. The family-friendly restaurant took over the Build-A-Bear spot across from Uva Bar. The on-site brewery will offer a beer tasting room and outdoor beer garden, as well as salads, small plates, flatbreads, and entrees.
Black Tap Craft Burgers & Beer is also opening in the empty retail spots across from Uva Bar sometime in early 2019. Black Tap offers the aformentioned burgers and beer, as well as their signature CrazyShake™ milkshakes. But the real questions is, can they be made without corn syrup? I won't hold my breath.
What are you most looking forward to at Disneyland in 2019?
The following section contains affiliate links.

Need Disneyland tickets? I recommend booking through my travel partner, Get Away Today! Book a vacation package and use code FAIRYTALE to save an additional $10!