A new Mary Poppins movie … can you imagine that?
You don't have to imagine any longer! We finally have a sequel to Disney's delightful masterpiece, Mary Poppins, and Mary Poppins Returns will soon join the ranks of legendary Disney classics. Overall, I absolutely loved this movie and think it's going to be a huge hit not only at the box office but on the awards circuit as well.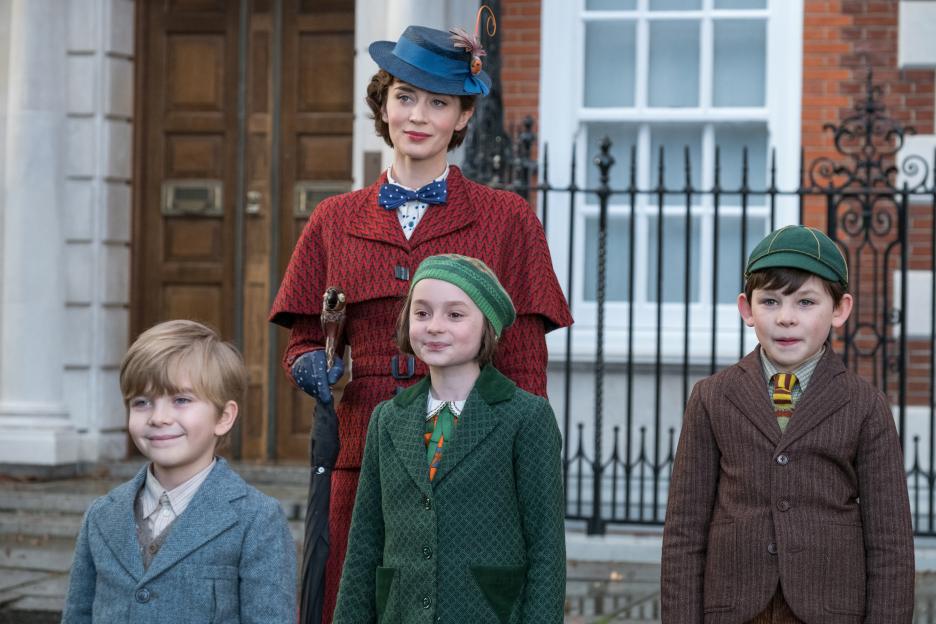 MARY POPPINS RETURNS Movie Review
In Disney's MARY POPPINS RETURNS, an all-new original musical and sequel, Mary Poppins is back to help the next generation of the Banks family find the joy and wonder missing in their lives following a personal loss. Emily Blunt stars as the practically-perfect nanny with unique magical skills who can turn any ordinary task into an unforgettable, fantastic adventure and Lin-Manuel Miranda plays her friend Jack, an optimistic street lamplighter who helps bring light – and life – to the streets of London.
MARY POPPINS RETURNS is directed by Rob Marshall. The screenplay is by David Magee and the screen story is by Magee & Rob Marshall & John DeLuca based upon the Mary Poppins Stories by PL Travers. The producers are John DeLuca, p.g.a., Rob Marshall, p.g.a. and Marc Platt, p.g.a. with Callum McDougall serving as executive producer. The music score is by Marc Shaiman and the film features all new original songs with music by Shaiman and lyrics by Scott Wittman and Shaiman. The film also stars Ben Whishaw as Michael Banks; Emily Mortimer as Jane Banks; Julie Walters as the Banks' housekeeper Ellen; Pixie Davies, Nathanael Saleh and introducing Joel Dawson as the Banks' children, with Colin Firth as Fidelity Fiduciary Bank's William Weatherall Wilkins; and Meryl Streep as Mary's eccentric cousin, Topsy. Angela Lansbury appears as the Balloon Lady, a treasured character from the PL Travers books and Dick Van Dyke is Mr. Dawes, Jr., the retired chairman of the bank now run by Firth's character.
What is it like to watch the story of Mary Poppins back on the big screen? Right away, during the very first frames of the film, my eyes started to fill up with tears as the nostalgia swept through me. From the top all the way through to the final credits, the movie had the same "feel" as the original, and it was as if I was being transported to a familiar place and time. The faces were new (the movie starts with a charming musical number sung by Lin-Manuel Miranda) but you could sense your old friends were waiting in the wings.
So, yes, I loved the movie, but like you I had my concerns about this film. And many of you have expressed your fears with me – that the movie is perfect and doesn't need to be "remade," that no one can play Mary Poppins except for Julie Andrews and how dare they try, and that the Sherman Brothers soundtrack can't be topped.
First of all, it's important to again mention that this NOT a remake. It's a sequel, visiting the Banks family approximately 20 years after the original film. The Mary Poppins books provided a lot of stories to be told, and I'm happy they dove back into the material to bring us a new Mary Poppins movie for a new generation. While the original movie was groundbreaking and still has its charm, you obviously cannot compare the effects to the movie magic that's possible now, and that kids are used to seeing. So while kids might not be very impressed with the "magic" of the first film, there's definitely a lot of seamless magical moments in Mary Poppins Returns.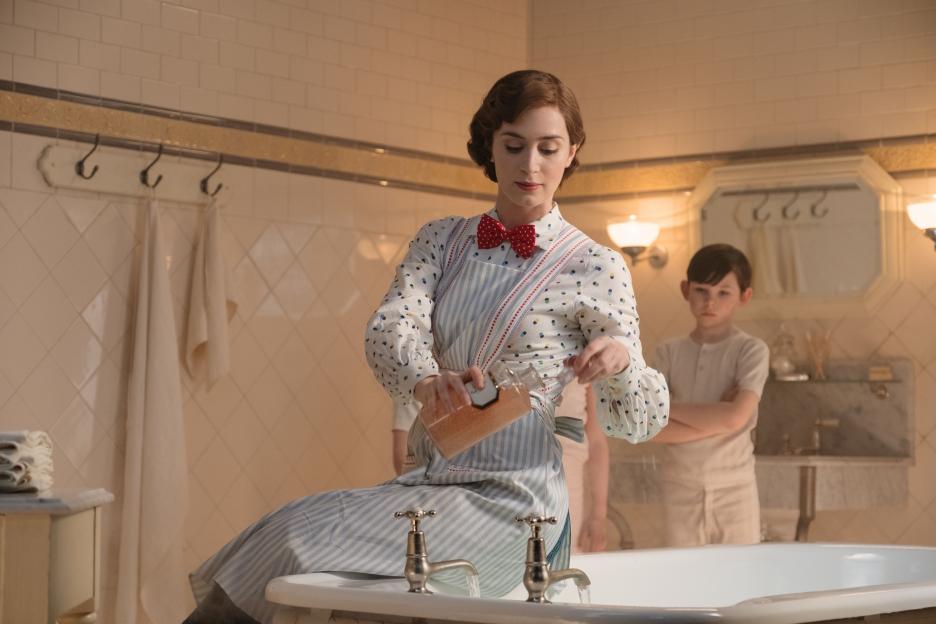 For everyone concerned with Emily's portrayal of Mary Poppins, I'm here to tell you there's nothing to worry about. She is flawless in the role and was able to make it her own, which I'm sure was no easy feat. This is not a copy of Julie Andrew's Mary, but it is Mary none-the-less. The Oscar-buzz Emily is receiving is warranted, and I wouldn't be at all surprised if she walked away with the award next year.
While we're talking about the cast, I loved Lin-Manuel's character of Jack, a lamplighter who remembers Mary and the Banks children from when he was an apprentice with Bert. He has the same child-like playfulness and unending optimism that Bert had, and seeing Lin-Manuel perform on the big screen is just delightful. Equally delightful is seeing Dick Van Dyke "reprise" his role as Mr. Dawes Jr (he played Mr. Dawes Sr in the first film). How lucky are we, the audience, that we get to see this wonderful actor in this role again after over 50 years! It was also heartwarming to see Angela Lansbury singing in a Disney movie again as the "Balloon Lady." (You may remember Angela stared in Bedknobs and Broomsticks, which was very similar to Mary Poppins with its musical mix of live-action and animation.)
As for the music, the brilliant musical team involved found a way to create new, unique pieces for Mary Poppins Returns that are just as fun, catchy, and heartfelt as the original. Everything feels familiar, even though it's all brand new. It's really quite impressive. In the weeks since I first screened the movie, I've had several different songs stuck in my head on rotation, and I'm not at all complaining. The songs are really fun, although my favorite by far is "Trip a Little Light Fantastic," which is this movie's parallel to "Step in Time."
Honesty time – Is Mary Poppins Returns a perfect movie? In my opinion, no. But it's …. Practically Perfect. (Oh yeah, I went there.) The running time of 2 hours and 12 minutes feels a little long; there are a couple musical numbers that didn't really seem to add anything to the plot and I could have done without or could have been trimmed. The story was a little (okay very) predictable and there were a couple plot holes that left me scratching my head.
My extreme pickiness aside, this is a charming, enchanting, feel-good, brilliantly produced movie that I think most people will really enjoy, and is the perfect holiday movie to experience with your family.
One tip – Watch the original Mary Poppins before seeing this one in the theater! There are so many tiny nods (and big nods!) to the original, and I don't want anyone to miss anything.
MARY POPPINS RETURNS is rated PG and is in theaters Wednesday December 19.