This article may contain affiliate links.
With Mary Poppins Returns in theaters this week, it made me think about how Mary Poppins would be a cute wedding theme! I have seen a Mary Poppins baby shower, but I had never seen a Mary Poppins themed wedding until this year's Disney's Fairy Tale Weddings: Holiday Magic TV special.
If you're looking to have a wedding that's Practically Perfect In Every Way, browse through these 6 ideas for a Mary Poppins wedding!
Mary Poppins Wedding Ideas
1. Color Palette – I love using movie posters to put together color palettes (in fact, I have shared a whole series of them called Poster Palettes)! For Mary Poppins, your main colors are going to be red and blue (featured prominently on the United Kingdom flag, of course), as well as accent colors of black and gold.
2. Dress for the Part – I love this wedding style inspiration board from Disneybound!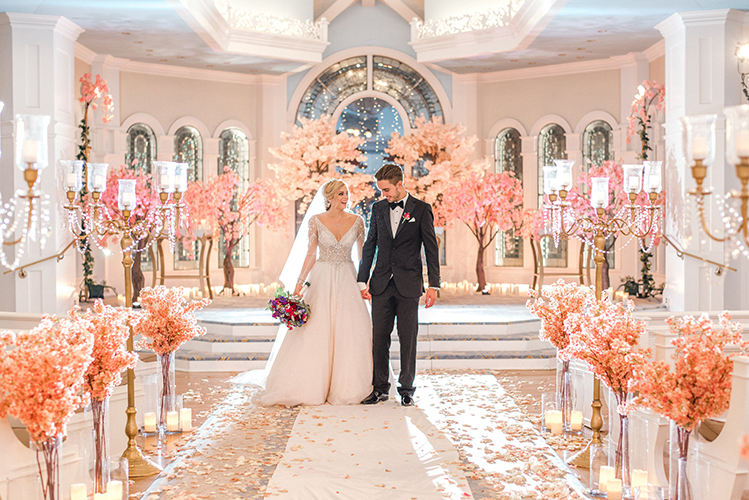 3. Cherry Blossoms – As we saw in the Disney weddings TV special, cherry blossom trees can make gorgeous decor! You can also use fake cherry blossom petals on your tables or along the aisle. So pretty!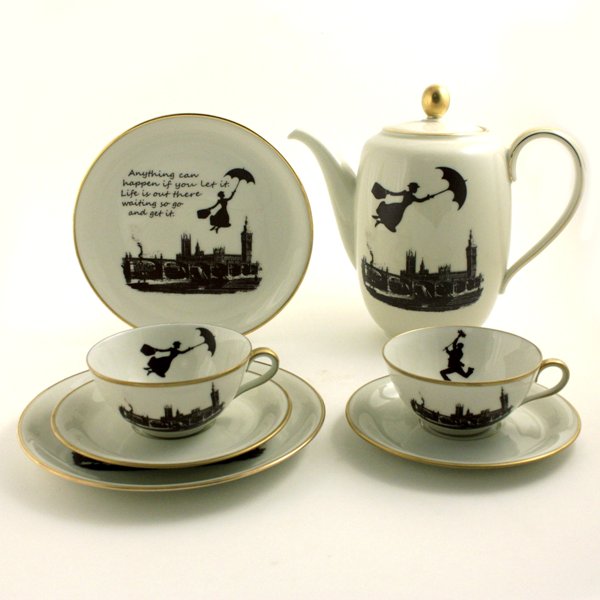 Mary Poppins tea set from morethanporcelain on Etsy
4. Tea Time – We all remember Mary Poppins floating up into the air and serving tea to Uncle Albert. Why not have a tea party at your wedding reception? Or if that's a little too informal for your wedding day, how about a Mary Poppins tea party bridal shower?
Mary Poppins cake from Cottontail Cake Studio
5. A Spoonful of Sugar – A Mary Poppins wedding MUST focus on desserts! How about an epic Mary Poppins themed cake (and don't forget the Mary Poppins cake topper), or a dessert bar featuring bite-size cupcakes and cookies!
Mary Poppins themed cookies by thesweetesttiers on Etsy
6. Umbrellas and Kites – You can incorporate these two iconic Mary Poppins symbols any which way you like! How about invitations in the shape of a kite, or cookies shaped like umbrellas? If you're having an outdoor summer wedding, consider providing parasols for your guests! Or just get a fancy lace parasol for yourself and your bridesmaids for some gorgeous photo ops.
MARY POPPINS RETURNS is rated PG and is in theaters Wednesday December 19.