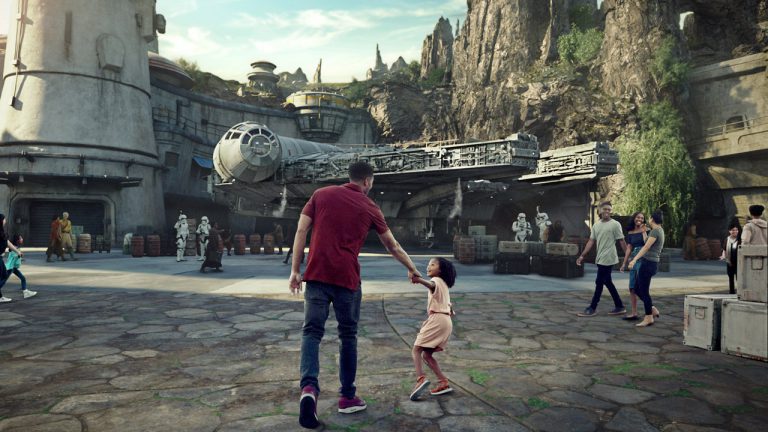 *** Updated March 2019 ***
We have a date! Disneyland's newest land, Star Wars: Galaxy's Edge, will open on May 31, 2019.
The opening date was announced during a public shareholder's meeting. The opening date for Galaxy's Edge at Disney's Hollywood Studios was also announced for August 29, 2019. Both dates are earlier than anticipated.
However, it was announced that Disneyland's GE attraction Rise of the Resistance would not be ready on opening day, and will instead open later in 2019.
Guests interested in visiting Disneyland's Galaxy's Edge when it opens need to be aware of the following information, as stated on the Disney Parks Blog:
Guests planning to visit Star Wars: Galaxy's Edge at Disneyland park in California between May 31 and June 23, 2019 will need valid theme park admission and will be required to make a no-cost reservation, subject to availability, to access the land. Information on how to make a reservation will be available at a later date on Disneyland.com and the Disney Parks Blog. Guests staying at one of the three Disneyland Resort hotels during these dates will receive a designated reservation to access Star Wars: Galaxy's Edge during their stay (one reservation per registered guest); valid theme park admission is required.
What does that mean? For the first three weeks Galaxy's Edge is open, guests will need to make a separate reservation to visit the land. Think of it like a mega-FastPass. I don't think anything like this has been done before at Disneyland so it should be interesting! I am assuming reservations will be available starting at 60 days out, which would be the end of March, but we are all waiting for confirmation from Disneyland.
So here's a recap:
Star Wars: Galaxy's Edge opens on May 31, 2019.
From May 31, 2019 through June 23, 2019, guests will need to make a reservation to access the land, along with their valid theme park admission. More details on this to come.
Rise of the Resistance will open later in 2019. Millennium Falcon: Smuggler's Run is scheduled to be in operation on opening day.
As long as I can get a spot at Oga's Catina, I'm good.
Do you plan on braving the crowds on opening weekend?
*** Updated August 2015 ***
I've just returned home from D23 Expo 2015 and my head is spinning. D23 Expo is always information overload, but for us Disneyland and Star Wars fans, this year was a biggie. The Internet has been abuzz since the Star Wars Land announcement was made on Saturday morning. We have known for a while now that a Star Wars Land, of some sort, was going to come to Disneyland. Over the weekend, Disney made it official – Star Wars Land is coming to Disneyland and Disney's Hollywood Studios. Very little details were announced except for showing some concept art and confirming there will be at least two new attractions. Here's what we know about Star Wars Land coming to Disneyland so far, along with a little personal speculation.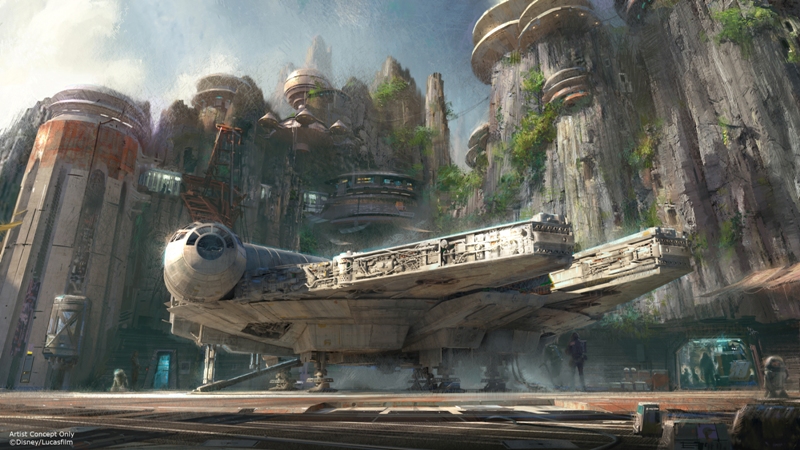 – Star Wars Land will be 14 acres in size and will be the first major single-themed expansion of Disneyland park in its 60 year history. (ToonTown is around half that size.)
– The exact location for Star Wars Land at Disneyland has not been disclosed … or has it? A couple days ago the @DisneylandToday Twitter account responded to a question by saying Star Wars Land would be in the Big Thunder Ranch area inclusive of some backstage locations. Theme Park Insider ran with that tweet and came up with a potential 14 acre map which includes the entire Big Thunder Ranch area, including the petting zoo, the restaurant, and the festival area.
https://twitter.com/DisneylandToday/status/632769115116187648

Image from Theme Park Insider
In addition to the above tweet, @DisneylandToday also shut down rumors that ToonTown would be closing.
https://twitter.com/DisneylandToday/status/630088619265540096
All of this is interesting, and @DisneylandToday is pretty darn official, but I won't 100% believe it until I see it on the Disney Parks Blog.
– An exact date for the construction and opening of Star Wars Land was not announced at D23 Expo. All Imagineer Scott Trowbridge said was, "It'll take time." However, an E! Online article I found states the following:
A Disney rep told E! News that they plan to break ground on the new Star Wars land in Disneyland by the end of 2017.
The same was reported on Bloomberg and, once again, @DisneylandToday.
https://twitter.com/DisneylandToday/status/632955625836777472
I heard on the radio today that construction would start in 2017 and Star Wars Land would open in 2019. I can't find any reliable statement on the Internet for 2019, which honestly seems ambitious if they are not breaking ground until 2017. (Coincidentally or not, 2017 and 2019 would coincide with the next D23 Expos, which are held biannually.)
– Star Wars Land will have two new major attractions, one of them being some type of ride involving the Millennium Falcon.
– Star Wars Land will be a yet-to-be-named new planet in the Star Wars Universe, a planet on the Outer Rim. Star Wars Land Cast Members will all be in costume representative of the Star Wars Universe, so it's safe to assume there will be some humanoids and alien species.
– There will be some kind of Cantina themed restaurant. At the Parks Panel at D23 Expo, Trowbridge asked if we've ever wondered what Blue Milk tastes like, and that their team will be working to bring iconic items like this to life. My only hope is that it's corn syrup free.
– Star Tours appears to be staying where it currently is, in Tomorrowland, and will receive some additional enhancements including a new destination. Star Tours just underwent a major refurbishment and enhancement in 2013.
– While we wait for Star Wars Land to open, Disneyland will now have "Season of the Force," starting in 2016. From the Disney Parks Blog:
Season of the Force, a new seasonal event beginning early 2016, brings new experiences to both Walt Disney World and Disneyland Resorts. In Tomorrowland at Disneyland park, guests will explore the Star Wars galaxy with special entertainment throughout the land, themed food locations and more. Guests also will also climb aboard Hyperspace Mountain, a reimagining of the classic Space Mountain attraction, in which guests will join an X-wing Starfighter battle.
Aside from "early 2016," no time frame has been announced for "Season of the Force," although it would be wise to run it at the same time as the Star Wars Half Marathon weekend in January.
What do you think of the Star Wars Land news released so far? What are your thoughts on losing Big Thunder Ranch? WHAT WILL HAPPEN TO THE GOATS?