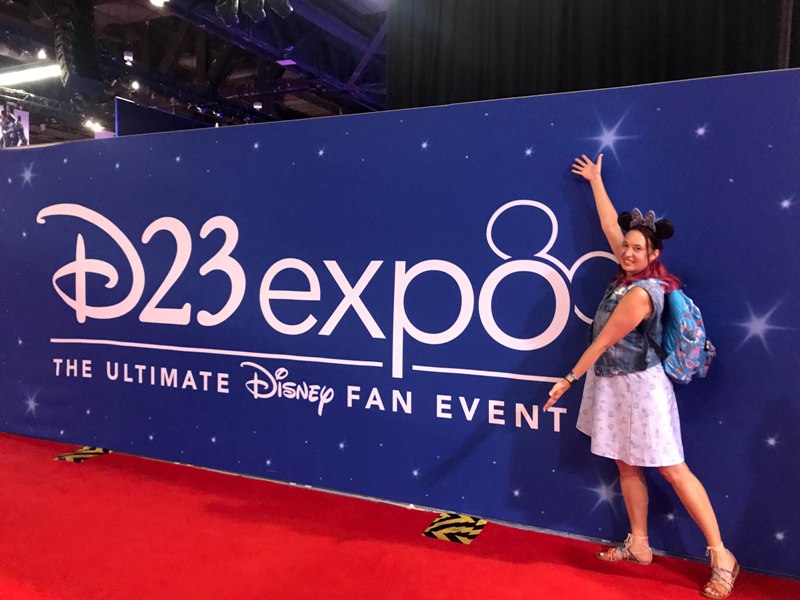 It's August, which means it's D23 Expo month!
D23 Expo is the bi-annual Disney fan convention, held in Anaheim, CA, near Disneyland! This year, the D23 Expo is being held from August 23-25. Three day passes and Saturday passes are sold out, but as of right now Friday and Sunday passes are available! Click here to check availability.
I've attended every single D23 Expo, starting with their first Expo in 2009. It's so cool that we are celebrating a whole decade of D23 Expo!
Another reason to celebrate – I was provided with a media pass this year! The last time I was approved for a media pass was D23 Expo 2011, when there were hardly any Disney blogs out there … haha. I'm honored that I was selected for a media pass this year, and I'm hoping that means I'll be able to bring you MORE coverage and information while the Expo is happening!
I'm starting to review the D23 Expo 2019 schedule and getting pumped for all the amazing things in store at the Expo this year, so I thought I'd start keeping a list. I'm sharing this list in case anyone else is going and is trying to plan out their weekend!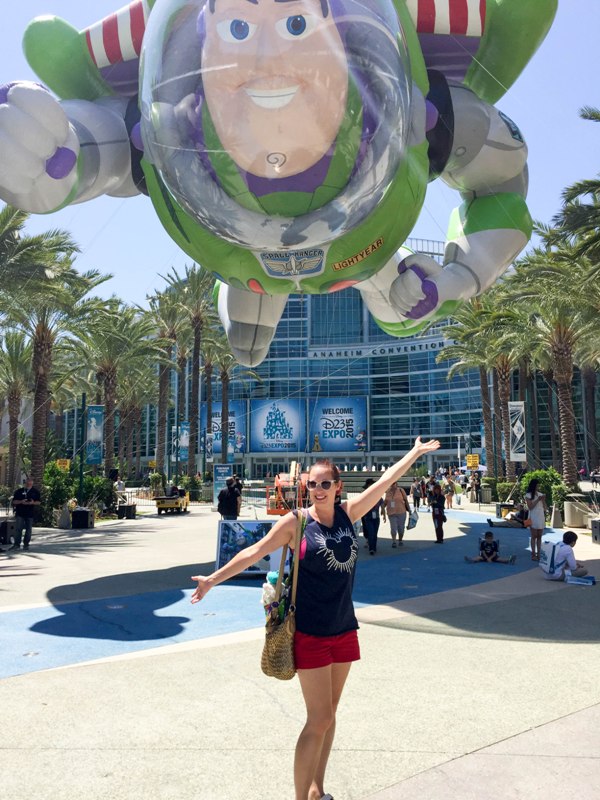 23 Things I'm Looking Forward to at D23 Expo 2019
1. Go Behind the Scenes with The Walt Disney Studios panel. Taking place Saturday morning at Hall D23, this is one of the most popular panels the entire weekend, and I'm excited to be covering it as media! This is the panel where they talk about all the upcoming movie releases, and I just know they are going to talk about live-action MULAN and STAR WARS: THE RISE OF SKYWALKER. Eep!! I wonder if we will be the first to see a new STAR WARS trailer?!!?!? I'm crying already. (Saturday 10am Hall D23)
2. The cosplay! There's so much amazing cosplay at D23 Expo, even without going inside the actual convention hall! People really put together some clever outfits. Here's an article highlight some fun costumes from a past D23 Expo.
3. Walt Disney Archives Exhibit. Open all weekend, the Archives exhibit is a must-see. It's a collection of rare items and pieces of Disney history that most people don't get to see in person! This year the theme is "Walt Disney Archives Presents Heroes and Villains: The Art of the Disney Costume" and I can't wait to see everything on display!
4. Celebrity Sightings! One time I was sitting in the Hilton lounge, having a glass of wine, and Dick Van Dyke walked right by me. So that was cool.
5. Swaaaaaag! Start weight training now, because the amount of swag (fun freebies) given out at D23 is insane!
6. Disney Parks panel. This is the spot to learn about everything new and exciting coming to the Disney Parks around the world! I'm sure there will be some chatter about the new Marvel Land at Disney California Adventure, as well the EPCOT re-imagining already underway. (Sunday 10:30am Hall D23)
7. The shopping. The pop-up stores are back! Find exclusive items and collectibles at Disney DreamStore, Mickey's of Glendale, The Disney Store shopping areas all weekend.
8. Disney on Broadway in Concert. A chance to see some broadway stars in person! Can't wait for this concert! (Saturday 3:30pm Hall D23)
9. Disney + Showcase. Disney + is the NEXT BIG THING in TV! I'm so excited to hear the announcements this panel has in store for us. (Friday 3:30pm Hall D23)
10. Mousequerade. A fashion show like no other! And this year, the Mousequerade is presented by my friends at Raw Threads! (Friday 11am Stage 28)
11. STAR WARS! Aside from the Disney Studios panel, there are a couple panels celebrating Star Wars: Galaxy's Edge, and there will an entire Lucasfilm pavilion on the show floor this year!
12. Art. Between the official Disney displays and the artists area, there is so much gorgeous Disney art to admire!
13. Disney Legends ceremony. Ahhhh this is the big one! See Wing Chao, Robert Downey Jr., Jon Favreau, James Earl Jones, Bette Midler, Kenny Ortega, Barnette Ricci, Robin Roberts, Diane Sawyer, Ming-Na Wen, and Hans Zimmer inducted into the Disney Legends! (Friday 10:30am Hall D23)
14. Marvel. Aside from the Disney Studios panel, there are some separate Marvel panels, and I'm sure Marvel will be well represented on the show floor!
15. Imagineering Conversations. Check out the Archives Stage schedule for several conversations with legendary imagineers! (Various times and locations)
16. Premieres. D23 Expo attendees will be the first to screen High School Musical: The Musical: The Series, Mixed-ish, and a new animated film Short Circuit! (Various times and locations)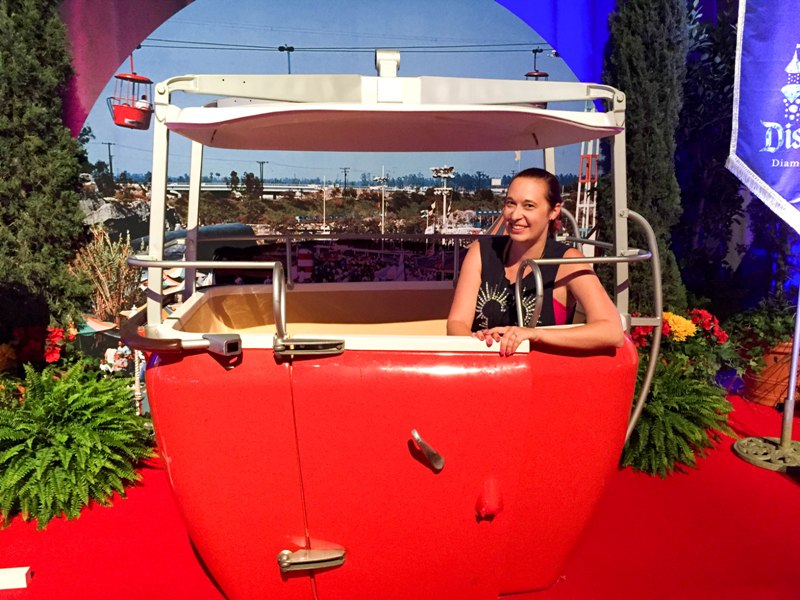 17. Photo ops. What's a Disney event without the 'grammable photos? There will be PLENTY of photo spots on the floor at D23 Expo!
18. Haunted Mansion 50th Anniversary. Haunted Mansion is a beloved classic attraction, and since it's celebrating a milestone anniversary this year there will be lots of Mansion love at the Expo this year, including two panels on the Archive state on Saturday.
19. Disneyland '59: Matterhorn, the Monorail, and Submarine Voyage. As a Disneyland gal, I can't wait to see who is speaking at this panel! (Sunday 5:30pm Archives)
20. Power Up Your Brain with Keegan-Michael Key. I don't know much about this but I LOVE LOVE LOVE Keegan-Michael Key (Toy Story 4, The Lion King) so this is a must see for me. (Sunday 12:30pm Arena)
21. Secret Walt Disney Company Project. ??? What is this? It's a mystery! This panel is scheduled for Saturday 8/24 but will be announced 8/22. Oh, the suspense! (Saturday 1:30pm Stage 28)
22. … This Simpsons? Yes, since Disney purchased Fox, The Simpsons are officially part of the Disney universe, and they are getting their own panel at D23 Expo! (Saturday 10am Arena)
23. Hanging out with friends! The best part about D23 Expo is getting to meet up with blogger & Instagram friends from all around the country! I have a bunch of friends coming to town and I can't wait to spend time with them.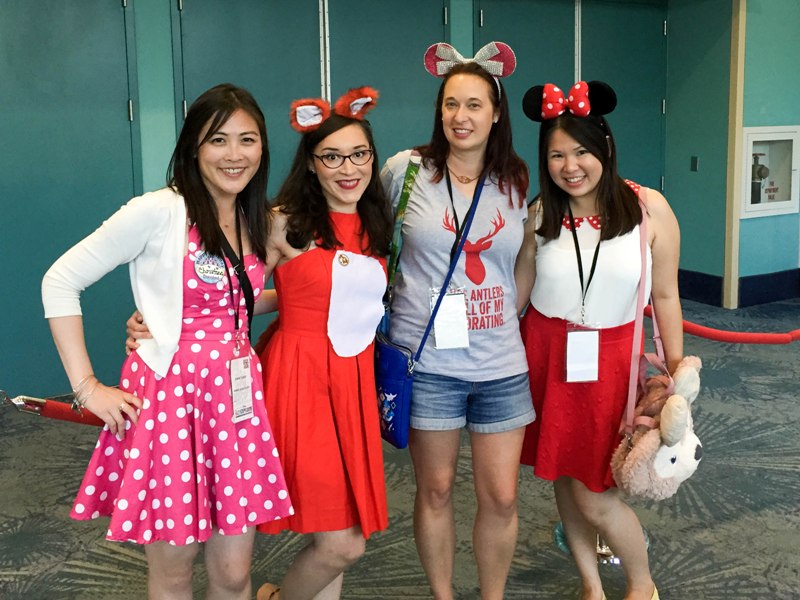 What are you looking forward to at D23 Expo?