Here it is, my first official NWR (Non-Wedding Related) blog post!  As any good Disney fan knows, this past weekend was the D23 Expo at the Anaheim Convention Center.  At the risk of sound blasphemous, I'll go ahead and say it: I went to the first Expo in 2009 and I didn't enjoy it.  I went for all three days and was a little bored by the vendors, and a little annoyed at the disorganization and long lines for the presentations.  Also a bit dismaying was the fact that thanks to social media, everything that was announced at the Expo was plastered all over the internet within seconds, making me feel, well, less special.  And we all want to be special, right?
I wasn't planning on going this year.  But as the Expo neared, I felt it calling to me.  "Miiiiiiiindyyyyy, it's your pal, Diiiiiiisney.  You love me soooo muuuuuuch.  You know you want to beeeeeee with meeeeeeeee."
So I bought a ticket for Sunday.  And I went.  And, I was disappointed, again.  But I had much more fun this year than I did in 2009.  Why?  Because of the people I went with. I met up with four other Disneyland Brides, past and future, and had a blast!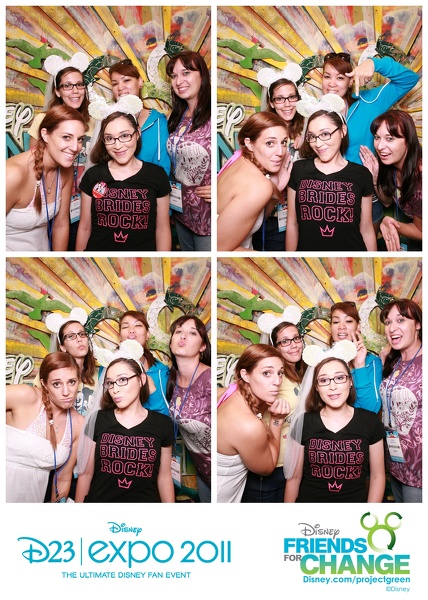 (We spent a lot of time at this photo booth.)
I had limited time on Sunday so I didn't go to any of the panels or presentations, but here is a picture recap of things I found interesting. I forgot my camera so all I have are lousy iPhone photos.  Regardless, I hope you enjoy!
I love cupcakes and anything shiny, so I was immediately drawn to these giant cupcake balloons at the Disney Living booth.
I think this display is supposed to be for a kid's party but I kinda want it for my wedding. That Cinderella is made of cake!  NOMS!
Pretty art.
I love watching artists work.
More Cinderella art.
Miniature model of Fantasyland, complete with itty bitty Partners statue.
My favorite ride!
A couple of the attraction vehicles for the new Cars Land were on display.  The top one is for Radiator Springs Racers and the bottom one is for Mater's Junkyard Jamboree.
I am a closet Mater fan … don't tell anybody.
I managed to snag myself a cupcake from the Disney Living booth!
HOW ADORABLE is this couple dressed as WALL-E and Eve?!?!?!?  And he even has the lunch box.  Dying!
One of the major highlights of this trip was seeing a TON of Mulan merchandise!  Normally my girl Mulan gets the short end of the bo staff, but this year saw the debut of several matching items featuring 10 of the Disney Princess!
(Pictures courtesy of @DisneyStore on Twitter)
The dolls were just for display.  One doll will be released for sale at the Disney Store each week for 10 weeks starting with Cinderella today. I can't wait to get my hands on a Mulan doll!
They also had mugs, but by the time I got inside the store after waiting in line, they were gone!  🙁  But don't worry, I still managed to drop a ton of money on some other things!
Princess lip gloss (Mulan is in the middle); Mulan journal with matching pen; Princess nail polish.
At the end of the day, one of my friends surprised us all with a Minnie plush!  Made exclusively for D23!  I love these colors!
We ended the day back at my friend's Disneyland Hotel room watching the fireworks.  So even though the Expo itself was a let down, it was still a perfect day!