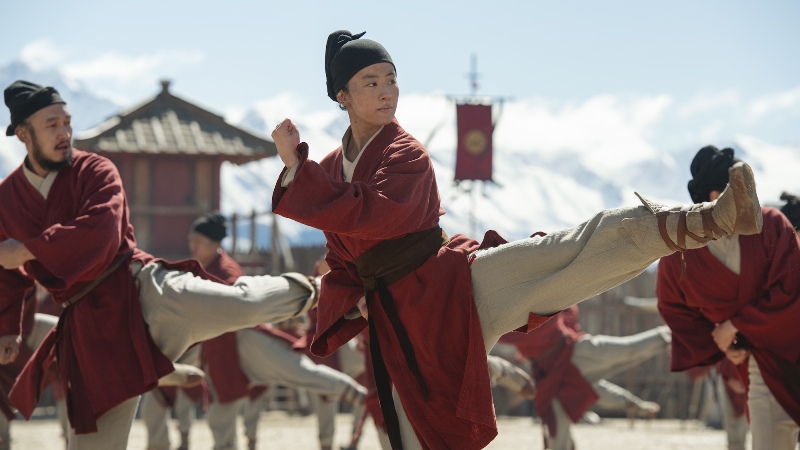 Loyal, brave, and true. The live action Mulan from Walt Disney Studios is now available to stream at home! I watched it on opening day, and I'm here to share what I loved about the new movie. Also, keep reading to find out how you can print some free Mulan activities at home!
After months of waiting, the live action retelling of Mulan is finally available to watch on Disney+!
If you're a long-time reader here, you know Mulan is my favorite Disney movie. I absolutely connected to the story of Mulan when I first saw the movie at 18 years old. Just a girl trying to find her place in society and figuring it all out.
So when Disney announced Mulan was being retold as a live action film, I was thrilled. Excited to see my girl up on the big screen again.
And then, Covid.
Due to the Covid-19 pandemic, Mulan's March 2020 release date was pushed …. and pushed … and pushed. By summer it was clear movie theaters in the US were not going to return to "normal" anytime soon, and Disney decided to release Mulan on Disney Plus through "Premier Access," where subscribers to the streaming system could pay an extra $29.99 for access to the film.
Which I happily paid, of course. Because, Mulan.
While watching the movie alone in my living room was not how I planned on seeing live action Mulan, I still happy sobbed when the Walt Disney Studios logo popped up, because I was just so happy to be watching a new Disney movie after so many months of isolation.
Overall, I really enjoyed this retelling of Mulan, and it has become my favorite live action Disney remake to date. Viewers should be aware that this new version is very different from the animated classic – no singing, no Mushu, not much comic relief. It's a much darker film, with new characters and black magic. Still, the heart and lessons from the original shine through in the new film.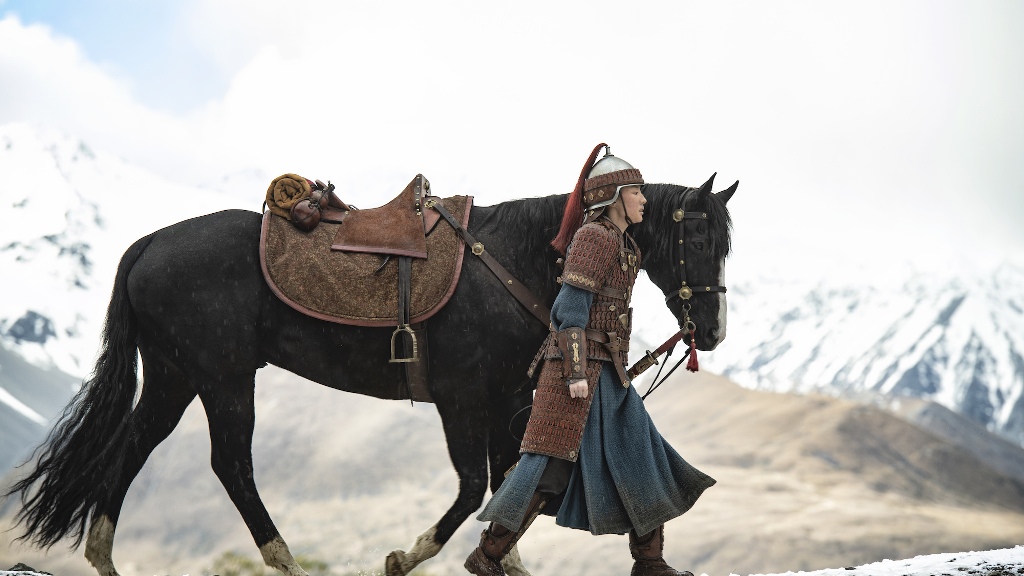 One of the underlying themes of the live action Mulan is ch'i, a term for "life force" or "energy flow." As a young girl, it is clear Mulan has strong ch'i. However, since she is female, she is taught to suppress her ch'i. Once Mulan is training for battle, she discovers her strong ch'i gives her an advantage and she learns to harness it instead of squashing it.
I feel like so many of us go through life ignoring parts of our true selves because society frowns upon it. We might recognize this struggle from the song "Reflection" … "when will my reflection show who I am inside?" Both versions of Mulan remind us that it's okay to be our true selves.
Someday I hope I get the opportunity to view this beautiful film on the big screen. For now, during "these crazy times," I'm quite happy watching Mulan in my living room.
And if you need a little more Mulan in your life, I highly recommend printing out this Mulan Activity Packet, great for kiddos and adults alike!
Disney's Mulan is rated PG-13 and is available on Disney Plus Premier Access for $29.99 until December 4, 2020. Starting December 4, 2020, Mulan will be available to all Disney Plus subscribers.
Shop Mulan Favorites: