As you know, we are in the middle of the global coronavirus pandemic, which is disrupting our society and our normal way of life. Unfortunately, the pandemic is also affecting weddings and may be affecting your plans for a Disney wedding.
While there is no way we can predict the future, as we are all experiencing a unique situation for our lifetimes, this article will share my opinions and predictions on potential timelines, options, and suggestions regarding wedding planning in the year 2020.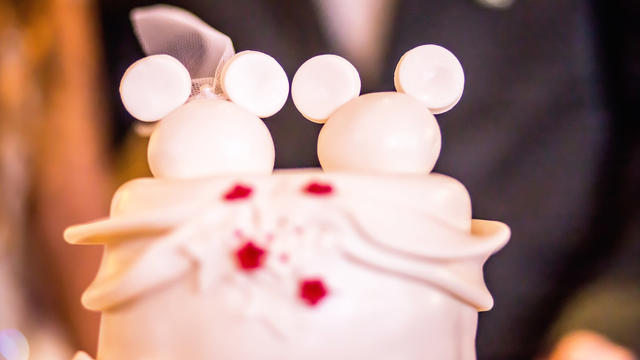 © Disney
No doubt these are extraordinary times, and my heart goes out to any couple who had or has a wedding planned during this crisis. While we do not have control over the virus and its spread, we do have control over how we react to it. I want to commend everyone who has been taking the coronavirus seriously by social distancing, staying at home, washing their hands, and wearing masks. I also want to give a heartfelt thank you to our essential workers. Thank you for putting yourselves at risk so the rest of the country can stay safe at home.
With so much heartbreak around us, a wedding may seem like a trivial event. But I realize planning a wedding is a huge undertaking, and I imagine it's stressful watching all those plans fall about. If you have a wedding coming up and are stuck on what to do next, I hope the information in this article helps you out. Feel free to also send this to any friends or family members who may also need guidance!
Coronavirus and Your Disney Wedding
Overall Thoughts about Disney Weddings in 2020 and 2021
Disney weddings are unique in the fact that they are connected to a theme park, and all of the complications that come with operating a theme park during these uncertain times.
There is talk that large gatherings should be avoided until we have a vaccine for COVID-19, or there is herd immunity. However, with everyone sheltering in place, and with COVID-19 being such a terrible and deadly virus, herd immunity is not likely and certainly not recommended by medical experts.
While it is possible theme parks may be exempt from the "large gatherings" category, which generally applies to sports events or concerts where thousands of people are packed into a confined area, the Disney Parks still welcome tens of thousands of guests and thousands of Cast Members every day. Even when the parks and resorts reopen with requirements such as temperature readings and face masks, many people may not want to visit such a crowded area until the threat of the virus has subsided.
While Walt Disney World reopened in July 2020, my gut feeling is that The Disneyland Resort is not going to reopen until Spring 2021. I hope I'm wrong about this, but as of right now it simply does not seem feasible to operate the parks and resorts even at a reduced level until our country has widespread testing and/or a vaccine available, and I do not see that happening for several months. Considering Disney Cast Members have been furloughed indefinitely, which includes many members of the Disney's Fairy Tale Weddings, Events, and Catering teams, and 28,000 Cast Members are now laid off, I do not think Disneyland plans to reopen their parks and resorts any time soon.
This prediction may sound shocking to some of you, and it is not my intention to cause panic. I am simply looking at the situation and being real about it. The truth is, our country is a long way from containing the virus, despite some pleas to "reopen the economy." Reopening before our country is ready with adequate testing and treatments has already had deadly results. I think we can all agree no theme park or wedding is worth it.
While I want to return to Disneyland as soon as I possibly can, I also want my friends and family to stay healthy and safe. We are in this situation for the long haul, and any kind of gathering – including weddings – is not a good idea right now, even if the Disney Parks reopen tomorrow.
Wedding Factors to Consider
Weddings are unique and there are many factors to consider when deciding whether to go forward, or postpone or cancel a wedding. These include:
Amount of Travel
Guest Count
Guest Ages
Financial Situation
Amount of Travel
Does your wedding require air travel? Most Disney weddings are considered "destination weddings" and require flights. During this pandemic, non-essential travel is not recommended, as being in close proximity with other people can increase the chance of contracting the virus. If you or many of your guests have to travel via airplane, postponing the wedding until after a vaccine is available is a smart idea.
Guest Count
How many guests are attending your wedding? As long as the Disney Resorts have reopened, it may be easier to go forward with a small wedding where guests are mostly family and close friends. Postponing or canceling a small wedding will also be easier, as these guests are likely very close to you and will understand your decision.
Weddings with larger guest counts often come with more complications. You likely have more vendors, have paid more in deposits, and have more guests who need to travel. Because of this, it's better for everyone involved to make a decision to postpone or cancel as early as possible, verses having a "wait and see" attitude.
Guest Ages
Another very important factor to consider is how many of your guests are elderly or have health complications, as these are the most vulnerable members of our society. If it's important to have your grandparents attend your wedding in person and not watch via livestream, for their sake you should postpone.
Financial Situation
An unfortunate side effect of this pandemic is the financial aspect. Many people have lost jobs, been furloughed, etc, which means money could be tight for a long while. Even once treatment and vaccines for the coronavirus are widely available, some guests may not be able to afford to travel to your wedding.
Or it's possible you and your partner, or your families, may be in a financial bind due to this crisis and may not be able to go forward with the wedding you had planned. This is the reality for many, many people right now.
I always say, weddings are not worth going into debt over, and that goes for guests attending weddings at well. These are unusual times and it's unfortunate so many people are affected, either with their health or with their financial situation. But, we are all in this bad situation together, and we will get through it together, and things – eventually – will return to normal.
For Weddings Planned at Disney Resorts in the United States from Fall 2020 through 2021
As of October 2020, weddings have resumed at Walt Disney World with a laundry list of restrictions. A few of the restrictions include (but are not limited to):
Maximum guest count until January 2021: 50 people, including the couple.
Only 50% of max capacity allowed at each venue.
A complete list of guests and outside vendors, including email addresses, must be provided 60 days out.
All guests have to sign a COVID-19 liability waiver.
Wedding parties are limited to 6 total attendants.
Reception seating groups may be no larger than 10 guests and must be from the same household.
In-park events require temperature checks
Everyone seated at the ceremony must wear a mask. Officiant must wear a mask. The couple does not have to wear masks.
Guests must wear masks when taking photos. Guests can only remove masks when sitting down and eating.
DIY items, programs, favors, and guest books are prohibited. Guests are not permitted to bring physical gifts or cards.
No staged exits.
Alcohol may be served but no in-person bar. No cash bar allowed.
Dance floors will have markings on them to separate parties; you can only dance with people in your household.
Characters can potentially make an appearance from a distance but no "meet and greet" with the couple or guests.
No bouquet toss garter toss.
For further information, check with your DFTW planner or read their guidelines.
Disneyland Parks are expected to reopen in the spring with modifications and reduced capacity. The current estimate is late April 2021. Nobody can predict when weddings will start happening again at The Disneyland Resort. Right now all events before October 2021 are being rescheduled. However, when weddings do resume, you can expect the restrictions will be similar to Walt Disney World's guidelines.
For Weddings Planned for Disney's Aulani Resort, Disney Cruise Line or International Disney Resorts
Disney's Aulani Resort and Spa reopened on November 1, 2020, and resumed weddings. I do not have any details on their restrictions but I again would assume they will be similar to Walt Disney World's guidelines.
For weddings at Disney's Aulani Resort and Spa, which will likely be a destination wedding involving air travel for all of your guests, I would recommend postponing until late 2021 or 2022.
The cruising industry remains on hold. For weddings on board the Disney Cruise Line, I would talk with your guests and find out their comfort level with going on a cruise. The safest option is to postpone until late 2021 or 2022.
For weddings at International Disney Resorts, you will have to keep an eye on the progress of each location/country. However, again, if air travel is involved for the majority of your guests, your safest option is to postpone until late 2021 or 2022.
What to Expect from Your Wedding Vendors
If your wedding is coming up soon, you likely already hired all of your wedding vendors and paid a deposit.
This is a tough situation, because most wedding vendors likely have a "no refunds" policy on their deposits. Your vendors may be willing to work with you to postpone your event so you don't lose your deposit. Keep in mind your vendors may be working to reschedule many couples at once, so be patient and understand you may not be able to settle on a new date with all of your current vendors.
If you are planning on postponing your wedding and are in a financial position to do so, it would be a nice gesture to offer to pay your vendor in full now so they can continue to pay their bills.
But if you need to cancel all together, you will need to discuss this with all your vendors and don't be surprised if they cannot offer you a refund on your deposit. Most people in the wedding industry work "paycheck to paycheck" and that deposit has likely already been spent.
Like most of us, wedding vendors have been hit hard financially by this crisis. Remember compassion on all sides goes a long way.
What to Do if You Are Just Starting to Plan a Disney Wedding
If you are just starting to plan a wedding for 12-18 months out, I would continue as normal for now! You have a lot of time to see how the progress of the vaccine or herd immunity is developing, and can postpone as you get closer to your chosen date if need be.
If you are just starting to plan and haven't picked a date yet, I would look ahead to 2022 as your safest option.
I hope the advice in this article helped provide you with some clarity. The important thing to remember is, a marriage is different from a wedding. You can celebrate your wedding at any time, in any way. If you need to get married now and celebrate the wedding later, do it. It may not be the day you have been dreaming of, but life tends to throw us curve balls and we can choose to make the best of it. When this crazy time is in the rear view mirror, think of the crazy wedding stories you'll be able to tell future generations.
For now, stay inside, wash your hands, and keep yourself safe and healthy. The wedding can wait!
Originally published in April 2020 and has been updated.