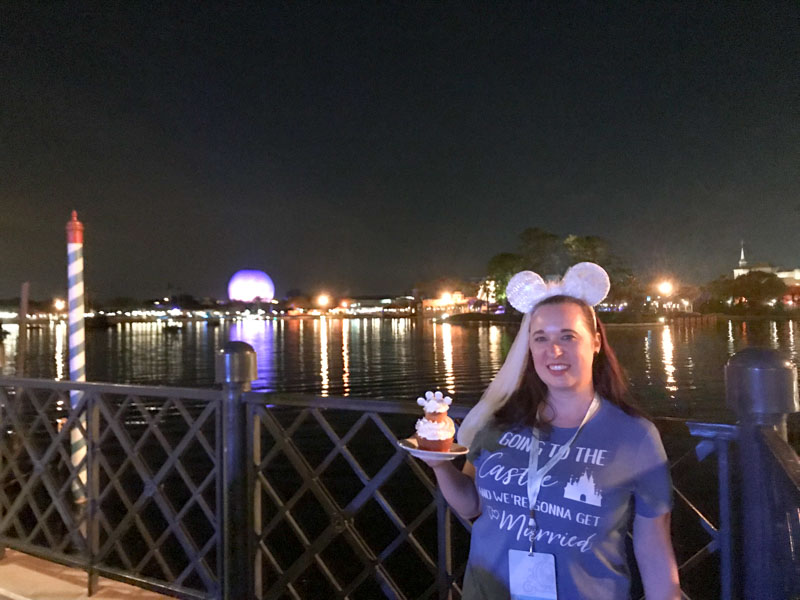 Back in March I attended the Walt Disney World wedding showcase, my first DFTW showcase on the East coast! I wasn't planning on attending until I realized the showcase was happening one week after the RunDisney Princess races. So I decided to extend my vacation and have one big Walt Disney World action-packed trip!
Like everything in Walt Disney World, the weddings showcase was much bigger and overwhelming than I expected. But I had a great time (despite being super sick and hopped up on Dayquil and Sudafed). There was so much to experience over the four hour showcase, plus dessert party later in the day. So I'll break this recap into sections!
And if you want a super professional view of the showcase, here's Disney's video:
Just one quick fun moment before I dive in … I wore my
"Going to the Castle" shirt
and actually saw another guest WEARING MY SHIRT! I went up to her and said "Oh my gosh, you're wearing my shirt!" and she said "Oh yeah, cool!" and I yelled "NO YOU DON'T UNDERSTAND, I
designed
this shirt. It's my shirt." That poor girl, I'm so sorry I yelled at you. (But thank you for buying my shirt!)
2019 Walt Disney World Wedding Showcase Recap
The Expo
The expo portion of the showcase took place in the newly renovated convention center of Disney's Yacht and Beach Club Resort hotels. This is the same convention center where I attended Disney Social Media Celebration a few years back so it was nice to return!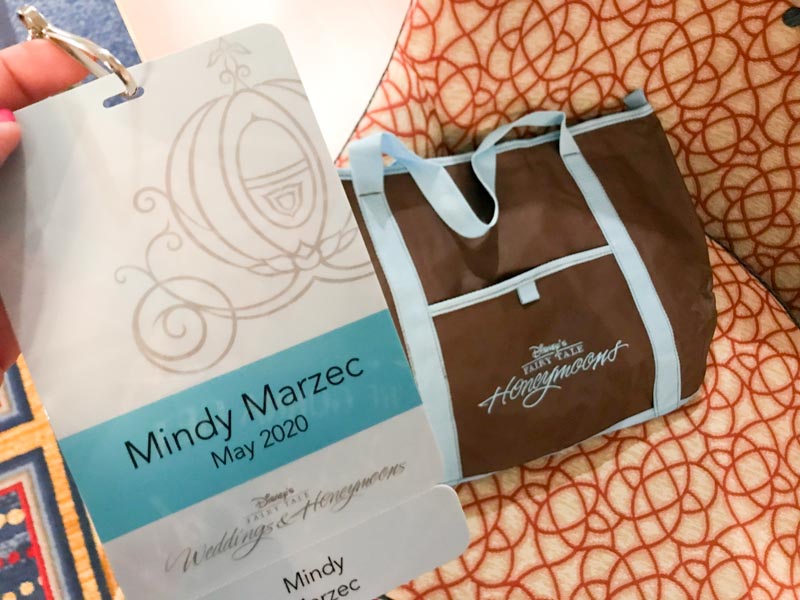 After checking in and receiving my credentials (no, I am not having a Vow Renewal in May 2020; you were required to give them an event date), I wandered around the foyer where a few exhibits were set up. MAC was doing mini makeup applications and Senses spa (at Disney's Grand Floridian Hotel and Spa) were offering massages. Lines were long were both so I skipped them. (I also apparently skipped pictures of this area!)
I arrived at the expo towards the start of the showcase and, holy wow, it was packed! Every section had very long line, including the food! It was tough to even figure out what was on display or being offered. I did a lap, but decided to go out for the self-guided venue tour and then return to the expo for the last hour of the showcase. When I came back, the crowds had diminished significantly and I was able to try some food and take better pictures.
Decor
DFTW had some gorgeous tablescapes on display, themed after different Disney movies. My favorite was the Fox and the Hound table!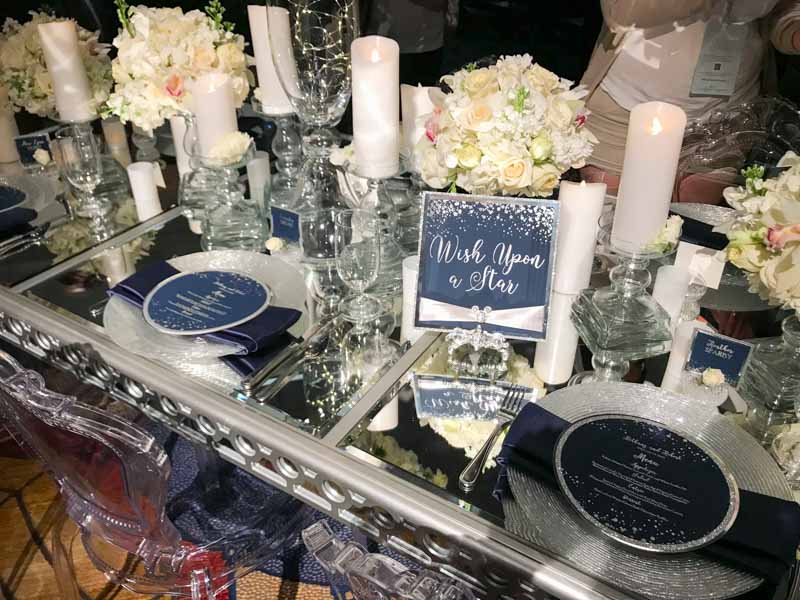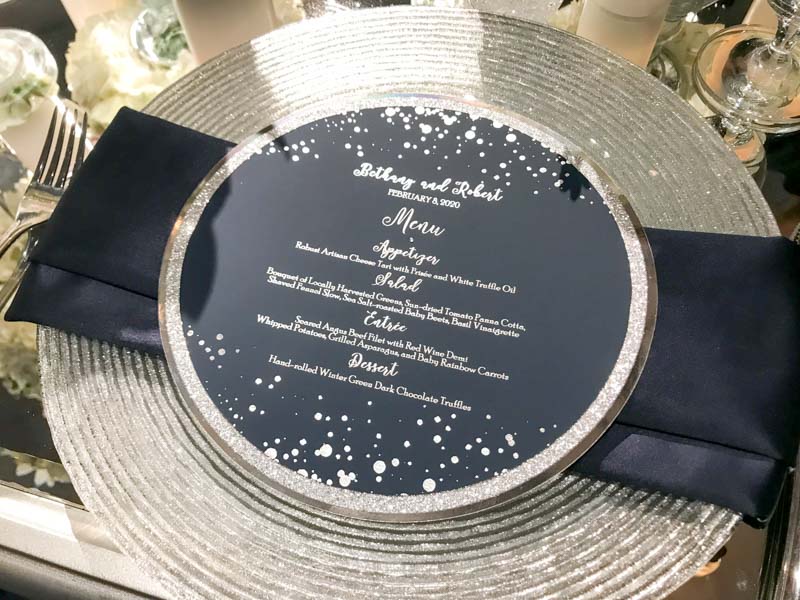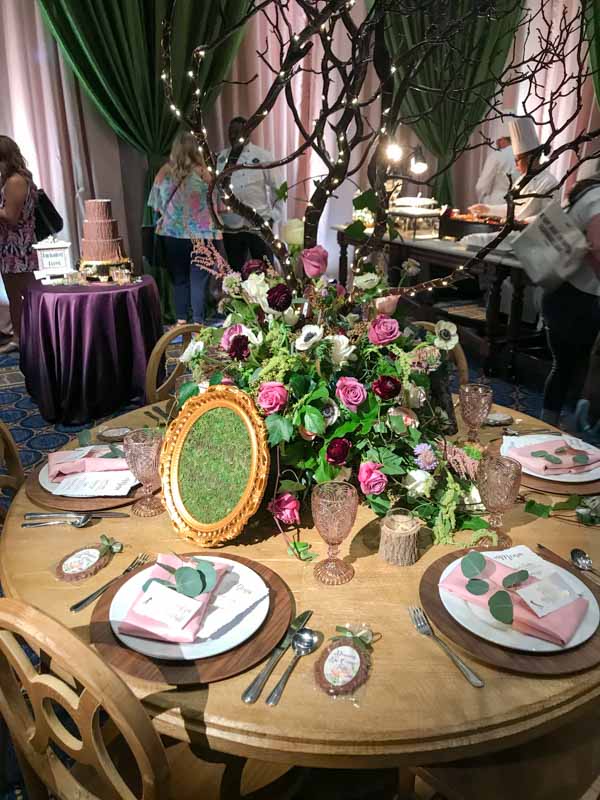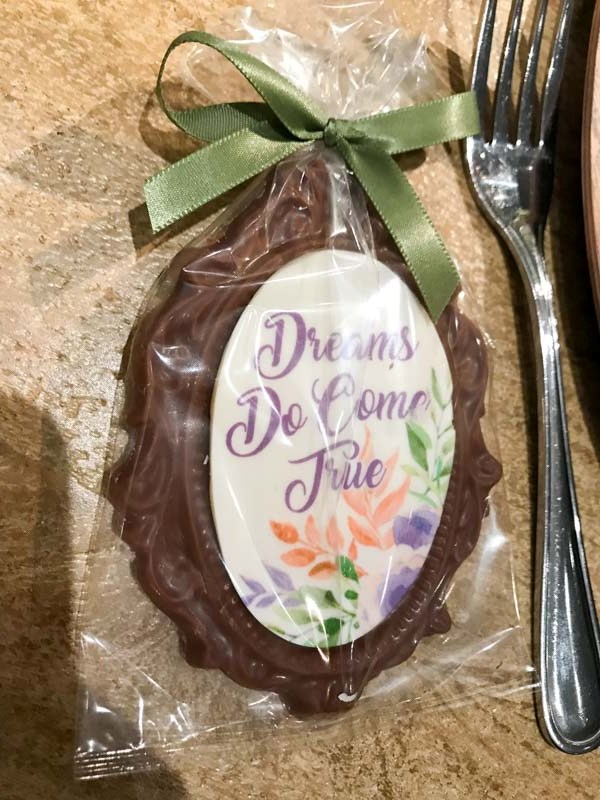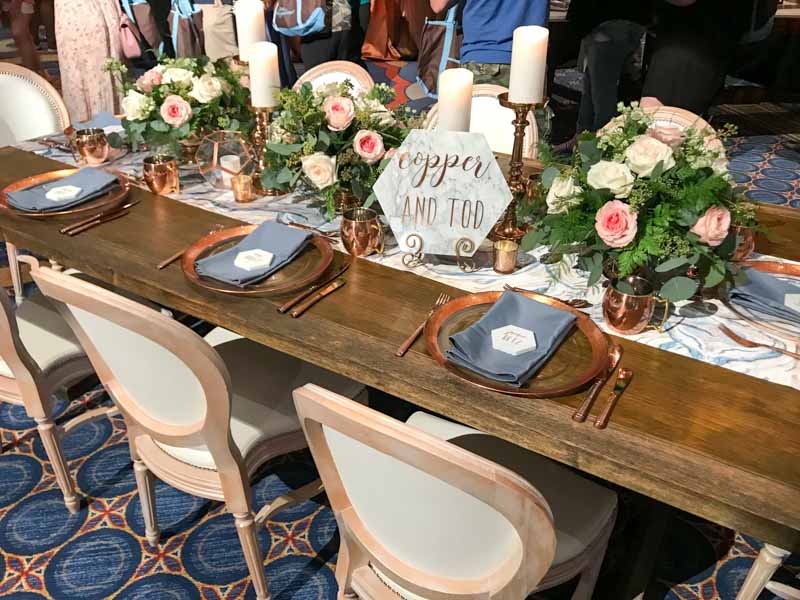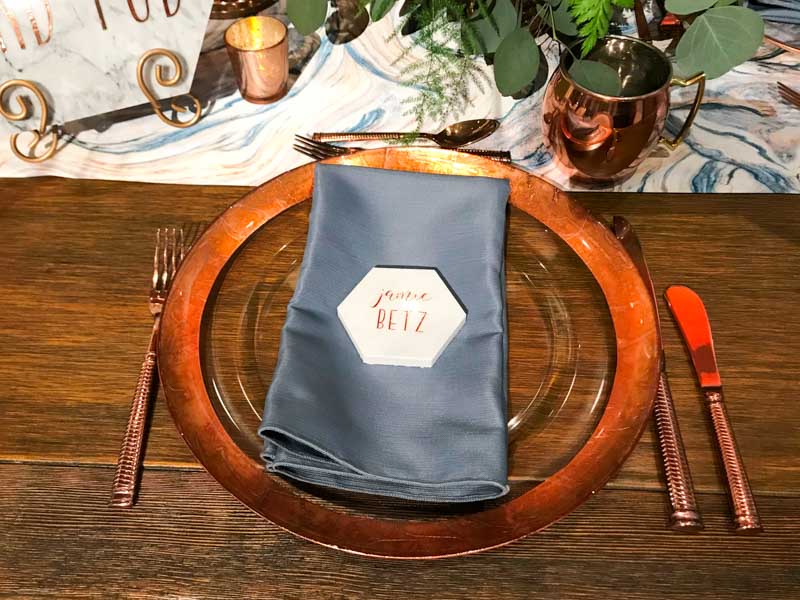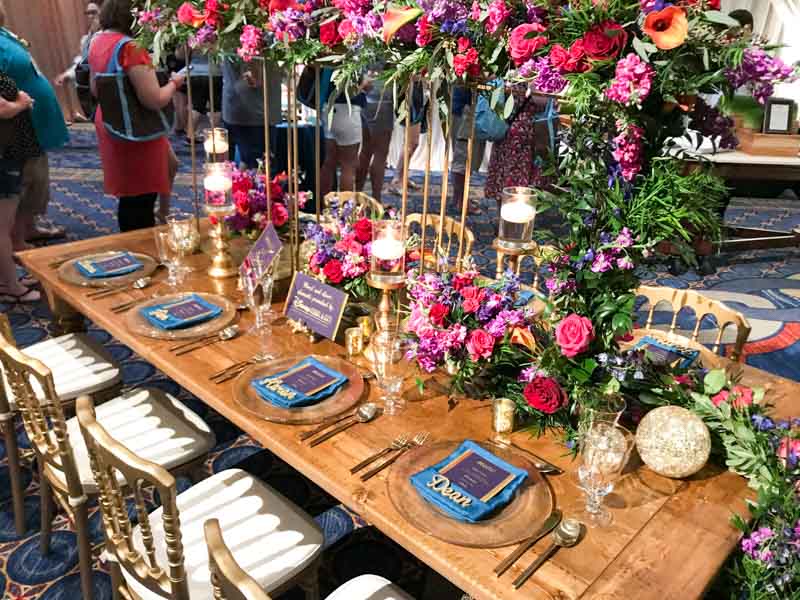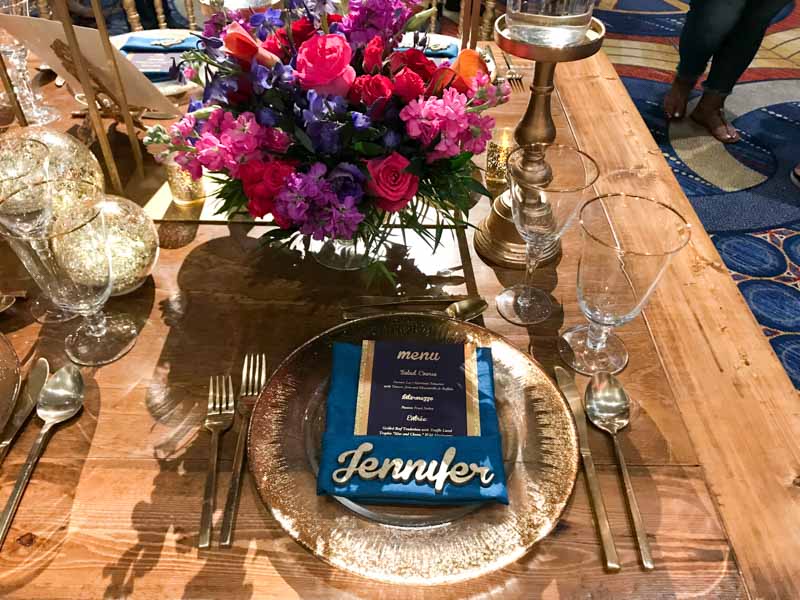 Food
A few of the food displays had depleted their stock by the time I returned, but I was able to try a few things.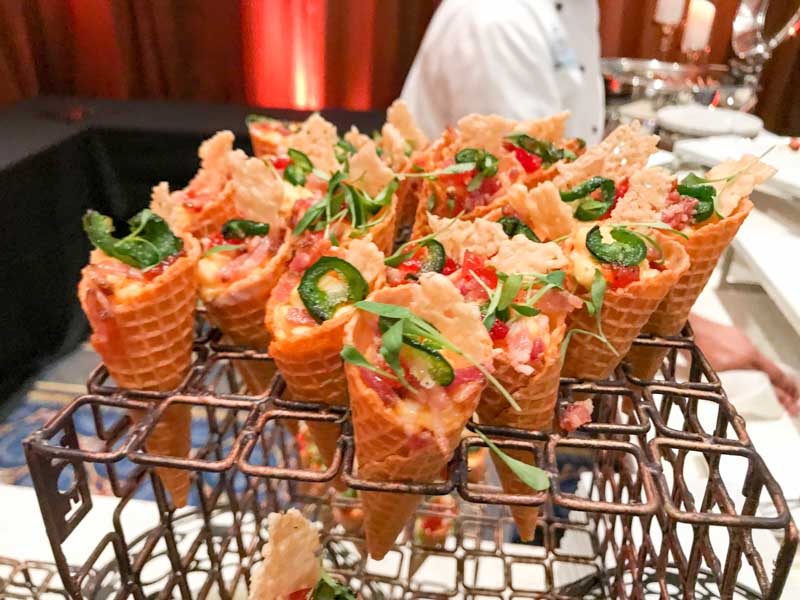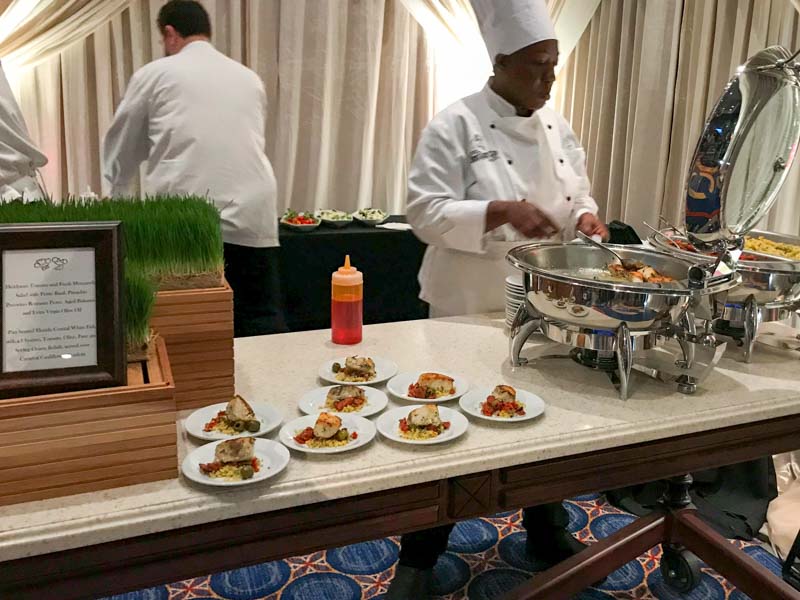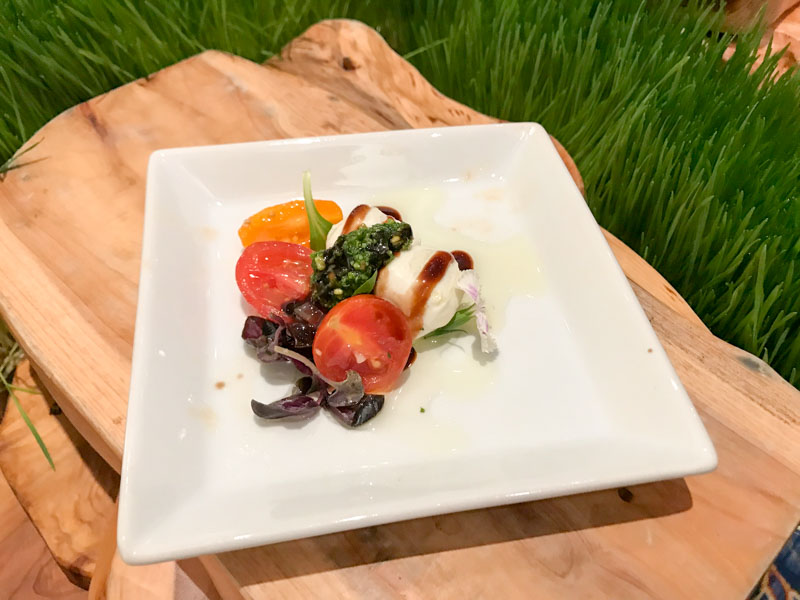 Mini caprese salad

This was a VEGAN filet with yummy mashed potatoes and veggies, and so good!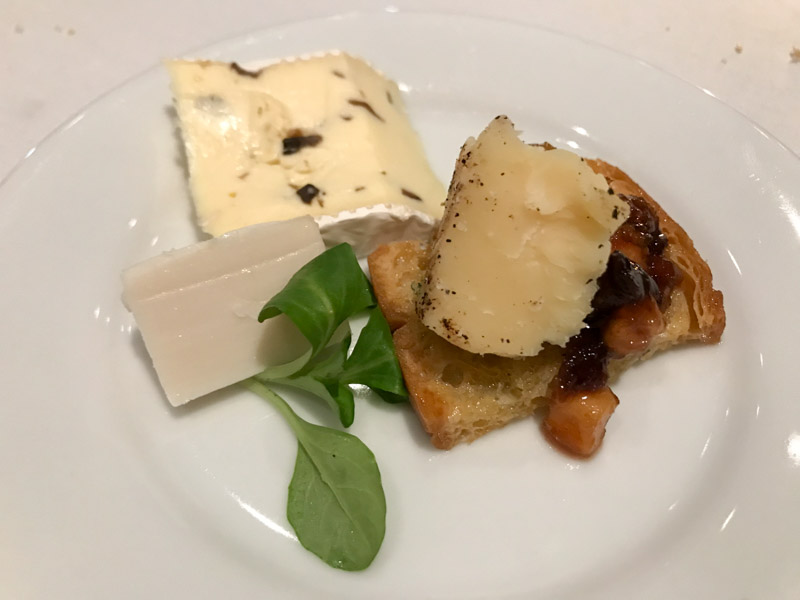 Mini cheese plate! So cute.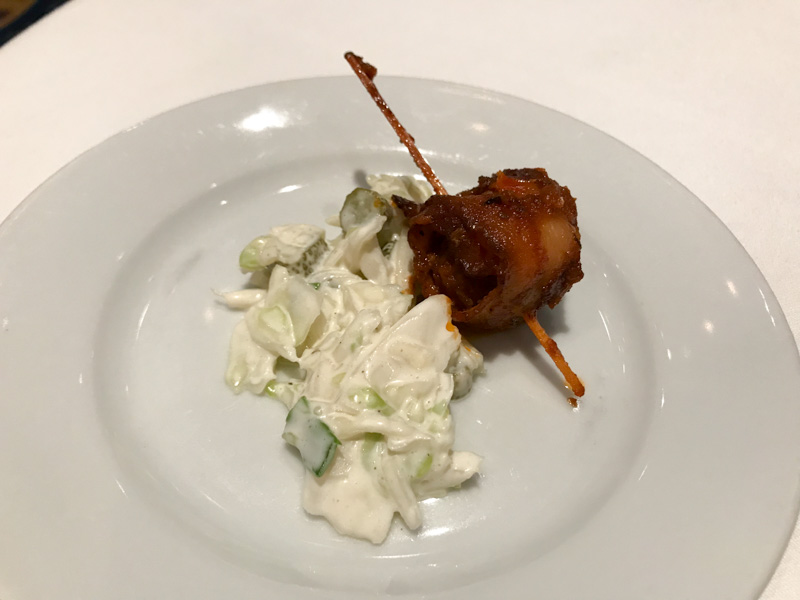 Some type of meat with coleslaw … should have taken better notes.
Cake
The chefs had some lovely cakes on display, as well as several bite-size samples of cake and frosting. I tried French Toast Cake with maple White Chocolate Mousse, Lavender Cake with Peach Schnapps Mousse, and Confetti Cake with Raspberry Buttercream. I had high hopes for the lavender cake but it was very subtle; the French Toast Cake and maple mousse had the strongest flavor.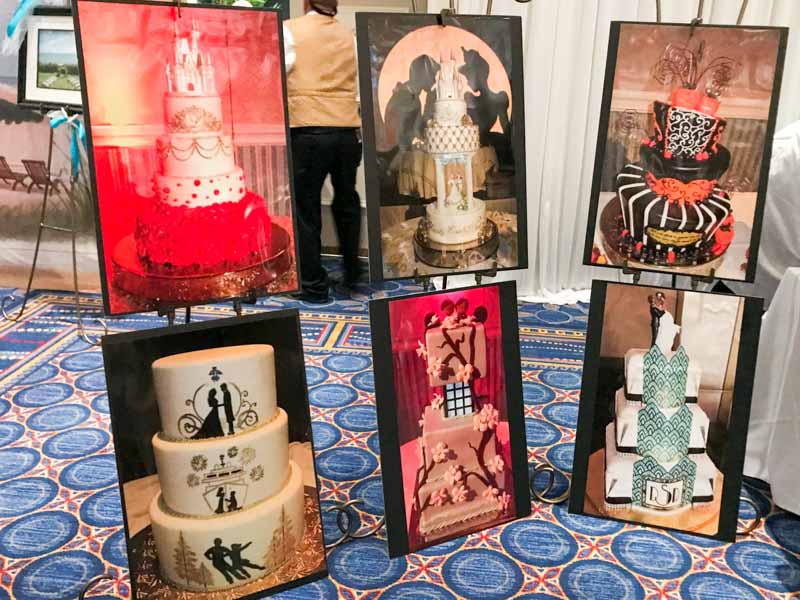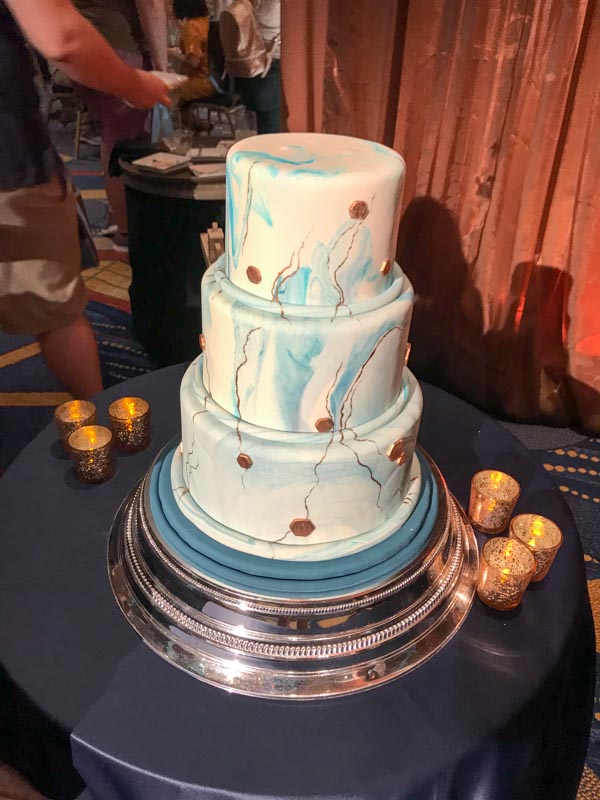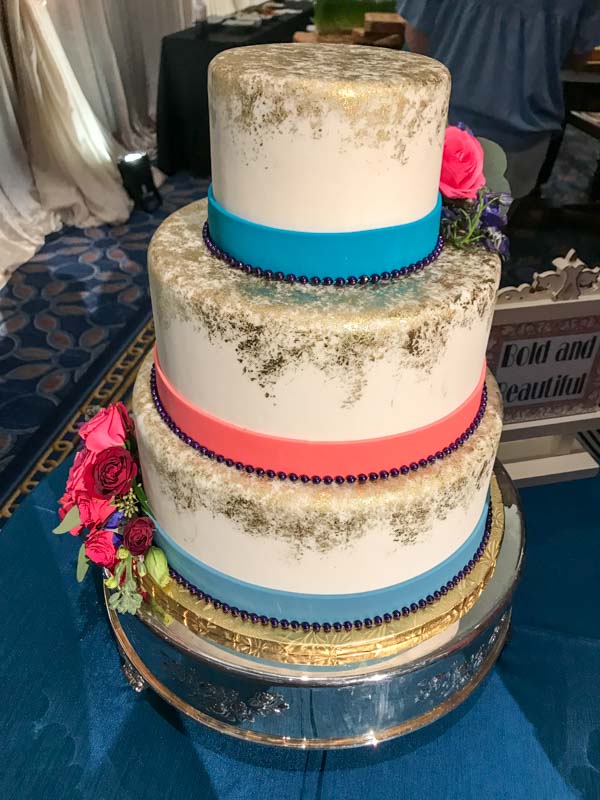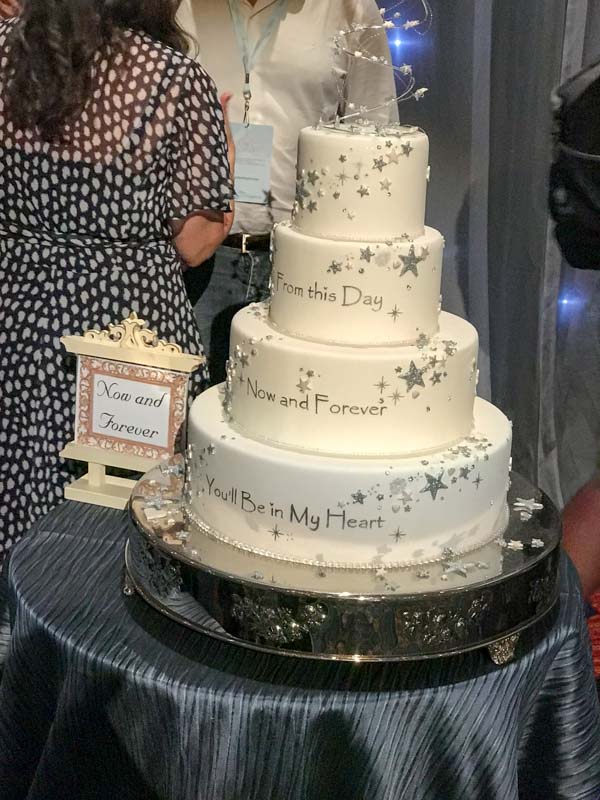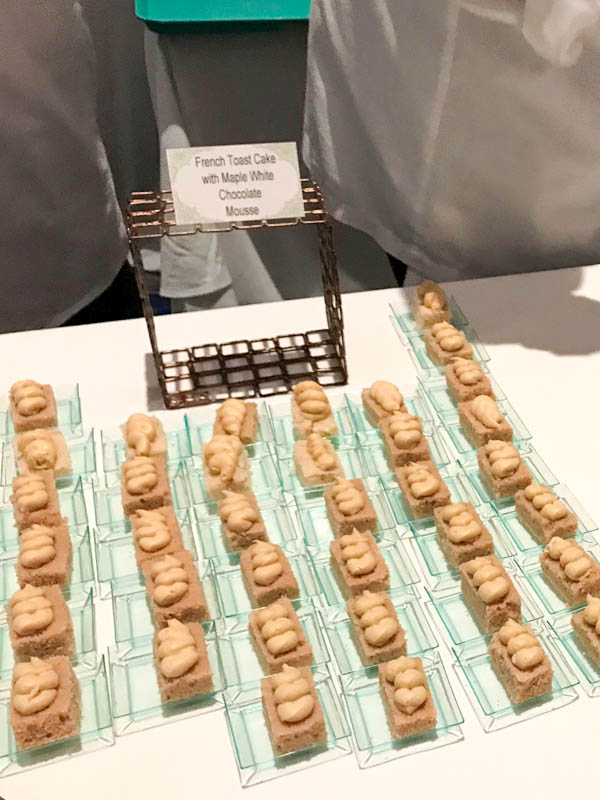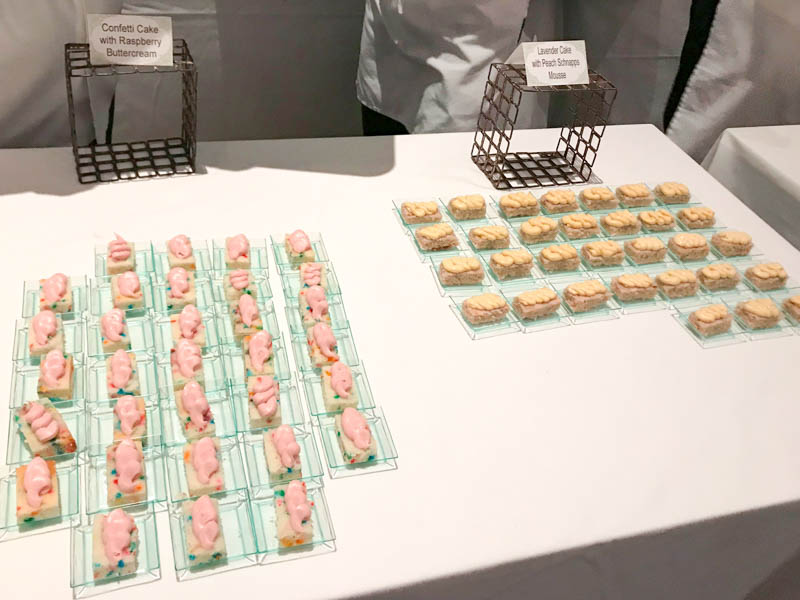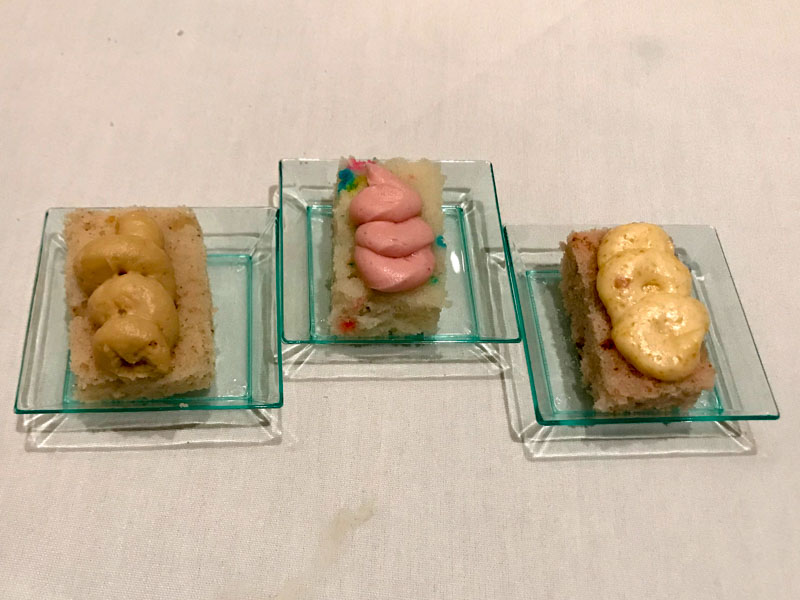 Vendors
Several Disney vendors were represented at the expo, including Disney Fine Art Photography (who had a fun photo booth), Disney Honeymoons, and Disney Cruise Line. Other vendors included preferred videographers and stationers. You could even speak with a wedding planner or sales consultant (but those tables were FULL all day).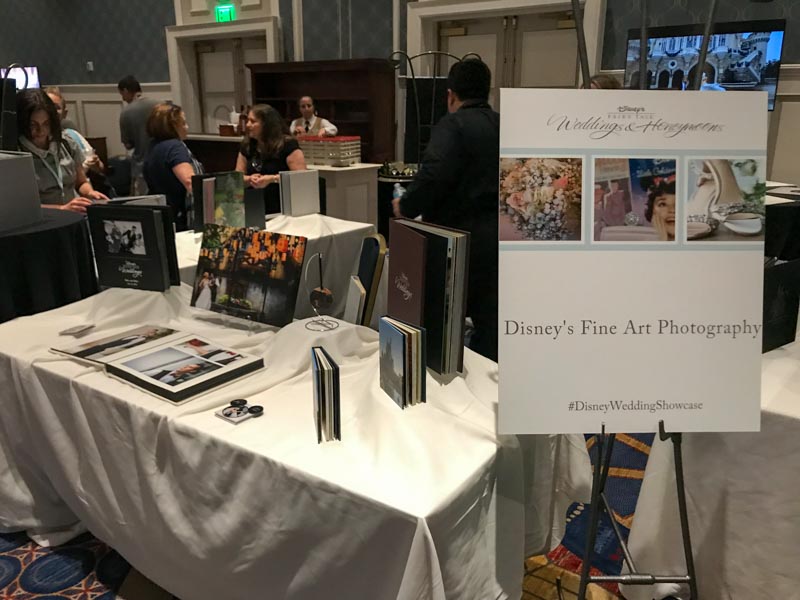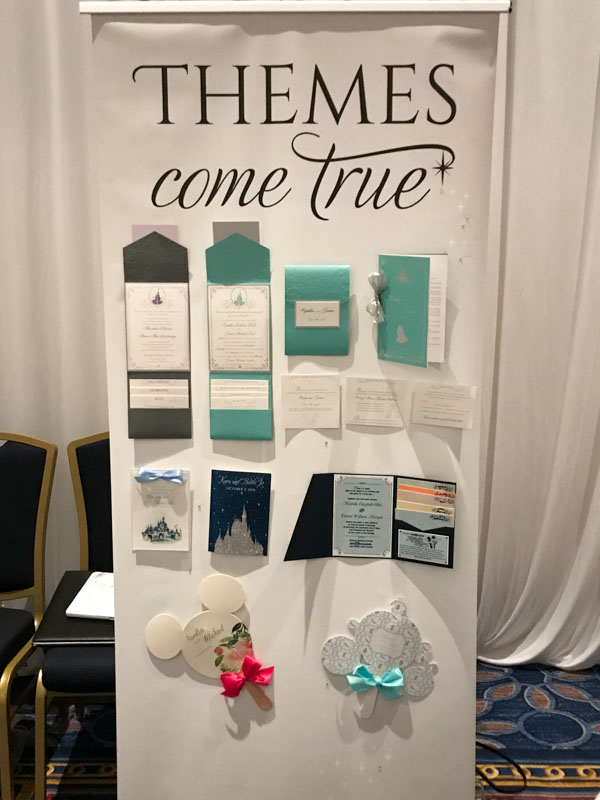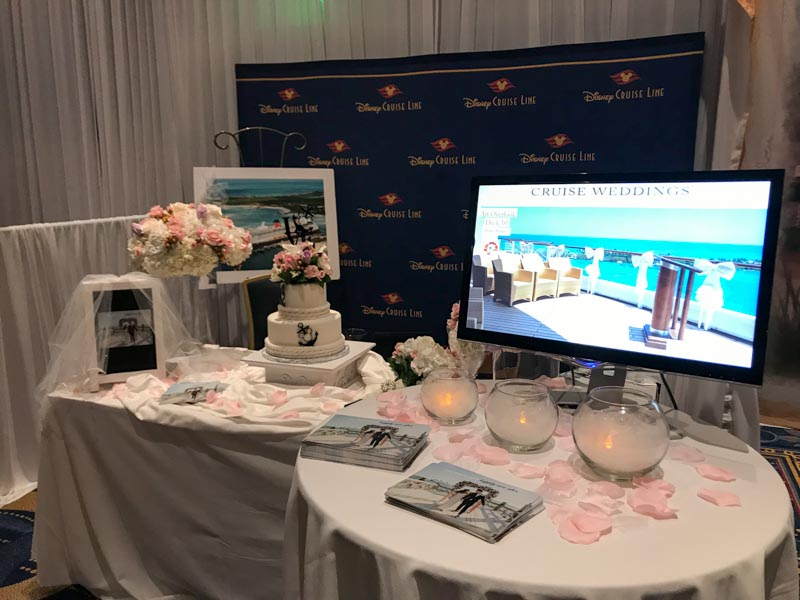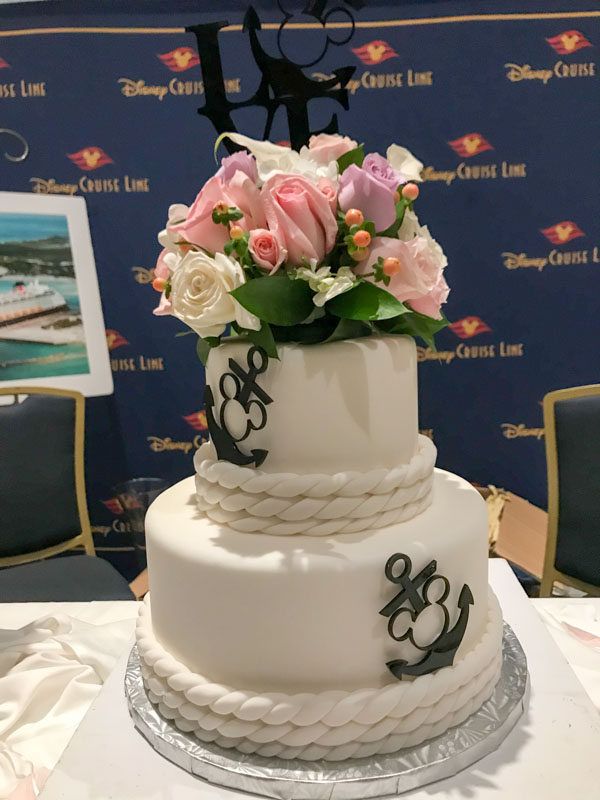 I even spotted Disneyland weddings being represented with a very confusing display showing venues that are NOT Disney venues. When asked about it, they explained it was an inspiration board. Hmmm.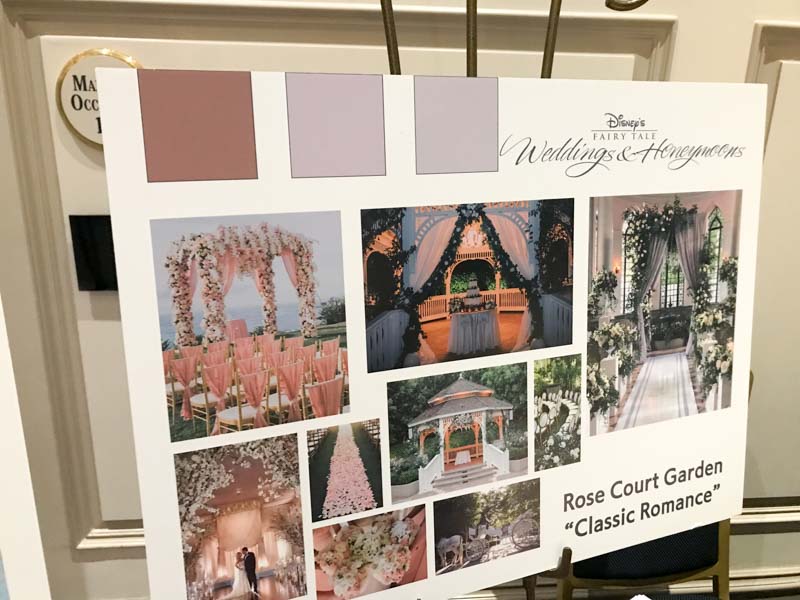 While we all miss Alfred Angelo's Disney line of wedding gowns, it was nice to see Kleinfeld showcasing the latest in bridal couture.
The Merch
Also at the expo was the premiere of new Disney's Fairy Tale Wedding merchandise. I like to think my "magical wedding" inspired designs paved the way for these (Hi, Disney!! *waves*). There were shirts, tumblers, wristlets, and jewelry trays that read "Happily Ever After." However, the only photographic evidence I have of it are these photos: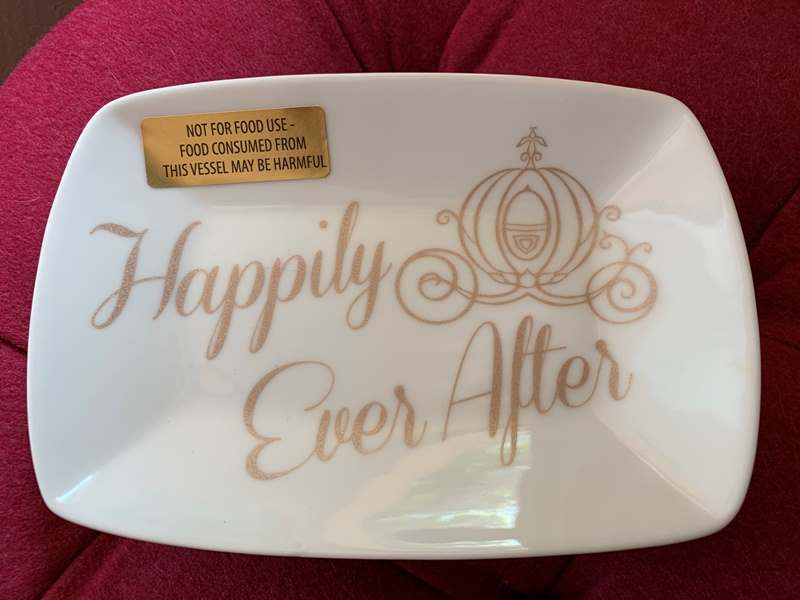 I know I covered everything extensively in my Instagram Stories but I guess I failed to take "real" photos … so just a friendly reminder to follow me on Instagram at @FairyTaleMindy.
We were told all of this merch would be available online at some point, so keep an eye on the DFTW website for more details!
The Venue Tour
Moving on to the warmest and most stressful part of my day: the self-guided venue tour! The venue tour covered Disney's Yacht and Beach Club and Disney's Boardwalk Inn resorts. If you have never been to the Boardwalk Inn before, CONSULT A MAP BEFORE YOU GO, WOW! I've never been so lost! At one point I got so tired and overheated from walking around I needed to just sit in their lobby for a bit AND IT TOOK ME 30 MINUTES TO FIND IT.
More on the Boardwalk later. I started my tour at Yacht Club since I was already there, and decided to do a loop towards the Boardwalk shops, then Boardwalk Inn, then follow the loop back to Beach Club. The whole tour took me about two hours, including my break.
Side note, the Showcase included a mobile website with handy information, including a map for the venue tour. Prior to arriving, DFTW sent out an email with instructions on how to save the website to your phone, like an app. This was a great idea and I used the app a lot to reference venue names and locations.
The first venue I saw was Ariel's at Disney's Yacht and Beach Club, which seemed like a mixed-use meeting room … not quite a ballroom but not quite a lounge, either. The set-up they had was very pretty and I liked this room a lot. But I'm assuming it doesn't get used too often since the decor is very ocean-y, so you have no choice but to work with that theme.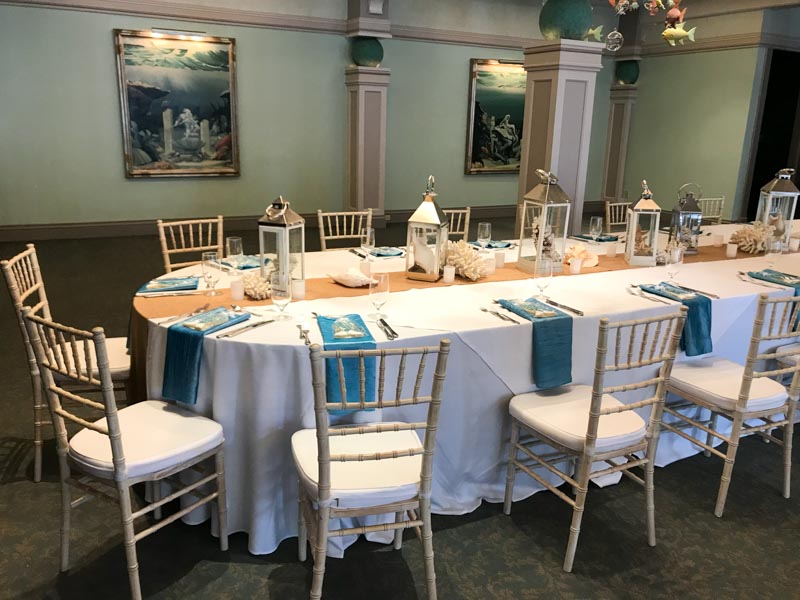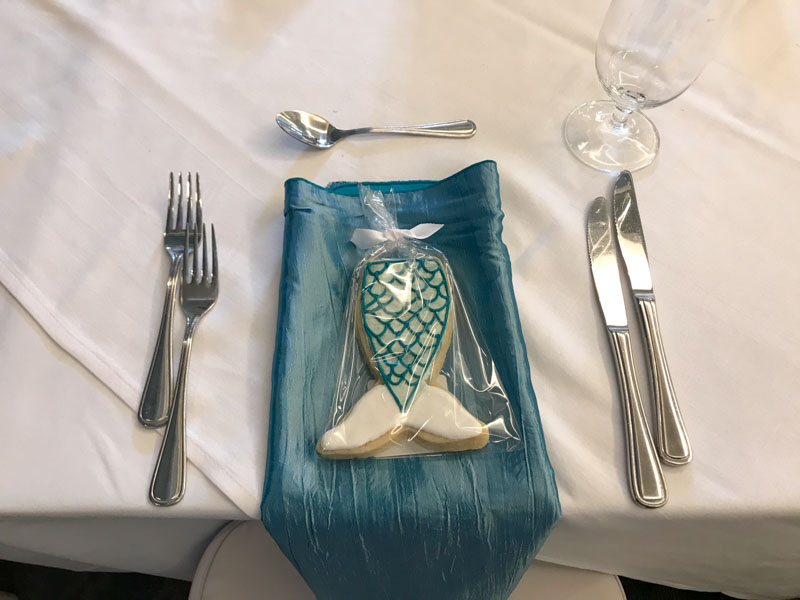 Next was the Wedding Gazebo at Disney's Yacht Club. This venue holds a special place in my heart because I stayed in one of the hotel rooms surrounding this venue during my first visit to Walt Disney World.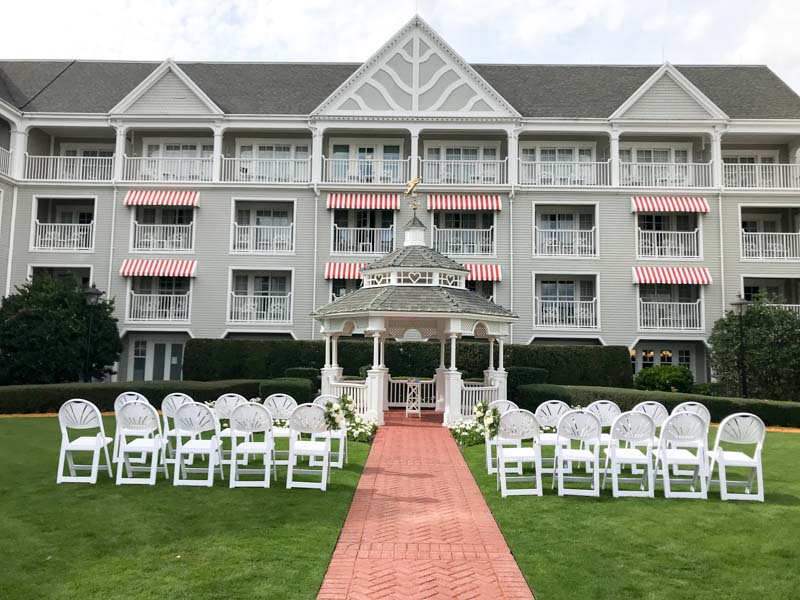 Just along the path from the Gazebo is an outdoor reception space called Disney's Yacht Club Marina. I was told this could be a pre-reception or reception space and can accommodate up to 500 guests! Wowza!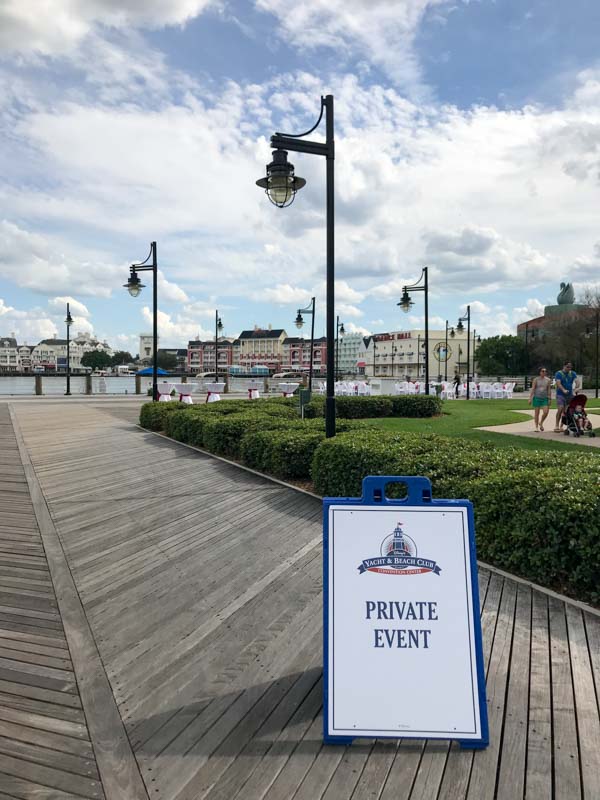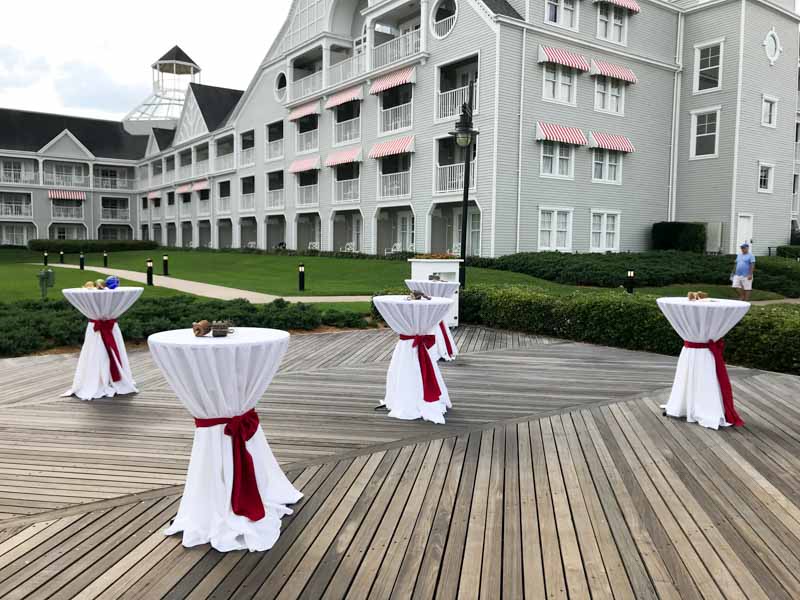 (Just a personal opinion … can we stop with the draping-the-napkins-off-the-table? It looks so sloppy! There are a million better ways to fold and display a napkin. Thank you for listening.)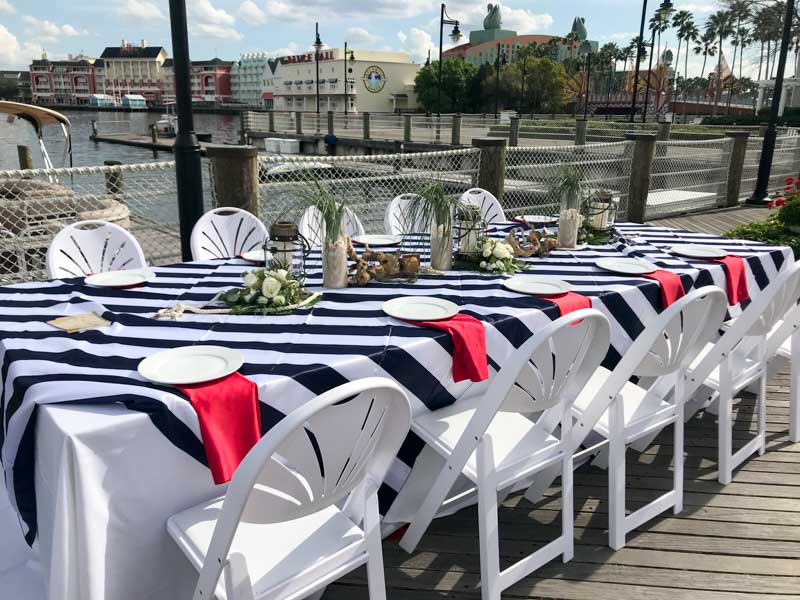 Moving down the path, the next venue on the tour was Atlantic Dance Hall, part of Disney's Boardwalk area. I can see why this venue is a popular reception spot, with its stage and wide dance floor; however the venue is in dire need of an update.
The next venue on the map is The Attic and here's where my tour started to go south. The Attic, on the map, is above Jellyrolls. BUT that is not how you access it. So picture me walking back and forth around Jellyrolls in the direct Florida sun looking for an entrance. I finally gave up and walked to the Boardwalk Inn and asked the first group I saw with DFTW badges, who pointed me in the right direction.
The Attic is at the end of a very long, very winding hallway, but you are rewarded with an adorable cozy venue that includes a balcony with gorgeous sweeping views of Crescent Lake. The Attic can accommodate up to 34 guests, so it's on the small side but contains lots of charm.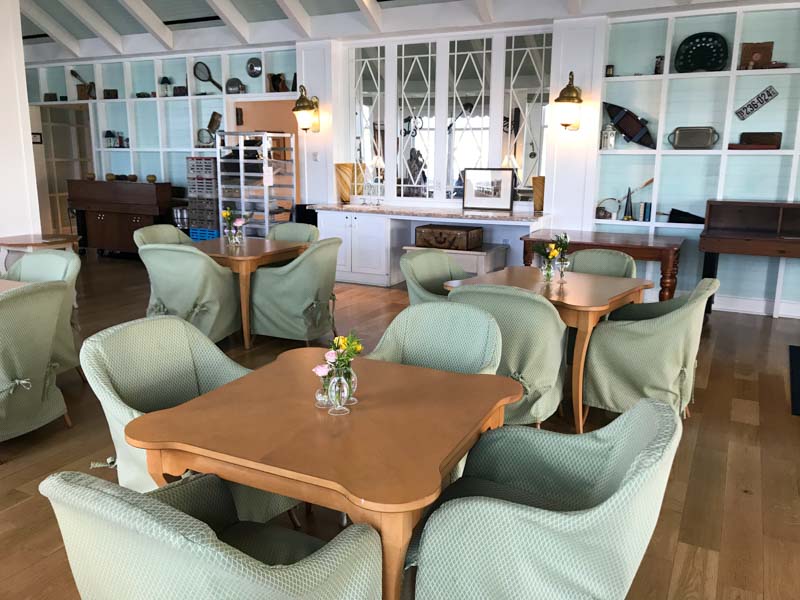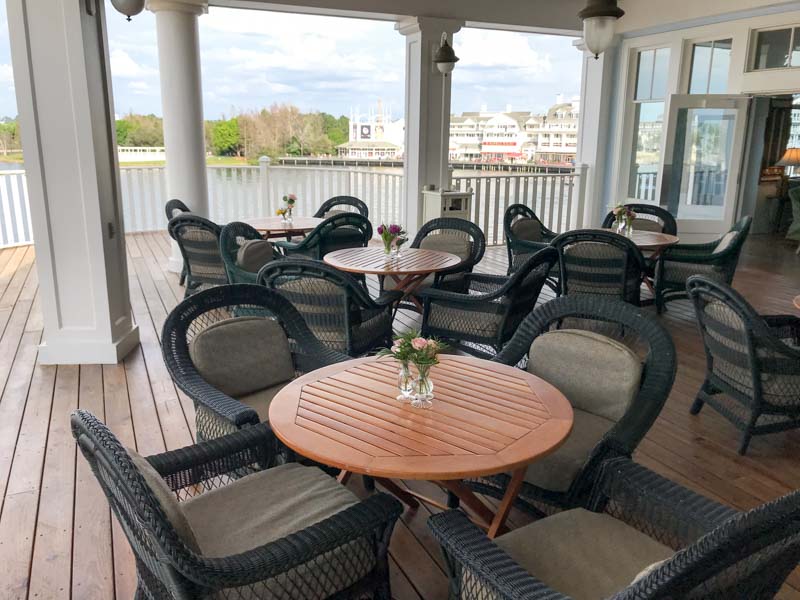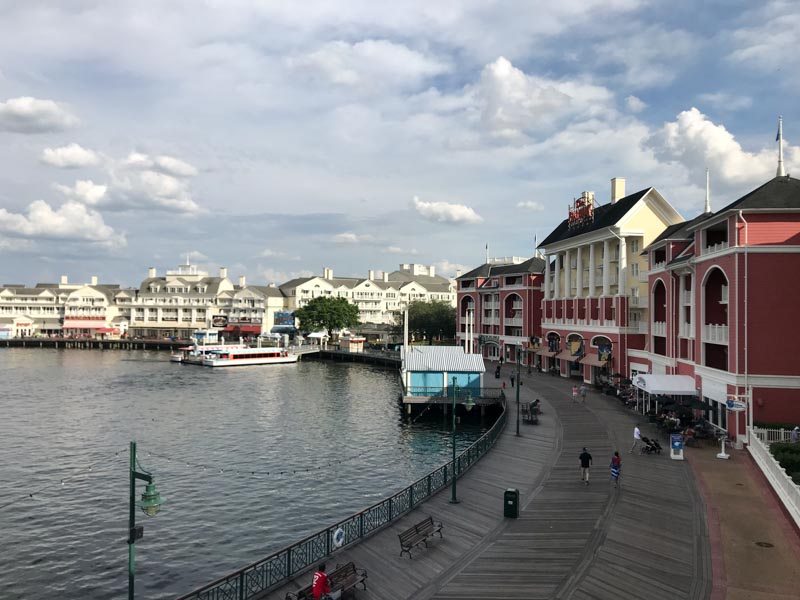 Next on the venue list was Poolside Green at Disney's Boardwalk Inn. Did you know Boardwalk Inn has several pools? I used my GPS map to walk to one of them, which ended up NOT being the correct pool, then I got stuck outside because I didn't have a key to get back into the hotel hallway. After about 10 minutes someone from the pool area went back inside and I was able to follow. After walking down another long hallway, I asked a Cast Member for directions to the Poolside Green. A guest overheard me and gave me (by no fault of their own) convoluted directions to the correct pool. At this point I decided to give up and go sit in the lobby; which was an adventure in its own right. Whew.
Anyway, here are pictures of the Poolside Green venues from Carrie of Fairy Tale Weddings Guide. They look lovely; wish I could have seen them in person.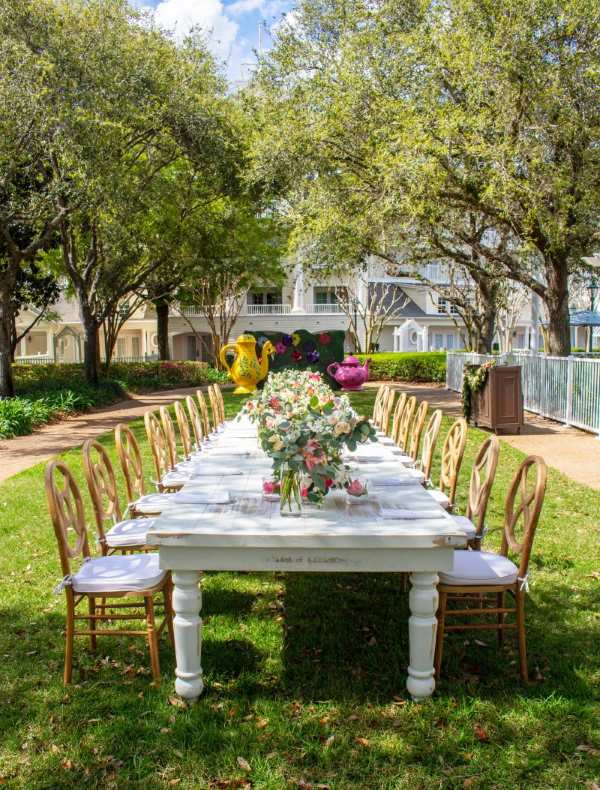 The final stop on the venue tour was luckily very easy to find. Seabreeze Point at Disney's Boardwalk Inn is right on the water and is such a romantic spot.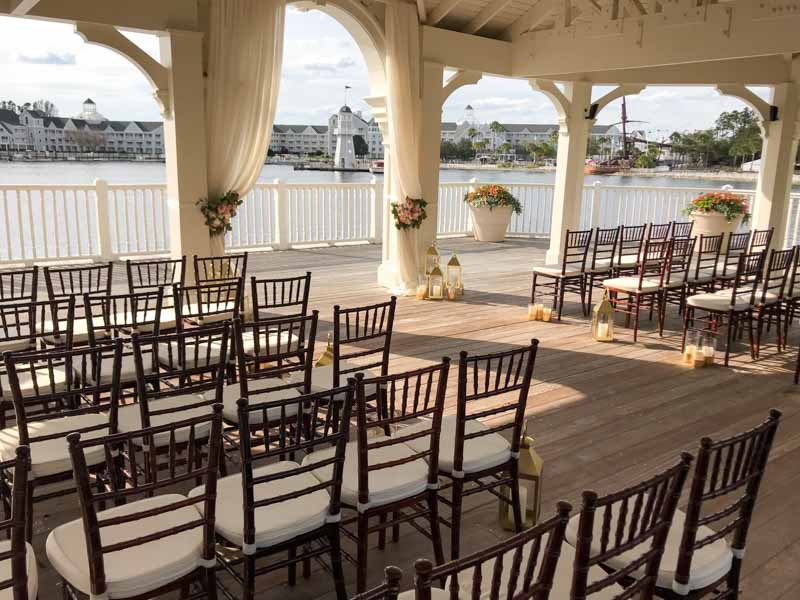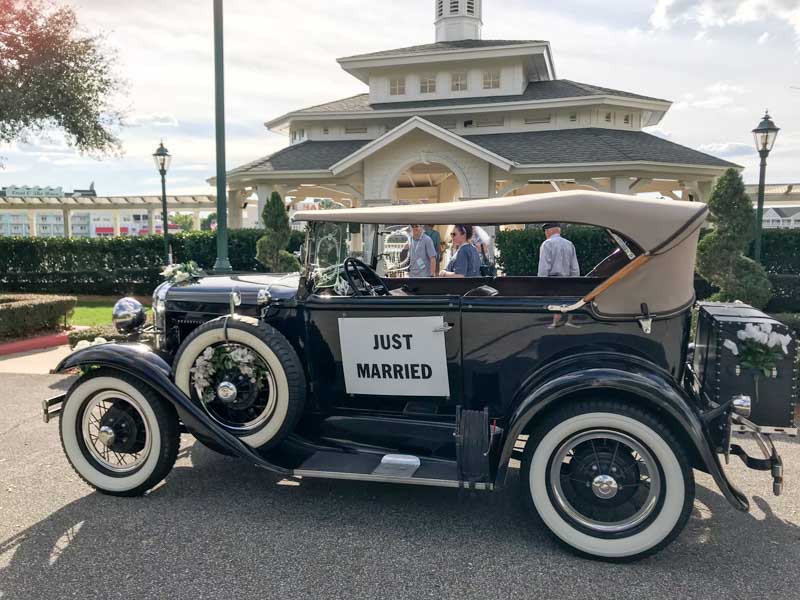 So many lovely unique venues, and this is just ONE section of Walt Disney World!
The Dessert Party
When registering for the Showcase, guests had the option of simply attending the Expo in the afternoon, or adding on an Epcot Dessert Party experience for an extra fee. Of course I opted in for the dessert party! I know they are so popular with Walt Disney World weddings so I wanted to see what the fuss was about. Also, since Illuminations! fireworks show is ending, this was a final chance to see it without camping out for a good spot.
Our location was Italy Isola, a popular spot for dessert parties. I know from being immersed in the Disney weddings community for so many years, there are also dessert party locations in England and France.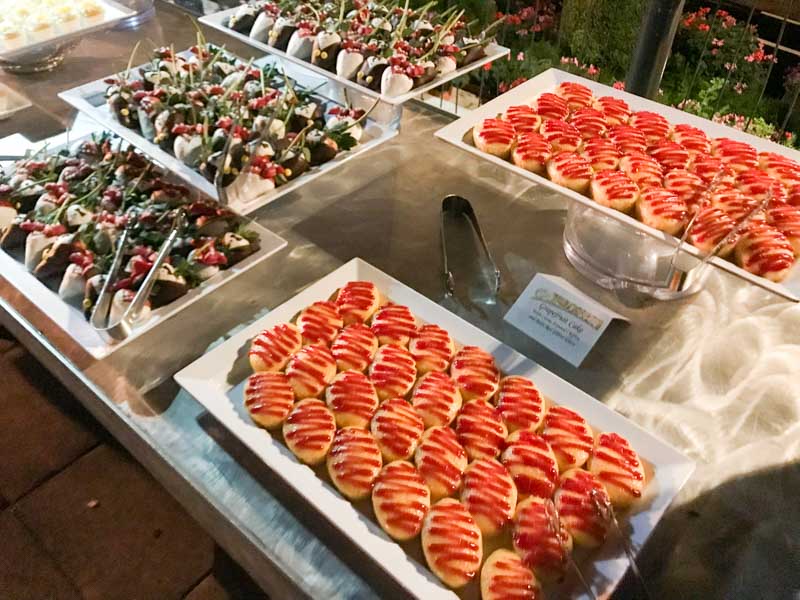 These were some kind of mega cupcakes! Like a regular cupcake on top of a bigger cupcake.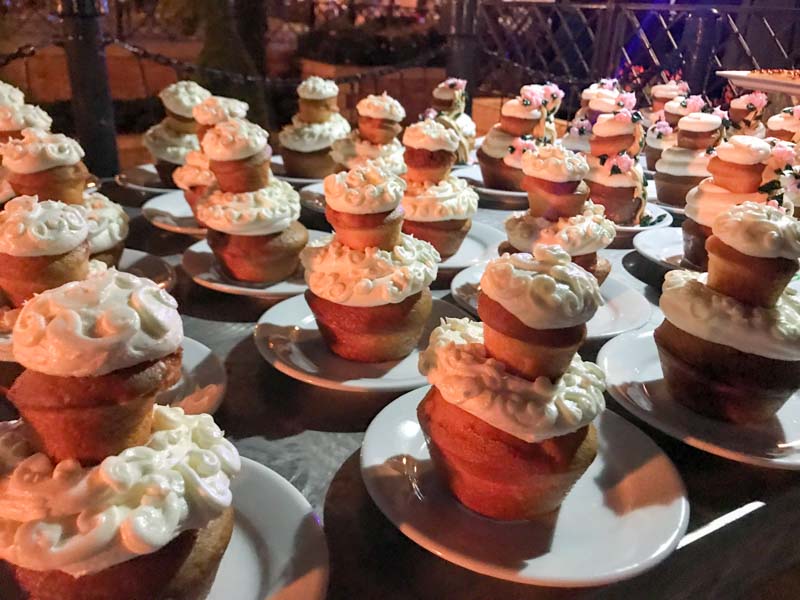 We were also treated to flambéed waffles and ice cream cookie sandwiches, all made to order.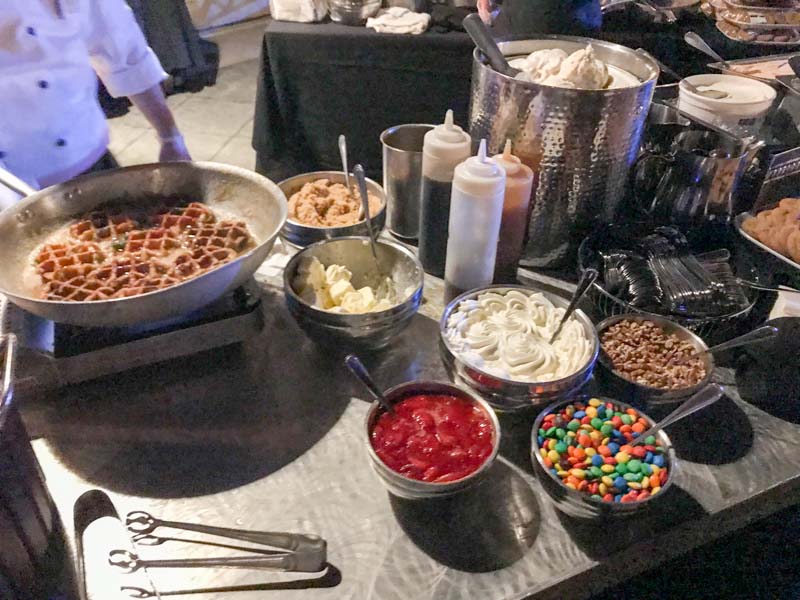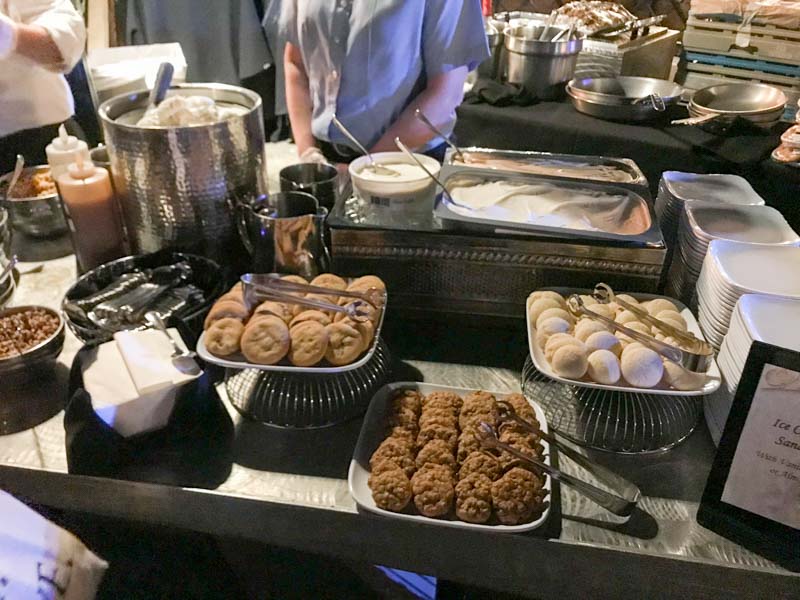 I thought this was booze and got excited, turns out they were just setting shortbread cookies on fire.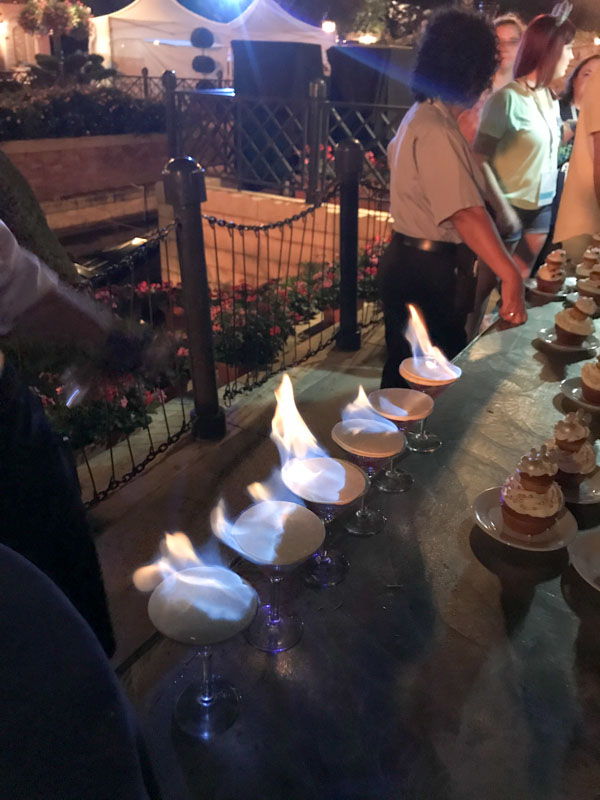 I mean, look at this thing!
Goodbye, Illuminations! You are pretty but I'm totally ready for something new.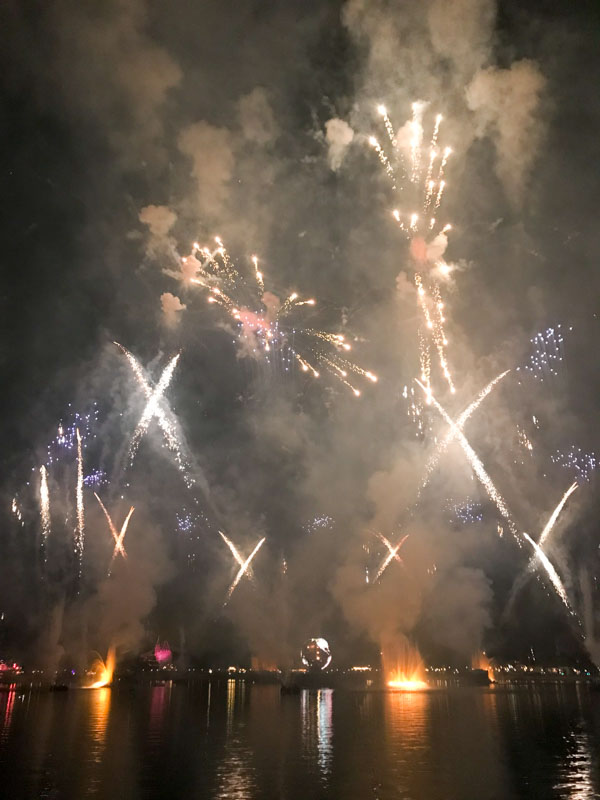 And thus ends the 2019 Walt Disney World Weddings Showcase recap! I hope you enjoyed following along. It was fun to see how the other coast does weddings. Let me know if you have any questions, but for a more extensive recap and an expert on all things Walt Disney World weddings, I encourage you to read Carrie's Fairy Tale Weddings Guide recap.
If you're looking for more info on Disney weddings or want to connect with other Disney brides and grooms, be sure to join my Facebook community: Disney Brides Discussion Club!
Shop Disney Wedding products:
(Advertisement)