Super Nintendo World is the newest land at Universal Studios Hollywood in California, officially opening on February 17, 2023. I had a chance to attend a technical rehearsal in January and experience the land before it opens to the public! As an adult theme park fan, I wondered if Super Nintendo World would have enough to keep me entertained. I was pleasantly surprised at how much I enjoyed the land! Keep reading for a detailed report all about Super Nintendo World at Universal Studios Hollywood!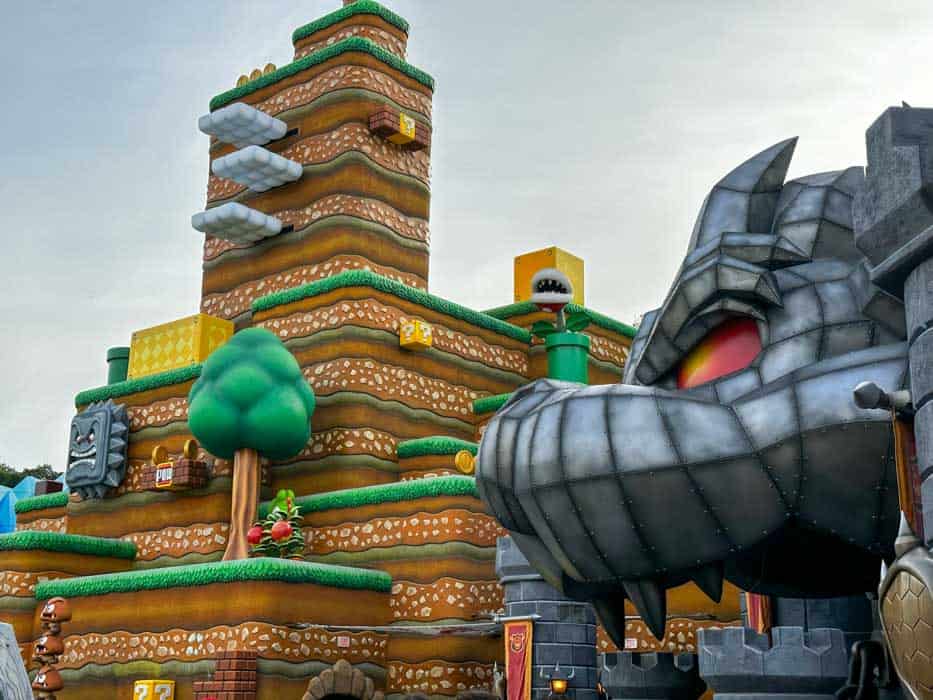 Calling all 80s and 90s kids! Okay, let's be real … kids of all generations! Everyone loves Super Mario and his brother Luigi, right? They have been a pop culture phenomenon since they were first introduced in 1983.
For me, I grew up in the 80s playing Super Mario Bros on the 8 bit Nintendo system, then Dr Mario on the Gameboy, and later Mario Kart on the Nintendo 64. So yeah, Mario and pals have been a pretty big part of my life since I was a kid!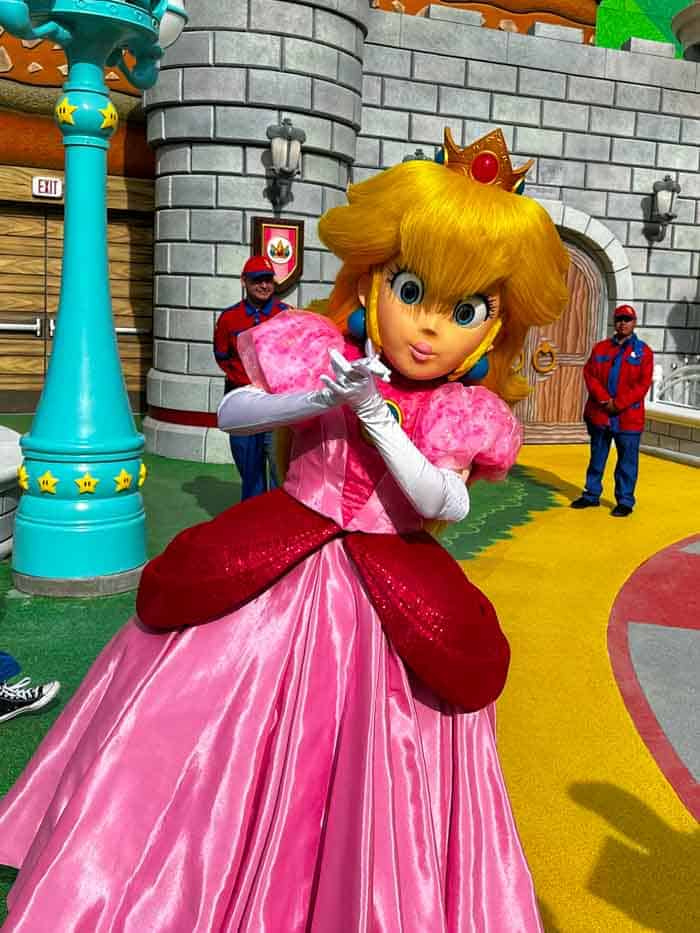 I was thrilled to learn Universal Studios Hollywood was expanding to include a Super Nintendo World featuring Super Mario. The Super Nintendo World at Universal Studios Japan looks REALLY cool and immersive, so when I finally got step foot in this new land here in California, I was totally blown away.
Universal Studios has really been stepping it up in recent years, with their addition of Wizarding World of Harry Potter and now Super Nintendo World. Universal Studios Hollywood has limited space available but I hope we can see some more of these immersive and interactive lands!
Super Nintendo World Review

What is Super Nintendo World?
Super Nintendo World is the newest land at Universal Studios Hollywood in Los Angeles, California. The land was built on the lower lot as an expansion, replacing some soundstages in the working studios backlot (stages 22, 23, 24, 25, and 28 for anyone curious).
Even though it's called Super Nintendo World, the land resembles Mushroom Kingdom from the famous Super Mario Bros franchise. It is expected Universal will want to expand Super Nintendo World to include other video game entities in the future.
The land is described as immersive and innovative, allowing guests to interact with their surrounding in new ways.
While the Universal Studios Hollywood version is smaller than its Universal Studios Japan counterpart, Super Nintendo World still packs a big PUNCH!
Power-Up Band and Mini Games
Enhance your visit with a Power-Up Band, designed to interact with different areas of Super Nintendo World.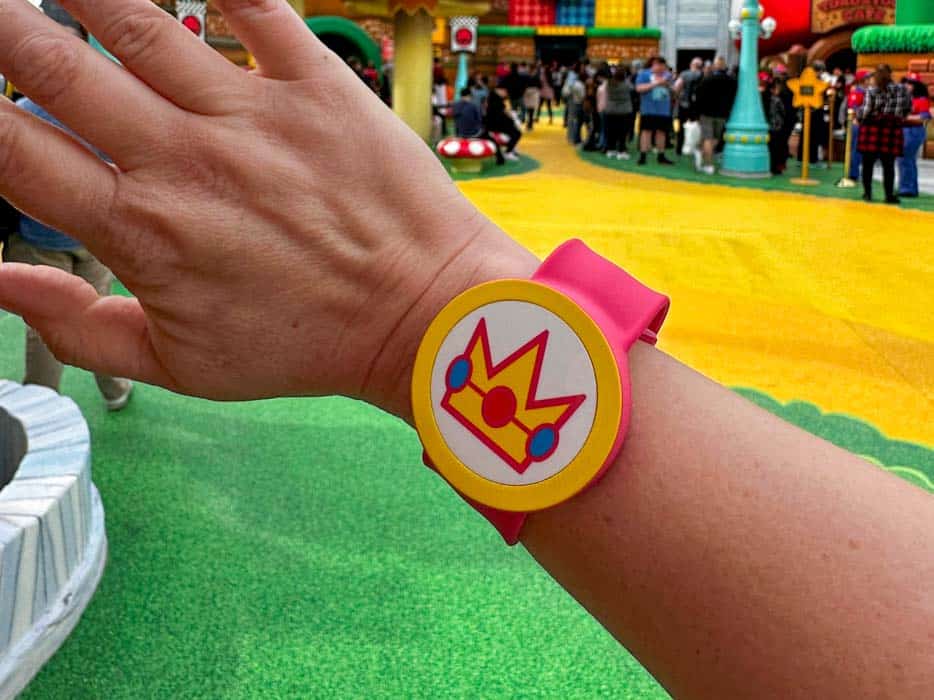 The Power-Up Band is a wearable bracelet (works like those "slap bracelets" that were popular in the 1990s) that syncs with the Universal Studios app and works with the many interactive elements around the land. Use your Power-Up Band to activate the many gold coin boxes, track your score on the Mario Kart: Bowser's Challenge attraction, and earn virtual keys by completing mini games.
Earn 3 or more virtual keys to experience Bowser Jr's Shadow Showdown – an exclusive interactive attraction exclusively for Power-Up Band owners.
A Power-Up Band costs $39.99 (before tax) and can be purchased at the 1-Up shop or the Power-Up Band kiosks, both located within Super Nintendo World.
While having a Power-Up Band enhances the guest experience at Super Nintendo World, it is not necessary to enjoy the land.
Attractions
Mario Kart: Bowser's Challenge
The main attraction at Super Nintendo World is Mario Kart: Bowser's Challenge. The attraction is unlike anything I've ever experienced!
Guests walk through Bowser's Castle as part of the queue, before getting into a 4-seat attraction vehicle that resembles the go-karts we all know and love from the popular game.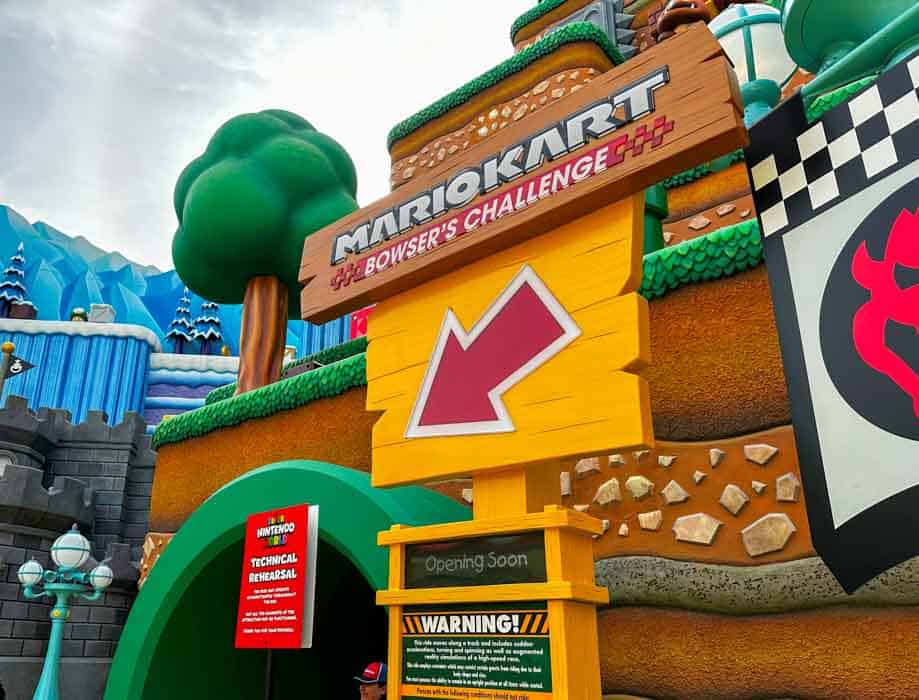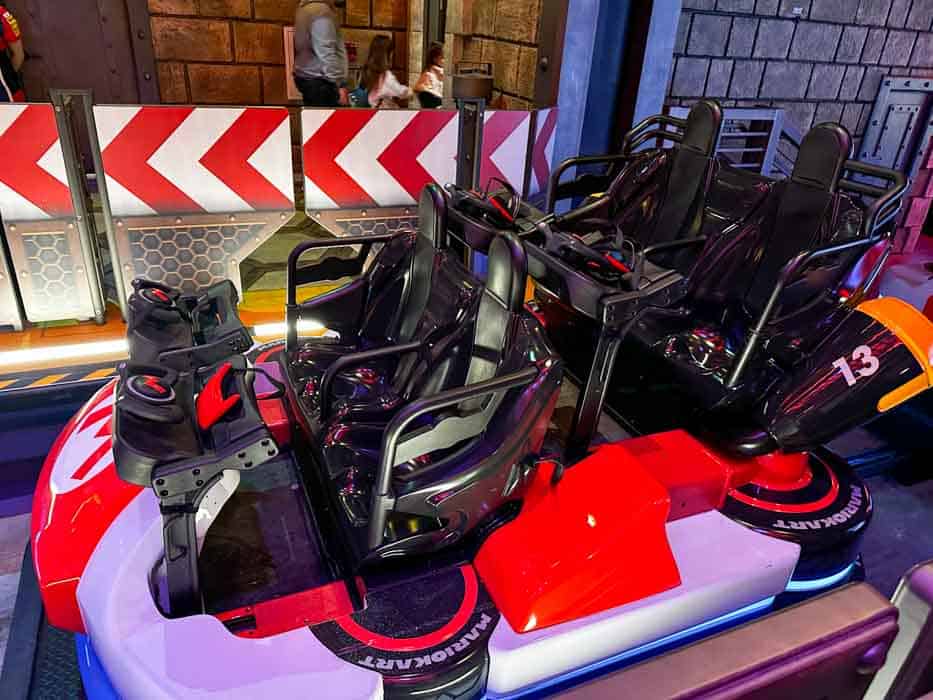 The ride itself is on a track (it's not like bumper cars!) and may seem like your typical dark ride attraction.
What makes Mario Kart: Bower's Challenge unique is the Mario visor you wear, which projects AI images right in front of your eyes!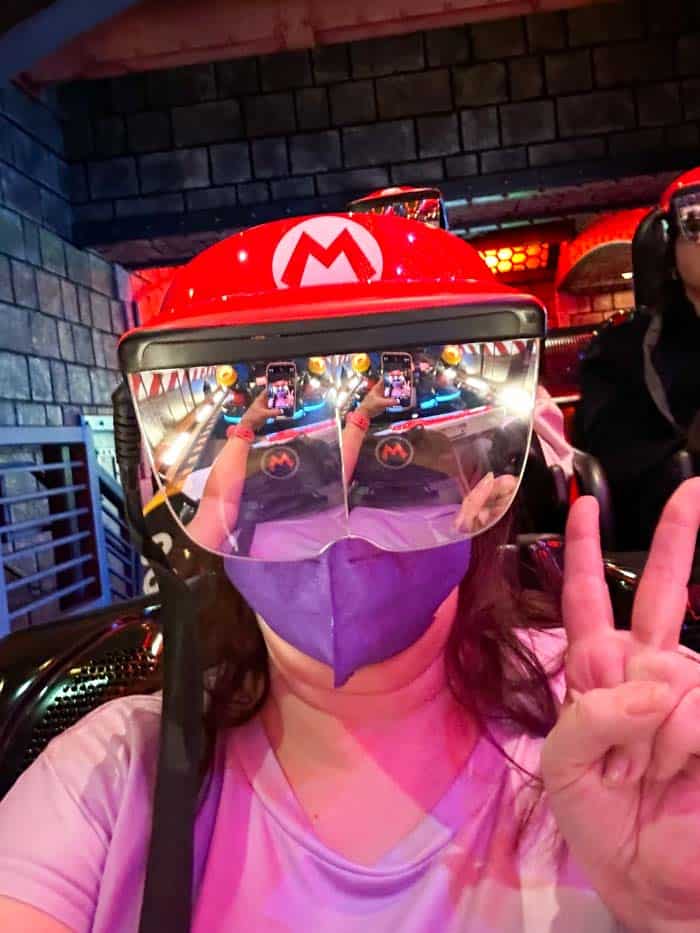 The AI images make it feel like you're right there in the middle of a Mario Kart race!
Pay attention to the preshow, which gives instructions on how to wear the visor and operate the steering wheel.
The goal is to collect as many coins as possible, defeat Bowser, and of course win the race!
Both kids and adults are going to really enjoy this attraction!
Note: Guests with Power-Up Bands can scan their band at the beginning of the ride to save their score to the app. Ride multiple times and try to beat your high score!
Bowser Jr Shadow Showdown
For guests with Power-Up Bands who collect three or more virtual keys, you can scan into the Bowser Jr Shadow Showdown, which is a really cool virtual experience.
It's tough to describe, but guests line up facing a screen, onto which your shadow is projected. Objects appear on the screen, and you must move your body to jump and punch the objects away, collecting points.
Until you experience yourself, you're just gonna have to trust me on this one … it's REALLY cool.
Food & Drink
Toadstool Café
The one dining location inside Super Nintendo World is Toadstool Cafe, a large quick service restaurant that feels kind of like a cafeteria.
Toadstool Cafe offers some of your standard theme park fare – burgers, fries, salads, pasta – but with a mushroom twist. Yes, Chef Toad loves to cook with mushrooms and most of the menu items include some kind of ingredient of the mushroom variety.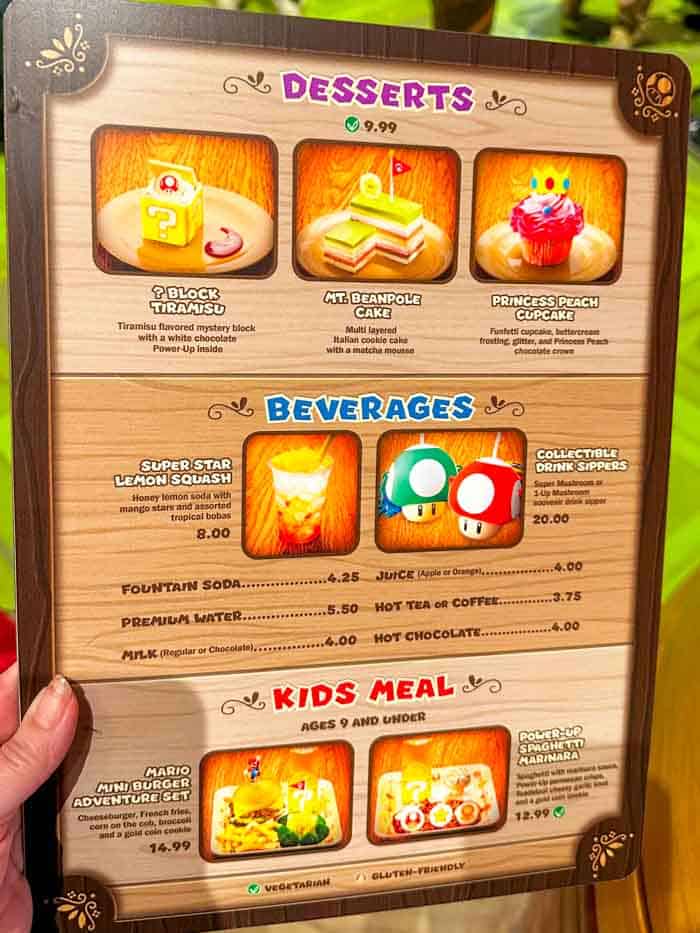 I asked about making medications to meals to accommodate a mushroom allergy (such as removing the mushroom from the Mario Burger) and was told no modifications could be made. This was disappointing to hear, and I hope this was only because the land was in technical rehearsals at the time I visited.
I tried the Luigi Burger, which is actually a pesto chicken sandwich. For some reason, I guess to make it more green (?), it came with two huge slices of green pepper that made the sandwich nearly impossible to eat. I took one off and it was much easier to manage. However, I found all the food I tried to be bland, including the Super Star Lemon Squash drink which simply tasted like lemon-lime soda with boba.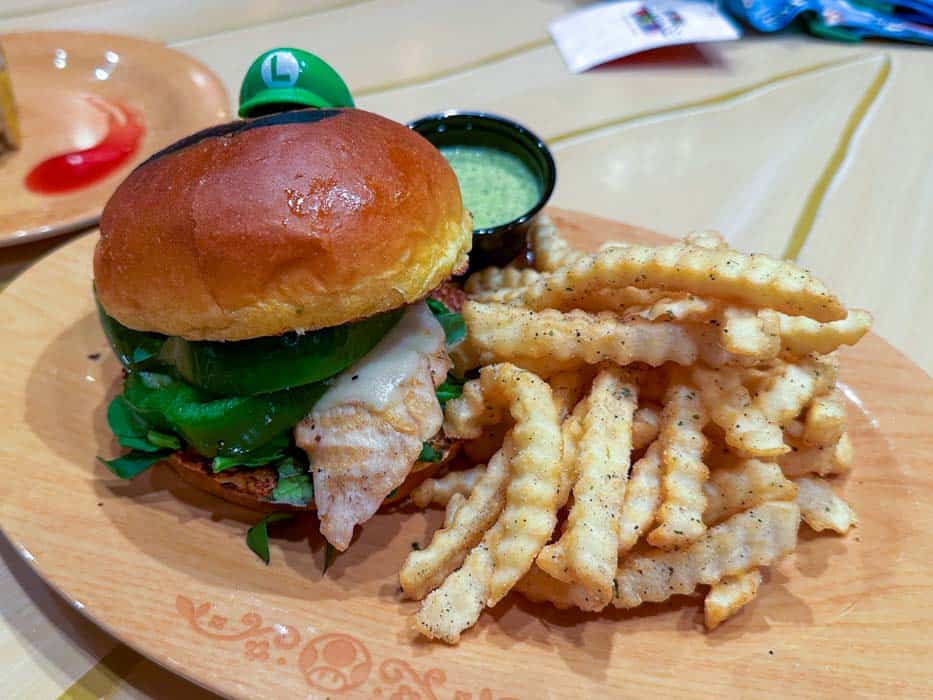 The menu also offers some fun desserts. (Again … cute but bland.)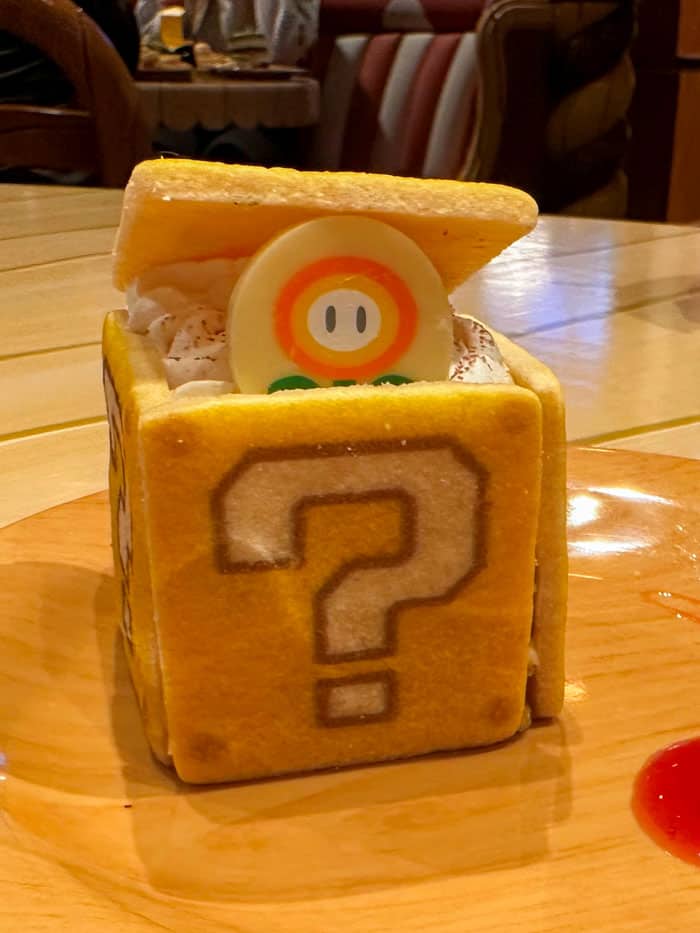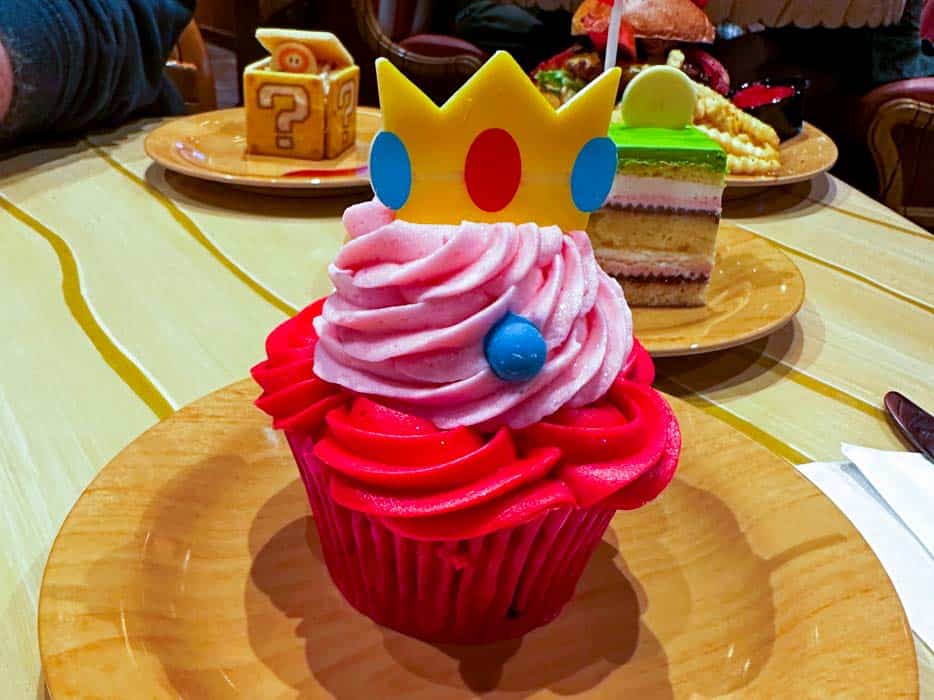 For my fellow adults – there are no alcoholic beverages available in Super Nintendo World. I have heard this is due to Nintendo's rules for the land and not a decision made by Universal Studios themselves. Fear not – right outside the exit for Super Nintendo World you will find Isla Nu-bar, a walk-up tiki bar with a variety of libations.
(Special thanks to my friends at Laughing Place for helping me with food photos! Check out their review of Toadstool Cafe for a more detailed look at the restaurant.)
Merchandise
1-Up Factory
Need your own toadstool headband or Princess Peach crown? Make your way to the 1-Up Factory, the spot for all your Super Mario shopping needs. You can also purchase a Power-Up Band here if the line for the self-serve kiosk is too long.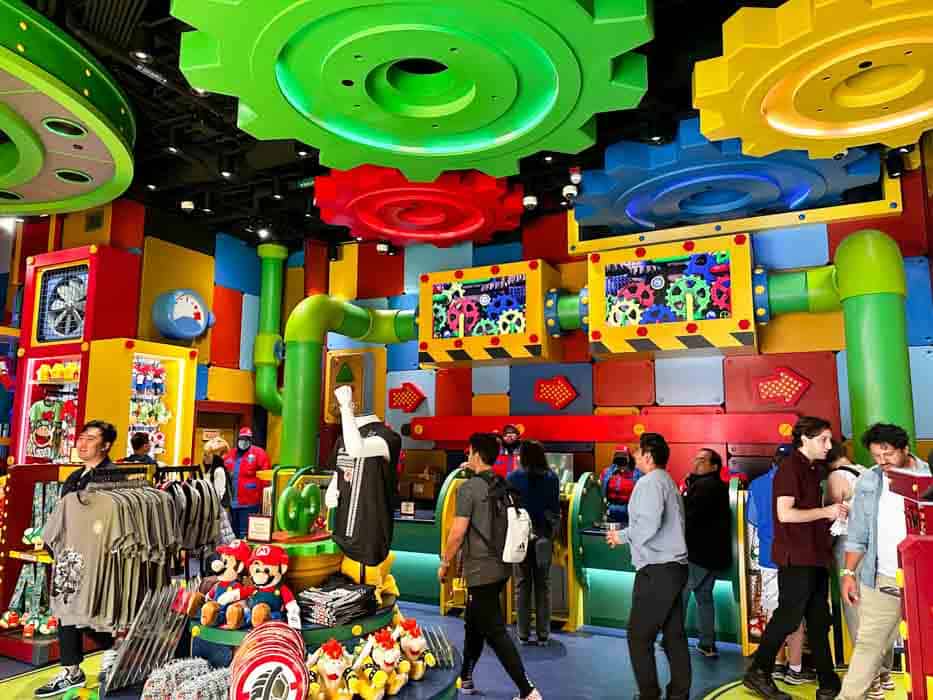 Most of this merchandise can be found at other locations within Universal Studios and Citywalk, including right outside the entrance to the land (next to Isla Nu-bar).
So, is Super Nintendo World Fun for Adults?
So will adults have fun at Super Nintendo World? If you grew up loving the Super Mario games, it's an easy yes! The land is so immersive; it really feels like you walked right into the Mushroom Kingdom.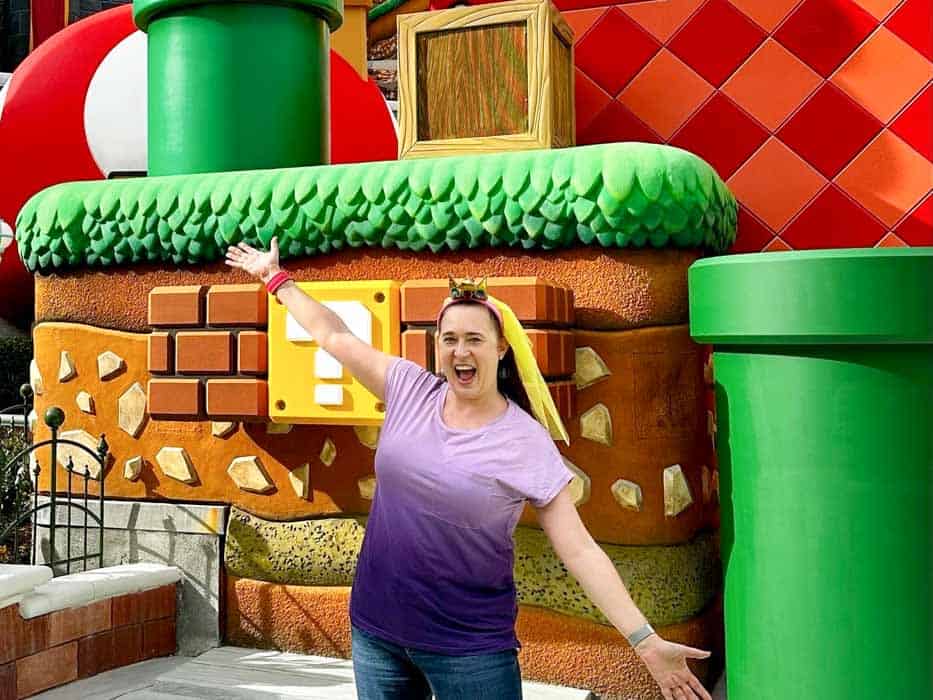 The main Mario Kart ride enjoyable for both kids and adults. Regular visitors to Universal Studios Hollywood can enhance their ride experience by scanning their Power-Up Band to try to beat their high score.
Adults will also really enjoy the mini games around the land and the Bowser Jr Shadow Showdown.
If meeting with characters is your thing, you can chat with Mario & Luigi, and Princess Peach in their respective areas.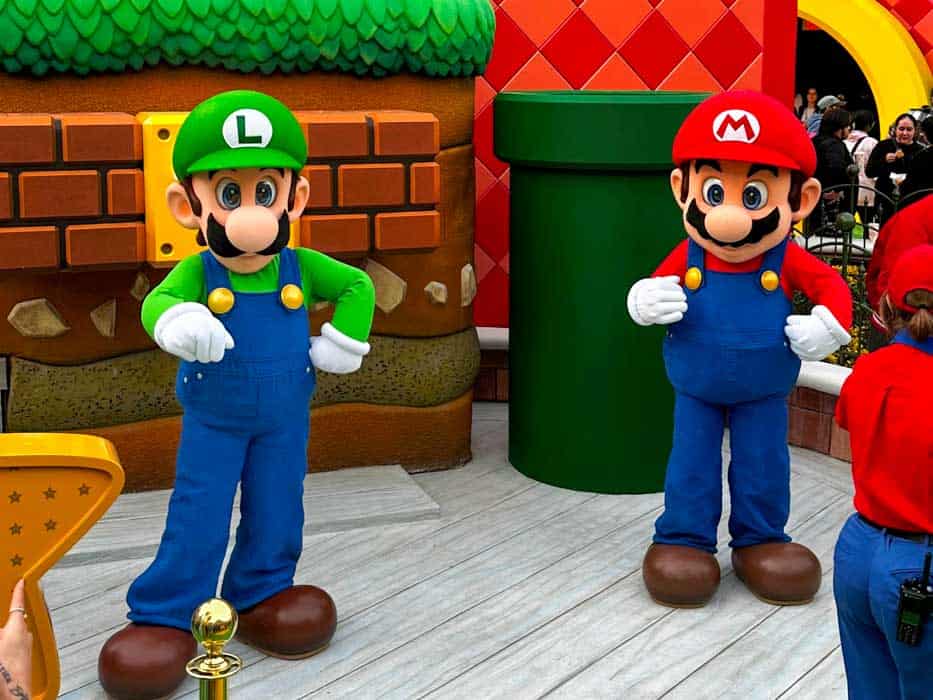 The only disappointment of the land, for me, was the food and the lack of cocktails. I thought the chicken sandwich was bland and very messy to eat, and the desserts weren't worth the calories. There are better food options available in other areas of the theme park or, better yet, Citywalk.
In summary, I really enjoyed my first visit to Super Nintendo World! I spent a total of 5 hours in the land (90 minutes of that was waiting and riding the Mario Kart ride).
Be advised that Universal Studios Hollywood may use a Virtual Line to limit capacity for Super Nintendo World. Once you get inside the park, use the Universal Studios Hollywood app to check the Virtual Line section. Be advised the time slots may fill up quickly during busier days so be sure to get to the park when it opens.
Frequently Asked Questions
Can any Universal Studios Hollywood guest visit Super Nintendo World?
Access to Super Nintendo World is included with the price of your ticket. However, they may use a Virtual Line to control crowds. Please check the app or speak with a Team Member when you arrive to learn more about the Virtual Line process.
What is the ride like? Is motion sickness a concern?
Mario Kart: Bowser's Challenge is a dark ride on a track that actually moves somewhat slow. While you're physically surrounded by fun scenery, the action takes place on your visor screen.
Personally I am very affected by motion sickness and I cannot do any ride simulator attractions or intense roller coasters. I had zero problems with the Mario Kart ride (other than my visor slipping down a couple times).
Universal Studios is infamous for not making their attraction vehicles size-inclusive. Is Mario Kart: Bowser's Challenge any different?
The seat for Mario Kart does feel like a go-kart seat, where you fit "snugly" inside. I am a size 14/16 and fit comfortably in my seat. But the seats for this ride are not completely size-inclusive.
There is a test seat off to the side which guests can request to try if you feel there may be a concern sitting in the seat due to your weight or height.
For kids, there is a height requirement of 4o inches.
The land looks like it's small with very tall walls around it. Does it feel claustrophobic?
On the map the land does look small, but inside it feels very spacious! If claustrophobia is a concern, it's easy to walk into the land and walk right back out if it's a "nope" for you. The seats for Mario Kart may also feel a little claustrophobic if you're not comfortable with a snug seat.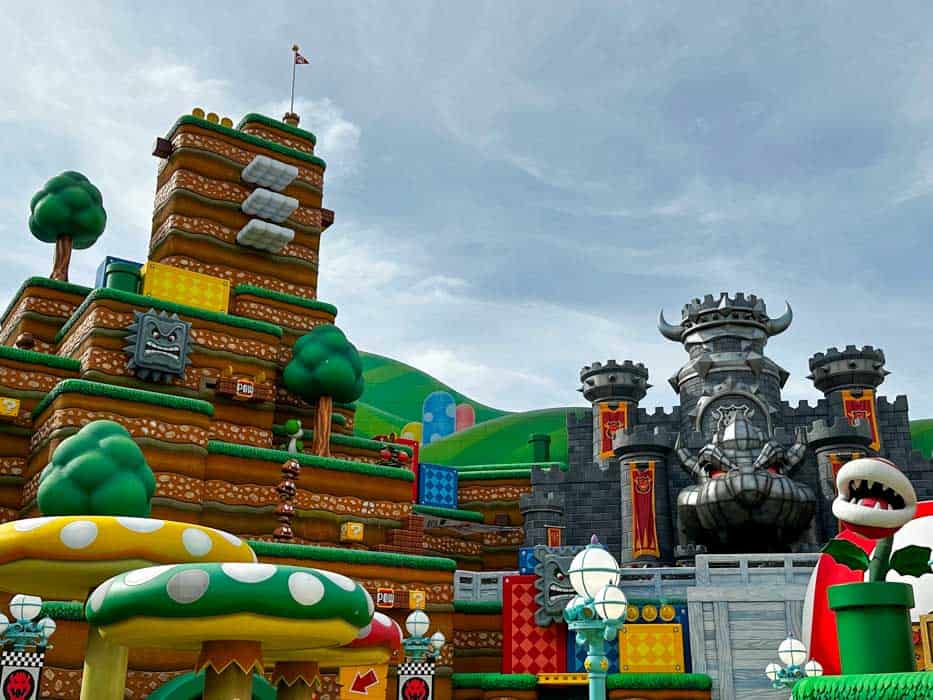 Does Super Nintendo World have restrooms?
Yes, and they are new and clean and very cute inside. You have to check them out!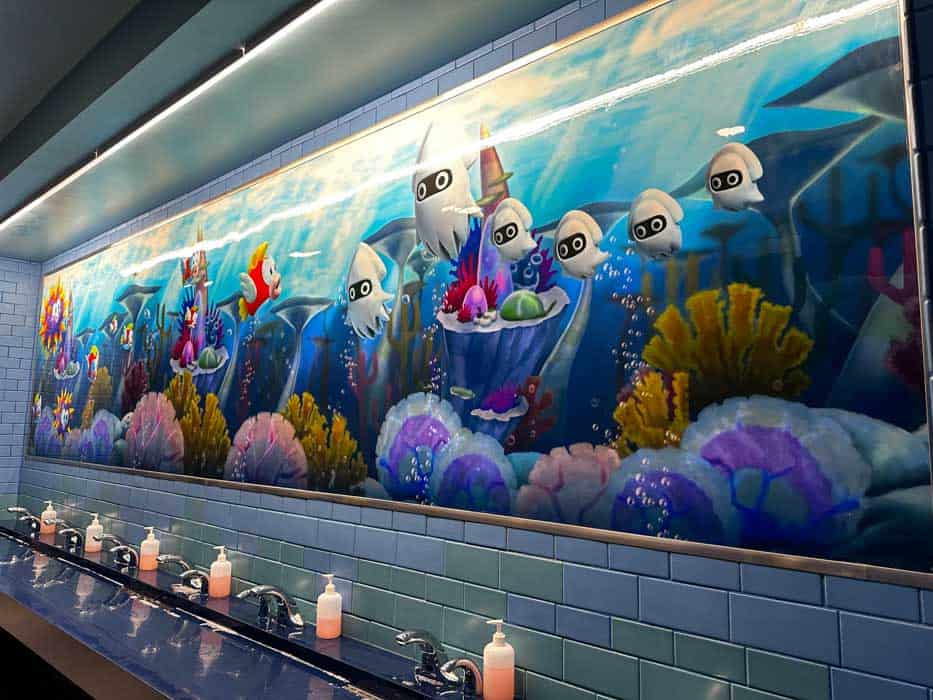 If you enjoyed this article, my name is Mindy and I typically write about visiting Disneyland, although I occasionally venture out to other theme parks and travel destinations! I am a child-free adult and love to share about my theme park adventures from an adult perspective. Please follow me on Instagram at @fairytalemindy to keep in touch!