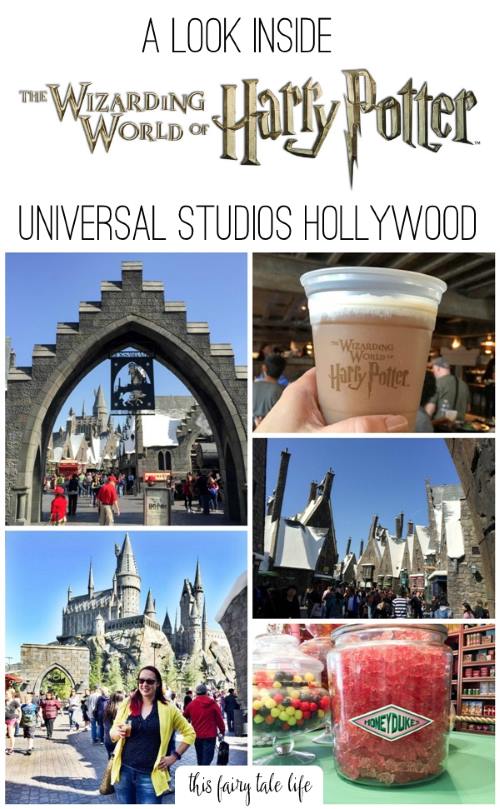 After the land's huge success in Orlando, The Wizarding World of Harry Potter is coming to Universal Studios Hollywood! In fact, it's already here!
The land doesn't officially open to the public until April 7, 2016, but since late February Universal has been sporadically opening the land for soft launches. Basically it's like a practice run for the employees. Nothing is guaranteed during a soft launch – stores may be closed, rides may be down, food may not be available. Also, there's no promise the land will be open on any certain day and Universal is pretty quiet about it. However, if it's open on any given day, you will certainly read about it on social media. That's how I found out the land was open last Saturday! Since I live just down the street from Universal Studios Hollywood (literally – I can see the Hogwarts castle spires from the intersection near my house), I decided to pop over to the park and check it out.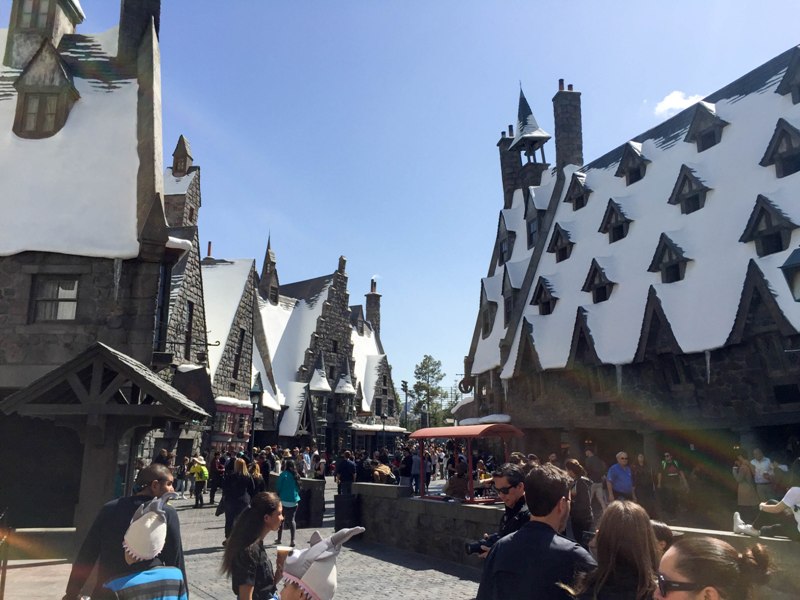 Truth be told, I'm a Disney girl all the way and while I have seen all the movies, I am not a major Harry Potter fanatic. I totally get why people love it and I know there's a lot of Disney-Potter crossover fans out there, but it's just not my fandom. So I'm giving my initial thoughts about The Wizarding World of Harry Potter as a casual observer.
The Wizarding World of Harry Potter (so many words … why couldn't they just call it Harry Potter Land?) is very easy to find from the front gates of Universal Studios. Just walk straight, past the Shrek meet & greet, and it will be on your right. On this particular day there were a few Universal employees along the route, announcing the land was open and directing the way. There were also several employees outside the entrance to Wizarding World, answering guest questions. They were easily identifiable due to their bright red polo shirts.
The entrance to Wizarding World is large and immersive. You can see the facades from the outside and it makes for a nice photo.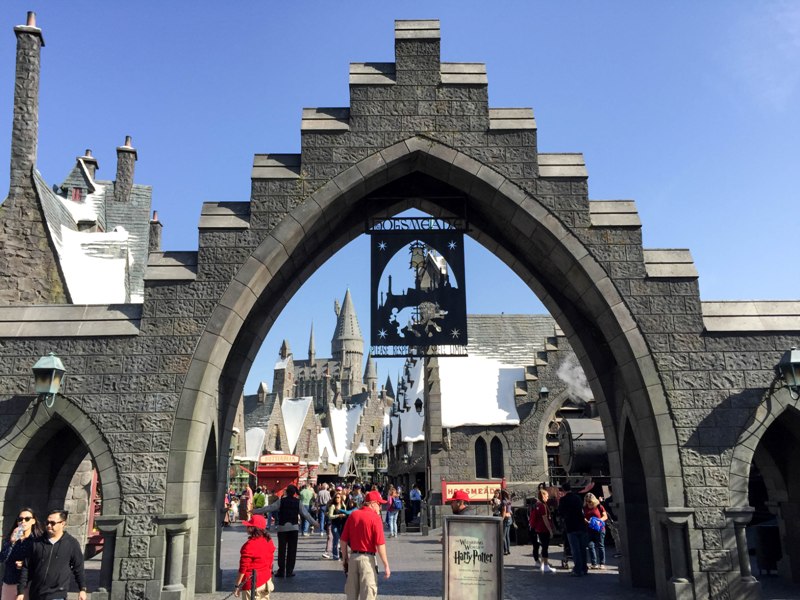 As soon as you walk in, you're transported to Hogsmead. The Hogwarts Express steam engine is directly to your right. Unlike Florida, this is a non-operational train. It's just for decoration! But it's animated, with train sounds and steam coming from the stack. While I was there, a conductor was standing in front and talking with guests. My only complaint is that the train is too close to the front entrance which caused a lot of congestion.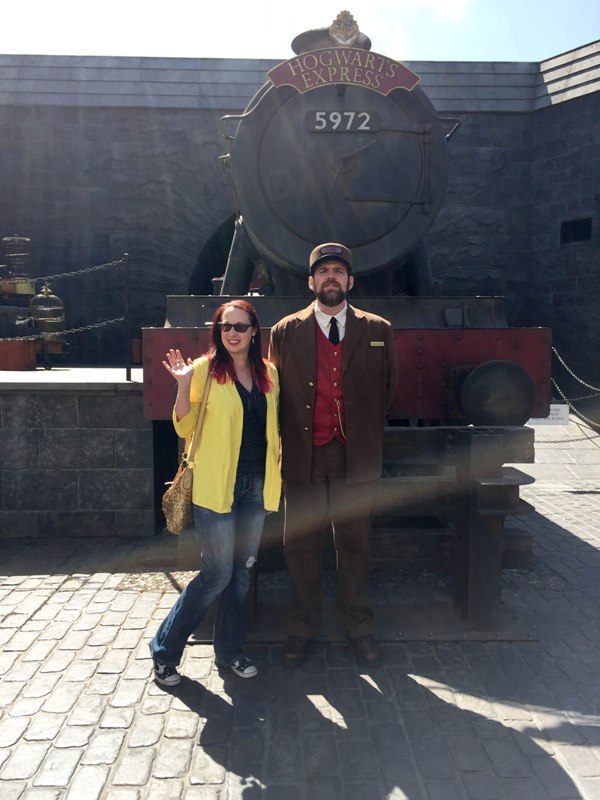 The shops start right away on your left, with Zonko's Tricks & Jokes and Honeydukes. Although, Honeydukes occupies the majority of the building (as it should). This is where I first noticed a slight problem – the shops are small. Walkways are very tight, and queues for the registers are short. Not short with people waiting, but short in space. I can see this causing some chaos on busy days.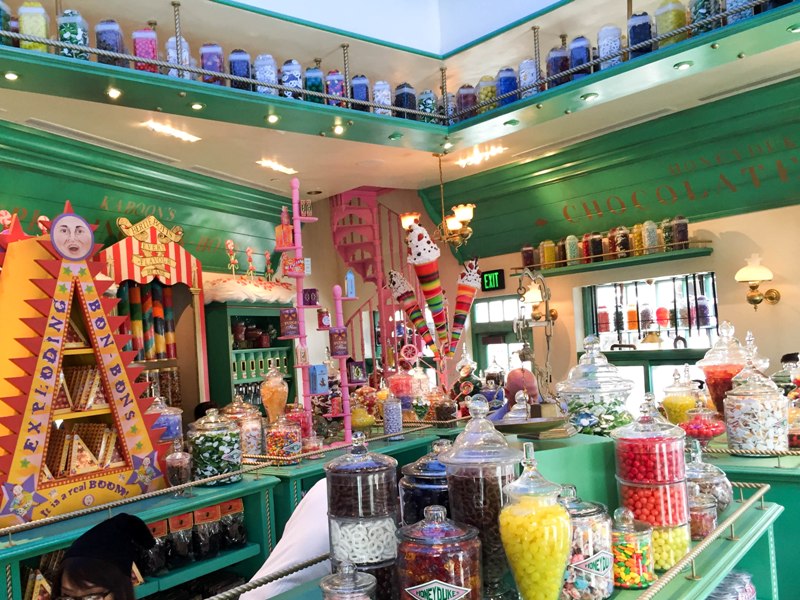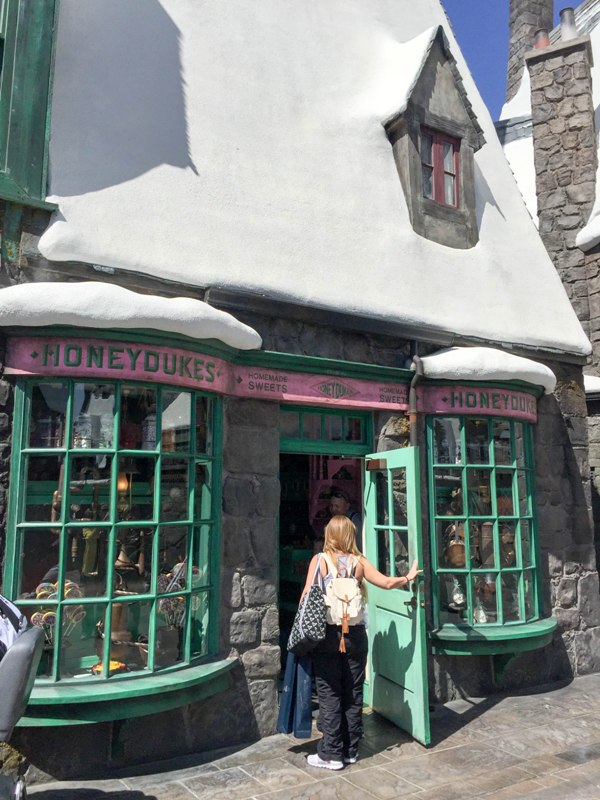 Another fun feature of the shops are the interactive windows. You can purchase an interactive wand at the park and perform spells to make the window displays animate. Just look for the markers on the ground and follow the wand movement pictured. I saw a lot of employees trying to help out young wizards get the hang of it and I didn't see any successful spells. But, it was just a technical rehearsal after all, so there's still time to get things working!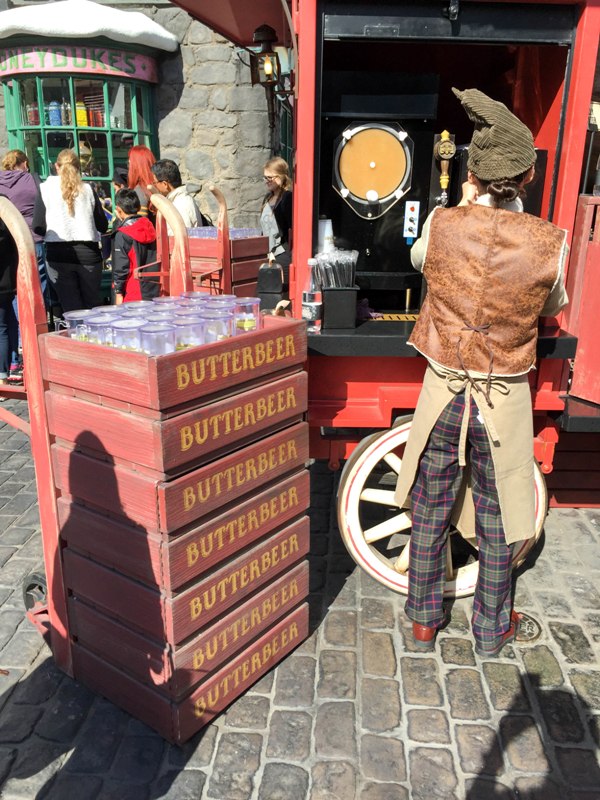 For those of you looking forward to a frosty mug of Butterbeer, rest assured it's very easy to get here. Right outside Honeydukes I saw the first Butterbeer cart. Regular and frozen are both available, with or without a souvenir mug for an extra fee. Another Butterbeer cart was situated at the other end of the park, and Butterbeer is also available inside the quick service restaurant Three Broomsticks. Also available at the carts were bottles of Pumpkin Juice and Gilly Water.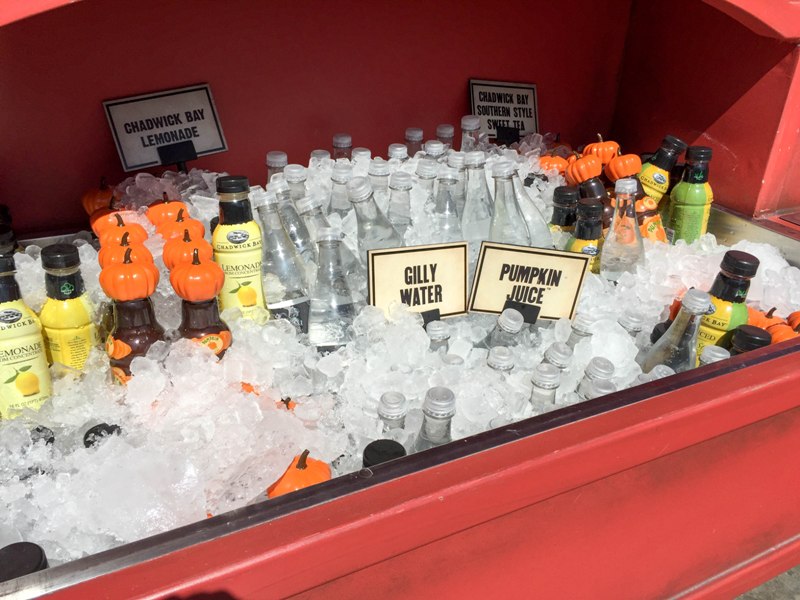 Speaking of Three Broomsticks, it is adjacent to Honeydukes on the left side of the main thoroughfare. It's quite a large and impressive building, with wide open seating areas with sweeping ceilings. Plus there were plenty of picnic-style tables on the outside patio. And yes, in case you are wondering, there are three broomsticks.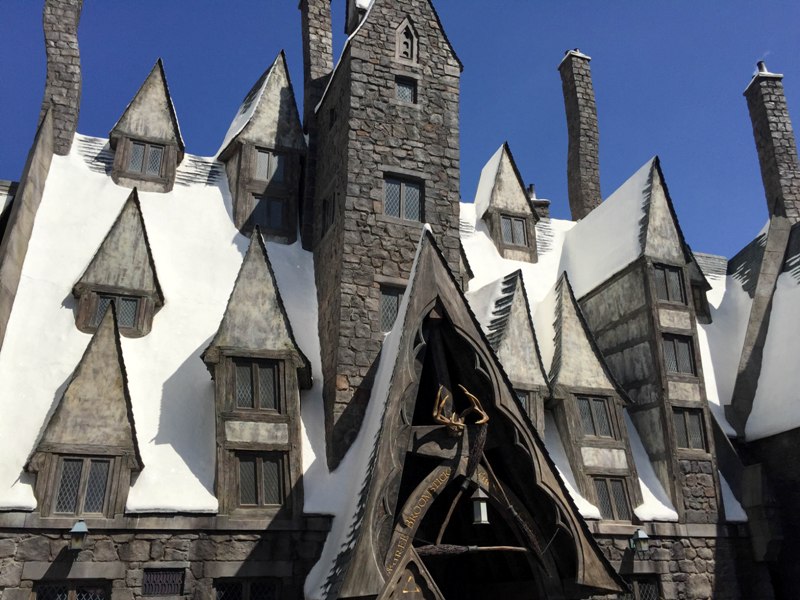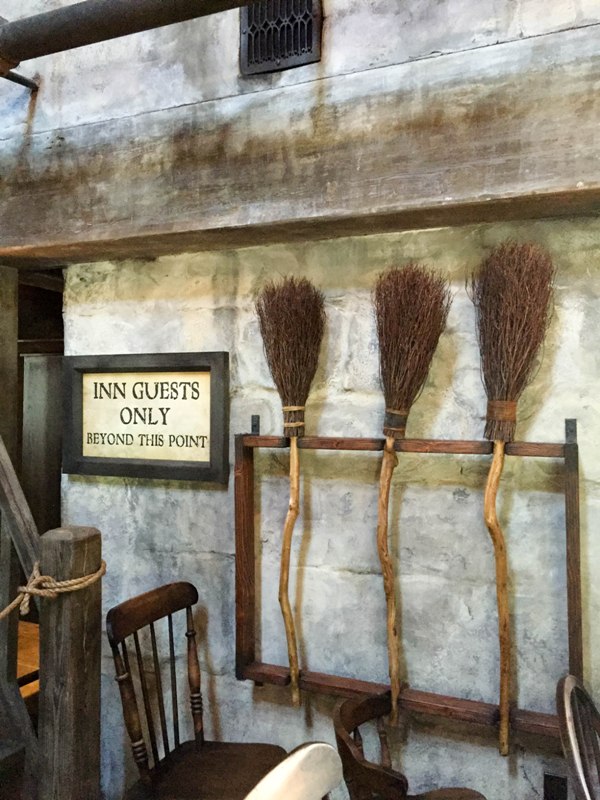 The food is themed around English fare with options like Shepherd's Pie, Beef Lamb & Guinness Stew, Fish and Chips, and Bangers and Mash. There was also a "Great Feast" which serves four people for $50, and includes salad, chicken, spare ribs, potatoes, and vegetables. Children's menu includes items such as Chicken Tenders and Macaroni and Cheese. Vegetarians and vegans may struggle a bit here, as every single entree option includes meat. Ordering the Roasted Chicken Salad without chicken or cheese may be your best option (just check the full ingredients list, don't take my word for it). As an aside, the employee at the front of the restaurant was advertising a veggie platter as the day's special, but he didn't know anything about what it included. But again, I realize I was visiting during a technical rehearsal so I hope they can get these little things wrapped up before the grand opening.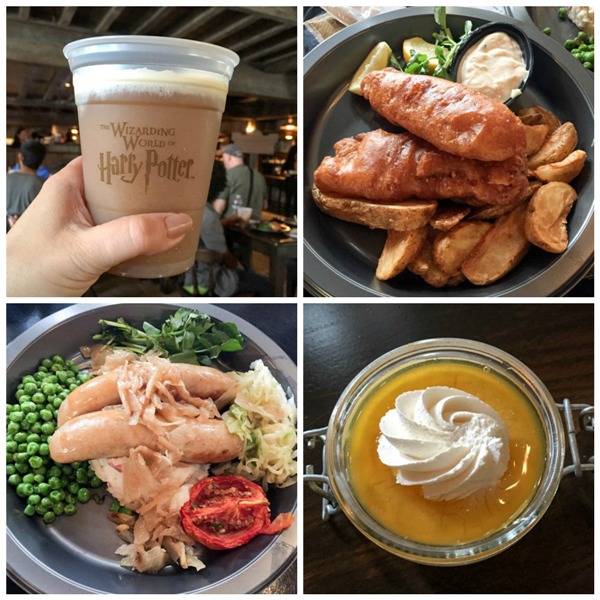 My friends and I ordered the Fish and Chips, Bangers and Mash, Butterbeer Potted Cream, and a frozen Butterbeer. Everything was quite tasty, and ordering food and pickup was very easy. Once you have your food, employees are on hand to seat your party but I'm assuming you can pick your table of choice on slow days.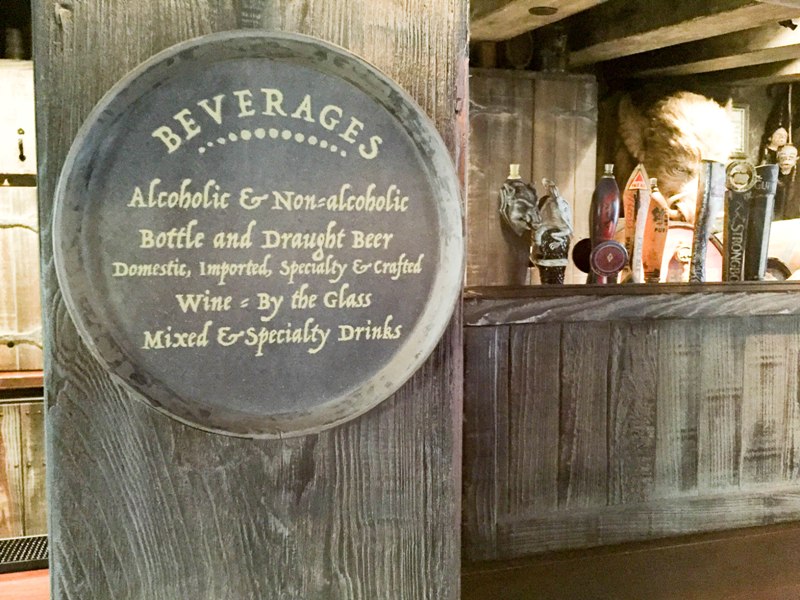 Attached to Three Broomsticks is a delightful little bar area, where you can order beer, cider, wine, and select mixed drinks. The bartender was great – when she checked our IDs she made a comment that it was strange our photo doesn't move. We also asked her a question about Owl Post delivery and she had a quick answer. I love when the employees go above and beyond to create an immersive experience.
Moving on from Three Broomsticks, directly across the walkway from the main entrance is a covered seating area, a good place to stop and rest on a hot day. Beyond that, on the right side, were more shops including Owl Post (where you can buy your very own plush owl) and Gladrags Wizardwear where you can purchase robes and house attire, anything from shirts to ties to headbands. Across the way is Ollivanders wand shop, which has a queue because it starts with a special presentation (if you want to skip the queue, there is a wand kiosk at the far end of the land).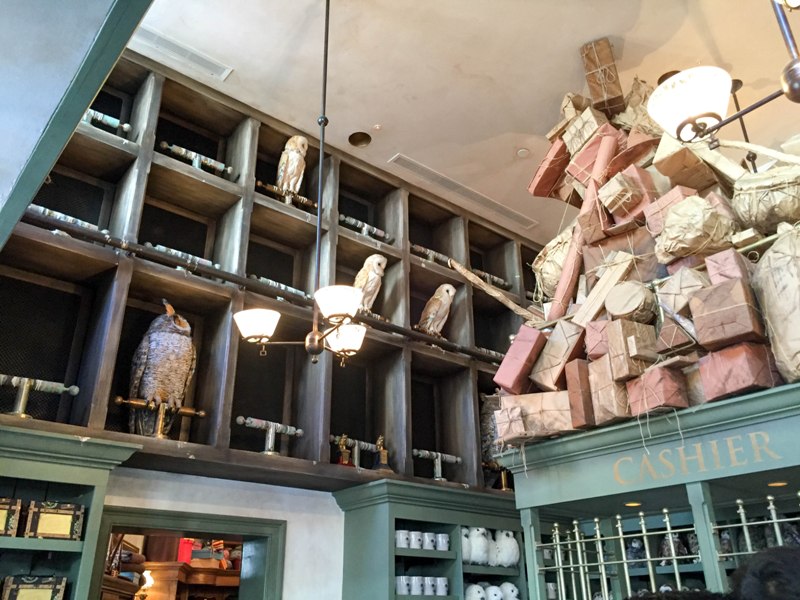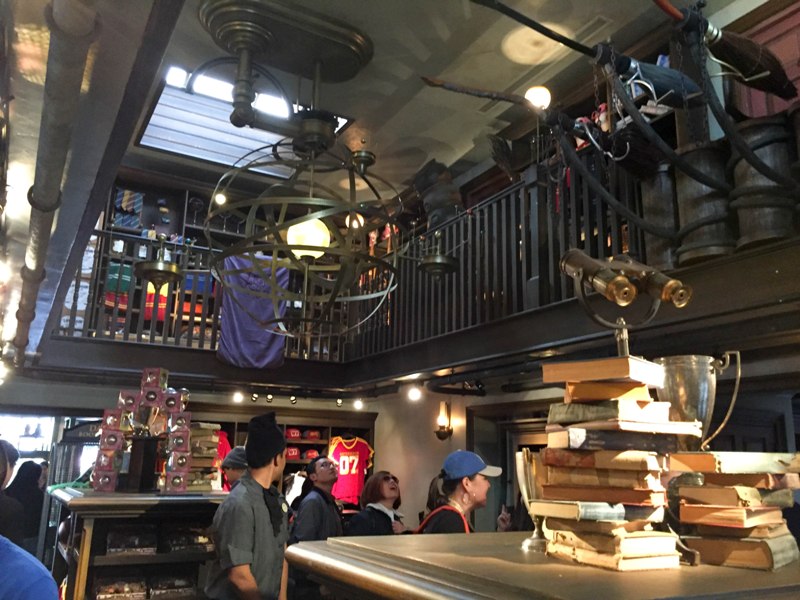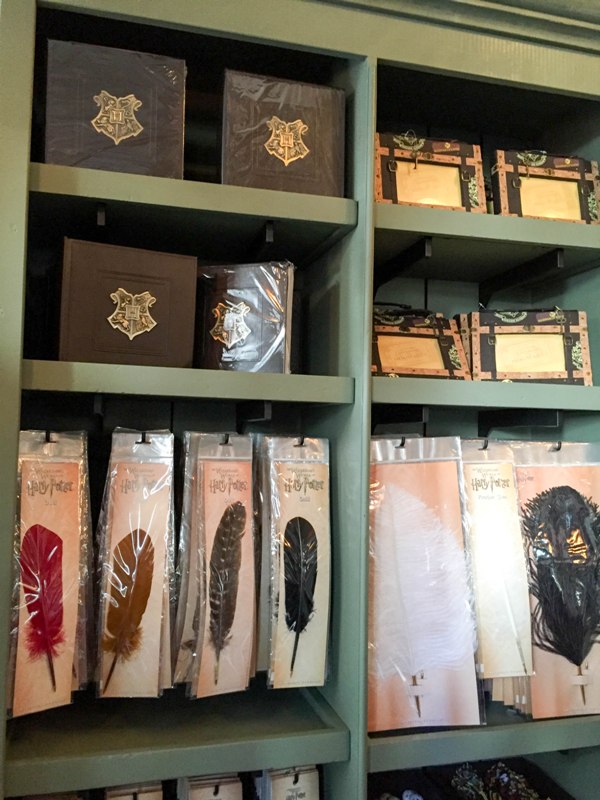 Past the shops you'll find a large open area with a stage, where the frog choir entertains periodically. Across the courtyard is the entrance to Hogwarts, and the ride Harry Potter and the Forbidden Journey. And a little further back on the right side you'll find the roller coaster Flight of the Hippogriff. I did not ride either attraction, as my time at the park was limited, but I will update this post after I do. I hear the Forbidden Journey is intense … I will have to put on my big girl pants for that one!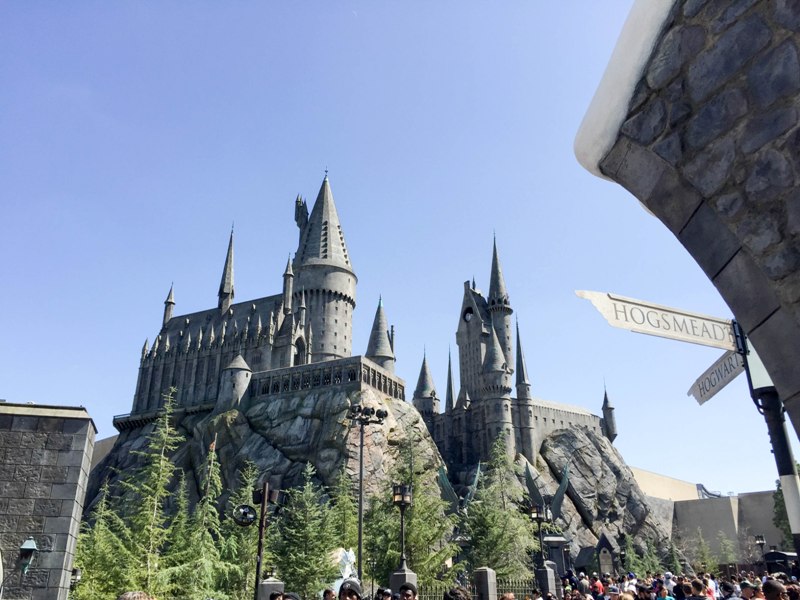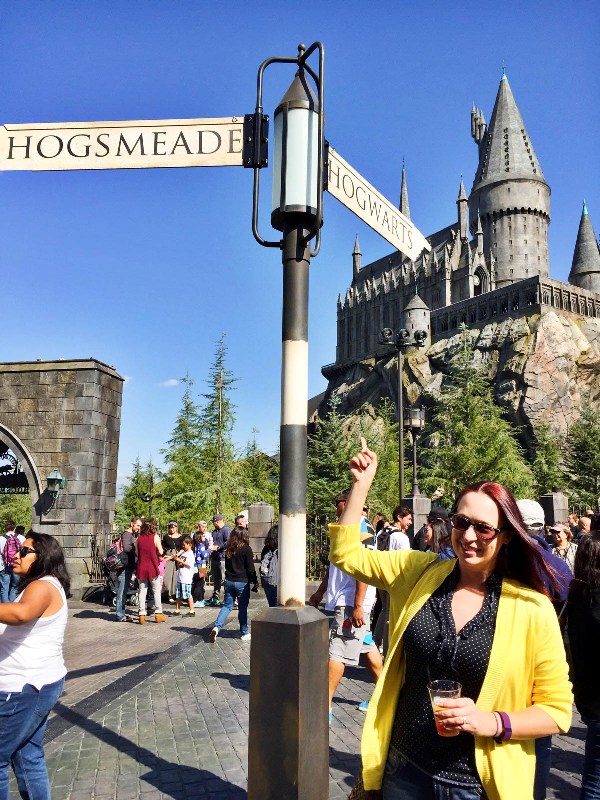 Past the attraction entrances, you come to a dead end (with a view of a high rise office building which took me out of the fantasy a bit). It's a small land but they pack a lot of action into the space, and I think Harry Potter fans will be thrilled with this new addition to Universal Studios Hollywood. It will be interesting to see how Universal handles the capacity, because I suspect the land will be VERY popular (if the crowds on the day I attended are any indication) and some spaces of the land are very tight. But overall I'm so happy to have The Wizarding World of Harry Potter as an addition to Universal Studios Hollywood, especially since I live so close! I guess I have another theme park annual pass I need to buy.