Christmas and New Years is a super popular time to get engaged, especially at a Disney Park! So if you found this post after experiencing your own fairy tale Disney engagement – Welcome! I hope you find tons of useful information and inspiration for your own Disney wedding.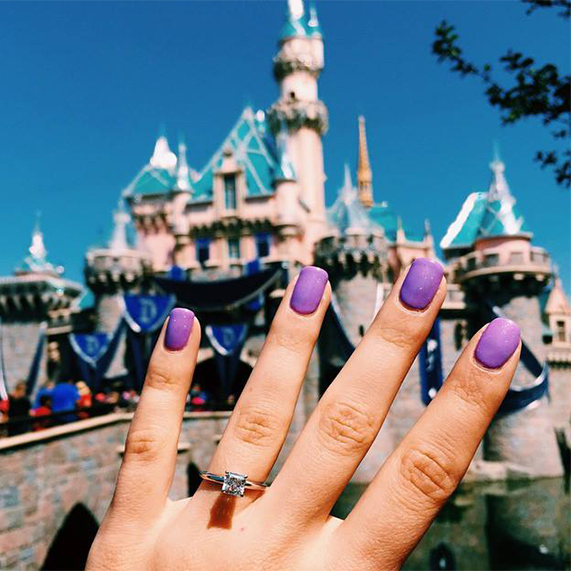 Image Source: Disney Weddings Inspiration Gallery
This post is all about what to do if you just got engaged and you're considering a wedding at a Disney Park. Keep in mind that this is just general information and everyone's experience will be different. But I hope this gives you a launching point for your own planning!
Get Started with Planning a Disney Wedding
Step 1: Call Disney!
Calling Disney Fairy Tale Weddings (DFTW) and getting their most up-to-date brochure is the smartest thing to do right at the beginning. The starting information will be vague, but it will give you some rough ideas about what type of events they offer and the minimum prices.
DFTW at Walt Disney World: 321-939-4610
DFTW at Disneyland Resort: 714-520-7005
DFTW on Disney Cruise Line or Castaway Cay: 321-939-4610
The Disney Weddings website is also very helpful at providing a basic idea of available venues and starting costs.
Step 2: Figure out your budget!
Disney offers a wide array of event packages to suit pretty much any kind of wedding you are dreaming of, but before you get carried way, figure out what you can realistically spend.
Both Walt Disney World and Disneyland weddings start at $7500 – $10,000. Cruise weddings start around $3500, depending on your event location, but don't forget this is on top of the actual cost of the cruise. (Prices taken from Disneyweddings.com as of December 2022.)
Step 3: Join the community!
One of the best parts about getting married at Disney is the wonderful and supportive people you will meet online. There are several websites and forums dedicated to all things Disney Weddings. Here are just a few to check out:
The Disney Weddings and Honeymoons forum on DisBoards.com – Lots of great and informative threads here, and you can start your own planning journal (kind of like a diary) to keep everyone up to date on your planning. Keep in mind the DisBoards is a public website and anyone can find and read your entries, so don't go ranting about your future mother-in-law (FMIL) or post pictures if your dress if you don't want your partner to see it before the wedding! (Insider tip – once you've been active in the forum for a while, ask the members to direct you to the accompanying secret Facebook group.)
Disney Wedding Podcast – Hosted by a WDW bride, the Disney Wedding Podcast is a weekly download that covers a different Disney Wedding topic every week. I recommend going through the archive and downloading two or three episodes that seem to match your initial wedding dreams – then come back and download the rest when you're a little deeper into planning.
Weddings at Disneyland on Facebook – Poor Disneyland Brides get the short end of the stick because their venue isn't as popular as that "other" park in Florida. Fear not, for I have started a Facebook group JUST for Disneyland brides and grooms. You can also check out our sister website, Married at Disneyland, for pretty much all the info you could possibly want or need about Disneyland Weddings.
Step 4: Get the Book!
I wrote a book called "Ask a Disney Bride," which covers 25 of the most common questions that come up while couples are planning a Disney wedding. And, it's only $5 bucks because you're probably already stressed about your wedding budget, right? Don't worry, I got you!

Last but certainly not least, don't forget to pick up your magical wedding attire!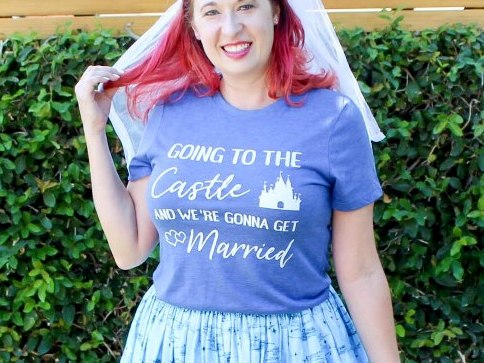 Going to the Castle Shirt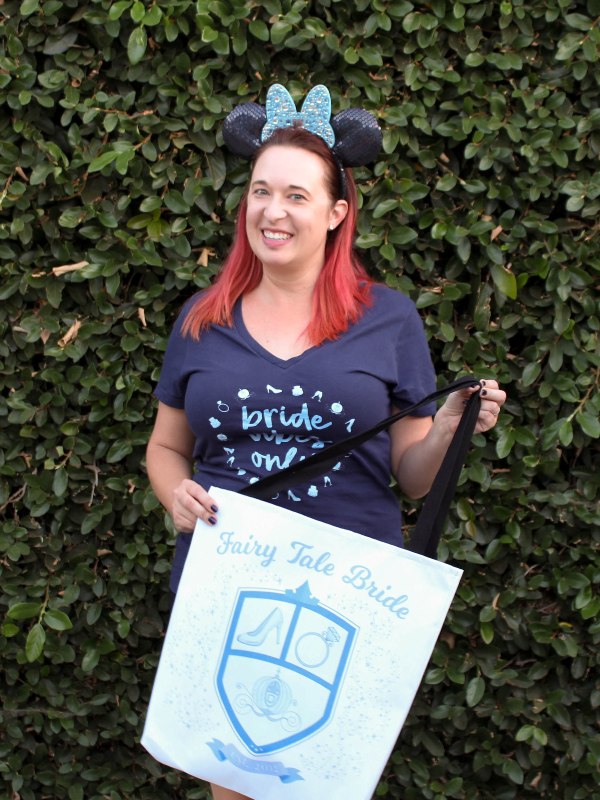 Bride Vibes Only shirt
Bride Family Crest tote (similar)
And as always, if you have any questions about Disney weddings, feel free to reach out to me and I'll try to help you! Happy planning!
This article was originally published in January 2018 and has been updated.
Shop Disney Wedding Favorites:
(advertisement)