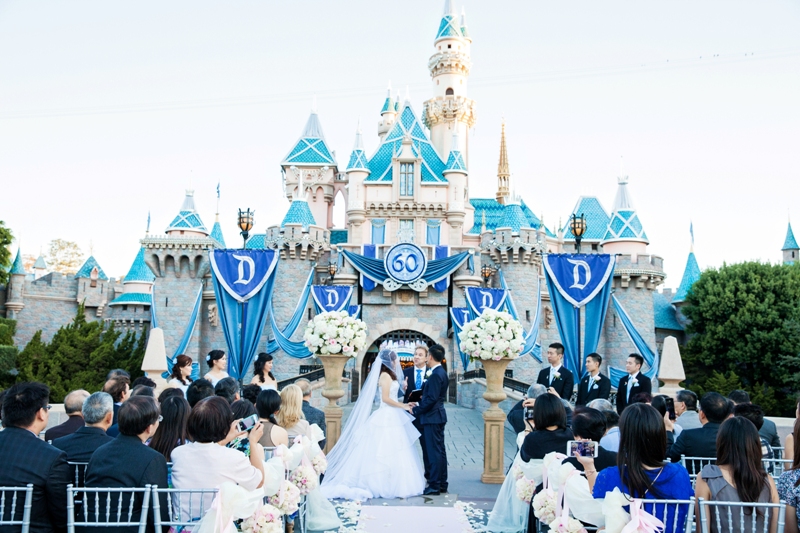 Have you ever wondered what it's like to get married in front of Disneyland's Sleeping Beauty Castle? I sure have! Today, my Disney Bride Christina is here to share how she planned their early morning Sleeping Beauty Castle wedding at Disneyland!
For weddings at Sleeping Beauty Castle, you can typically choose from early morning, before Disneyland opens for the day, or late night after the park closes. The start of an early morning ceremony is typically at 6:45am but can vary depending on what else is happening around the resort that day.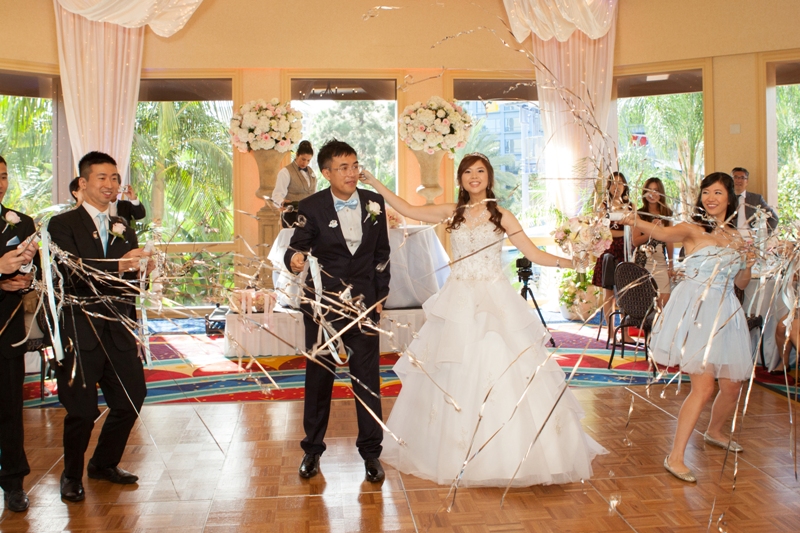 The early morning ceremony is followed by a pre-reception hour and brunch reception at one of the three Disneyland Resort hotels.
A lot of people wonder about the cost of a wedding like this! Events inside Disneyland or Disney California Adventure are highly customized and you must contact Disney's Fairy Tale Weddings in order to get sample pricing based on your desired date and guest count.
I love that Christina and Kevin had their wedding at Sleeping Beauty Castle with a Cinderella theme! Two princesses are better than one, if you ask me! Plus I love that you can get Mickey waffles at a brunch reception. This looked like a true fairy tale day, and I'm grateful for Christina and Kevin for sharing some insight into their wedding planning.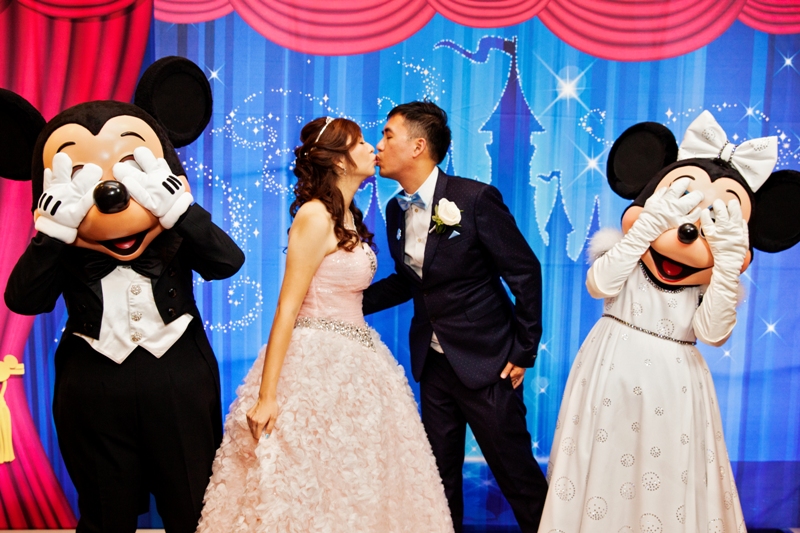 Christina and Kevin's Sleeping Beauty Castle Wedding at Disneyland
Disney Groom: Kevin, Los Angeles, CA
Disney Bride: Christina, Los Angeles, CA
Wedding date: September 21, 2015
Ceremony Venue: Sleeping Beauty Castle Forecourt, Disneyland, Anaheim CA
Pre-Reception Venue: Magic Kingdom Lawn, The Disneyland Hotel
Reception Venue: Sleeping Beauty Pavilion, The Disneyland Hotel
Getting Ready Venue: Fairy Tale Suite, The Disneyland Hotel
Guest count: ceremony 50, reception 100
Photography: White Rabbit Photo Boutique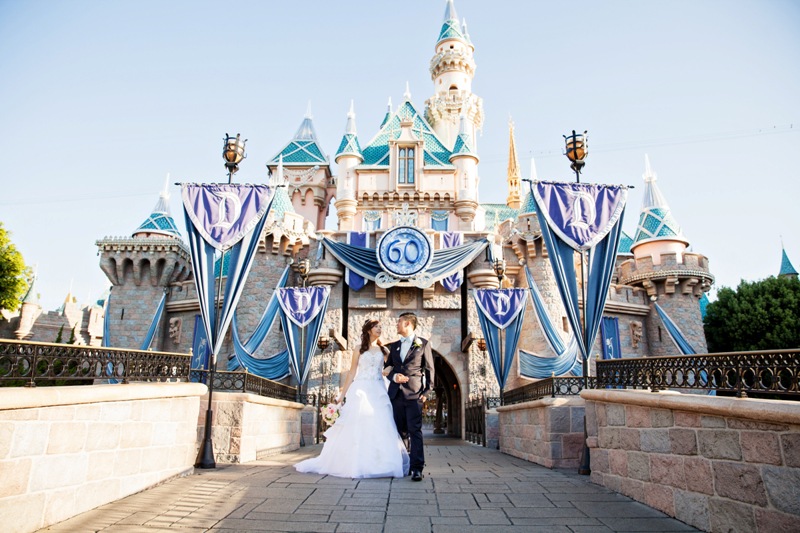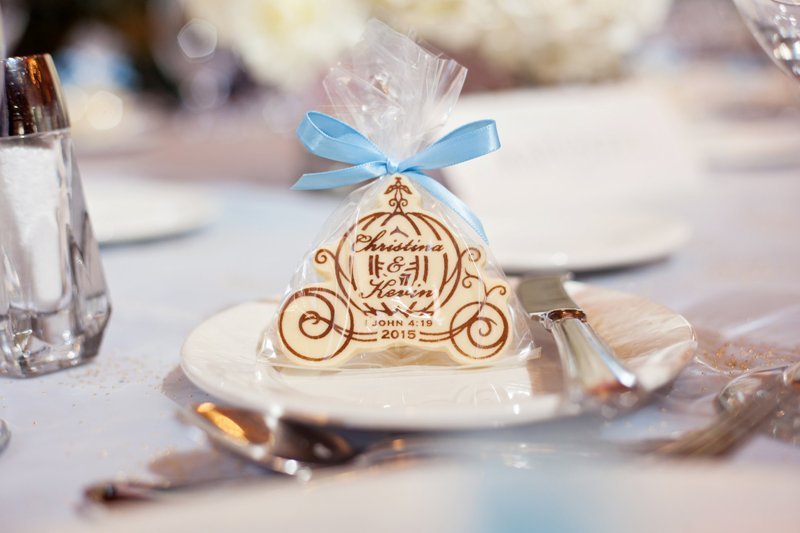 Why did you choose a Disney wedding?
Disney is magical!
How did your family/friends react to your Disney wedding?
They were so surprised and didn't know you could get married at Disneyland.
What was your theme?
Our theme was Cinderella, We used light blue and silver for our wedding colors. Our first dance song was "A Dream is a Wish Your Heart Makes" from Cinderella.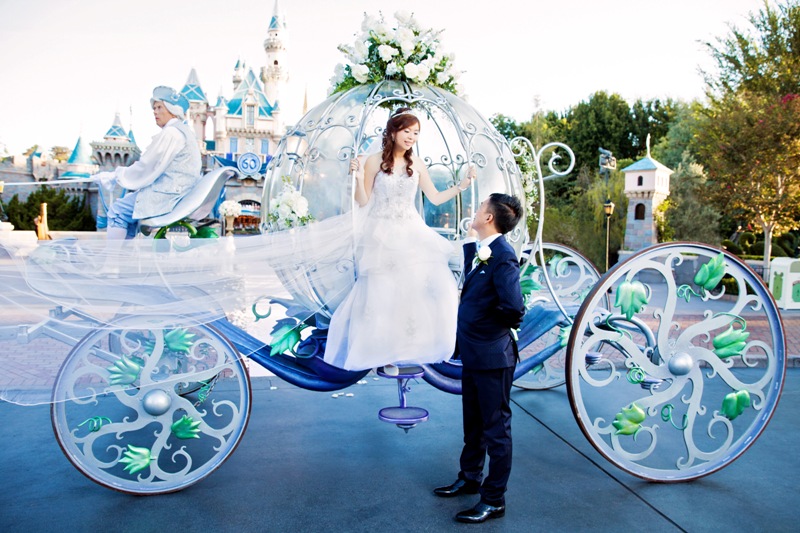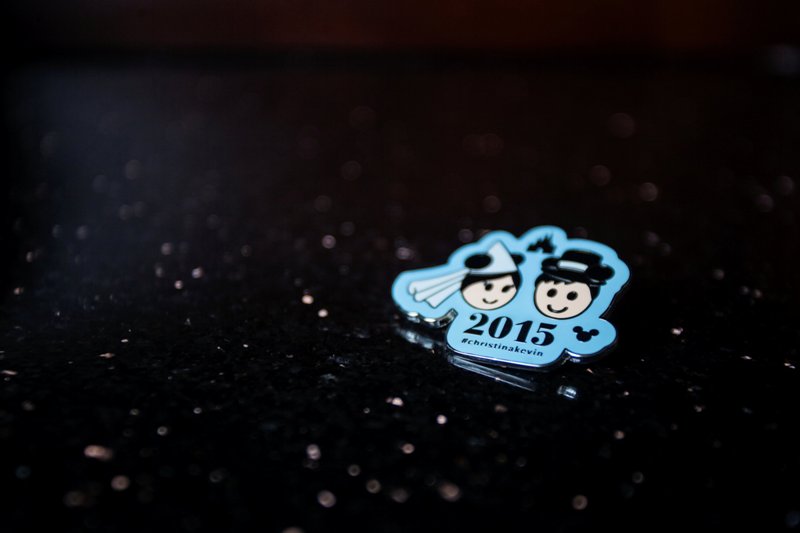 What was your biggest challenge in planning your Disney wedding?
One of our biggest challenges in our wedding planning was time. As a graphic designer, I want to get into every single detail. Even with a 1.5 year engagement to work on the wedding, there was still not enough time for our DIY invitations, favors, decors, and designs. We were still working on the materials the night before the wedding!
Tell us about your ceremony. Did you include any Disney touches?
Our ceremony was in front of Sleeping Beauty Castle. I arrived at the castle in the crystal carriage, accompanied by Major Domo. My dress was a Belle gown from Alfred Angelo's Disney's Fairy Tale Wedding Collection.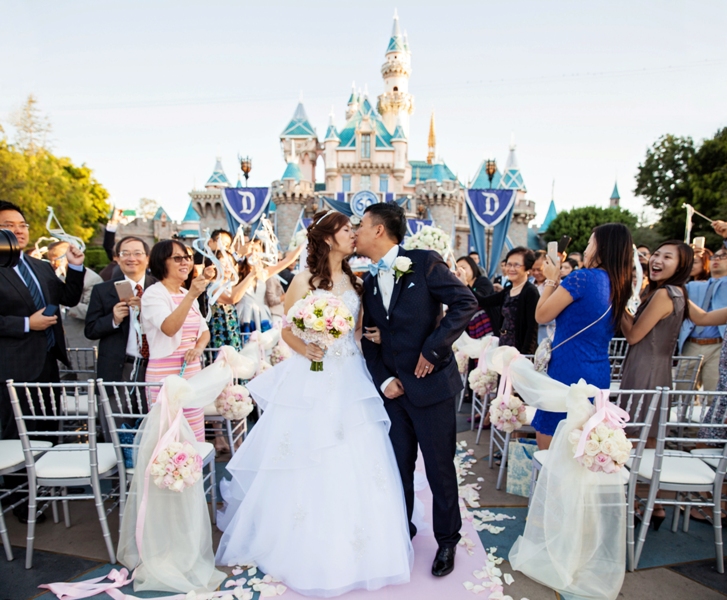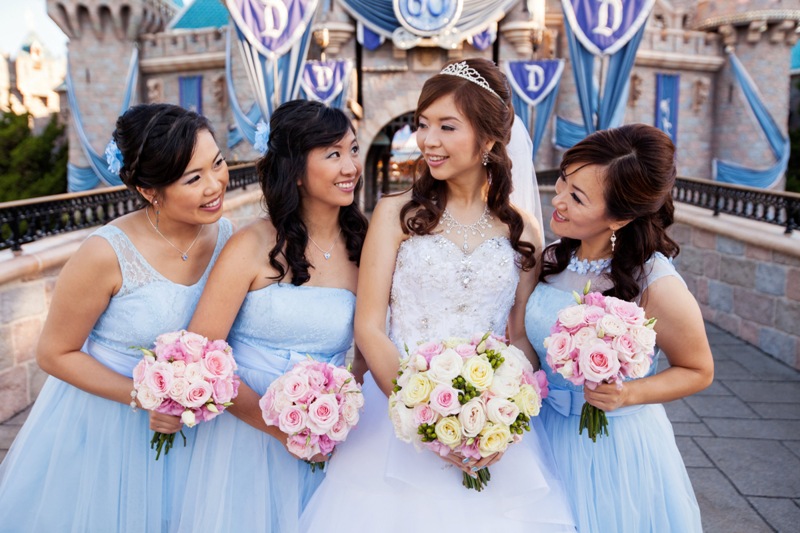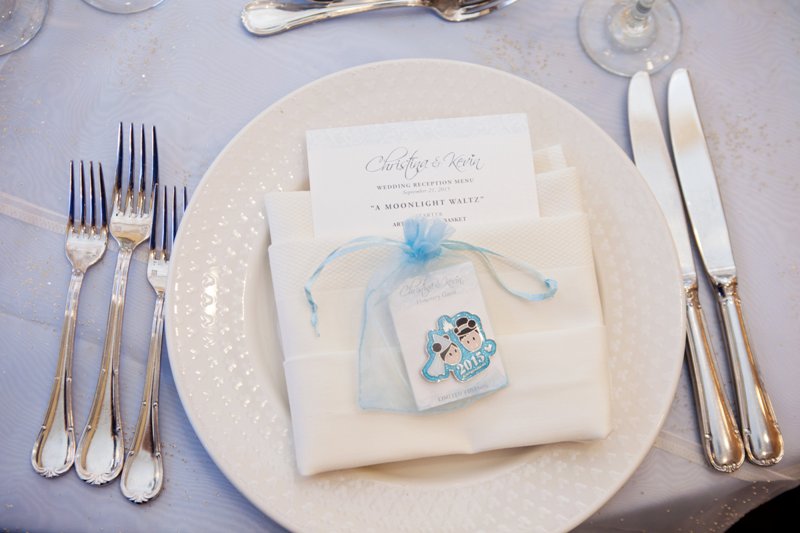 Describe your reception. Was it completely traditional or did you do anything unique?
Each table was named with a Disney princess with a plush of the princess in the floral centerpiece. I drew the princesses and designed the seating chart. We had a special entrance with the bridal party popping out confetti. We put up a secret hidden Mickey challenge and had an award presentation for our participants at the reception. We did a Mickey and Minnie plush toss instead of bouquet and garter.
What did you splurge on? Where did you save money?
We splurged on the meals. We served Mickey Mouse waffles for the morning pre-reception. We served a dinner menu including Filet Mignon and Lobster Tail with wine for the reception brunch. We saved money by doing a lot of DIY items.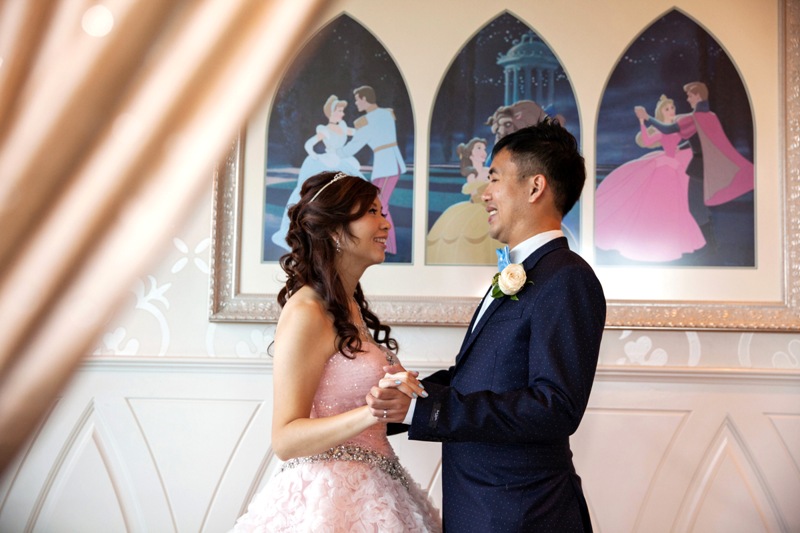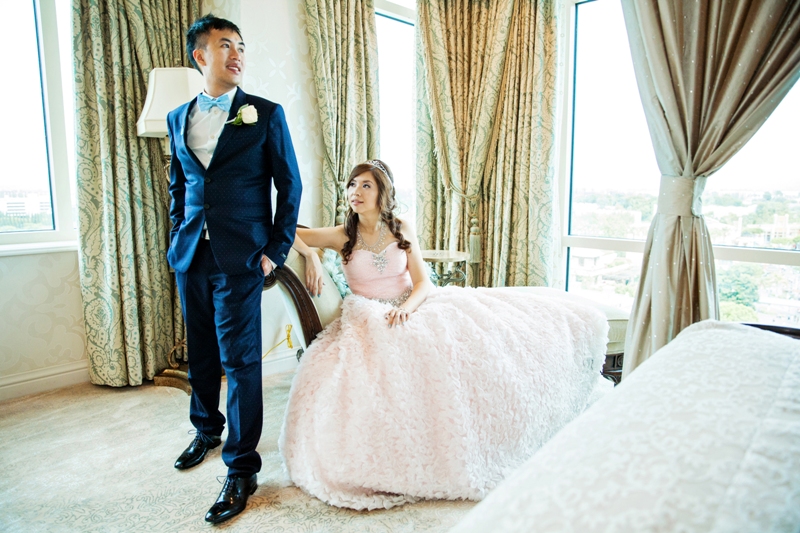 What was your favorite moment of the day?
Getting married in front of the castle!
What advice would you give to couples that have just started planning their Disney wedding?
Plan as early as you can!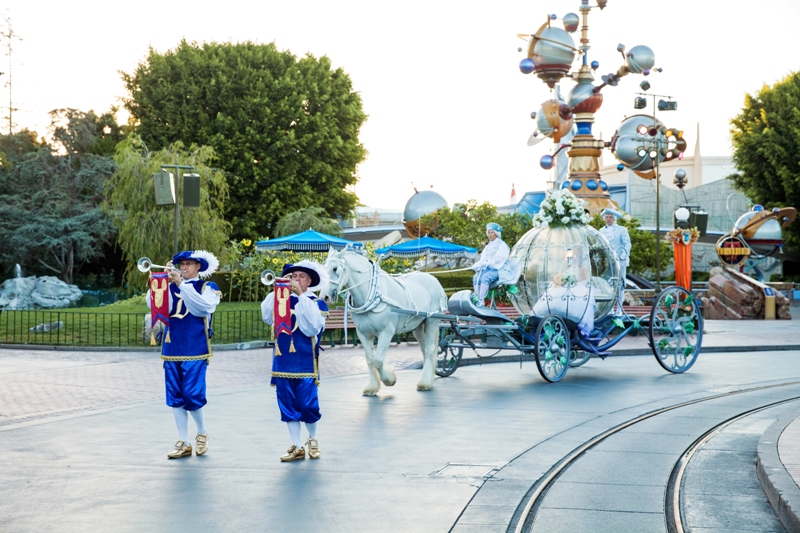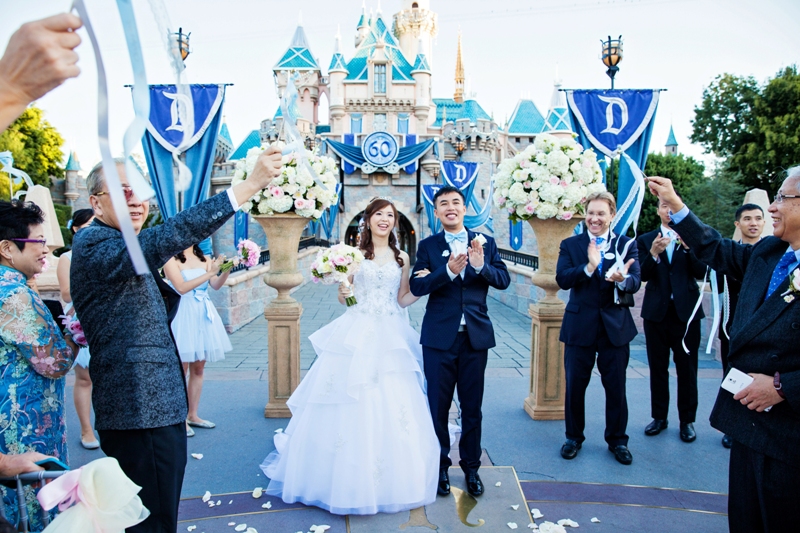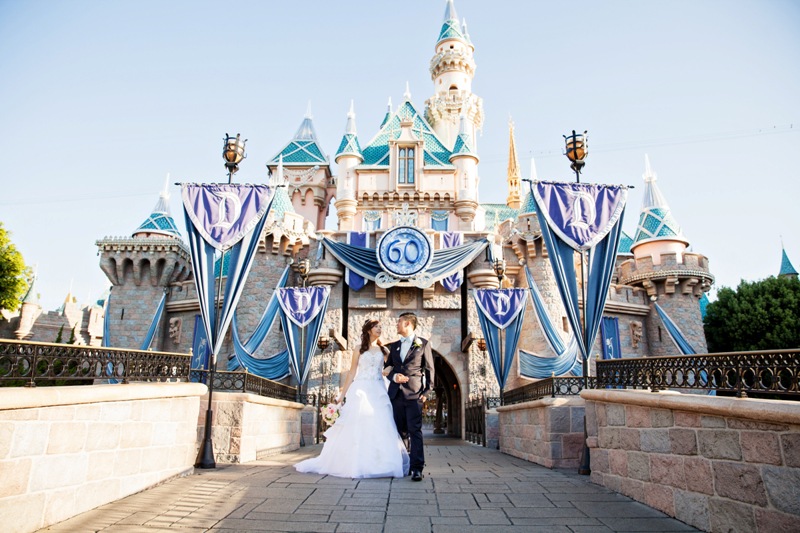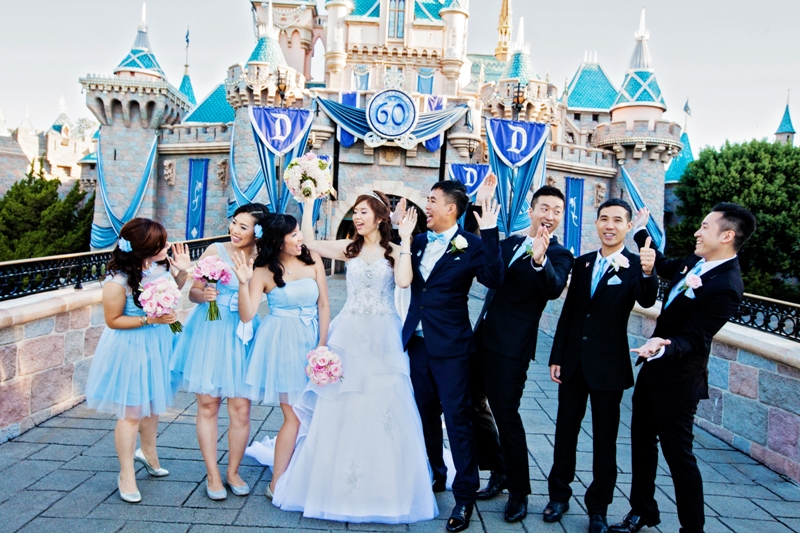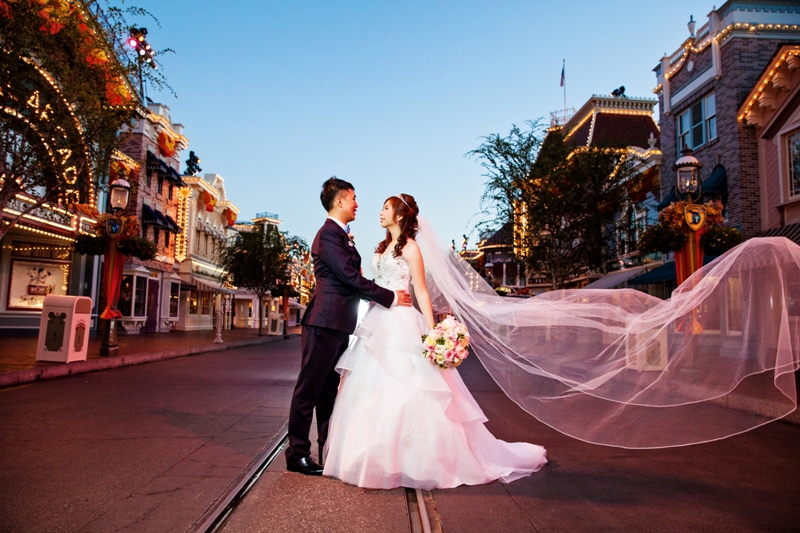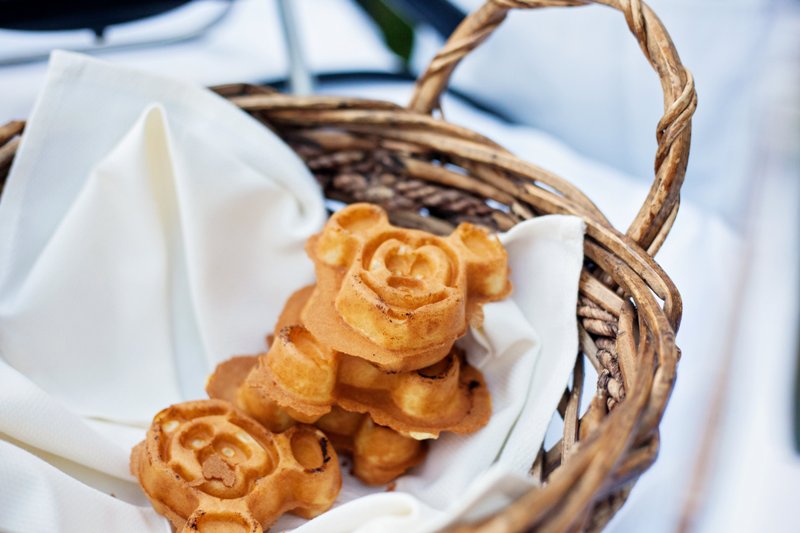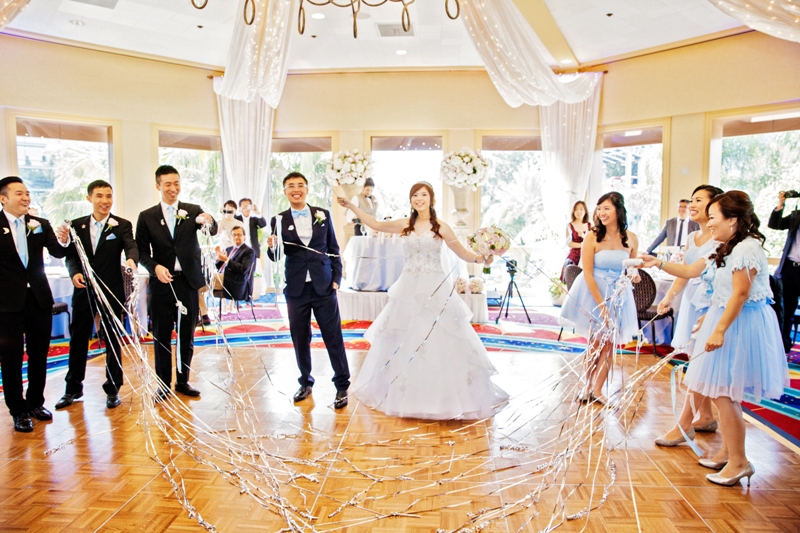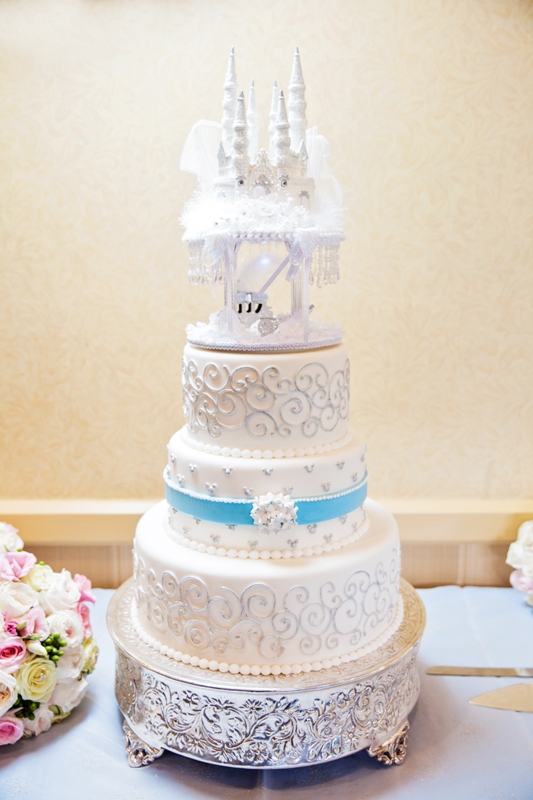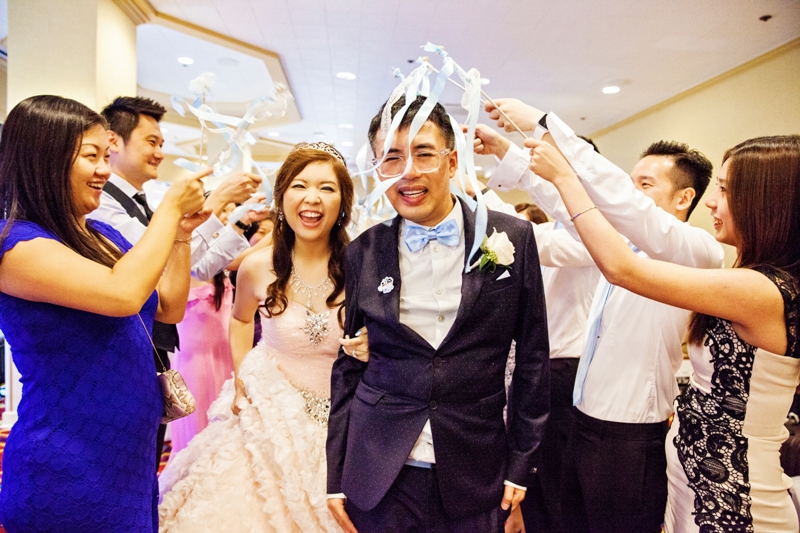 Vendors
Wedding Coordinator: Disney's Fairy Tale Weddings
Photography & Photo Booth: White Rabbit Photo Boutique
Videography: Beverly Hills Photography
Officiant: Norman Alexander
DJ: Sound Prodigy
Hair/Makeup: Fairytale Hair & Makeup
Chocolate Carriage Favors: Disney's Fairy Tale Weddings