This article contains affiliate links.
Photo credit: Laughing Place
Did you know it rains in Southern California? It's true! On average we get 36 days of rain a year, which isn't much. But if you're a frequent Disneyland visitor, chances are you'll encounter some rain while you're at The Disneyland Resort.
But don't worry, Disneyland is still really enjoyable in the rain! And the good news is, the rain tends to keep the crowds away (us locals just can't be bothered with it) and queue times are often really low.
Here are some rainy day Disneyland tips and advice in case you ever find yourself stuck in a downpour!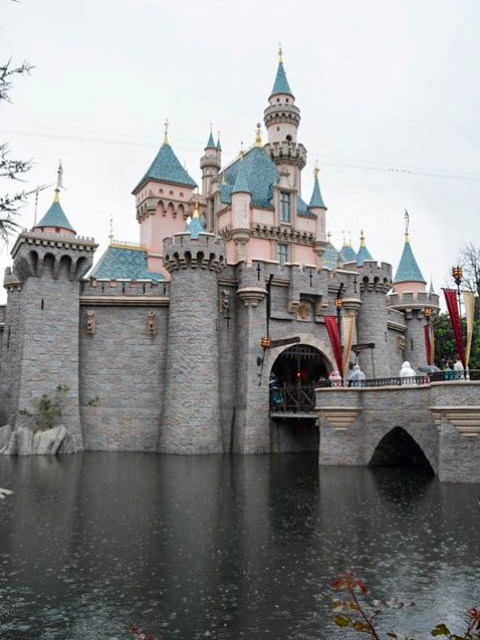 Photo credit: Katie Stein
Rainy Day at Disneyland – Tips and Advice
Dress for success. Disneyland does not drain well in heavy rains, so rain boots are a must. If you don't have rain boots, bring an extra pair of shoes and socks and store them in a locker. An umbrella is a good idea if it's a solid storm, but for scattered showers a poncho should suffice. You can purchase plastic ponchos at Disneyland or order them on Amazon. I also recommend dressing in layers, as it may feel toasty when you go inside a hotel or a restaurant to escape the rain.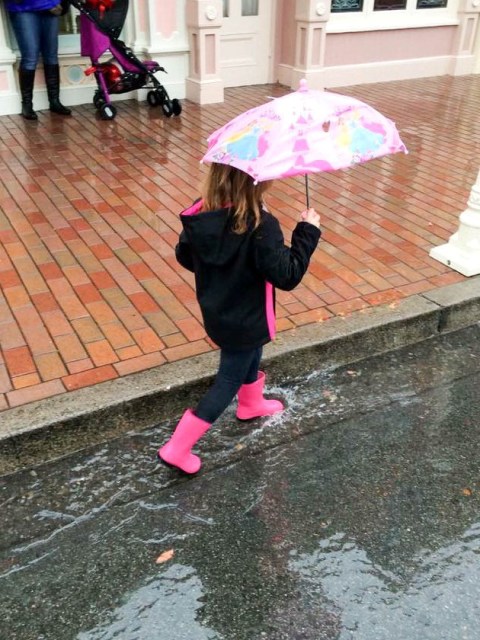 Photo credit: Katie Stewart
Protect your stuff. Bringing a hand towel and some Ziploc bags is a good idea. You'll never know when you'll need to wipe down a seat, and bags are good for protecting your phone or camera.
Use transportation! The monorail, Disneyland Railroad, and Red Car Trolley are all covered options that still operate in the rain (unless the weather is really extreme). Use them to get from one place to another without walking in the rain.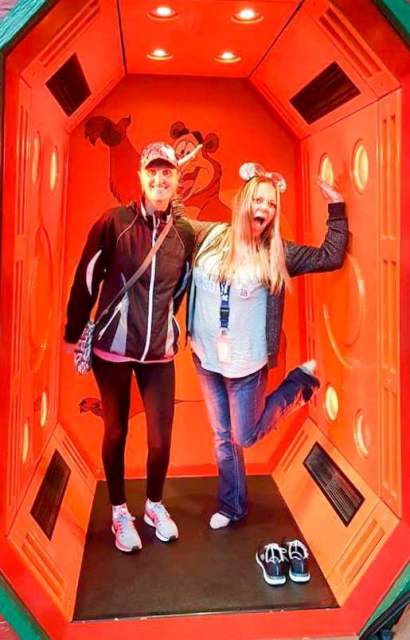 Wilderness Warming Hut. Photo credit: Tyler and Amanda Gravatt
Dry off in a Warming Hut. If you're in Disney California Adventure, you can pay $5 to use the Wilderness Warming Hut located across from the entrance to Grizzly River Rapids. There are two huts, with a max capacity of five people. Once activated, you get 3.5 minutes of warm, circulating air. But be advised, you may have to wait in a long (outdoor) queue to use them! (Update: These seem to be seasonal!)
Prepare for cancellations. Fireworks, parades, and shows are often cancelled during heavy rain. Sometimes you'll get a chance to see Mickey and Friends Rainy Day Cavalcade instead of the standard parade. It's a cute little parade using the Main Street vehicles. Also, some roller coaster attractions such as Matterhorn and Incredicoaster will stop operating in the rain. Use the Disneyland app to check which attractions are up and running.
Hit up all the inside attractions. Rainy days are when Great Moments with Mister Lincoln has it's time to shine! It's true there aren't many sheltered attractions and queue areas at Disneyland, and even less at Disney California Adventure, but there are certainly places to escape the rain. Here's a list of attractions with ample protection, and some to maybe avoid.
Photo credit: Katie Stein
Disneyland
The following are indoor attractions:
Great Moments with Mister Lincoln
The Opera House (waiting area for Mr Lincoln but an attraction in its own right)
The Main Street Cinema
Mickey and Minnie's Houses in Toontown
Roger Rabbit Car Toon Spin
Pinnochio's Daring Journey
Snow White's Scary Adventures
Sleeping Beauty Castle walk through (steps may be slippery)
Star Tours
Star Wars Launch Bay
The following are indoor attractions with partial or fully outdoor queues:
Enchanted Tiki Room
Peter Pan's Flight
Mr. Toad's Wild Ride
It's a Small World
Indiana Jones and the Forbidden Temple
Pirates of the Caribbean
Haunted Mansion
Buzz Lightyear's Astro Blasters
Space Mountain
Finding Nemo Submarine Voyage
Winnie the Pooh
Golden Horseshoe
The following are attractions that are outdoors or partially outdoors:
Splash Mountain
Tarzan's Treehouse
Dumbo the Flying Elephant
King Arthur's Carousel
Matterhorn
Big Thunder Mountain
Mark Train Riverboat
Columbia
Alice in Wonderland
Fantasyland Theater
Autopia
Disney California Adventure
The following are indoor attractions:
Animation Academy
Sorcerer's Workshop
Turtle Talk with Crush
Character Close Up
The following are indoor attractions with partial or fully outdoor queues:
Soarin' Around the World
Ariel's Undersea Adventures
Monster's Inc.
Toy Story Midway Mania
Guardians of the Galaxy: Mission Breakout!
Disney Junior Dance Party
Frozen: Live
The following are attractions that are outdoors or partially outdoors:
Incredicoaster
Grizzly River Rapids
Redwood Creek Challenge Trail
Radiator Springs Racers
Luigi's Rollickin' Roadsters
Mater's Junkyard Jamboree
Pixar Pal-Around
Silly Symphony Swings
Golden Zephyr
Jumpin' Jellyfish
Goofy's Sky School
https://thisfairytalelife.com/save-money-disneyland-vacation/
Use the rain as an excuse to eat and drink a lot. Restaurants and lounges make great escapes from the rain. Here are my favorites:
Disneyland
Blue Bayou (reservations generally required)
Plaza Inn (limited indoor seating)
Golden Horseshoe
Red Rose Tavern (limited indoor seating)
Carnation Cafe (limited indoor seating)
Pizza Port
Disney California Adventure
Carthay Circle (reservations generally required)
Lamplight Lounge (limited indoor seating)
Smokejumper's Grill
Flo's V8 Cafe (limited indoor seating)
Fiddler, Fifer, & Practical Cafe (aka Starbucks)
Downtown Disney and Hotels
Naples
Catal
Splitsville
Tortilla Jo's
Ralph Brennan's Jazz Kitchen
Hearthstone Lounge
Napa Rose
Storytellers Cafe
Goofy's Kitchen
Steakhouse 55
Trader Sam's (space is very limited)
Surfside Lounge
PCH Grill
Shop 'til you drop. Rainy days are the perfect excuse to head into the shops and do a little browsing!
Remember: Be kind to Cast Members. Imagine planning a once-in-a-lifetime Disneyland vacation and it storms the whole time. These are the types of complaints Disneyland Cast Members deal with when it rains. Bad weather is always a bummer, but it's extra stressful for CMs. So be sure to give a smile to every CM you encounter!
Photo credit: White Rabbit Photo Boutique
Make the best of it. A rainy day at Disneyland is still better than a regular day anywhere else! So watch a few indoor shows, have some snacks or drinks, and take some silly photos with your poncho for Instagram. And have fun!
Related articles: