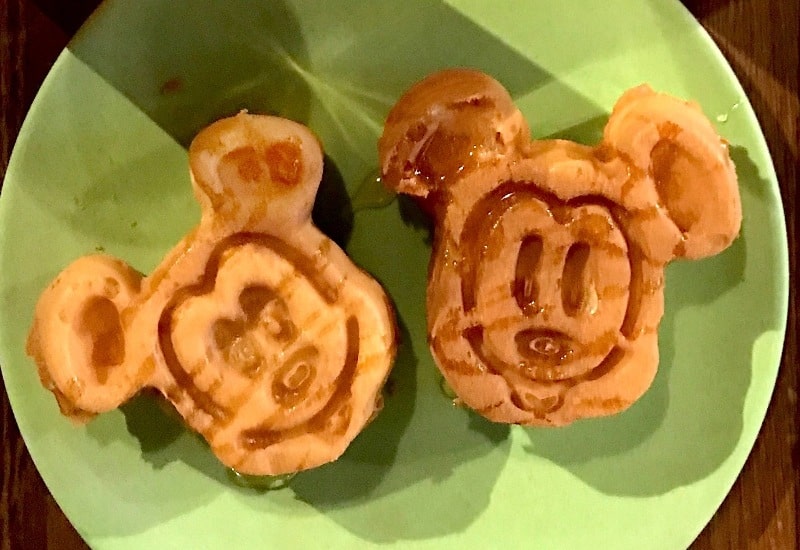 What's better than a Mickey shaped treat?!? If you're craving a little fluffy piece of heaven, you'll want to indulge in one of Disneyland's most famous snacks – a Mickey waffle!
Since Disneyland reopened in 2021, the Mickey waffle has been more elusive than in the past. But there are still a few spots where you can get your early morning carb fix.
This delicious snack will be sure to brighten your day. But you gotta be quick! They are only available during breakfast hours, which is generally before 11am.
Staying at one of the Disney hotels? No problem! Both the Disneyland Hotel and Disney's Grand Californian Hotel and Spa have breakfast options with Mickey waffles for both kids and adults. And, you don't have to be a guest at the hotel to dine at these locations. (Although reservations are strongly recommended.)
Where to Eat Mickey Waffles at the Disneyland Resort
Disneyland Park
Carnation Cafe – Right in the middle of Main Street USA, this cozy sit-down restaurant serves up plenty of comfort food and Americana nostalgia. Reservations are a must!
Disney California Adventure
Not available
Disneyland Resort Hotels
Disney's Grand Californian Hotel
Storytellers Cafe Character Breakfast/Brunch – A unique character dining with lots of charm! Don't miss out on the yummy Breakfast Milk in a Bag. Tip for all you late risers: Brunch is served daily until 1:30pm.*
Disney Princess Breakfast Adventures – This very special brunch option is the only princess character meal at Disneyland Resort. It is offered Thursday through Monday from 8am through 11am at Napa Rose.
* Times and availability subject to change; check Disneyland's website for current information.
Disneyland Hotel
Goofy's Kitchen Character Breakfast/Brunch – The perfect way for families to start their day! Aside from Mickey Waffles, don't miss their famous Peanut Butter and Jelly Pizza.
Disney's Paradise Pier Hotel
Not available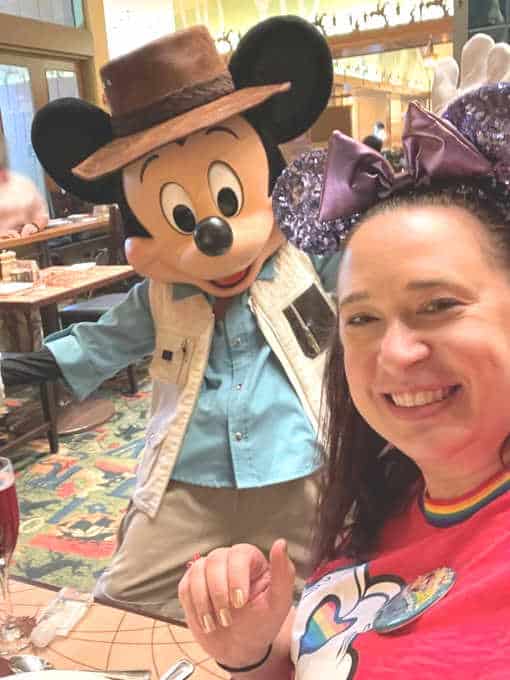 Hopefully as the Disneyland Resort continues its phased reopening, we will see more locations add Mickey waffles back to their menu.
For now, I highly recommend making a dining reservation for one of the restaurants mentioned above. Dining reservations can be made 60 days online, by visiting the Disneyland Dining Reservations website.
Additional Breakfast Options
Mickey waffles aren't your thing? I've got you.
Disneyland Resort has a lot of wonderful breakfast options. I'll share a few of my faves.
At Disneyland Park, you can grab your favorite Starbucks drink, pastry, or sandwich at Market House. Lines can get long in the morning but the Cast Members work hard to keep things moving. I also absolutely love the Ronto Morning Wrap from Ronto Roasters in Star Wars: Galaxy's Edge. You can mobile order it, too!
If you still want your Mickey-shaped food fix, the Mickey pancake at Red Rose Tavern is an excellent choice.
Over at Disney California Adventure, breakfast options are more limited. Fiddler, Fifer, and Practical's Cafe offers Starbucks items, and Pym's Test Kitchen in Avengers Campus has some unique breakfast platters.
Another option is to grab something to eat in Downtown Disney District before heading into the parks. Again, Starbucks is always a safe option, or Jamba Juice if you want to grab 'n' go. But my fave spot for breakfast or brunch is Earl of Sandwich, which is located just to the west of the Esplanade.
I hope this guide will help get your Disneyland morning off to a great start!