There are lots of Frozen 2 reviews out there speaking to the parents and families of the world. So leave it to me to answer the question everyone is thinking: Is Frozen 2 adult friendly?
The Frozen franchise is special to me, because Frozen was the first movie I was invited to review as a member of the media. It was such an honor! And for those of you who have been following me for that long, you may remember … well, I didn't *love* it. I gave it a frosty (ha!) review (which you can read here).
Little did I know Frozen would go on to become Disney's highest grossing animated film and become a cultural phenomenon. Whoopsie.
So, a sequel was inevitable. I'm a little surprised it took six years but I assume the film-makers wanted to get it juuuuust right. And while Frozen 2 feels a little disjointed and forced at times, it has everything I did enjoy about the first film: catchy tunes, belly laughs, and sisters who don't need no men to help them defeat evil forces.
My early screening of Frozen 2 was sponsored by Disney Frozen Adventures mobile game! Explore and embark on an all-new Frozen adventure that takes you to new and familiar locations around Arendelle and the entire Frozen world. Play hundreds of match-3 games and earn snowflakes to decorate the castle and make it look amazing!
FROZEN 2 Movie Review
This article contains affiliate links.
Official movie description:
Why was Elsa born with magical powers? The answer is calling her and threatening her kingdom. Together with Anna, Kristoff, Olaf and Sven, she'll set out on a dangerous but remarkable journey. In "Frozen," Elsa feared her powers were too much for the world. In "Frozen 2," she must hope they are enough.
The movie starts off in the past. We are shown a young (and super adorable) Anna and Elsa, pre-Olaf creation, casually playing a make-believe story with Elsa's ice powers. When their father, King Agnarr (voiced by Alfred Molina), offers to tell them a bedtime story about an enchanted forest, they abandon their ice action figures and happily listen.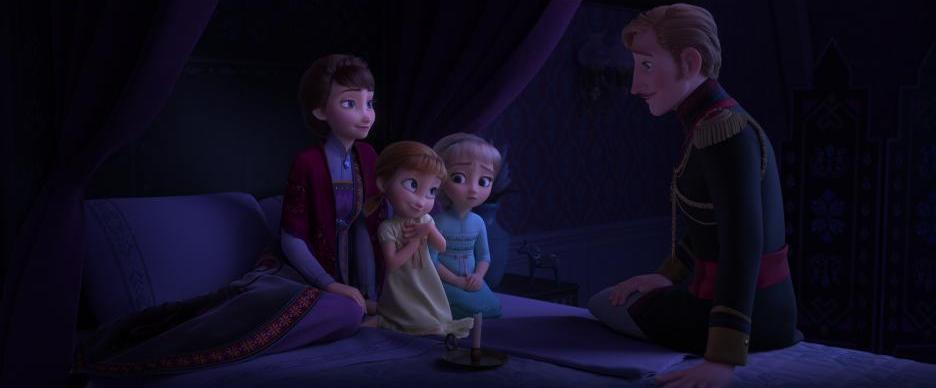 When the story gets a little too intense, their mother, Queen Iduna (voiced by Evan Rachel Wood), steps in to sing a lullaby about a mysterious river where our young heroines are advised, "Dive deep down into her sound, but not too far, or you'll be drowned." (By the way – This is the first indication that we are dealing with a more intense, more mature Frozen movie.)
As we cut to "present day" Arendelle, Elsa is indeed haunted by a sound that only she can hear. Something is calling her, and even though she is finally content with her life as Queen and has her powers under control, she is compelled to follow the voice. This is much to Anna's dismay, as Anna finally has everything she ever wanted – her sister, a boyfriend, and a bustling castle. But, she is loyal to Elsa, and soon the gang is off "into the unknown."
While Elsa's origin story is interesting, the journey is a bit convoluted and tough to follow. If you can overlook that, there are lots of laughs along the way, including a hilarious plot recap via Olaf, and a power ballad from Kristoff (that is exclusively for the adults in the theater).
There are also some tough lessons that might lead to deep discussions on the car ride home. The movie is extensively about change, including Olaf feeling new, un-happy emotions as he gets older, and a third act ballad by Anna that might leave you needing a warm hug if you've been affected by a loss.
While Frozen 2 is about change, some things are best when they are familiar. Jennifer Lee returns as screenwriter and co-director (along with Chris Buck) and you can tell she really has a deep understand and caring for these characters. And power couple Kristen Anderson-Lopez and Robert Lopez had the tough job of creating a following up to perhaps the most powerful and iconic soundtrack of any Disney movie – and they succeeded, including another gorgeous Elsa ballad "Into the Unknown" (Oscar winner, I'm calling it now).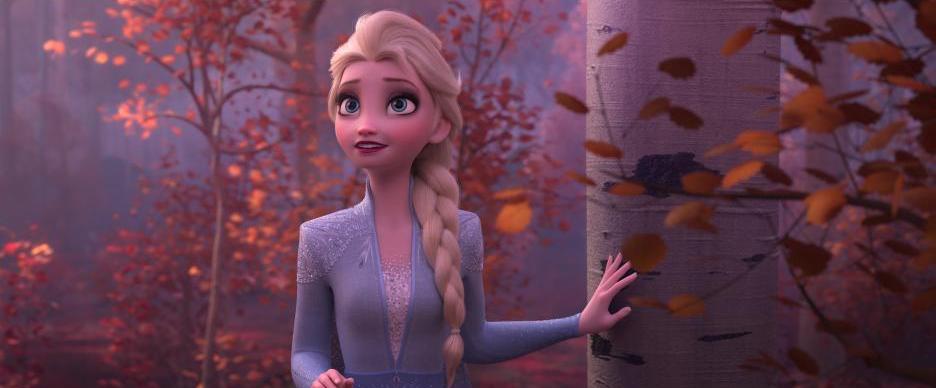 Overall, I enjoyed Frozen 2 more than the first film, but had higher hopes for it based on the trailer. While kids will be captivated by the non-stop adventure and Olaf's jokes, for adults it's worth seeing for the beautiful animation, the soundtrack, and the strong female role models.
Oh, and Bruni. See it for Bruni.
Final note – If you're an Olaf fan, or even find him mildly amusing, stay through the end credits!
Frozen 2 is in theaters November 22, 2019!
[mv_create title="You May Also Like:" key="22″ type="list" layout="hero"]