Earlier this month, I was invited to the Walt Disney Animation Studios to learn more about Frozen 2, coming to theaters in November. The first Frozen movie was a cultural phenomenon, and the sequel is shaping up to be just as spectacular.
At the Studios, members of the media (that's me!) were treated to tons of behind the scenes footage and insight into developing the movie. It's always humbling to learn how much time, effort, and shear people-power goes into creating these 90 minute stories. And it's always a huge treat for me to get to visit the place where the magic happens. Pinch me, this is really my job!
From the time I saw the first teaser trailer for Frozen 2 I have been totally on board. It looks a bit darker and edgier than the original Frozen, and since the characters are already established we can jump right into a new story. And what an epic story this seems to be!
Into the Unknown
Frozen 2 takes place three years after after the first movie. Elsa is queen of Arendelle, and Anna is happily surrounded by everyone she loves – Elsa, Kristoff, Sven, and Olaf. But Elsa is distracted by a voice … a calling, that beckons her into the unknown.
At the press day we heard from directors Jennifer Lee and Chris Buck, and producer Peter Del Vecho. They talked about the unanswered questions at the end of Frozen, mostly … why was Elsa born with magical powers? Del Vecho said, "There was something about these characters that still was very interesting and appealing to us. We wanted to know more — we felt that their story continued."
The story centers around Elsa hearing this voice. "Elsa hears a calling that no one else can hear," said Lee. "She tries to block it, but it won't stop. It shows her pieces of the past. It promises answers about why she is the way she is, so she's compelled to find that voice." The journey to follow this voice takes Elsa, Anna, Kristoff, Sven, and Olaf into the enchanted forest, where Elsa's powers are tested like never before.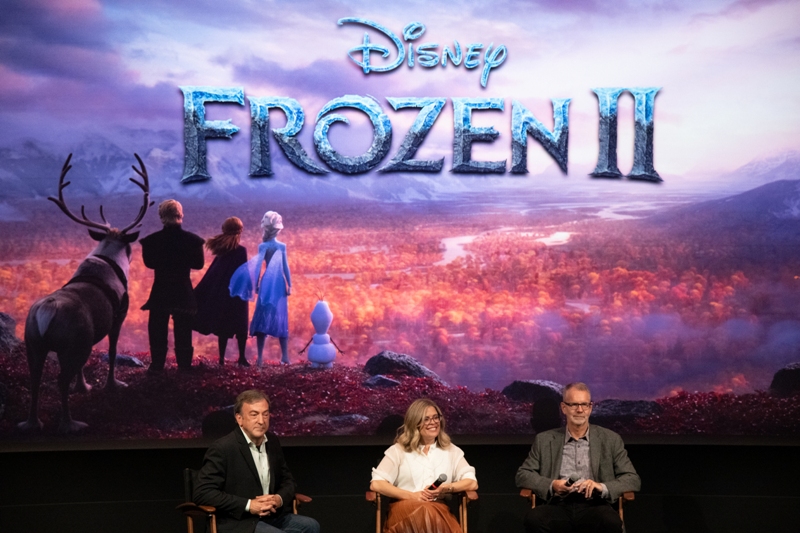 Myth Vs Fairy Tale
One thing I find really interesting about the Frozen movies is the mix of fairy tales and mythology. "We realized that in the first movie, we unknowingly had both a myth and a fairy tale going on at the same time," says producer Peter Del Vecho. "Elsa was definitely a mythic character, which generally carries the weight of the world on their shoulders and do things the rest of us can't. They also typically suffer a tragic fate—which might have happened to Elsa in the first film were it not for Anna."
While Anna is the fairy tale optimist who yearns for happily ever after, life isn't so simple for Elsa. Even though she is now queen and her relationship with her sister and friends is perfect, she can't help but wonder why she was born with her powers. The deep desire for answers is so strong, she is willing to risk it all to go into the unknown. Anna, who finally has her happily ever after, can't understand why Elsa isn't content. But since they are sisters who protect each other, Anna is willing to go with Elsa into the enchanted forest to help her sister find the answers she seeks.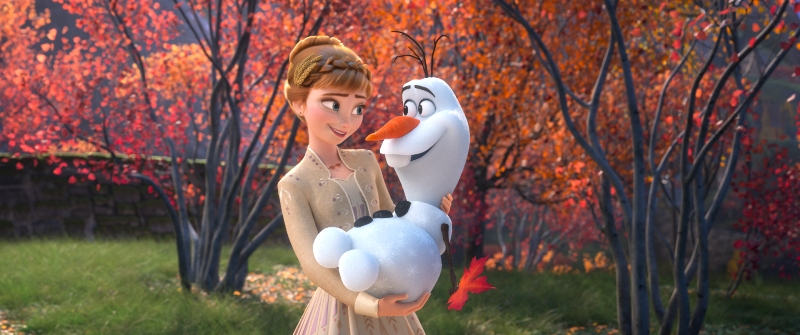 Hyun-Min Lee, Animation Supervisor for Anna, told us, "Anna and Elsa kind of have a role reversal of sorts in this film. So, in the first film, Anna was the fearless one who was forging ahead. And then this time, Elsa's being called into the unknown and Anna is very much nervous and worried for her sister's safety."
It was a real treat to learn about the making of Frozen 2, and hearing from the creators got me even more excited for this film! I hope you enjoyed this behind the scenes look at Frozen 2. I'll have more articles coming as we get closer to Frozen 2's release date – November 22, 2019!