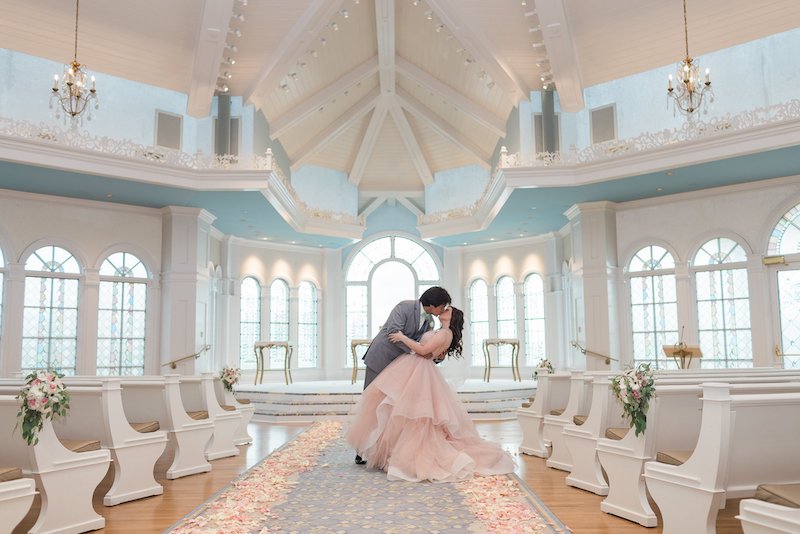 It's tough to explain just how much happiness Stephanie and Patrick's wedding photos makes me feel … having watched as their plans came together, the end result was even better than I could have imagined! They truly did have their fairy tale Walt Disney World wedding and their reception at California Grill (with FOUR special character guests!) looks like an absolute dream. Their guests must have had so much fun celebrating their special day with them. Congrats to Stephanie and Patrick! Best wishes on your happily ever after!
Read back on Stephanie's planning articles here.
Stephanie and Patrick's Classy, Fun, Fairy Tale Walt Disney World Wedding
Ceremony Venue: Disney's Wedding Pavilion, Disney's Grand Floridian Hotel and Spa, Walt Disney World, Orlando FL
Reception Venue: California Grill, Disney's Contemporary Hotel, Walt Disney World, Orlando FL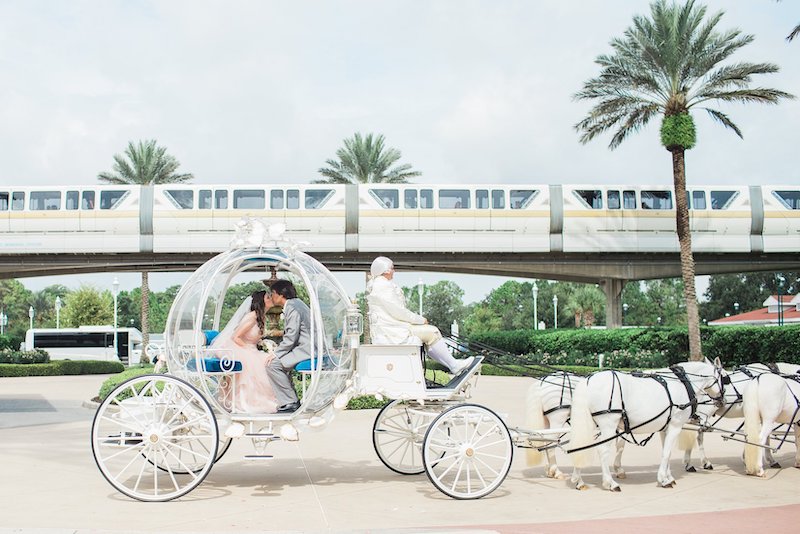 Photography: Jess Collins Photography
I've wanted a Disney wedding since I was a little girl and I never even considered another wedding venue. While a Disney fan, Patrick agreed to a Disney wedding because he wanted me to have my perfect day; take that parents who thought I'd never find someone to go along with my crazy plan! When we got engaged, my family were thrilled my dream wedding was actually going to occur. Patrick's family was a little surprised, but incredibly supportive. Patrick's mom always says "happy wife, happy life." Our friends are well aware of my Disney obsession and were excited to plan their trips.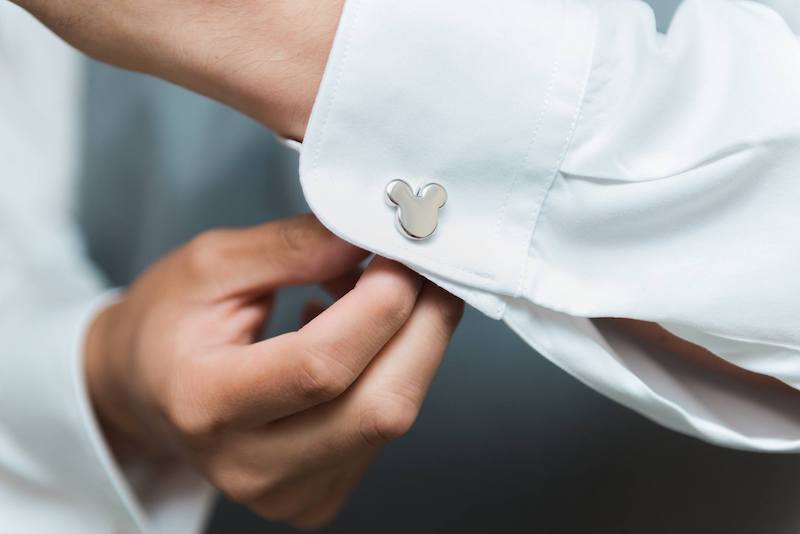 Instead of a theme, we aimed to put together a wedding day that captured who we are as people. Our day strived to be classy, fairytale-like, and fun. Patrick and I consider ourselves well-functioning adults who also have inner-children who are very alive. The two of us prioritized having a proper ceremony in a chapel with a real Reverend, but that didn't mean we couldn't add a prank with Major Domo. 
The California Grill provided an upscale reception with fantastic food, but we knew our day wouldn't be complete without fun characters and silly dances. Other than proclaiming our love and commitment to the world, our big goal was finding the balance for a day that showed we took our vows seriously and still allowed for fun like rides, desserts, and goofy photos (and photos with Goofy). When all was said and done, I believe we achieved our vision of a magical day that most of our guests described as unforgettable and fun.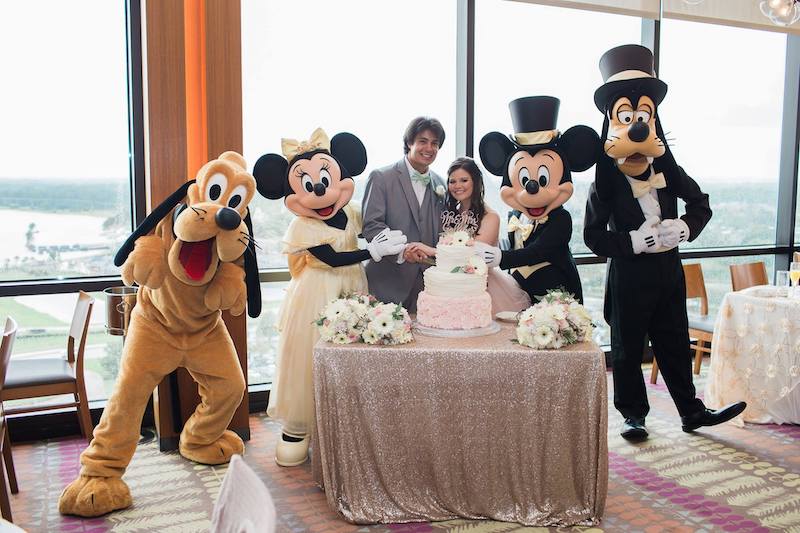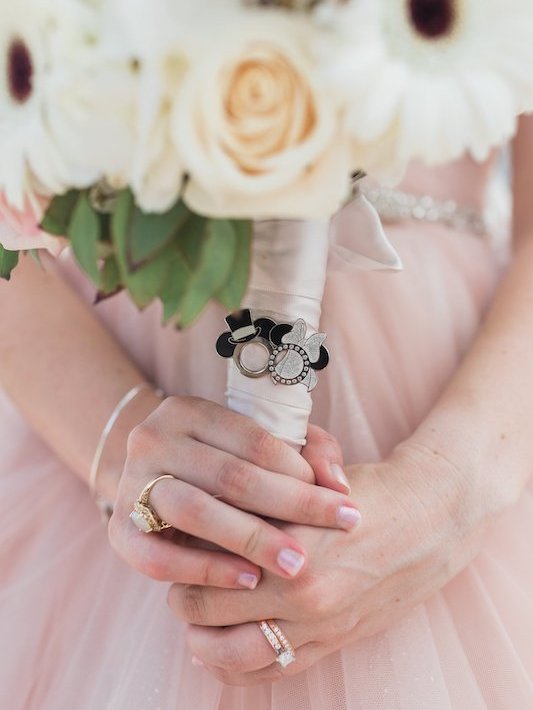 Our biggest challenge was navigating a destination wedding. With so many guests flying in from all over, we wanted to make sure they felt they made a worthwhile trip. However, we also didn't want to control their trips and leave them no room to have the vacation they wanted to have. Overall, it came together very well!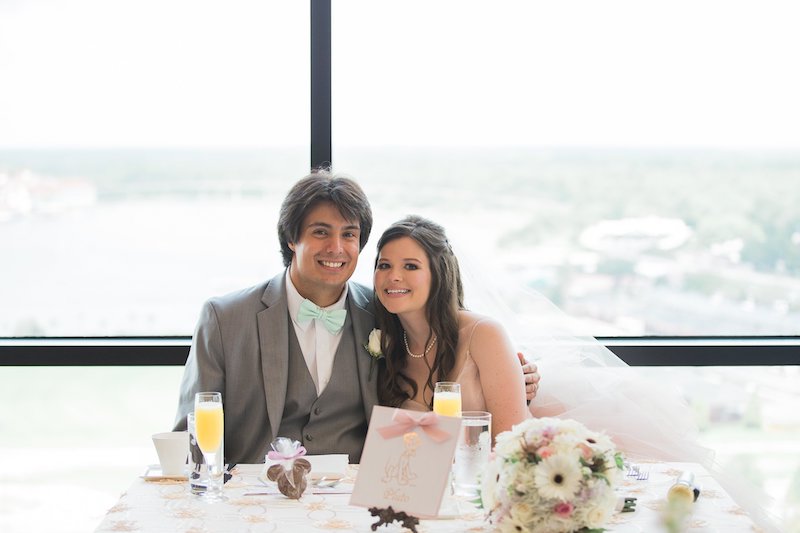 While our ceremony was overall traditional, we definitely added in a few special touches! I had sparkly hidden Mickeys in my bouquet, as well as a Disney wedding pin that Patrick had bought for me; Patrick also had a hidden Mickey in his boutineer and Mickey cufflinks. I fell in love with the musical duo that plays at the California Grill Sunday brunch and specifically requested them for our ceremony. They were wonderful and played a variety of Disney music (including the Spiderman theme song for Patrick's entrance)!
One of our favorite special ceremony touches was Major Domo, who played a joke on Patrick's groomsmen by making them think they had forgotten the rings. I got to live my fairy tale by riding in Cinderella's Coach, a wedding gift from my grandmother. Disney also released these beautiful Cinderella coach bubble wands that we purchased for our wedding party to use during our staged exit.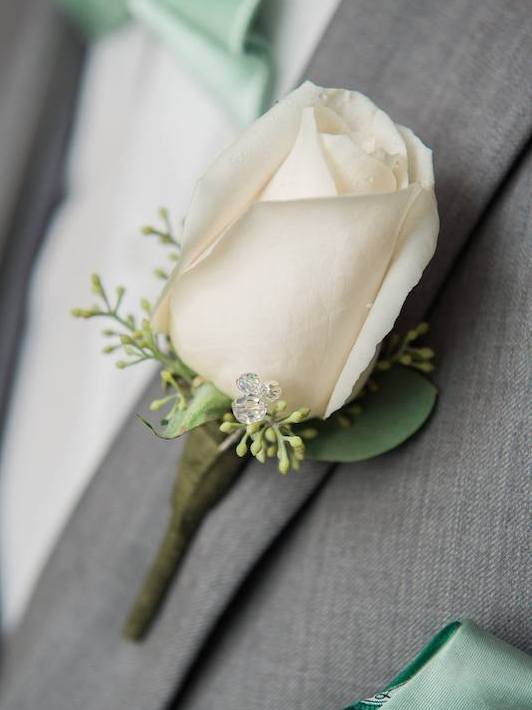 The most unique thing about our reception was probably the location. California Grill is such a stunning venue and provides the most incredible view overlooking the Magic Kingdom; our guests couldn't stop talking about it. Patrick's family loves to dance so we also had a pretty lively dance floor for a brunch reception. I really love animals, so we choose to feature Disney dogs as our table names and in our wedding favor. Of course no Disney experience is complete without some character magic, so we invited a few extra guests. Our guests were treated to a dance party and photo session with Mickey, Minnie, Goofy, and Pluto. Everyone loved them, from our two year old niece to Patrick's eighty year-old aunt.
In terms of budget, we spent most of our money on things that we thought would enhance the experience of our guests. Food was the biggest cost and we spent well over our per-person minimum. We think it was well worth it though, since people continue to talk about how much they loved our food! We saved money on décor. Neither the Wedding Pavilion or California Grill require much decoration.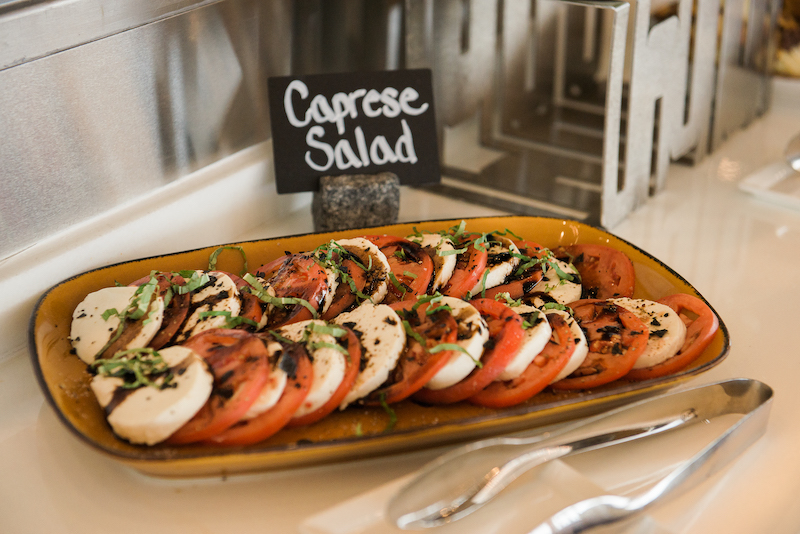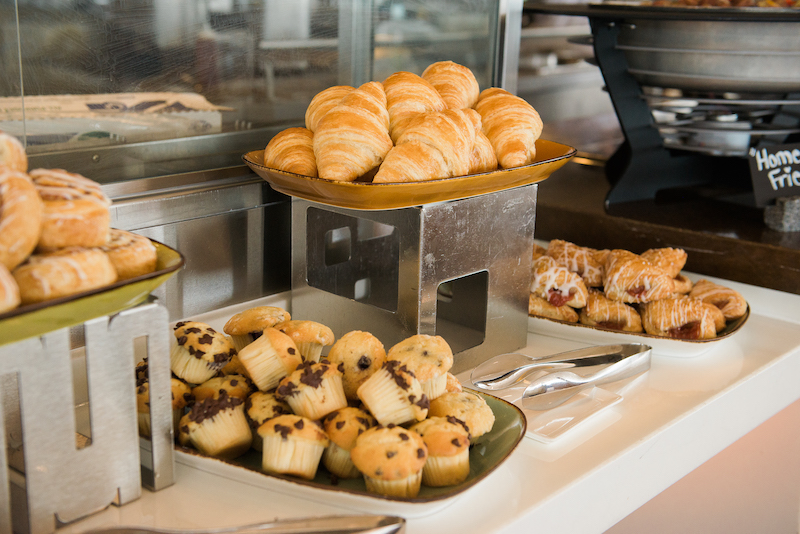 In terms of our favorite moment of the day, we have different opinions. Patrick says "getting married, kissing in a swarm of bubbles and rose petals, and eating cake." For me, it was probably the ride in Cinderella's Coach after the ceremony, just the two of us. You don't get much alone time with your spouse on your wedding day, so that 10 minute period with just the two of us was so special.
If we had the entire thing to do over again, we wouldn't change a thing. I know that's cheesy. There are a few little things here and there that went wrong, but they're part of our story now. We had an amazing day. If you're a future Disney bride-to-be, enjoy every moment of the experience! Don't be afraid to push your planner if something is really important to you. They do so many weddings and have a formula that works well for them and they can hesitant to deviate from it. However, if you let them know something is important, they'll try to work with you so make sure to speak up!
Photography: Jess Collins Photography
Videography: Trinity Wedding Cinema
Hair/Make-Up: Stacie Otto at Fairytale Hair and Makeup