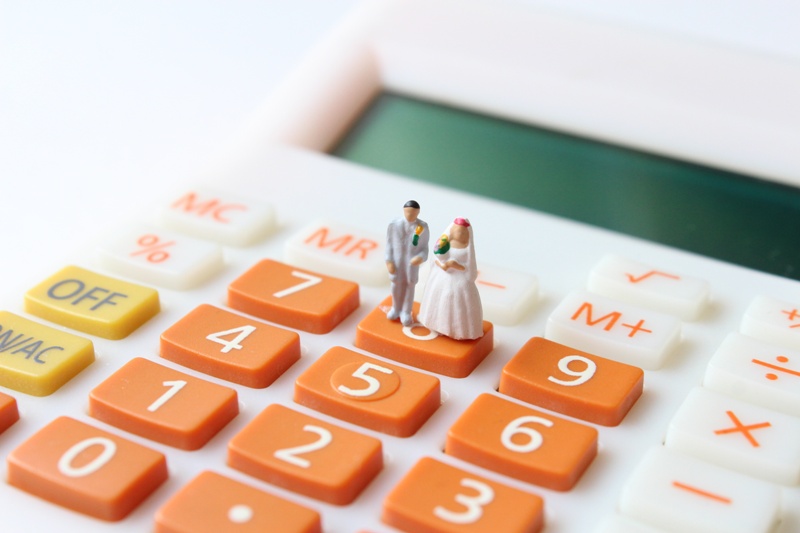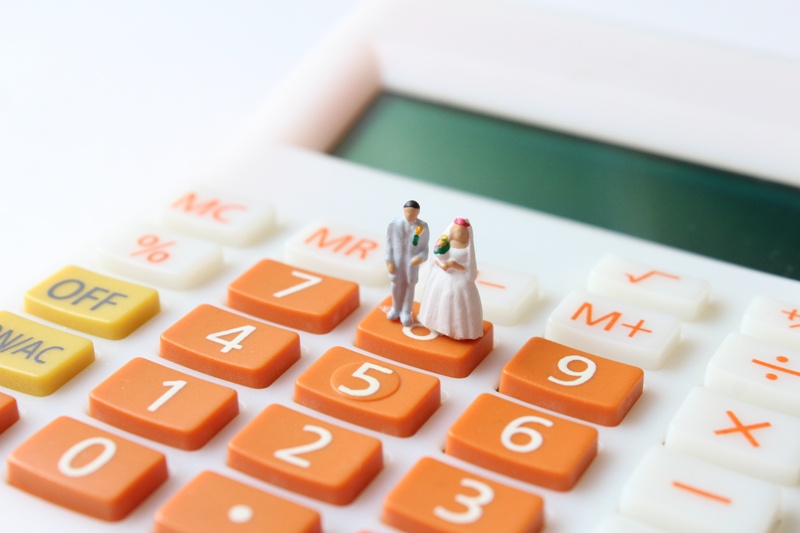 Tipping can be such a confusing and taboo topic. It's one of those questions that seems to come up over and over when planning a wedding!
Despite all the "rules" and "guidelines" out there, every wedding and every couple is different, and it can be especially tricky if you're getting married at a venue like The Disneyland Resort, which has several members of its own staff and automatically adds on a "service charge," which includes tips, onto some of its services.
While every event is unique, and everyone has their own ideas about tipping, I thought I'd put together a wedding tipping guide regarding standard wedding industry practices, sprinkled with my own opinions, with emphasis on weddings and events at the Disneyland Resort.
I also asked some of my wedding vendor friends to provide their thoughts on tipping. I will use their quotes in this article, but I've decided to keep everyone anonymous to avoid awkward situations in case any of you are hiring them for your own wedding!
Wedding Tipping 101
The first thing you should remember is that tipping is always optional (with the exception of the "service charge" Disney adds to some items – that is NOT optional). Tipping is a nice gesture, especially if you feel you received an excellent product or service.
As with going out to a restaurant or getting your hair done at a salon, tips between 10% and 20% are customary, with 10% given for adequate service, and 20% given for exceptional service.
However, if you have a $5000 photography package, tipping $1000 seems extreme. No wonder brides and grooms get so confuzzled when it comes to wedding day tipping!
Generally people in the wedding industry are not expecting a tip, and I've confirmed this with several of my professional friends.
Also, no one should go into debt over tipping. If you are on a tight budget to begin with and tipping is not feasible, simply give what you can. Maybe that means giving nothing, or maybe it means you send a nice thank you card after the wedding, or maybe it means you send a tip in a few months.
At the very minimum, I would simply ensure your food and drink servers are receiving a tip. Most venues work this into their final invoice (Disney included) but double check. If you're hiring a catering service for a venue without a kitchen, or a backyard wedding, check the contract to find out if tip is included. If not, set aside an additional 10%-20% of the food and beverage total for the servers to share.
Rules are Meant to Be Broken
There's a rule out there that you shouldn't tip business owners, since they retain any profit from the business earnings. However, I think that's a silly rule!
If you hire a business owner (most wedding planners, photographers, and florists fall under this category) and they provide exceptional service, go ahead and give them a tip or a personalized gift.
One business owner told me, "(Some couples) have sent Disney related things, and all of them are very special to me because I know a lot of thought and time was put into them."
There's also a rule that there are certain vendors you MUST tip, even if they did not do a great job. This is not true!! Only tip if you feel your vendor truly deserves it. The tip should be heartfelt and should be given because they earned it by exceeding your expectations. Otherwise the act of tipping becomes meaningless.
Finally, there is yet another rule that tipping a "small" amount is more insulting that not tipping at all. Not true, according the majority of the wedding pros I spoke with.
"Any gesture the couple makes is always appreciated, even if it is $20," one pro said. "I'd rather have $20 from someone who I know made a point to make sure they showed their appreciation, than a family member coming to me with a stack of envelopes all with tips and shuffling through to find mine, just because they think they are supposed to."
Another pro told me, "I don't care at all about the amount; never in my life have I looked at a tip or not received one and felt any differently about a person. I never expect it."
General Wedding Tipping Guidelines
For Disneyland weddings, here is what I recommend as far as tipping. Keep in mind this is MY opinion, based on lots of research regarding industry standards and speaking with friends who have gotten married. These are not amounts any wedding professionals have quoted to me.
And as always, these are simply GUIDELINES. My overall tipping rule is, do what you can and don't go into debt over it. You don't want that and your wedding vendors don't want that, either.
My standard disclosure: If you're new here, please understand I am not associated with Disney's Fairy Tale Weddings and I am not writing on behalf of Disney.
Disney Employees
Wedding Planner – I personally think your wedding planner deserves the biggest tip of all! Yes, they do get paid a salary and yes, technically Disney employees are not supposed to accept cash tips. But there are no rules about giving a gift to a friend.
Think about how much your planner helped you during the wedding process. All those emails, all those BEO revisions, all those questions you had at your planning session … think about how they do that day in and day out, for dozens of events at a time.
Disney would probably be frowny with me for encouraging it, but heck ya, they deserve a gift!! If you feel your wedding planner did an exceptional job for you, and went above and beyond to make your wedding day amazing, go ahead and send them a thank you card with a gift card or a meaningful gift after the wedding.
Amount: At your discretion.
Day of Coordinator – Your Disney "DOC" works hard for you at your rehearsal and your wedding day. Even though they were not the one to guide you through the entire process like your Wedding Planner, they deserve a little something. Sending a thank you card with a gift card after the wedding seems appropriate.
Amount: At your discretion.
Disney Floral – If you are getting your floral and decor through Disney, you may actually never see the people who provide it! That doesn't mean they didn't work hard for you. If you feel the floral and decor team did an excellent job, mail a tip (via check) after the wedding.
Amount: 5%-10% of the total floral & decor expenses.
Disney DJ or Musicians – Yep, we all know you are paying A LOT for that String Quartet or Disney DJ, and yes they do get a cut of it, but it's probably not as much as you think. If the ceremony musicians were flawless or the DJ made your reception amazing, you can get their direct address and send a tip in the mail after the wedding. (This goes for any other vendor hired directly through Disney as well.)
Amount: $25-$50 per musician, $100-$200 for DJ.
Servers & Bartenders – The tip for your food servers and bartenders comes out of the "service charge" that is tacked on to your BEO. There is no need to provide an additional tip unless you are feeling incredibly generous.
Outside Vendors
Photographer – Most of the wedding photographers I've talked to who own their own businesses say they never expect a tip. However, tips are greatly appreciated for any associates they bring with them.
Amount: 5%-10% of the photography expenses, split among all team members.
One pro suggests splitting the tips up into separate envelopes for each team member. This ensures the tip actually goes to the person/s you intended. You can ask your photographer for names about a week before the wedding. Same goes for any vendor you hire who works with a team.
Videographer – Same guidelines as the photographer.
Amount: 5%-10% of the videography expenses split among team members.
Hair Stylist and Makeup Artist – As with the photographers, the stylists I've spoken with who own their own businesses also don't expect tips, but appreciate tips for their associates.
Amount: 10%-20% of the stylist fee, split among the team members.
Officiant – If your officiant is a member of a church, a donation at your discretion is appropriate. For a nondenominational officiant, a $50-$100 tip is standard. If you have a friend or relative officiate your wedding, a gift valued at around $50-$100 seems appropriate.
Musicians – $25-$50 per musician for ceremonies, $50-$100 per musician for receptions. Feel free to tip more if they really blew the roof off the place (that goes for DJs, too).
DJ – $100-$200 for the main DJ; $50-$100 for any assistants.
Reception Entertainment – If you have any additional vendors, such as a photo booth, caricature artists, etc., each person should be tipped $25-$100, depending on the time and skill involved.
Outside Planner or Coordinator – With Disney weddings you don't really need to hire a wedding planner, since Disney provides you with a planner who pretty much handles everything! But some brides are Type A over-planners *cough* and will hire an outside coordinator.
Amount: 5%-10% of their fee, or a gift or gift card valued at around $100. Assistants should receive $50-$100 each.
With vendors who are business owners and work with teams, a good rule of thumb is: If you can't afford to tip everyone, tip the assistants.
Tipping Tips
I just want to share a few other things the wedding pros told me about the subject of tipping.
"A hand written thank you note or a kind review is definitely more meaningful to me than a tip, but any gesture the couple makes is always appreciated."
"I love getting handwritten notes from the couple or the parents, I save them all on a cork board."
"At this (early) stage of my business, I would definitely prefer a glowing review to a cash tip."
"Tips are always appreciated, but a review is the tip that keeps giving. It takes 5 minutes, doesn't cost anything and has a big impact."
"The other kind of tip I get is a positive review of my business or an email that is complimentary and forwarded to the team I worked with at the wedding (like the Disney team)."
"(Regarding tipping business owners) I find a better guideline on inclusion/exclusion is whether or not the owner is hands on for the bulk of the event. If they are on site for the duration, they should be considered in the tipping decision."
"If you felt someone provided amazing service there is nothing wrong with showing your appreciation after the event."
"The best tip I ever got was a couple begged me for a discount to stay within their budget. I did, and then after the wedding I got a letter with the discount amount plus extra."
"As a makeup artist I never expect tips, but I'd say about 75% of the time my clients will tip. There are times where I'll have a bridal party with 12 people and they don't see the need to tip since they're spending so much on makeup anyway. And then there are times where I'll have a client on a budget with a bridal party of 4, and they all make sure they tip $5."
"I personally appreciate it the most when people do something thoughtful for me. I often get gifts from couples and a few will give me cash. When I receive cash, I split it three ways between myself and my assistants. I would give it all to my assistants, but I figure the person giving the tip might be upset if I did this. I usually set the cash aside so I can spend it on something completely indulgent. Also, I hardly ever post about gifts on social media, because I don't want other couples to feel like they need to give me anything."
"I feel like you really know you've made a great impression on a couple and gone above and beyond for them when they want to take the time to think about what you like and pick out a super personal gift. That, to me, is the ultimate tip."
I hope this guide, and some of these comments from wedding professionals, help you determine the best tipping strategy for your wedding.