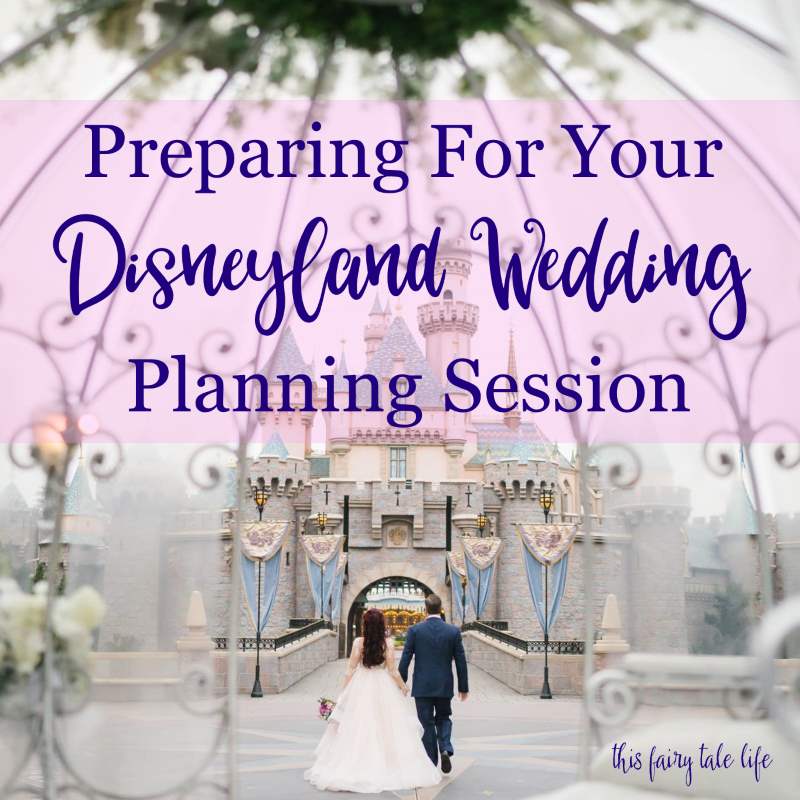 Image copyright: Disney
I see a lot of Disneyland couples panicking about being under prepared for their planning session, so I thought I'd give some tips for it!
First of all, your planning session is meant to be FUN! This is your chance to talk all about your wedding and spill all of your ideas and dreams. And if you don't really have a vision for your wedding, that's okay, too! Your planner will pull up some pictures to help jump start the creativity.
Planning sessions are only in-person or you can hold your planning session via video conference call! Expect your planning session to last 1-2 hours.
By the way, you can read a recap of our own planning session (over 10 years ago!!) right here!
Acronyms you need to know:
DFTW – Disney's Fairy Tale Weddings
BEO – Stands for Banquet Event Order, aka, your budget breakdown from DFTW
DRC – Disneyland Resort Center, where the DFTW offices are located
First, let's go over how to prepare for your planning session.
Planning Pages – After you sign your contract and pay your deposit, you will be sent your planning packet. It used to be sent via snail mail but now they send it via email.
The planning pages are quite extensive and cover a lot of items, such as ceremony details, reception decor, food, cake, music, add-ons (like Cinderella's coach), etc. I recommend printing them out and discussing the many options together with your partner. Make notes of everything you might *possibly* want for your wedding.
Remember, these pages are just to help you brainstorm! You can always make changes, so dream big and write down notes to ask your planner at your planning session.
Scan a copy of your completed planning pages and email them to your planner 2-4 weeks prior to your planning session so they can also plan ahead for your meeting.
Inspiration Photos – Some people have a clear vision of their wedding before they even become engaged. Some people's vision is kinda fuzzy, and some people's vision is all over the place (*raises hand*).
Before you go into your planning session, you should have some kind of idea of your weddings theme, colors, and overall "feel." That is to say, do you want a small, intimate, casual wedding? Do you want a pure party? Do you want a black tie event?
Start a collection of inspiration photos that you can show your planner at your planning session. Wedding magazines and Pinterest are great places to start to gather inspiration. Personally, I liked having a visual notebook of my ideas and inspiration, so I tore images out of magazines and printed images found online, and glued them into a wire-bound notebook and wrote notes around them.
(A note about virtual images – collecting images on an iPad or computer is fine, but it's ideal if you have physical images you can show your planner or, better yet, give to your planner to keep. You can also email images to your planner after your planning session.)
Budget
– You probably have a pretty good idea of your overall wedding budget if you've already signed your contract with DFTW, but be sure to discuss and be cognizant of your budget going into your planning session, lest you get carried away with all the awesome add-ons you will be discussing which will only lead to pain when you receive your BEO.
But, on the other hand …
Dream Big – Your planning session is your chance to explore all the possibilities DFTW has to offer for your event. So if there's something you are curious about, have your planner add it to your BEO and be prepared that you may need to cut it later, once you see the cost.
A good example is my friends Hope and Mike. While at their planning session, they expressed they were interested in a ceremony vehicle but didn't want Cinderella's Coach. After brainstorming with their planner, they found out they could possibly request the Main Street fire engine. They assumed it would be too expensive but asked their planner to include it on their BEO anyway. When they found out the price they were pleasantly surprised and felt it was worth the expense.
The lesson here is, never assume! Wait until you have dollar figures before writing something off as impossible.
What to bring with you to your planning session
– Your completed planning pages
– Your wedding information binder (if you have one)
– Inspiration photos
– Pen and notebook to jot down notes and ideas
– A camera to take pictures of stuff you like (always ask permission first)
– A calendar to make notes of important dates to remember (like potential menu tasting days or final payment due date)
– Payment! You may have to make a deposit (generally half of your estimated food expenditure) at your planning session. Discuss this with your planner before you arrive.
The day of your planning session
Oooh, today's the big day! Well, the big day prior to the real big day. How exciting! Generally planning sessions are held at the DFTW wedding offices in the Disneyland Resort Center (DRC) building. The building is located behind the Frontier Tower at the Disneyland Hotel. Parking is right in front of the building, and you enter through the street for Paradise Pier off Disneyland Drive (across from the entrance to Disney's Grand Californian Hotel). Just tell the guard you have an appointment with DFTW and the guard will direct you where to park. Be sure to take your parking ticket inside with you to get validated.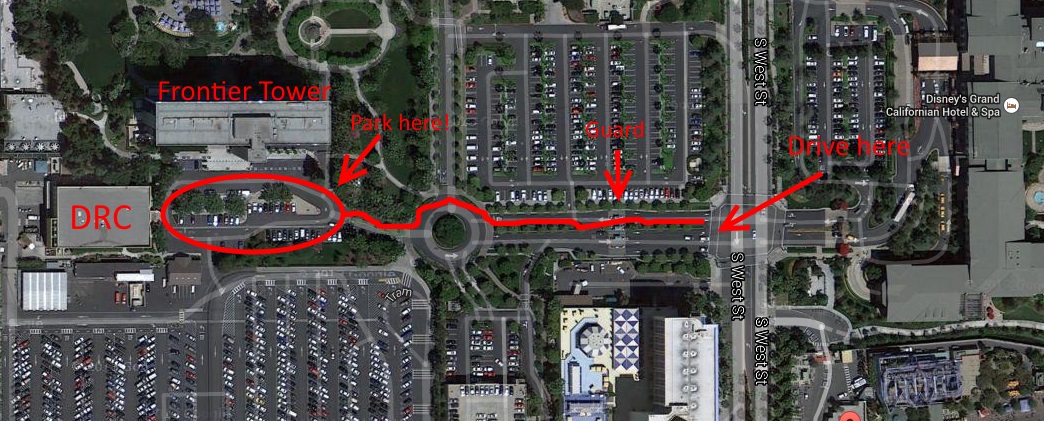 Unless you have been given different instructions by your planner to meet somewhere else, you will meet your planner in the lobby of the DRC building and they will lead you into the conference room for DFTW. There are lots of fun stuff on display and albums to look through! After some small talk you will most likely dive right into your planning pages! Go over everything together and write down all the ideas that come up.
You will also go over menu options; if you want to serve a buffet or a plated meal and what items you want may want. Same with pre-reception food options and your cake flavors.
Speaking of cake, do you have a certain design in mind? Be sure to bring it up and have inspiration pictures ready. Or if you have no clue how you want your cake to look, that's okay too. Your planner will show you a few pictures of cakes they have done.
Unless you know for sure you are using an outside vendor for all your floral and decor, a representative from Disney Floral will be there for part of your planning session. They will specifically go over decor and floral ideas for you. This includes your bouquet, bridesmaids bouquets, ceremony/reception decor, centerpieces, linens, chairs, etc. They will have some color fabric swatches for you to go through for linens such as tablecloths and napkins.
Once all the "standard" stuff is covered, this is your chance to ask any questions about your event that haven't already been covered! For example, I brought up the idea of a separate "dessert party" the night of our wedding and my planner gave me some possible ideas, such as an ice cream sundae party which is what we ended up doing!
Make sure you ask everything on your mind, because this is just one of two times you'll have your planner all to yourself before your wedding day.
After your planning session is over, don't forget to get your parking validated. Before I left I decided to visit our ceremony location and try to picture everything with all the decor we just discussed, and grabbed a quick lunch (take advantage of that free Disney parking while you can).
FAQ about Disneyland wedding planning sessions:
Q. When will my planning session be scheduled?
A. Your planning session will take place 6-10 months before your wedding date. Any earlier than that and it's difficult to discuss options that may be available to you because stuff changes all the time! Especially pricing! We had our planning session around the 9 month mark. Of course if you're booking your wedding for a date less than 6 months away, you will have your planning session as soon as possible.
Q. We work during the week, can we have our planning session on a weekend?
A. The short answer is, no. Weekends are generally reserved for weddings and planners are not available. However, you can always ask and see what your planner says. But generally, planning sessions are scheduled between 9am and 2pm, Monday through Friday. Due to the holidays, generally planning sessions are not scheduled for December unless absolutely necessary.
Q. How long will the planning session last?
A. Your planning session will probably last around 2 hours.
Q. Do we need to know our guest count before the planning session?
A. Not exactly but you should have a general estimate because this will be part of the calculations on your BEO.
Q. Can we do our planning session and menu tasting on the same day?
A. Generally no, but if you have limited availability or your wedding is coming up quickly, sometimes exceptions can be made. You would have to discuss this with your planner.
Q. Who attends the planning session?
A. Generally the planning session is you, your partner, your planner, and the Disney Floral representative. With your planner's permission, you could possibly also invite one other person. Any more than this and you will end up with a lot of opinions and nothing much gets done. So don't expect to be able to bring all your bridesmaids/men to your planning session!
Q. What should we wear to our planning session?
A. It's up to you but it's totally a casual meeting. You will be fine in t-shirt and shorts and flip-flops, and equally fine in something a little nicer. Your planner and the Disney Floral rep will likely be in business casual attire.
Q. Will I find out how much everything costs at our planning session?
A. No. Specifically your requests through Disney Floral cannot be priced because generally everything is custom. However, if you have specific budgets (such as, I don't want my bouquet to cost more than $300), they will take this into consideration and work with you.
Q. I have very specific color ideas for our wedding decor. How can I convey this to Disney Floral?
A. Your best bet is to bring sample swatches of your colors that you can actually give to your planner. I actually used paint chips! It was fun to play with colors at the hardware store and when I found the colors I loved, I grabbed a couple extras for my planning session to give to my Disney Floral rep.
Q. When can I expect to receive our first BEO after the planning session?
A. The answer varies, and depends on when your wedding is. Weddings coming up sooner get higher priority. So if you are having your planning session less than 6 months before your wedding, you should probably get your BEO in a couple weeks. If you are having your planning session 9 months before your wedding, you can expect to receive your BEO 4-6 weeks after your planning session. The best thing to do is ask your planner for an estimated time frame so you know what to expect.
Q. I'm at a loss for wedding inspiration. Where can I look?
A. Pinterest is a great start. (Shameless plug, I have several wedding boards and a board just for DFTW.) You can also browse through our Real Disneyland Weddings here on This Fairy Tale Life or check out Married at Disneyland. Other great options for gathering wedding inspiration are:
Disneyland weddings on the Ever After Blog by DFTW
There are venue photos at Married at Disneyland (our sister website)
Weddings at Disneyland Facebook Group
White Rabbit Photo Boutique's blog – they do A LOT of Disneyland weddings!
Q. What if I'm STILL undecided on a lot of things after our planning session?
A. Don't stress, you aren't expected to have EVERYTHING decided on at your planning session. But you should at least be on the right path. While endless pictures on Pinterest and dozens of wedding magazines can be helpful, it also is inspiration overload.
If you find yourself struggling with how you want your wedding to look like, try stepping away from the computer and look around you. How do you decorate your home? What are your favorite colors? Where do you like to vacation? Take inspiration from your everyday life and apply it to your wedding. At some point you DO have to make these decisions and the good news is, whatever you choose will be beautiful.
When you're preparing for your planning session, above all remember it's supposed to be a FUN meeting! Don't get stressed out – be relaxed and open to new ideas, fill out your planning pages, and come over-prepared. Trust me, planners love the couples who have a clear vision and bring in lots of examples.
This article was originally published in August 2014 and has been updated.