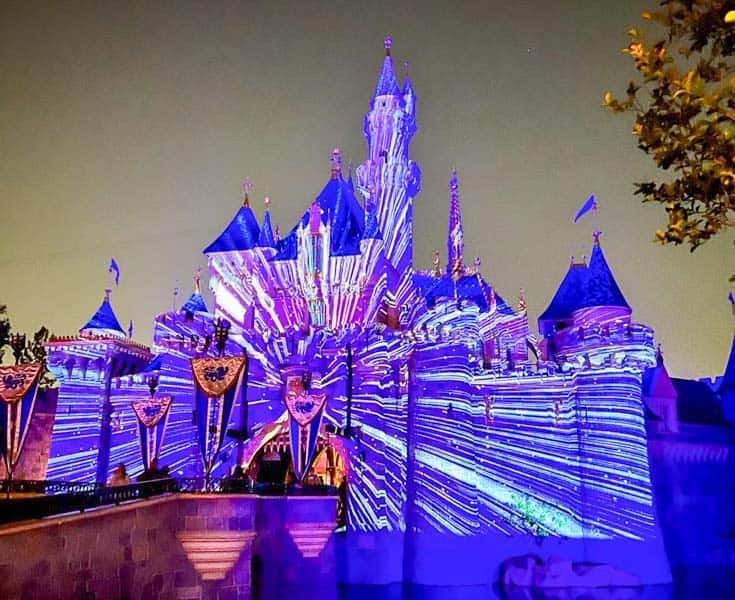 As a huge Star Wars fan, I was looking forward to Disneyland After Dark: Star Wars Nite for two whole years. Star Wars Nite was going to be my first Disneyland After Dark event back when tickets went on sale in 2020. Well, we all know what happened next … lightspeed jump ahead two years and finally my Star Wars dreams came true!
2022 wasn't Disneyland's first Star Wars Nite but it was the first one for me, and I have to say … I absolutely loved it!! My Star Wars fan heart was so happy the entire time! I have also attended Oogie Boogie Bash and Merriest Nites, and I have to say Star Wars Nite was my favorite!
I suspect this won't be the final year for Star Wars Nite, so if you are attending a future event – or any Disneyland After Dark event – I hope this guide helps you plan your evening.
Guide to Disneyland After Dark: Star Wars Nite (Updated for 2022)
If you need a primer on Disneyland After Dark events and want to know what's coming up, read this article: Disneyland After Dark
In 2022, Star Wars Nite was held on May 3, 4, and 27. This event is a seperate ticketed event and took place at Disneyland Park from 9pm through 1pm.
Tickets went on sale earlier in 2022 and sold out almost immediately. So if you want to go to a future Star Wars Nite, be sure to keep an eye on the Disney Parks Blog for announcements.
What's Included?
You may be wondering what's included with your admission ticket! Star Wars Nite in 2022 included the following:
Access to Disneyland Park from 9pm to 1am (with early admission starting at 6pm)
Select attractions available – including Star Tours, Hyperspace Mountain, Millennium Falcon: Smuggler's Run and Rise of the Resistance (although Rise was down for our entire event)
Rare character meet & greets and photo backdrops
DJ dance party on Main Street USA
A Star Wars themed fireworks show
Lightsaber training demonstration
Special dining items
Exclusive merchandise
Souvenir lanyard
Unlimited PhotoPass downloads taken during the event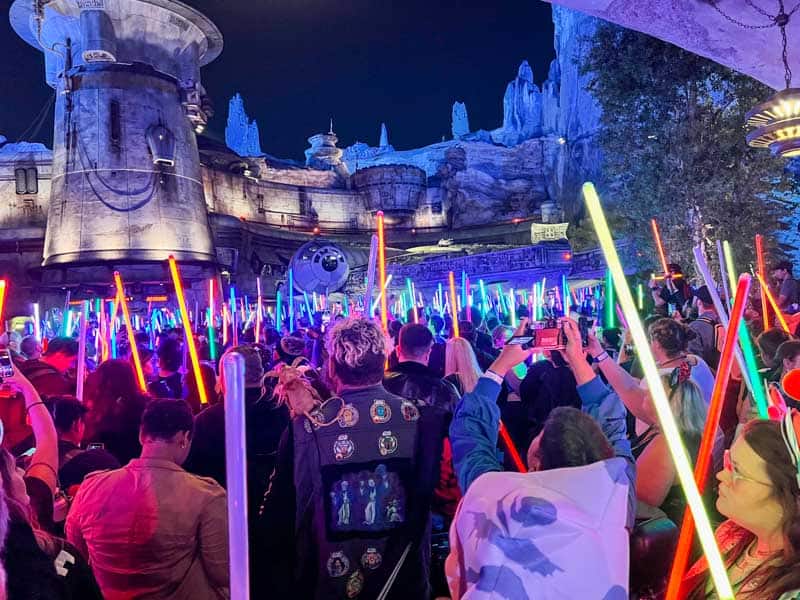 How to Get Tickets
Tickets for Star Wars Nite went on sale a few months before the event and sold out almost immediately. For future events, keep an eye on this space or follow the Disney Parks Blog to see event announcements.
Parking
Parking is not included with your event ticket. Guests may park at Mickey and Friends or Toy Story Parking. Please click here for more information about parking at the Disneyland Resort.
Costume Guidelines
One of the best parts about Disneyland After Dark events is Guests are encouraged to wear costumes! This is exciting for us adult Guests who are typically prohibited from wearing costumes during normal Park operating hours.
If you get a chance to wear a fun Star Wars costume, do it! I dressed as Peli Motto, a fan favorite supporting character from The Mandalorian. My costume was a big hit and it made the event that much more fun!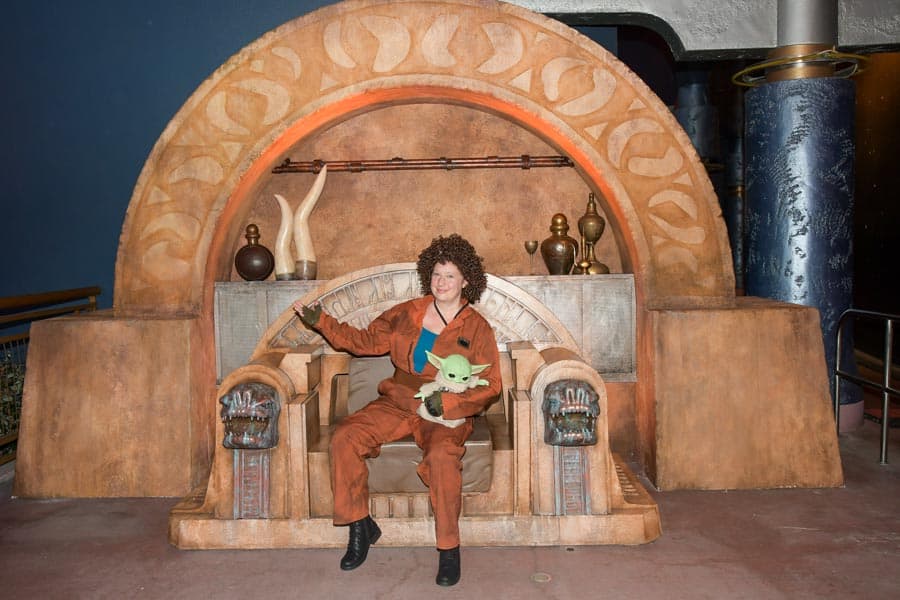 Here are the costume guidelines copy and pasted directly from the Disneyland website (subject to change):
All Guests may dress as their favorite character during the event, but may not pose for pictures or sign autographs for other Guests
Costumes must be family-friendly and may not be obstructive, offensive, objectionable or violent
Costumes may not contain any items that resemble (or could easily be mistaken for) an actual weapon
Costumes may not contain sharp/pointed objects or materials that may accidentally strike another Guest
Layered costumes or costume props that surround the entire body are strongly discouraged and may be subject to additional security screening
Costumes may not reach or drag on the ground (e.g., full-length Princess dresses)
For Guests Ages 14 and Older
Capes may be worn if the length does not go below the waist
Themed T-shirts, blouses, sweatshirts and hats are permitted
Acceptable accessories include transparent wings, plastic light sabers, toy swords and tutus
Headwear may be worn as long as it does not cover the face
Costume masks of any kind may not be worn
Entering the Park
Guests may enter the park 3 hours before the official event start time. For Star Wars Nite, Guests could enter Disneyland Park starting at 6pm. There will be "special event" queues at the front entrance, so look for the signs.
For Guests who are already inside the park, you can pick up your credentials near Launch Bay in Tomorrowland starting at 6pm.
Once you scan your event ticket, you'll be given your lanyard and a special event guide.
What to do First?
This is a question I get asked a lot about after hours events and my suggestion is always to look at the event guide and plan a strategy for the evening.
For photos of the Disneyland After Dark: Star Wars Nite event guide, visit Dap's Magic.
The second thing you should do, is mobile order food if you didn't already do it earlier in the day. If you're okay with skipping some of the special event food and eating before the party, I suggest doing that. There's so much going on during the party and if you can get eating out of the way, do it.
Next, get in line for photo ops. Characters won't be out yet but some photo backdrops will set up and ready to go, such as Boba Fett's throne near Launch Bay, and the Tie Fighter on Frontierland trail.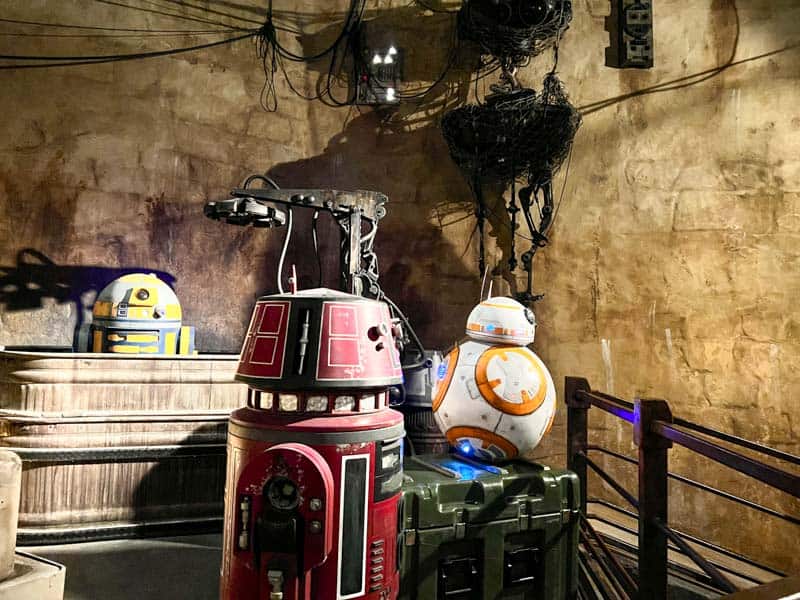 Star Wars Nite Highlights and My Schedule
I'll share my favorites from the event and a rough order of how I planned my night. Honestly, these events can get really chaotic and we ended up criss-crossing the park a few times and I still didn't see everything I hoped to see. But, having a go-with-the-flow attitude really helps!
Arrived at the front entrance shortly after 6pm. Mobile ordered food from Galactic Grill for a pickup time around 11pm.
In the park around 6:30pm; headed to Star Wars: Galaxy's Edge to take photos and videos while my costume was still fresh.
Went to Tomorrowland to do two photo ops: Boba Fett's throne and The Mandalorian rock.
This took us to right before 9pm. Decided to wait in line for the Jawas (Fantasyland near it's a small world) so we could get photos right when they arrived. Had a snack and water break while waiting.
After photos with the Jawas, headed to Main Street USA for the 9:30pm fireworks show.
Post-fireworks, went back to Fantasyland for photo op with the Tusken Raiders. (Because my friend and I were dressed as characters from The Mandalorian, we prioritized characters and photo ops that went with our era.)
After meeting the Tuskens, we headed to Star Wars: Galaxy's Edge for the lightsaber meet up near the Millennium Falcon at 10:30pm. THIS WAS CHAOTIC BUT AMAZING.
Next we headed to Royal Street Veranda to pick up a mobile order for the Snacky Mac macaron, followed by Galactic Grill to pick up a mobile order for the Loaded Fleet Fries. Both were excellent choices! We also stopped for our Magic Key exclusive gift.
After a bit of a rest and a ton of hydration, we headed back to Main Street USA for the Costume Showcase at 11:45pm, which was more of a parade! Guests in costume were encouraged to march down Main Street USA, led by Mickey and Minnie wearing Star Wars streetwear. It ended with a group photo in front of Sleeping Beauty Castle. Sadly the photos never made it to my PhotoPass account but it was a fun memory.
By now it was right before midnight so we rushed back to Tomorrowland to watch the March of the First Order at midnight.
At this point, we did all our priorities. We debated on getting in line for a Star Wars themed attraction, or for another rare character meet. Ultimately we decided to go back to Star Wars: Galaxy's Edge and take more photos and chill. The land was surprisingly empty and we had a very short wait for the BB-8 character meet near the Droids area. We also spent a lot of time taking photos in front of the Millennium Falcon with no crowds!
At 1pm, we walked through Disneyland to the exit, enjoying the Star Wars music playing through the park and the fun projections on Sleeping Beauty Castle.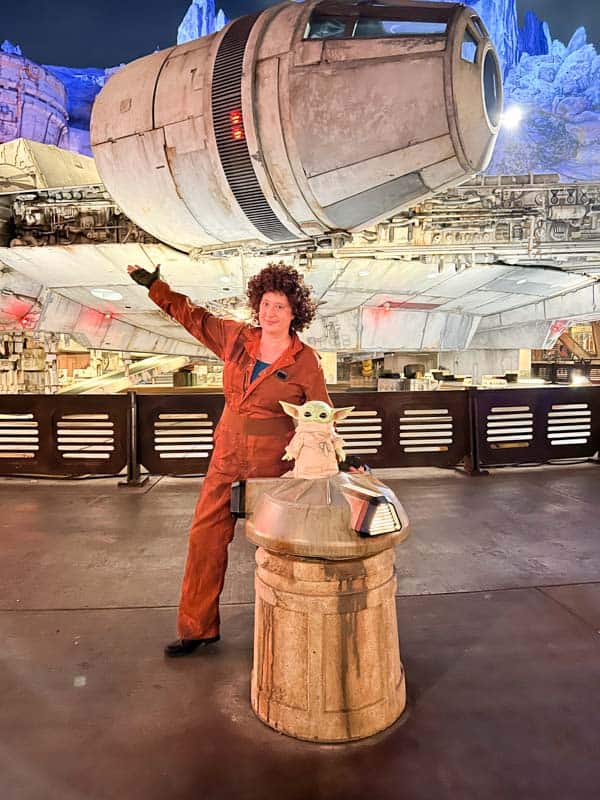 Is Star Wars Nite Worth the Money?
This is the question I get asked the most when it comes to these after hours events. It's a tough question to answer, because it really is going to depend on your priorities. But at over $100 a ticket for essentially a 4 hour event, I understand the concern.
For me, I'm a massive Star Wars fan and it was super fun to be immersed in Star Wars stuff and be surrounded by Star Wars fans for a few hours. I loved the opportunity to dress in costume as one of my favorite Star Wars characters, which I wouldn't be able to do during a normal visit to Disneyland. And I really enjoyed being able to interact and take photos with rare Star Wars characters.
Due to all of the above, the event was absolutely worth the price for me.
If it helps, I like to break down the ticket price by hour (4 hours plus the 3 hour mix-in) and you're paying between $15-$20 per hour per person. A little more expensive than going to a movie but way better value than a popular concert ticket.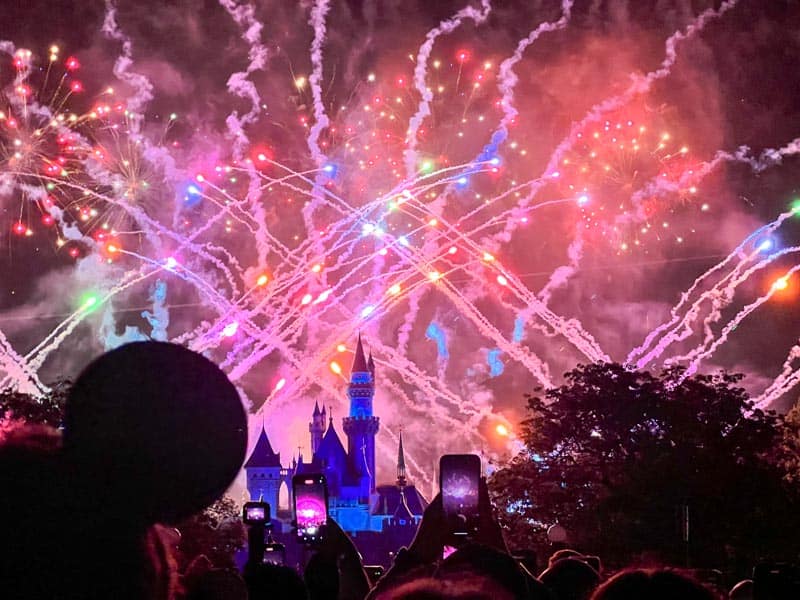 Tips for Making the Most of Star Wars Nite
The Disneyland After Dark events pack in a lot of options in a short amount of time. It's impossible to see and do everything, so I recommend having a plan of attack! Here are some tips for a successful Star Wars Nite:
Strategize ahead of time! Once you get your event guide, study it and determine your priorities. Write down a schedule or set alarms on your phone if it helps!
Mobile order your food early! You can actually mobile order before you enter the park and choose your pickup time! For me, I scrolled through the food menus and placed a mobile order while I was waiting in line at the front entrance. If your pickup time gets close and you realize you won't make it in time, you can change your pickup window.
Lines for character meets and Star Wars attractions are long. Again, prioritize what's most important and get it done first.
The fireworks show is short but was a lot of fun. For the best viewing spot in front of Sleeping Beauty Castle, you'll need to camp out about an hour before hand. If you are okay with just watching from the middle of Main Street USA, arrive around 15-20 minutes before show time.
Wear comfortable shoes. It's a lot of walking.
Frequently Asked Questions about Star Wars Nite
Are lockers available?
Yes! Lockers are available inside Disneyland and the Esplanade area.
Is there anything special for Magic Key holders?
There was a special pin available for Magic Key holders near Pixie Hollow. The line was very long at the beginning of the event, but around 11pm it was less than a 5 minute wait.
Are there any COVID restrictions?
As of May 2022 Disneyland Resort does not have any COVID restrictions in place, but Guests are strongly encouraged to wear face masks indoors.
If you have any further questions about Star Wars Nite or any other Disneyland After Dark events, please join my Facebook Group – Disney Trips for Adults. I'm happy to answer any questions there!