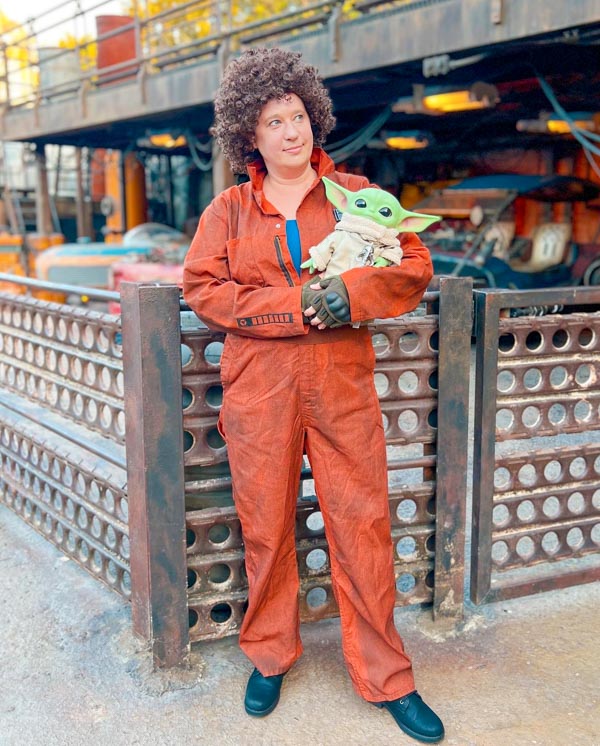 One of the absolute best parts of the Disneyland After Dark events is that Guests are encouraged to dress up in costumes that would normally not be permitted during regular operating hours.
For Star Wars Nite, I knew I wanted to dress as an obscure character (no offence to all the Leias out there) but was stuck on who.
When my friend Katie told me she was making a Mandalorian inspired outfit, the lightbulb went off. I asked if I could be the Peli Motto to her Mando and our group costume was born!
Peli is a pretty obscure character in the whole of the Star Wars Universe, but a fan-favorite among watchers of The Mandalorian. The sarcastic mechanic, played by Amy Sedaris, was so beloved during Season 1 of The Mandalorian, she was written into both Season 2 and The Book of Boba Fett.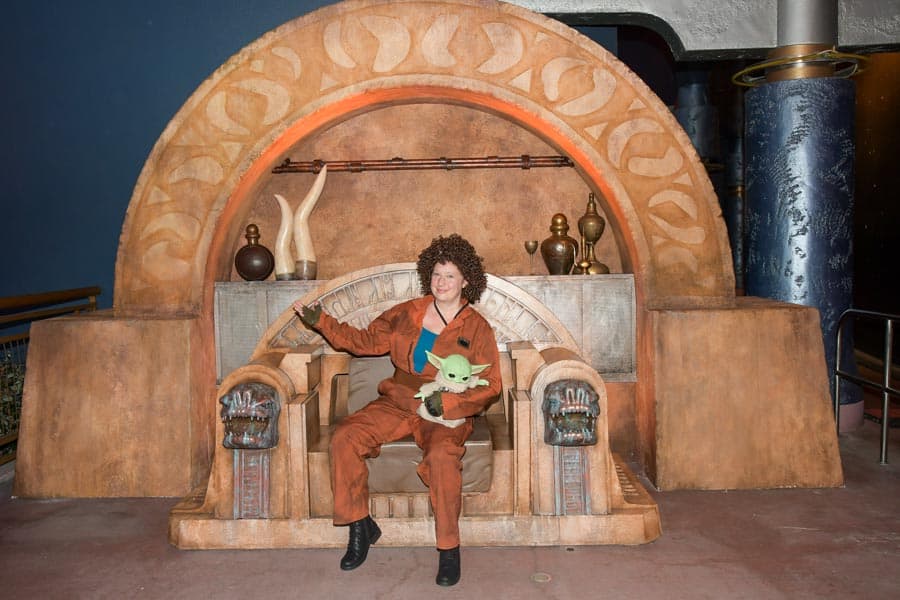 I kinda assumed this costume would be easy. Just buy some coveralls and a wig, right? Well you know what they say about people who assume something …
I'm a perfectionist so of course I spent hours studying photos, reading tutorials, and combing through Amazon for the perfect matches.
In the end it wasn't totally perfect (according to the vision in my head) but it was close enough and I got many shout-outs from other Guests at Star Wars Nite! I didn't see any other Pelis there and I posed for a lot of photos. It was fun!
I'm hoping this tutorial will help you put together a Peli Motto costume, which would be super fun for Star Wars Celebration, Comic Con, D23 Expo, or Halloween!
Fair warning: This costume is HOT. Covered up head to toe plus a wig, your skin cannot breathe. If it's hot out, please hydrate while wearing this costume, friends.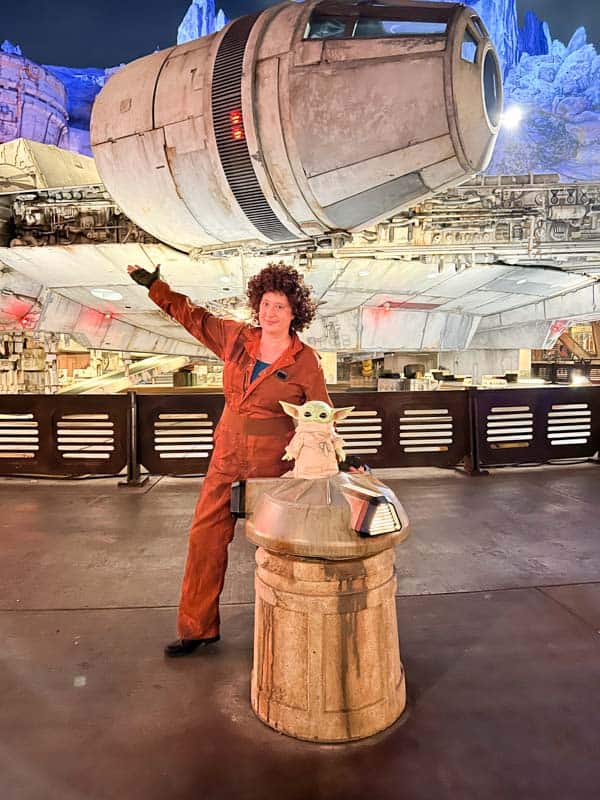 Peli Motto Costume Tutorial
**Want to skip the whole DIY route? I found this Peli Motto costume on Amazon! It's available in several sizes and is MUCH cheaper than trying to DIY it! You can click here to see if it's available in your size!
First of all, I have to give major thanks to Red Shoes Red Wine for her amazingly detailed Peli Motto Cosplay tutorial. She gave me a great starting point and I purchased a lot of her costume suggestions. My costume ended up being much, much simpler which is why I'm calling it a "costume" and not "cosplay." Hers looks much closer to the actual character outfit. Please check her tutorial if you want to go hard-core on this one!
I also need to thank the Amazon Influencer Program. I purchased most of my costume with credit I received through their fashion program. I have no idea why Amazon chose to work with me as a "fashion influencer" and this costume was probably not how they thought I would spend my credit, but here we are. Thank you Amazon!
I've linked every item I purchased for this costume in my Amazon Influencer Shop.
Coveralls
Getting the coveralls right was an adventure. I ordered the Red Cap men's orange coveralls (size 44 for me) recommended by Red Shoes Red Wine and planned to follow her advice on dying them brown.
I purchased the Rit Dark Brown Dye she recommended and dyed my coveralls in my kitchen sink, but the dye didn't seem to take very well. I ended up washing them, then dying them again, leaving the coveralls in the dye for a full hour. Still, the dye wasn't taking.
After a bit of investigating I realized my coveralls were a cotton/polyester blend, while hers were 100% cotton.
The lesson here is to check your coveralls materials tag before you dye.
Since polyester is nearly impossible to dye, my coveralls ended up looking very orange still. They were a little darker than the bright orange original fabric since the cotton threads did pick up the dye. But still not at all the right color.
After a bit of Googling, I decided to try my luck with the Rit Dye More in Chocolate Brown. Rit Dye More is for synthetic fabrics although I read it's a complicated process because the water-dye mix has to stay right below boiling, and my only instrument for dying is my stainless steel kitchen sink.
I ended up using boiling a couple pots of water, carefully pouring them into the sink, adding the full bottle of dye, then the coveralls. I used a wooden spoon to sink the garment under the water and stir it.
At the same time, I boiled more water and kept adding some every couple of minutes, to keep the temperature up.
I did this for about 30 minutes and the garment got slightly darker, but didn't make a huge difference. Not sure if it was worth my time.
The day before the party, I needed to come up with a way to make these coveralls look dirty, and quick. Too late to order anything from Amazon, I headed to Michael's to look at spray paint options. I was hesitant to use spray paint on my costume because I didn't want it to feel stiff.
Luckily I found some black spray fabric paint, and while I was frustrated they didn't have brown, the black ended up being PERFECT. I laid the coveralls flat on a dropcloth in my backyard and did short sprays, attempting to give the coveralls a weathered look.
It worked!
I ended up using the full can of paint and could have used more; I found some bare spots along the seams that ended up being very obvious in some photos, but c'est la vie … I did my best.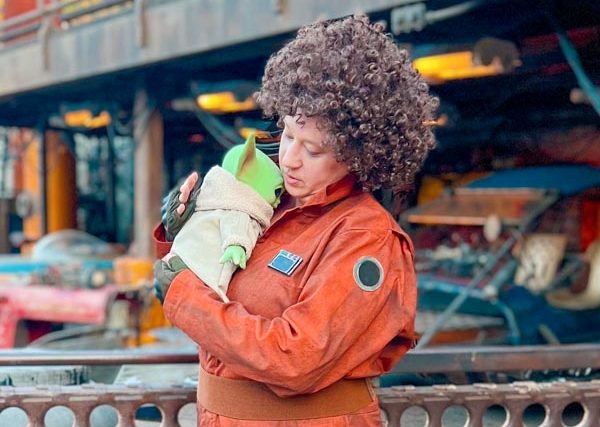 The final detail for the coveralls are the "greebs" or little detail pieces. I could have made these out of felt but after my dying drama I got lazy, so I turned to Etsy. I found a great set by the shop MakingStuff4Fun, who is taking a break right now but hopefully they come back! They were sent to be quickly and I glued them to the coveralls using E6000 glue.
>>> Click here to purchase the Peli Motto greebs.
Teal Cami
Peli wears a teal undershirt or dickie under her coveralls, and I decided to make my life easier and order a simple teal camisole. It worked perfectly.
Kurve Basic Cami in Teal (I'm wearing size XL)
Belt
The belt was a literal night-before addition, after re-watching The Book of Boba Fett and realizing Peli wore a belt. I don't think the costume NEEDS it but I'm happy I added it. The coveralls do not have belt loops so a cinch belt was the way to go. This belt is the one I wore, the buckle in the back. But if I had planned ahead, I probably would have ordered this one since it's a little more simple.
Alternatively, you may want to wear a toolbelt, which of course matches with Peli's profession. I opted against a toolbelt since I needed a backpack to carry around The Child all night.
Wig
Truly, the wig makes the costume. Unless you are blessed with a luscious head of naturally curly ringlets, you're gonna want a wig for your Peli costume.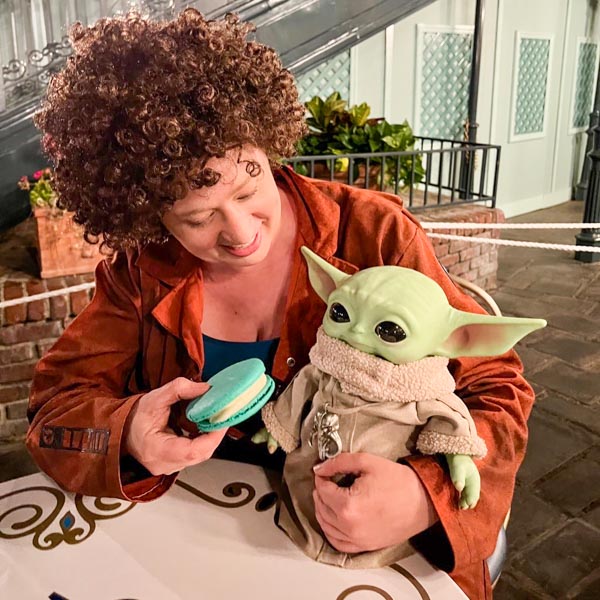 Red Shoes Red Wine linked to a great wig, which was (and still is) sadly sold out. I will link to it in case it comes back into stock: Smiffy's Boogie Babe Wig. If you are lucky enough to find this wig in stock, you will need to trim the ends a bit to get the right length, but it is a more accurate representation of Peli's curly mullet.
With that wig not an option, I did a search for "Richard Simmons wig" and landed on this one: Topcosplay Men and Women Disco Hippie Wig in dark brown. The look is not 100% correct but it worked well enough. Again, with everything together my costume was recognizable to my fellow Star Wars fans. (Even my dad, a very casual Star Wars fan, knew who I was.)
I also wore the Dreamlover Wig Grip which kept my wig in place like magic! Highly recommend getting one of these to go along with your wig.
Shoes
Peli wears some serious boots with some type of fabric cover over them. I went the simple route and ordered some black combat boots off Amazon. Not *exactly* character accurate but good enough.
Gloves
I purchased the gloves recommended by Red Shoes Red Wine in her tutorial >>> Hikeman Half Finger Cycling Gloves in green – although I didn't do all the modifications she did. I did let them soak in brown dye for a while which made them a little darker. I also used some acrylic paint to darken the green straps. In hindsight, I wish I had gotten the gloves in black; however I don't think anyone cared about the color of the gloves but me.
Backpack
For Star Wars Nite, I wanted to carry a backpack to not only house my belongings but also my Grogu plushie. Since Peli doesn't wear a backpack on the screen, I simply purchased something earthy and basic. This Canvas Backpack in brown worked great. One bonus is this backpack has a cool little USB port on the side. You plug in your external phone charger inside the backpack and then plug in your USB cord to the port and you have an easy way to charge your phone. A little pricey for a one-time event but I can see myself using this bag when I'm traveling.
Grogu
The pièce de résistance, you can't have a Peli Motto costume without Grogu. I already had this in my collection, but I'm 99% sure this Mattel Grogu Plush is the one I own.
However, I also found this one which comes with a little carrying satchel, which might be perfect for some of you!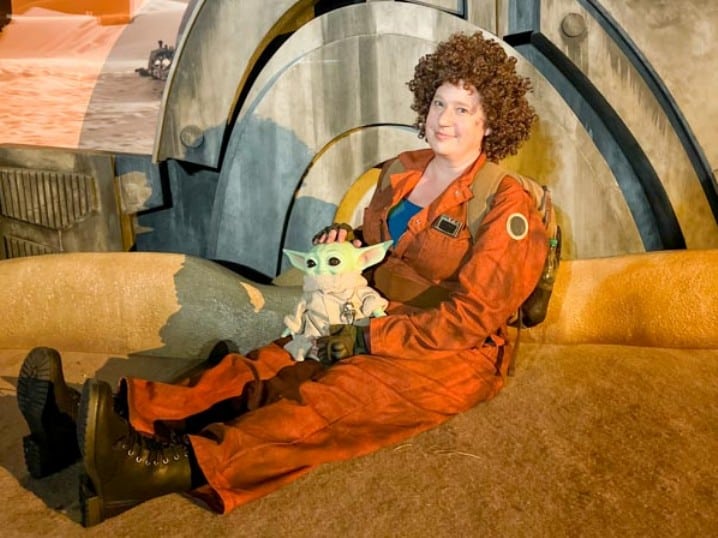 That's a wrap on my Peli Motto costume tutorial. I hope it helps someone!
Remember that costumes and cosplay are supposed to be fun. Don't sweat the small details! All you really need for this costume are the coveralls, the wig, and Grogu, and Star Wars fans will recognize you.
If my tutorial helps you with your Peli costume, I would LOVE to see photos! Please find me on Instagram at @fairytalemindy.