I'm thrilled to once again be participating in this year's CHOC Walk in the Park at Disneyland on Sunday, August 26 CHOC Walk in the Park is an annual fundraiser to raise money for Children's Hospital of Orange County (where Disneyland is located). CHOC Walk in the Park is a three mile walk through Disneyland, Disney California Adventure, and Downtown Disney before they open to the general public. In its 28 year history, the CHOC Walk has raised over $25 million dollars. WOW! This will be the FIFTH year of the Disneyland Brides and Grooms (and Family and Friends) walking as a group, and it's such a fun way to support our community!
What is CHOC Walk? During your early morning walk through Disneyland, you'll meet other Disney fans and even see some friendly characters along the way! In past years we saw Peter Pan and Hook, several princesses, and even the fairies from Sleeping Beauty! A highlight for me was seeing Atta and Flik – I haven't seen them out in years!!!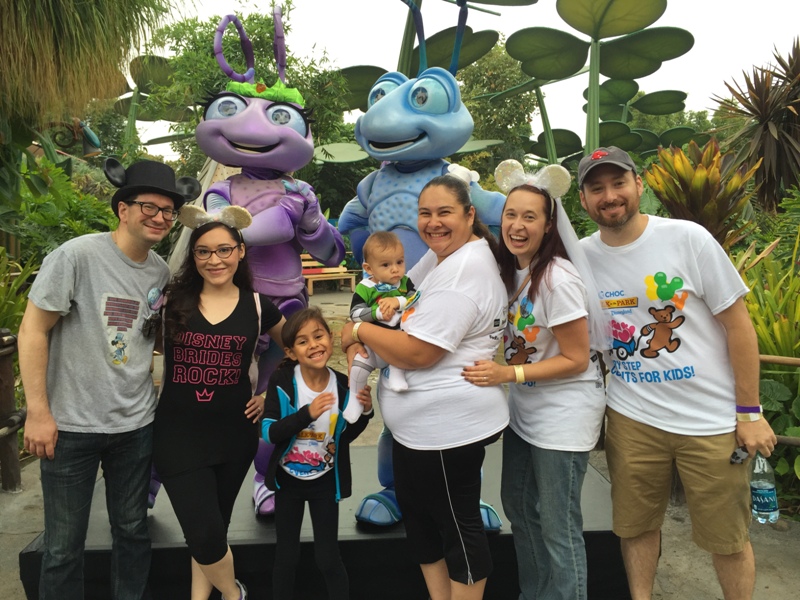 The best part about the Walk is seeing all the passionate teams who are brought together to raise money for charity, and spending time with friends! Even through it was early, everyone was so happy and having a good time … how could you not, you're at Disneyland!
You can click here to read my recaps from past CHOC Walks. Also, my friend Lisa put together this quick video from a recent CHOC Walk!
**** Want to join us? ****
You can join as an individual walker, OR you can join our Disneyland Brides and Grooms team! There's always room for more members! Family and friends may join us too, and strollers are welcome! I hope you will consider joining us. We will be rocking our Bride and Groom ears and representing the wonderful Disney weddings community! Disney Brides and Grooms Rock!!
CHOC Walk participants also have the option to purchase a discounted ticket for Disneyland park! Details will be coming soon. Learn more on the CHOC Walk website.
If you can't join us in person this year, please consider making a donation to our team. Last year our team raised $1250 and this year we have a big goal of $2500! You can donate as little as $5 and every dollar counts! You can view our team roster here and help a team member reach their minimum fundraising goal of $85.
Walk Details:
What: CHOC Walk in the Park
Who: Disneyland Brides and Grooms (and Family and Friends)! Vendors welcome!
When: Sunday August 26, 2018 at 6:30am
Where: The Disneyland Resort (Disneyland, Disney California Adventure, and Downtown Disney)
Walk Distance: 5k (approx 3 miles)
Minimum Entrance Donation: $85 (ages 3 and older, walkers under 2 years are free)
Personal strollers and wheelchairs allowed
Parking is free at the Disneyland Resort for walkers; parking lots open at 5am (no trams, prepare to walk to the main gate)
Visit the CHOC Walk in the Park website for additional information.
Who do we walk for? Disneyland Brides and Grooms walk so every kid has a chance at a happily ever after. Thank you for your support!
Comments
comments