Yes, it's true! CHOC Walk in the Park is going VIRTUAL for 2020!
This year's CHOC Walk was supposed to take place in September this year, but was postponed due to COVID-19. Now, it has been moved to a virtual walk taking place on May 22, 2021!
CHOC Walk in the Park is usually a three mile walk through Disneyland, Disney California Adventure, and Downtown Disney before they open to the general public. In its 29 year history, the CHOC Walk has raised over $25 million dollars. WOW!
This will be the SIXTH year of the Disneyland Brides and Grooms (and Family and Friends) walking as a (now virtual) group, and it's such a fun way to support our community!
Obviously this year's virtual walk won't be the same as walking through Disneyland with friends and seeing our favorite characters, but I'm just happy for an opportunity to continue to support this great cause.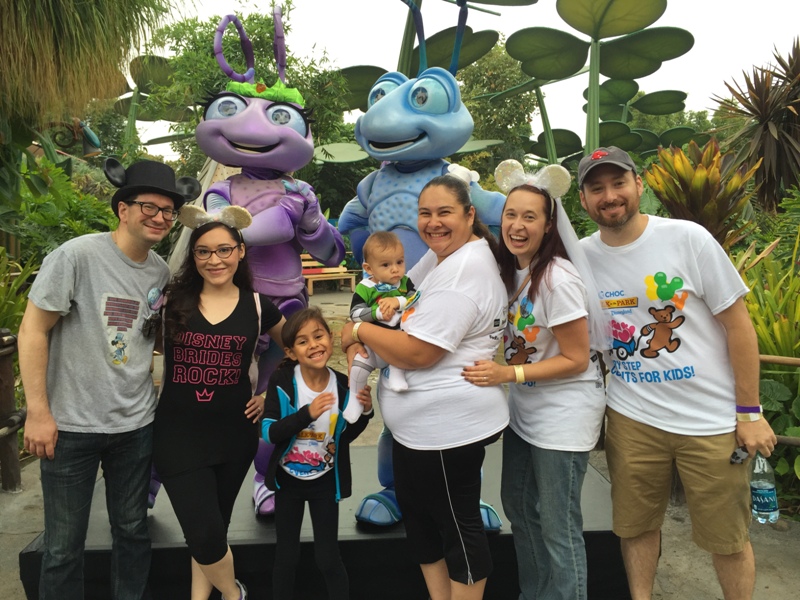 You can click here to read my recaps from past CHOC Walks. Also, my friend Lisa put together this quick video from a recent CHOC Walk!
**** Want to join us? ****
This year, it's easier than ever to participate in CHOC Walk as part of our Disneyland Brides and Grooms group, because you can do the 5k walk wherever you live!
You can join as an individual walker, OR you can join our Disneyland Brides and Grooms team! There's always room for more members! Family and friends may join us too!
For this virtual walk, the rules look a little different this year.
To participate in the Walk in the Park virtual celebration, participants must have a minimum of $50 in their account. You can donate this yourself or fundraise!
Everyone is invited to take a walk for CHOC in their community regardless of their fundraising total.
Walkers who raise $50 will recieve a CHOC Walk t-shirt.
Walkers who raise $100 will receive a CHOC Walk t-shirt, cloth mask, and commemorative pin.
Walkers who raise $200 will receive all of the items for $100, plus a CHOC Walk commemorative medallion.
All materials will be automatically sent to the participant via address in your account.
While CHOC Walk is encouraging participants to complete the walk on May 22, 2021, basically you can do your 5k walk at any time, anywhere! Just as long as you stay safe!
I hope you will consider joining us. Even at home we will be rocking our Bride and Groom ears and representing the wonderful Disney weddings community! Disney Brides and Grooms Rock!!
If you aren't interested in participating, please consider making a donation to our team. Last year our team raised $2700! Can we make it $3000 this year?
You can donate as little as $5 and every dollar counts! You can view our team roster here and help a team member reach their minimum fundraising goal of $50.
Visit the CHOC Walk in the Park website for additional information.
Who do we walk for? Disneyland Brides and Grooms walk so every kid has a chance at a happily ever after. Thank you for your support!