As you plan your visit to Disneyland Resort in California, you might be wondering how to keep your belongings safe and secure while enjoying the attractions and shows. The last thing you want is to carry around heavy bags and backpacks all day, which is why Disneyland offers convenient locker rental services throughout the park. However, figuring out the locker system can be time-consuming if you're not familiar with it.
In this article, I will guide you through everything you need to know about using lockers at Disneyland, so you can have a worry-free and enjoyable experience at The Happiest Place on Earth.
All About Lockers at Disneyland
Basic Info about Disneyland Lockers
There are 5 locker locations at the Disneyland Resort, with 3 being located outside of the parks.
Locker rentals start at $7 a day. Paying with a credit card is easiest. Lockers do not accept Apple Pay or Google Pay.
Lockers are available from park opening to park closing. You cannot leave items in a locker overnight.
Take a photo of your locker number so you don't forget it!
The busiest lockers are located on Main Street USA. The least busy locker area is to the left of the entrance to Disney California Adventure.
Most locker locations have two locker sizes – small and large. Small can fit approximately one backpack. Large can fit approximately two backpacks. A small locker should be adequate for one or two people.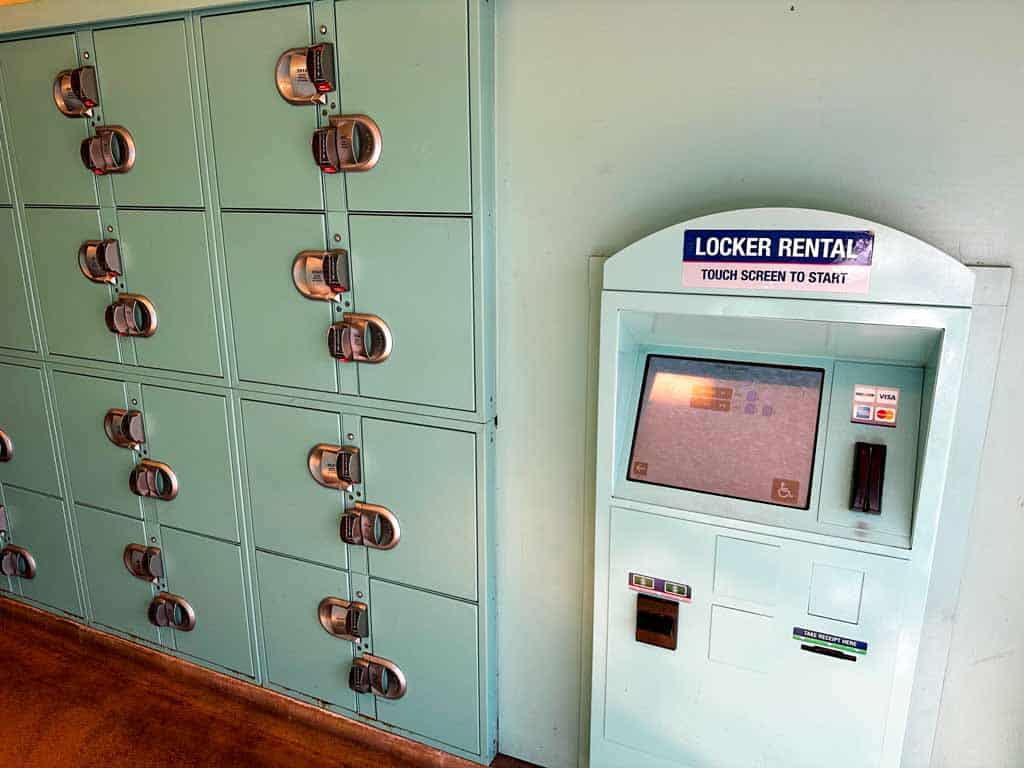 Who Needs a Disneyland Locker?
Disneyland's lockers provide an invaluable service to park visitors – handy storage during a long, fun-filled day at the park. Available for a daily fee on a first come, first served basis, these lockers make it easy to store heavy bags and bulky items so you don't have to carry them around yourself.
If you plan on being at Disneyland from open-to-close, you may want to bring a change of clothes, or at least a jacket to wear in the morning and the evening, when the temperature drops. Or, if you're visiting in the height of summer, you may want to bring a hat, sunscreen, and extra water bottles to use in the middle of the day.
And no matter what season it is, some Guests like to bring snacks to eat throughout the day as a money-saving tactic.
Don't forget the souvenirs! Collecting merchandise throughout the day means your arms will start to get tired in the evening.
Unless you want to carry around these extra items in a backpack or tote bag, you may want to consider storing everything in a locker. Lockers have all day in-and-out privileges, so you can store your stuff as soon as you arrive and return to it when needed.
How Much Do Lockers at Disneyland Cost?
Locker rentals start at $7 per day.
Where are Disneyland Lockers Located?
There are five locker locations, with three located outside of the theme parks in the Esplanade area.
Inside Disneyland Park, on Main Street USA by the Market House (Starbucks)
Inside Disney California Adventure, on Buena Vista Street next to the Red Car Trolley Station
Guest Services building, to the left of the Disneyland main entrance
To the left of the main entrance to Disney California Adventure (next to the restrooms)
The picnic area on the west side of the Esplanade, near the Mickey & Friends parking tram loading/unloading area
Note – All locations have small and large sized lockers, except for the picnic area which has oversized lockers that can fit a carry-on sized suitcase!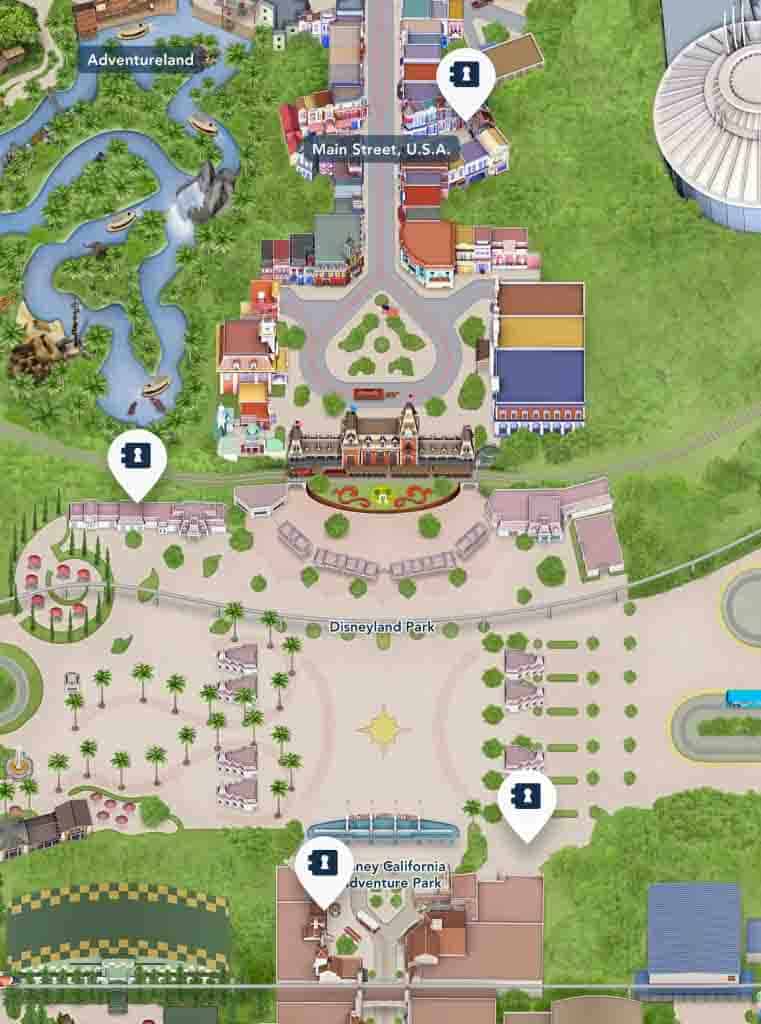 Types of Disneyland Lockers
Lockers at Disneyland come in four different sizes. For most Guests, a small locker is adequate enough to stash a backpack and a jacket. However, a large family may want to consider getting one large locker for everyone's things.
The picnic area has large and extra large lockers (however the "large" here is more spacious than the "large" lockers at other locations). This spot is good if you have to store a suitcase or several bags.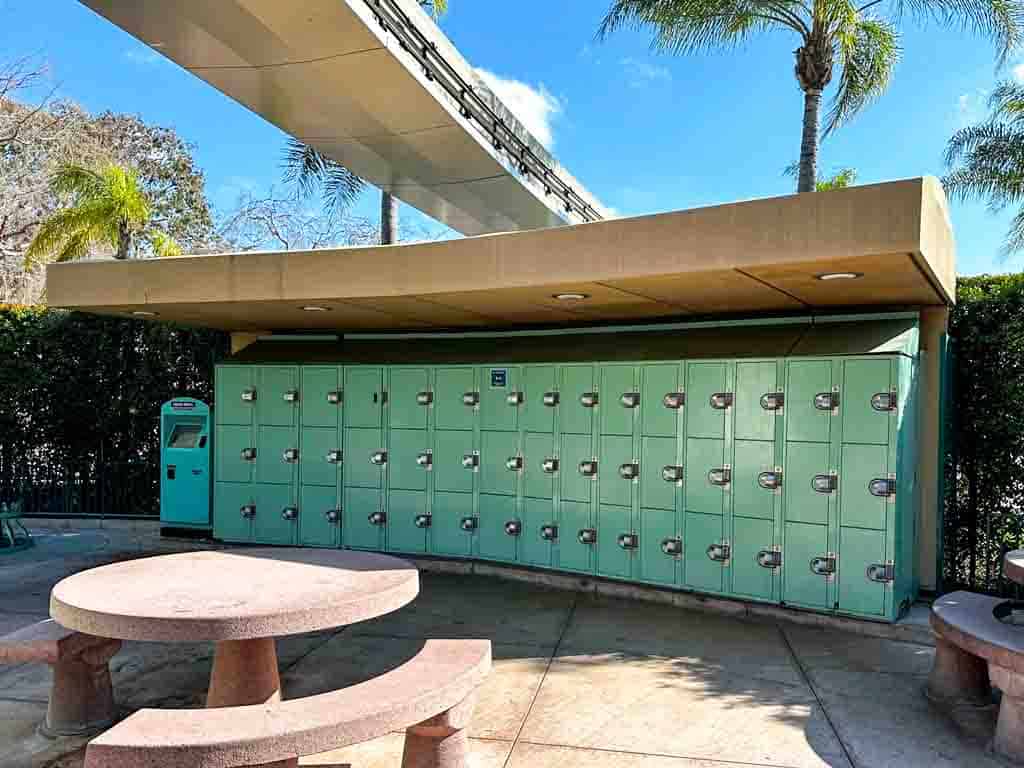 How to Use Disneyland Lockers
Each locker area has a payment kiosk near the entrance. The kiosk accepts credit/debit cards and American cash. Once you pay, the kiosk will assign a locker to you. It will also ask you to create a four digit access code. When complete, take the ticket and find your locker number. You will need to enter your code to open the locker door. Once your items are inside, shut the door and it will lock automatically.
IMPORTANT: Lockers are for one-day use only! You cannot leave items overnight. Any items left in a locker after closing will be taken to lost and found. Don't forget to empty your locker before you leave!!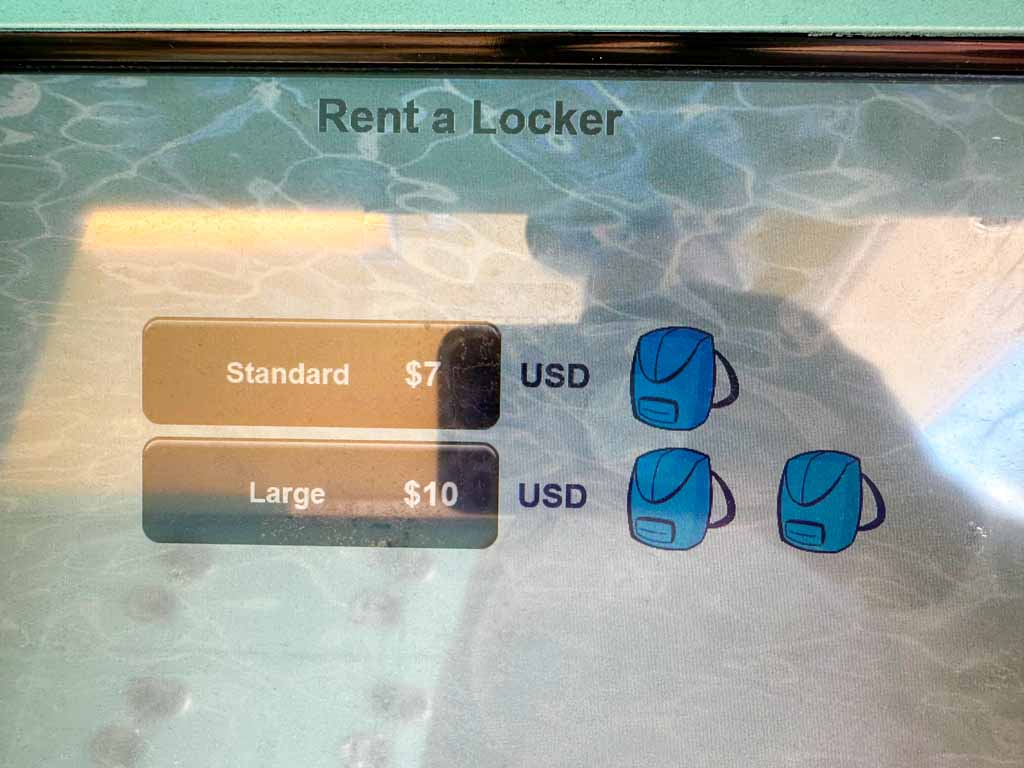 Disneyland Locker Tips
Take a photo of your locker number so you don't forget! You may also have to make a note of your access code, too, but be sure not to share it with anyone else.
The lockers on Main Street USA are the most popular lockers. There will often be a line in the morning.
Conversely, the lockers to the left of the entrance of Disney California Adventure are never busy! I don't think too many people know about them.
If you plan to park hop, I recommend getting a locker in the Esplanade.
Remember lockers close when the parks close, so if you have a locker at Disney California Adventure but you're eating dinner in Downtown Disney at the time the park closes, you won't be able to go back in and get your stuff!
All lockers are past the security check, so anything you bring in to store inside a locker will need to be searched by security first.

Disneyland lockers are the perfect solution for anyone looking to enjoy the park with ease. With the ability to store umbrellas, snacks, and warm clothing – lockers provide guests with peace of mind knowing their items are safe and secure while they enjoy the attractions and shows Disneyland has to offer. Whether you're visiting the park for the first time or the hundredth time, make sure to take advantage of this convenient and practical service.