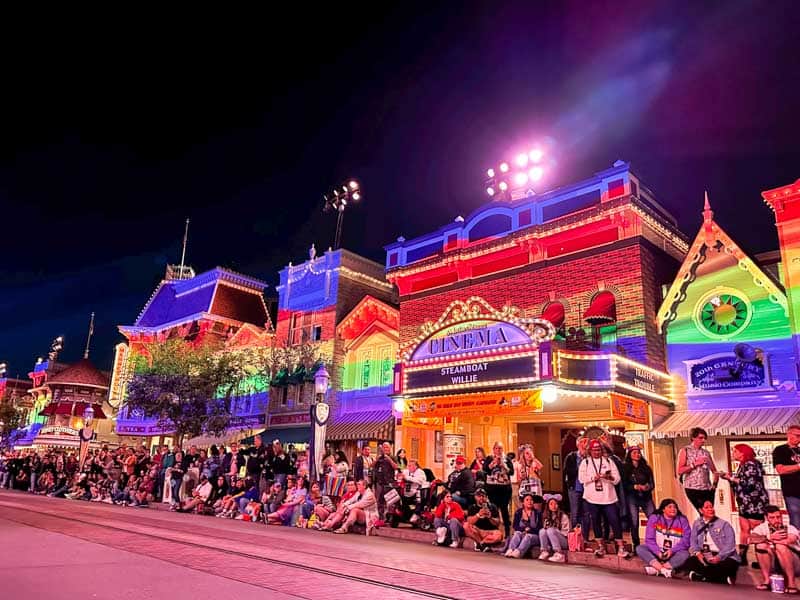 Disneyland's first ever Pride Nite is taking place this week, and I have all the details for you!
It has been a long time coming, but a Disney Park in the United States is finally hosting an official LGBTQIA+ pride event inside the parks!
This Disneyland After Dark event is taking place at Disneyland over two nights – June 13 and June 15.
I attended on night one and have all the details for you!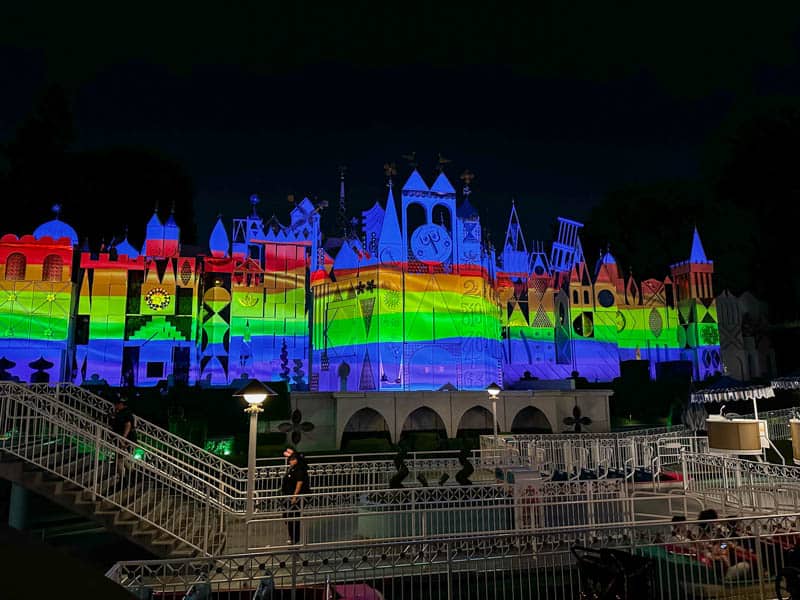 Disneyland After Dark – Pride Nite
Disneyland's Pride Nite is a "Disneyland After Dark" event, which is a separate ticketed party. Tickets went on sale in April 2023 for the June 2023 parties. Ticket prices started at $139.
The event took place inside Disneyland Park from 9pm – 1am, after the park closed for regular guests. Pride Nite attendees were able to enter the park starting at 6pm.
If you have ever been to a pride event then you likely know what to expect! Lots of rainbow lights, fun dance music, and guests wearing colorful costumes! Mix a pride event with Disney magic and you'll get club versions of popular Disney songs, Mickey and friends in special rainbow outfits, a custom fireworks show, and appearances by "queer" characters.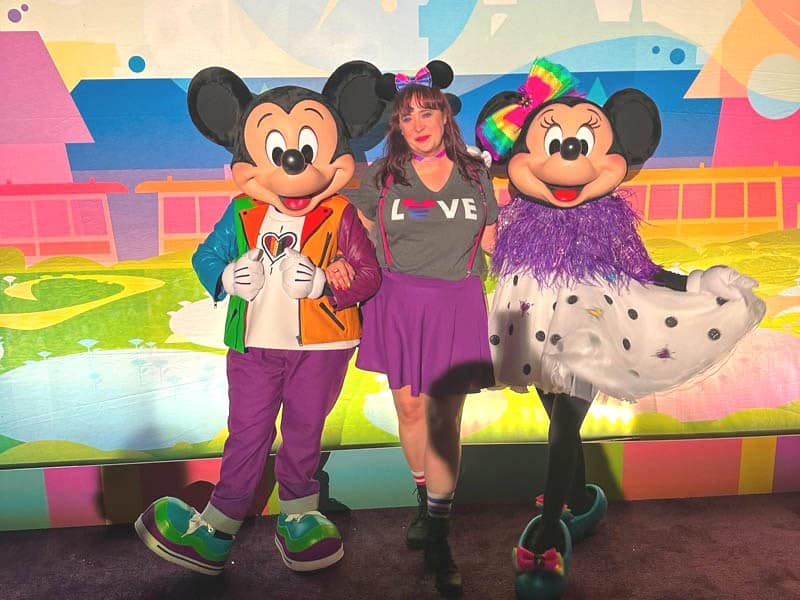 In short, Pride Nite was an absolute BLAST and will be a "must do" for me if they host it every year!
Below you'll find a guide for the Pride Nite 2023 event. If you're looking for info about Pride Nite 2024, I'll update this article when it's available.
Disneyland Pride Nite Guide and Map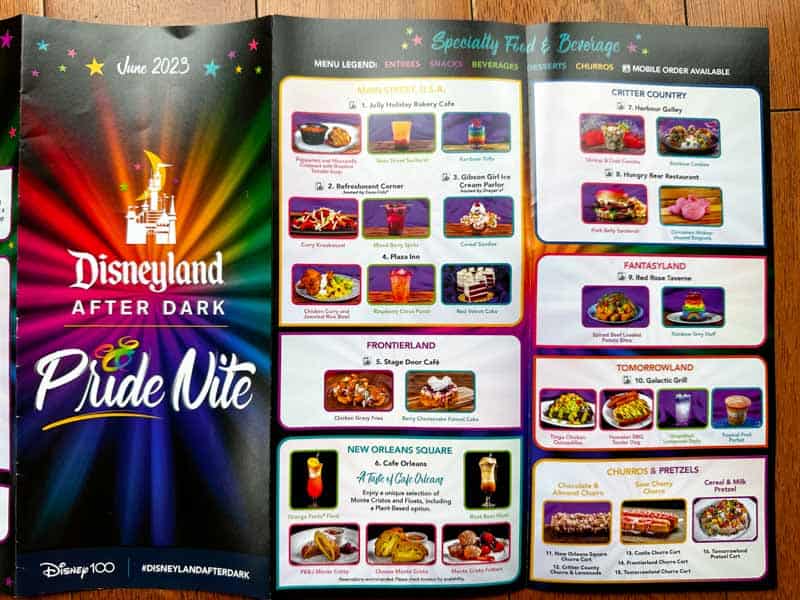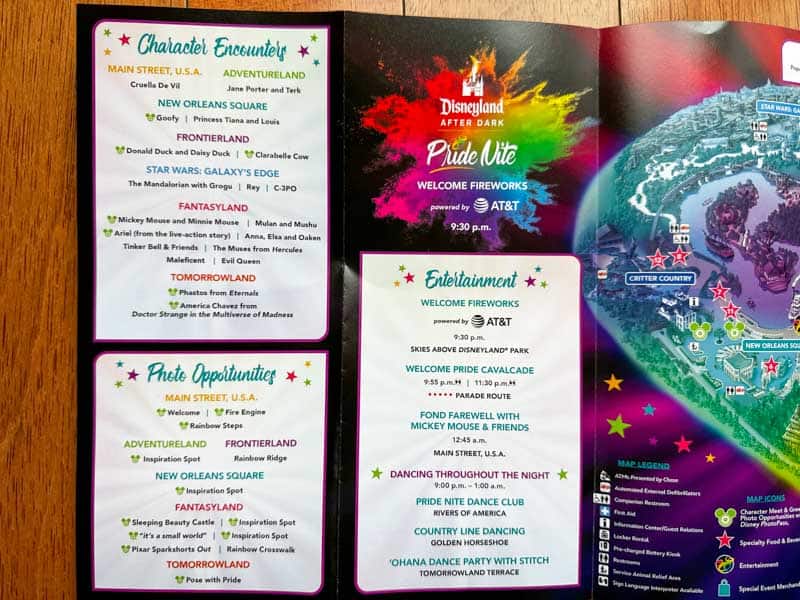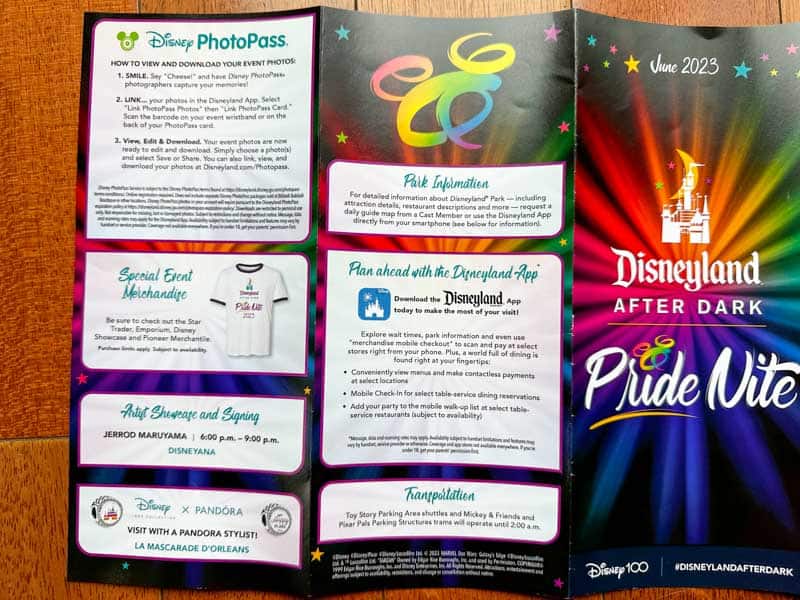 Disneyland Pride Nite Entertainment
Welcome Fireworks
Disneyland created a special five minute fireworks show just for Pride Nite! It included songs such as "Reflection" from Mulan and "This is Me" from The Greatest Showman, and Sleeping Beauty Castle was lit up with rainbow colors. The show started at 9:30 and it was pretty easy to get a spot on Main Street USA. Fireworks could also be seen by Rivers of America and "it's a small world."
Main Street USA, the Matterhorn, and the façade of 'it's a small world' also had rainbow projections for the entire party!
Welcome Pride Cavalcade
This mini parade features characters and dancers dressed in their rainbow best! It runs along the parade route at 9:55pm and 11:30pm. The cavalcade starts at Town Square for the first parade, and starts by "it's a small world" for the second parade. Don't miss this one, it's really cute!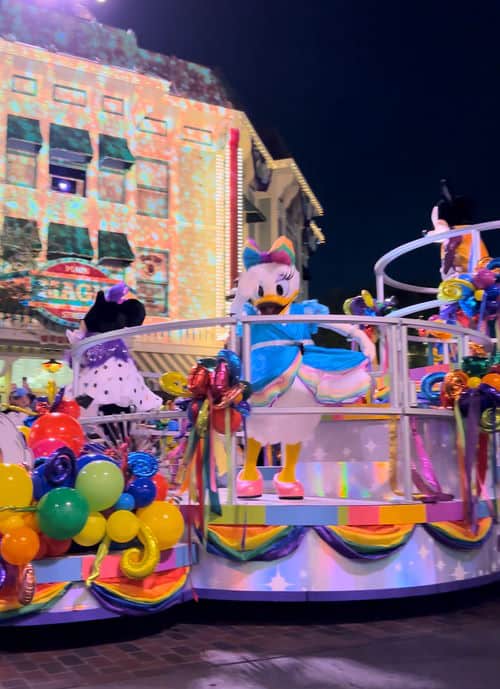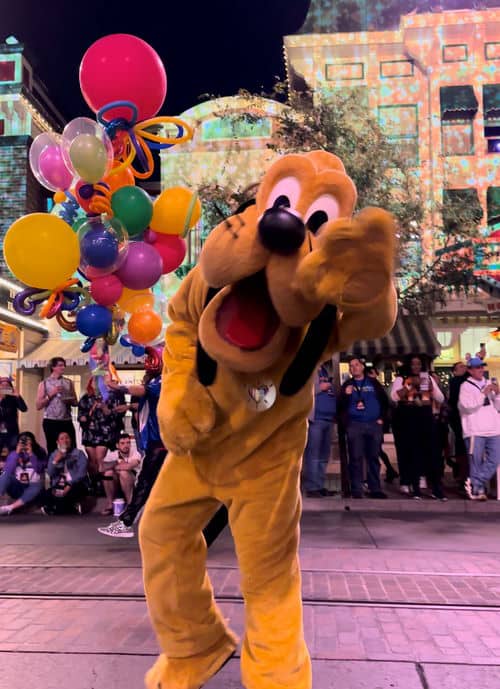 Fond Farewell with Mickey Mouse & Friends
Mickey and friends stand on the steps of the Main Street Train Stations and wave good-night!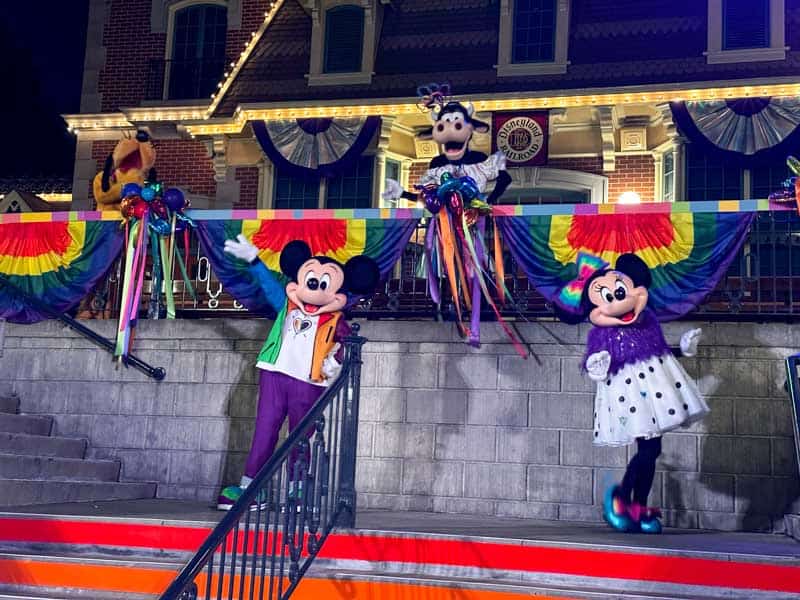 Disneyland Pride Nite Character List
Here's a list of Disney characters who made appearances on Night One of Pride Nite. "Roaming" indicates there is not a formal meet & greet line for these characters.
Main Street, USA
Adventureland
Jane Porter & Terk (roaming)
New Orleans Square
Goofy – by Haunted Mansion
Princess Tiana and Louis (roaming)
Frontierland
Donald Duck and Daisy Duck – by Rancho del Zocalo
Clarabelle Cow – by Big Thunder Mountain Railroad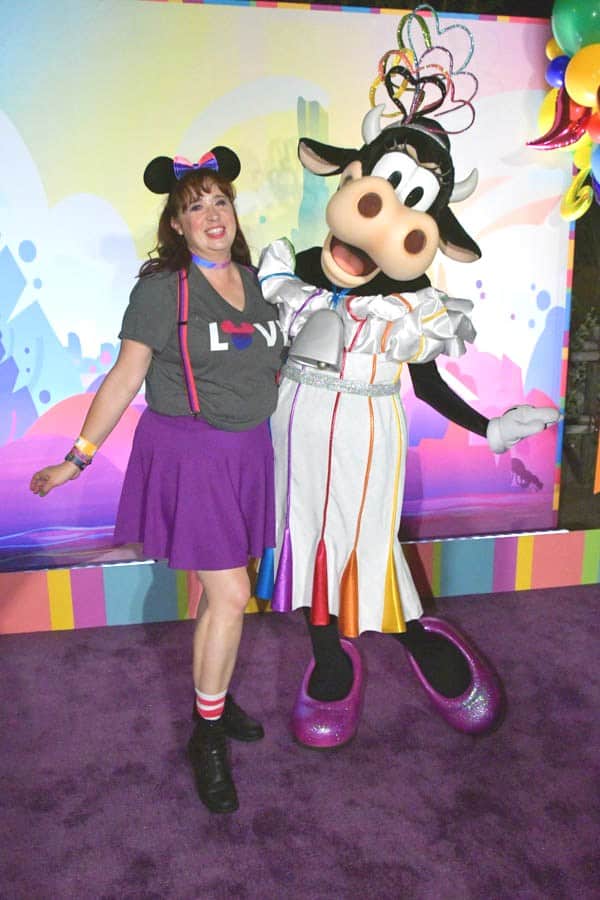 Star Wars: Galaxy's Edge
The Mandalorian with Grogu (roaming)
Rey – by Millennium Falcon
C-3P0
Fantasyland
Mickey Mouse and Minnie Mouse – Fantasyland Theater
Mulan (as Ping) and Mushu (roaming)
Live Action Ariel – by "it's a small world"
Tinker Bell & Friends (roaming)
Maleficent (roaming)
Anna, Elsa, and Oaken – Fantasy Faire
The Muses from Hercules – by "it's a small world"
Evil Queen (roaming)
Queen of Hearts (roaming) (surprise appearance on Night One)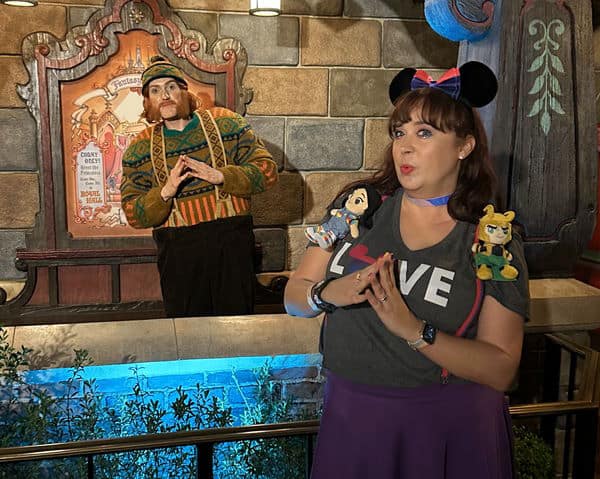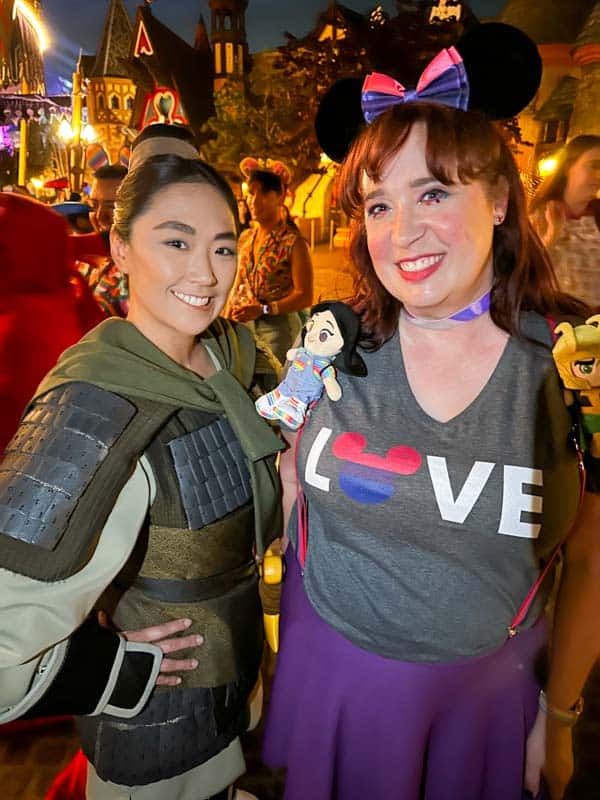 Tomorrowland
Phastos from Eternals – by Space Mountain
America Chavez from Doctor Strange in the Multiverse of Madness – by Star Tours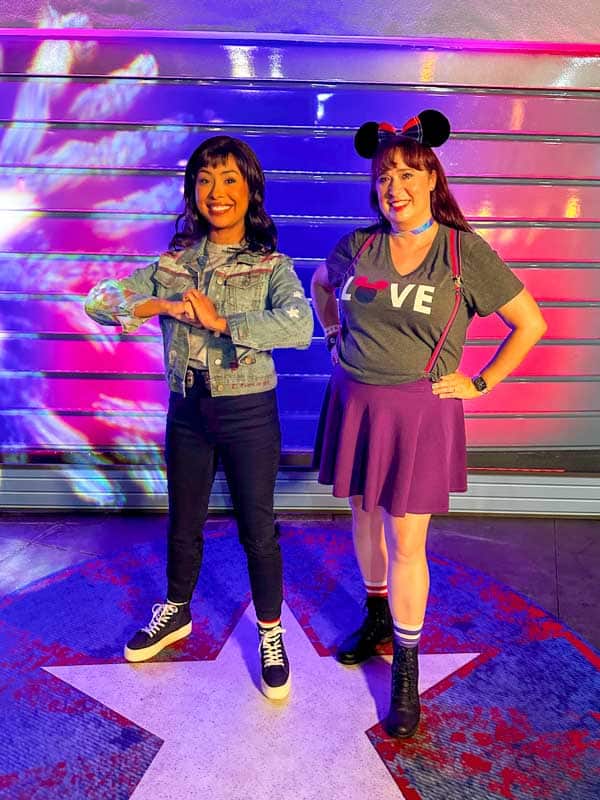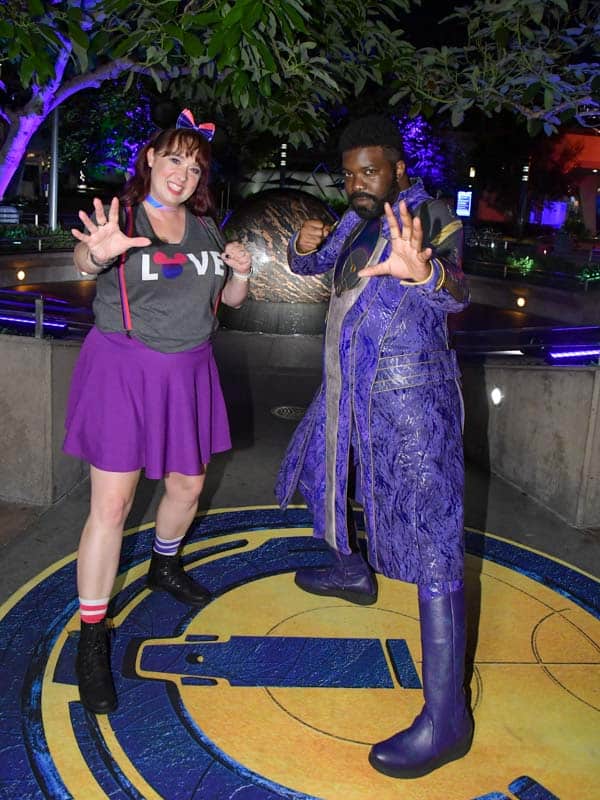 Disneyland Pride Nite Food and Drinks
I tried two items – the Pepperoni and Mozzarella Croissant from Jolly Holiday, and the Rainbow Cookies from Harbour Galley. The food was the only disappointment of the night. My croissant wasn't very warm and the cheese inside was not melted. The Cookies were just okay. They came with a cinnamon frosting to dip but I wasn't impressed overall.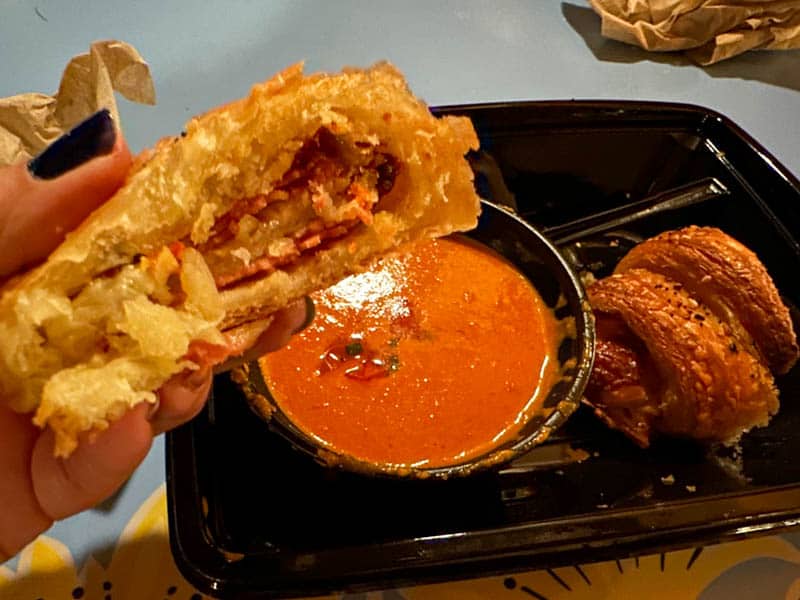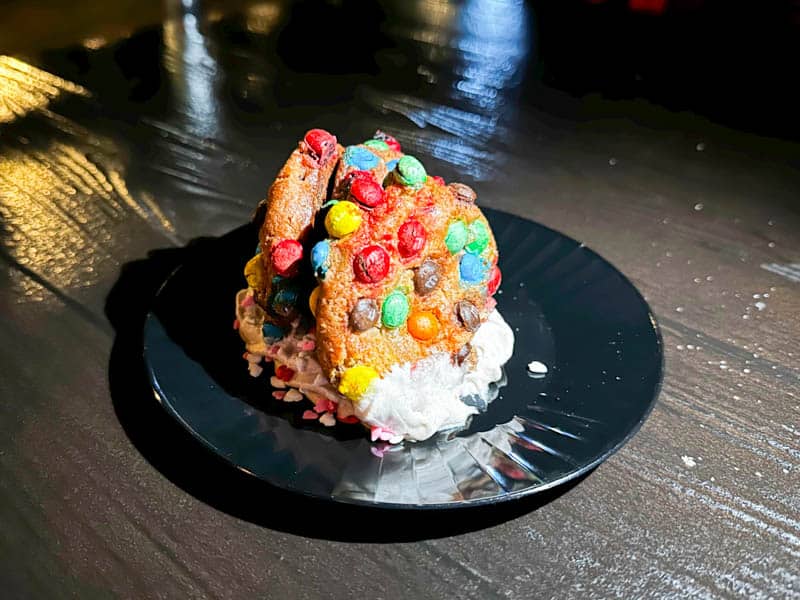 Main Street, USA
Jolly Holiday Bakery Cafe

Pepperoni and Mozzarella Croissant with Roasted Tomato Soup
Main Street Sunburst
Rainbow Trifle

Refreshment Corner

Curry Knockwurst
Mixed Berry Spritz

Gibson Girl Ice Cream Parlor

Cereal Sundae
Plaza Inn
Chicken Curry and Jeweled Rice Bowl
Raspberry Citrus Punch
Red Velvet Cake
Frontierland
Stage Door Cafe

Chicken Gravy Fries
Berry Cheesecake Funnel Cake
New Orleans Square
Cafe Orleans

Orange Fanta Float
Root Beer Float
PB&J Monte Cristo
Cheese Monte Cristo
Monte Cristo Fritters
Critter Country
Harbour Galley

Shrimp and Crab Ceviche
Rainbow Cookies

Hungry Bear Restaurant

Pork Belly Sandwich
Cinnamon Mickey-shaped Beignets
Fantasyland
Red Rose Taverne

Spiced Beef Loaded Potato Bites
Rainbow Grey Stuff
Tomorrowland
Galactic Grill

Tinga Chicken Quesadillas
Hawaiian BBQ Tender Dog
Grapefruit Lemonade Soda
Tropical Fruit Parfait
Churros & Pretzels
Chocolate and Almond Churro

New Orleans Square Churro Cart
Critter Country Churro & Lemonade

Sour Cherry Churro

Castle Churro Cart
Frontierland Churro Cart
Tomorrowland Churro Cart

Cereal & Milk Pretzel

Tomorrowland Pretzel Cart
Disneyland Pride Nite Dance Parties
It's not a pride event without dance parties! Disneyland Pride Nite has three options for you:
Rivers of America – Pride Nite Dance Club
(This was the most "rave like" location, with lots of speakers and flashing lights. The DJ played from one of the rafts; it looked really cool!)
Golden Horseshoe – Country Line Dancing
(I popped in here really quick; it looked like the people dancing were real pros! It was fun to go to the second floor and watch for a bit but otherwise the downstairs area was crowded)
Tomorrowland Terrace – Ohana Dance Party with Stitch
(This was the most family-friendly place, and Stitch made appearances in various outfits. Angel also made an appearance! The characters stay on stage but are great for posing for selfies between dance moves. The DJ here was very energetic and the vibe was super fun.)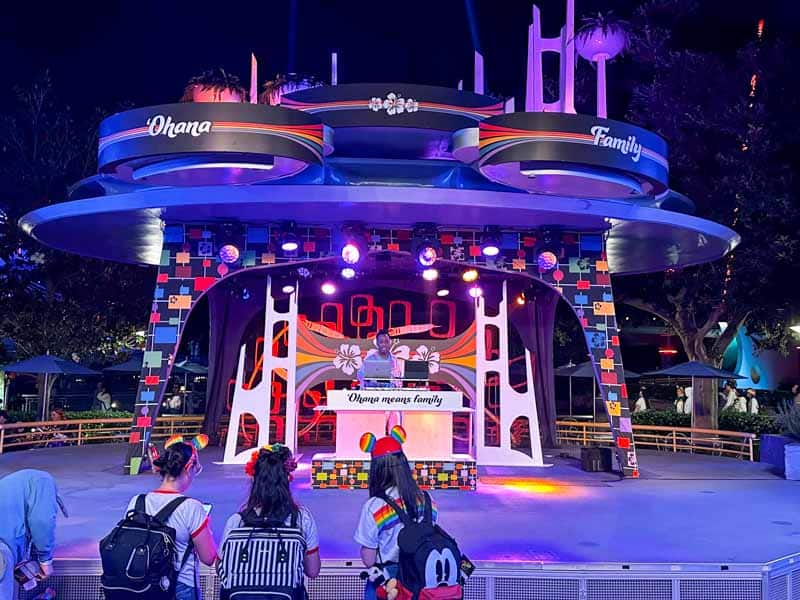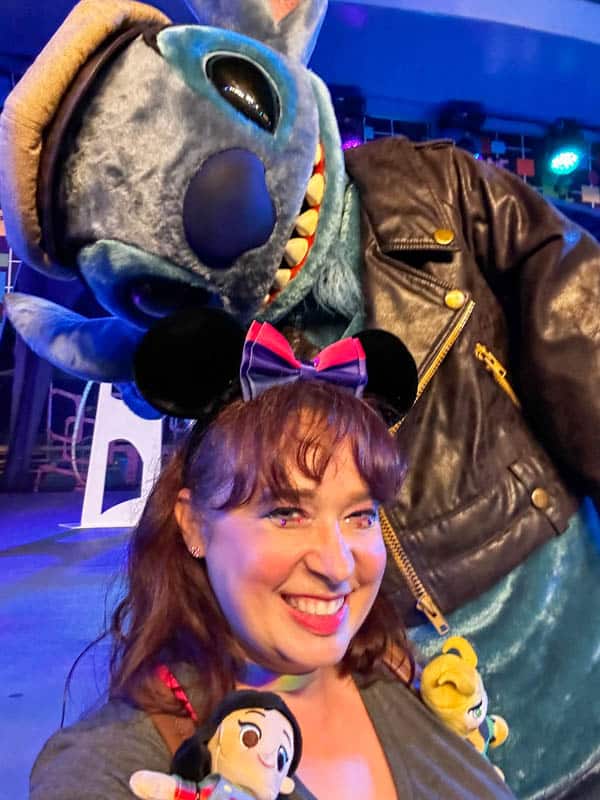 Disneyland Pride Nite Photo Opportunities
Main Street, USA
Fire Engine – decorated with Pride balloons, by Fire Station
Rainbow Steps – by Main Street Train Station
Adventureland
Frontierland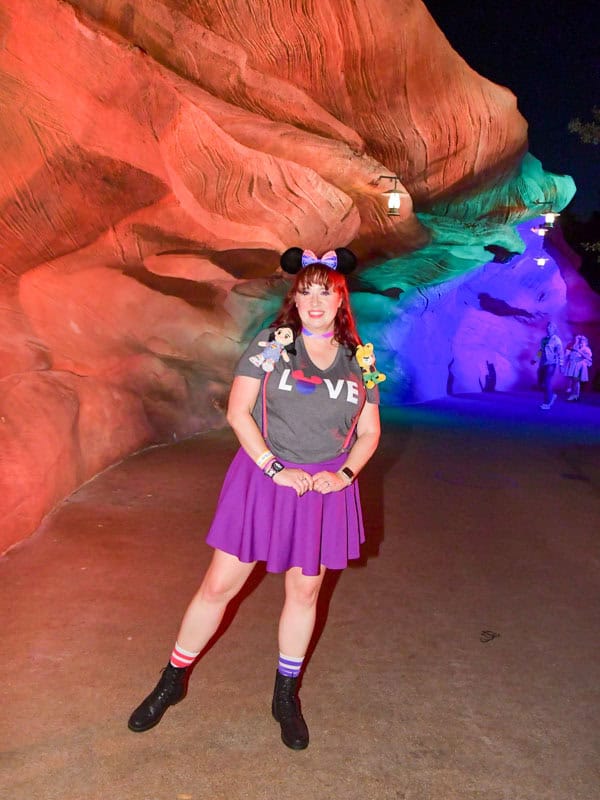 New Orleans Square
Princess and the Frog Quote
Fantasyland
Sleeping Beauty Castle
Mulan Quote
"it's a small world"
Frozen Quote
Pixar Sparkshorts Out
Rainbow Crosswalk – by "it's a small world"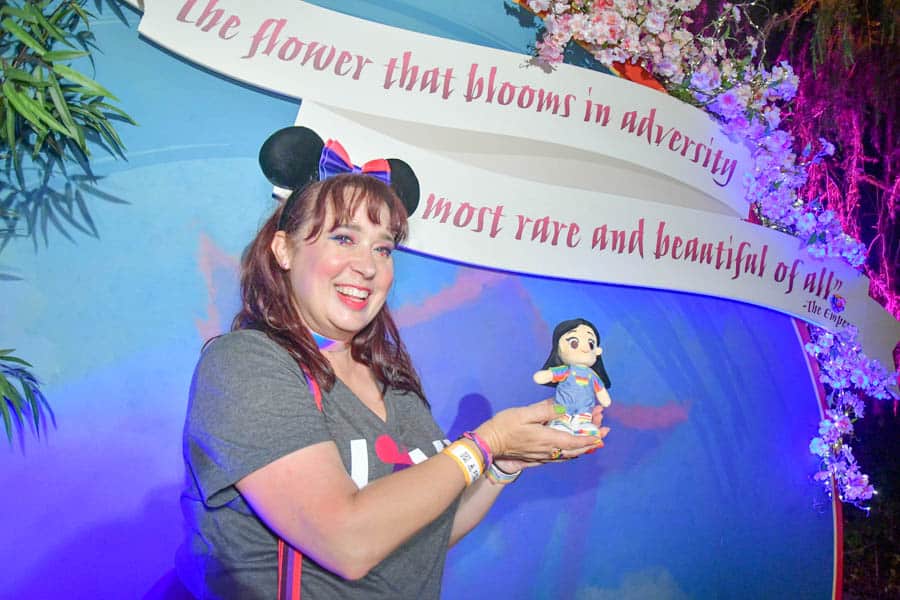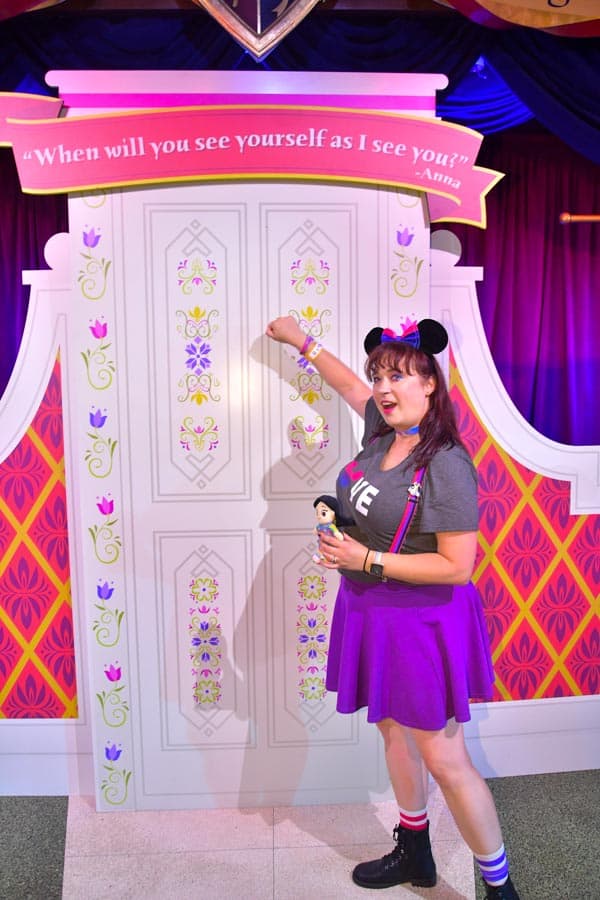 Tomorrowland
Disneyland Pride Nite Merchandise
Special Event Merchandise including a T-shirt, pin, magnet, and ornament, can be found at the Starcade until 8:45 PM. Starting at 9:00 PM the merchandise will be found in The Star Trader, Disney Showcase, Emporium, and Pioneer Mercantile.
Artist Signing with Jerrod Maruyama will be at Disneyana from 6:00 PM – 9:00 PM.
Pandora Special Charm release at La Mascarade in New Orleans Square.
Magic Key Keepsake will be available to valid Magic Key holders outside Star Wars Launch Bay during the event.
My Recommendations / Strategy
As with all Disneyland After Dark events, there's a lot going on during a small window of time. Having a strategy is a good idea! However, despite the event being sold out, I found the crowds to be fairly manageable and most lines were short for most of the night.
Here are a few recommendations:
By far, the most popular spot and longest line is for The Muses from Hercules. If this is important to you, I recommend lining up early and prepare to wait a while. If you don't want a photo with them, you can stand on the other side of the walkway to take pics.
Some special event characters were at their meet & greet spots before 9pm! I know for sure Mickey and Minnie (in their pride outfits) were out around 7pm, and the line was closed off at 8pm for the fireworks show before it reopened later. I highly recommend getting a photo with them first thing! I also saw through social media coverage that Anna, Elsa, and Oaken were out early, too.
I was able to still get a great spot for fireworks in front of Sleeping Beauty Castle at 9pm. By 9:15pm the area was totally packed.
Curb seating for the first cavalcade was plentiful in the Town Square area.
There are no pride decorations or lighting in Star Wars: Galaxy's Edge.
The rainbow stairs at the Main Street Train Station close early for the character farewell moment. I didn't think about this … my plan was to try to get a photo on the stairs on my way out but they were blocked off. If you want a photo with the rainbow stairs, get it early!
PhotoPass photographers are stationed all around the park. Your ticket includes free PhotoPass downloads, so take advantage of that! (There's a QR code on your event wristband that you can link to your Disneyland account via the app.)
I personally didn't go on any attractions, but wait times were very low towards the end of the event. I noticed Haunted Mansion and Star Tours were walk-ons.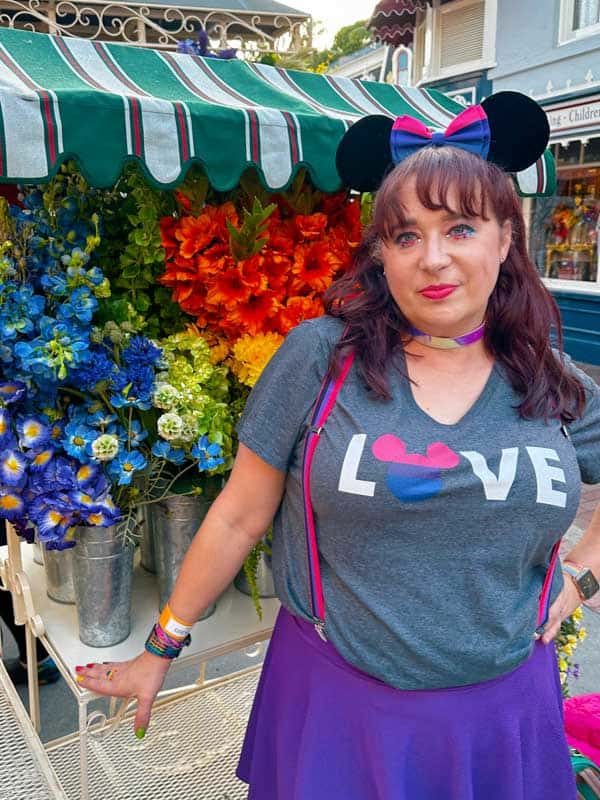 My schedule:
7:00pm – Enter Disneyland, take photos of my outfit on Main Street USA
7:30pm – Mobile order food for later in the night
8:00pm – Get in line for Mickey & Minnie
8:45pm – Grab a spot in front of Sleeping Beauty Castle for fireworks
9:40pm – Grab a spot in Town Square for Welcome Pride Cavalcade
10:15pm – Pick up mobile order from Jolly Holiday
10:30pm – Photos with Anna, Elsa, and Oaken
10:40pm – Go from Fantasy Faire to Frontierland; get photo with Clarabelle and Rainbow Ridge
11:00pm – Walk through Fantasyland; get photo with Mulan/Ping and "it's a small world" crosswalk
11:30pm – Walk around Matterhorn to Tomorrowland; Dance at Ohana Dance Party with Stitch
11:46pm – Photo with America Chavez
12:10am – Pick up mobile order from Harbor Galley; sit down and take a break
12:30am – Walk through Adventureland
12:40am – Back to Tomorrowland because I forgot to pick up my Magic Key gift earlier; photo with Phastos
12:45am – Back to Mulan Quote photo op because line was too long earlier (my feet are aching by now)
1:00am – Watch Mickey and Friends Fond Farewell on Main Street USA
1:10am – Leave Disneyland!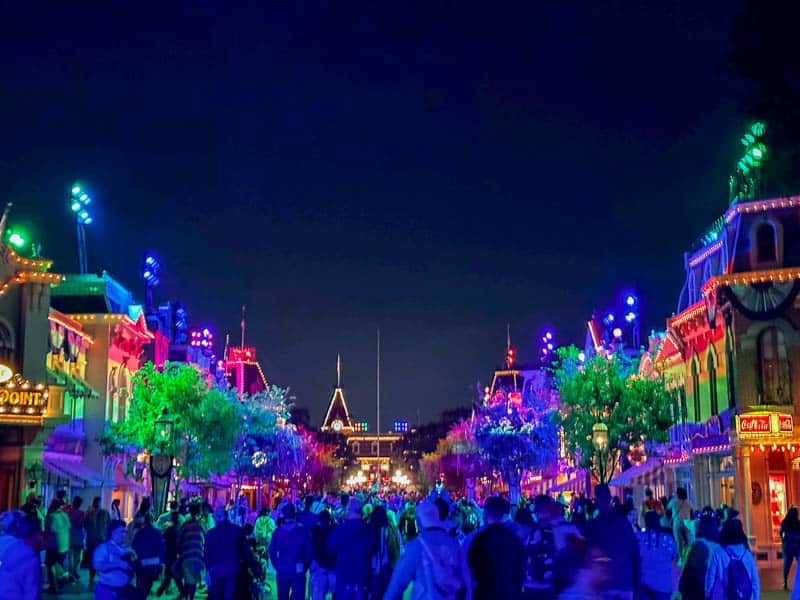 Frequently Asked Questions
Where do you park for Disneyland Pride Nite?
Your event ticket does not include parking, but guests may still park in the Disneyland parking areas, including Mickey & Friends structure, Pixar Pals structure, and Toy Story parking lot. If you have a Magic Key pass, your parking benefits apply. The trams and buses run until 2:00am.
Can you wear costumes?
Yes! As long as they follow the Disney Parks costume guidelines.
All Guests may dress as their favorite character during the event, but may not pose for pictures or sign autographs for other Guests
Costumes must be family-friendly and may not be obstructive, offensive, objectionable or violent
Costumes may not contain any items that resemble (or could easily be mistaken for) an actual weapon
Costumes may not contain sharp/pointed objects or materials that may accidentally strike another Guest
Layered costumes or costume props that surround the entire body are strongly discouraged and may be subject to additional security screening
Costumes may not reach or drag on the ground (e.g., full-length Princess dresses)
Are lockers available?
Yes! Lockers are open and available inside Disneyland Park and in the Esplanade. You must retrieve your items by 2:00am.
Since PhotoPass is included with the Pride Nite ticket, can it only be used after 9pm?
Correct. Only photos taken after 9pm will be complimentary.
Is there anything special for Magic Key holders?
Magic Key holders get a free Pride Nite backpack while supplies last. Pick up your gift at Star Wars: Launch Bay in Tomorrowland.
Are there any COVID restrictions?
All COVID safety restrictions have been lifted. Masks are optional.