It has been over a week since I've returned from D23 Expo 2019 and I have so much to write about! It's tough to believe we have been celebrating a whole decade of D23 Expos already! They have come a long way since that first Expo in 2009. Back then I couldn't have guessed that within 10 years I would get engaged at Disneyland, start my Disney blog, get married at Disneyland, and become a full-time blogger writing about Disney news … and attend D23 Expo with a press pass! Wow, my life!
But with a great power comes great responsibility. I have to say that this was my busiest Expo yet, which is good and bad. My press pass allowed me to skip lines and get reserved seating for panels (yay!) but gave me less time for exploring the show floor and meeting up with friends (boo).
Obviously I'm grateful for the opportunities I received, but I feel like I missed out on a lot, and also felt so bad when I'd see a friend on the show floor but couldn't stop and chat because I was speeding away to the next appointment. (Big thanks to my friends for being so understanding!)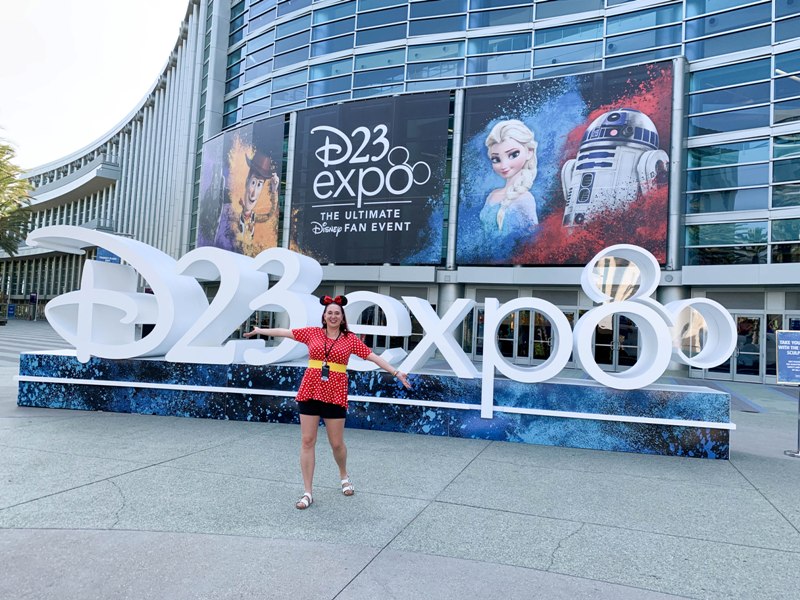 D23 Expo weekend is always one of my favorite events; I wish we could have it every year but at the same time I feel like I need a full two years to recover! If you're a huge Disney fan and haven't had a chance to attend an Expo, I really do recommend trying to attend, even if it's just one day and you just spend the whole time on the show floor. There is so much to soak in!
The weekend was a total blur, but here are some of my favorite highlights from D23 Expo 2019!
D23 Expo 2019 Recap
This article contains affiliate links which means I earn commission when you shop.
Learning about Disney Plus
I was so lucky to be able to attend the "big" panels for Studios and Parks, but nothing topped the excitement of learning about Disney Plus (Disney+), Disney's new streaming service coming November 12. I wrote a separate article about my favorite new shows coming to Disney+ so check that out!
Disneybounding with my friends
Two years ago I introduced my new clothing designs at D23 Expo. It was fun to wear my own designs, but this year I was happy to return to Disneybounding!
Photo by Katie Pritchard Photography
On Saturday I did a group Disneybound with my friends
Hope and Mike
. We dressed as Duffy, Shellie May, and Gelatoni. We got tons of compliments when we were together, and I even got a few shout outs while I was walking the show floor alone! It just goes to show Mickey's friends are still popular so Disneyland should probably bring back that Duffy meet and greet, just saying!
Gelatoni Outfit:
Headband – Tokyo Disney Sea (you can check eBay)
Top – Amazon
Skirt – Amazon
Shoes – Target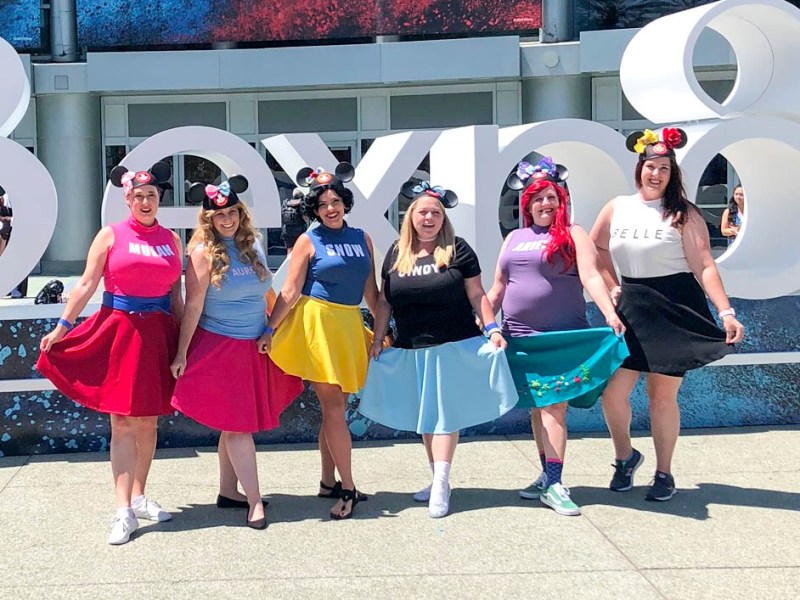 On Sunday, a few of my blogger friends had the idea to do Disney Princess Mouseketeer mashups. I had to do my girl Mulan, of course! This was SUPER fun!
Shout out to my fellow blogger & biz owner pals: Kuleen of A Blogger's Best Friend, Patty of No-Guilt Life, Sarah of Park and Preston, Britni of Play Party Plan, and Sarah!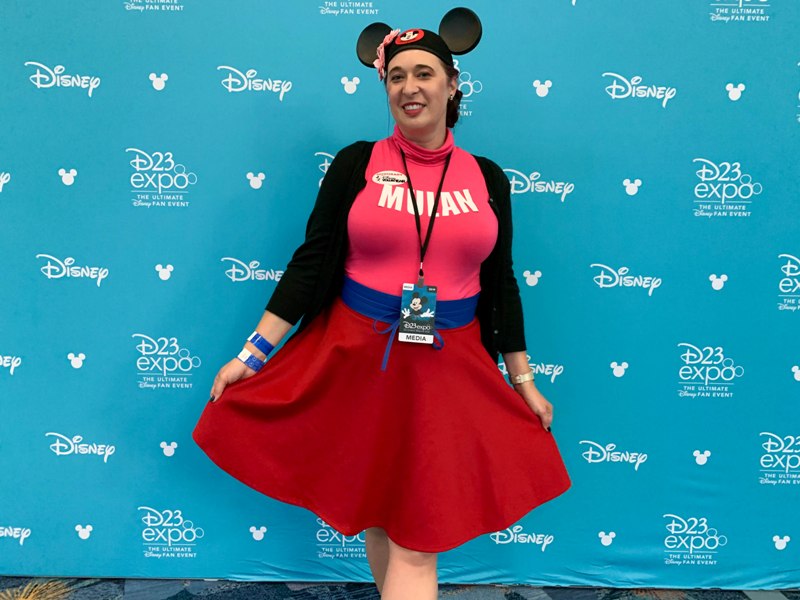 Mulan Mouseketeer Outfit:
Ears – Disneyland
Flowers – Amazon
Top – Amazon
Letters – Amazon
Skirt – Amazon
Belt – Amazon
Shoes – Target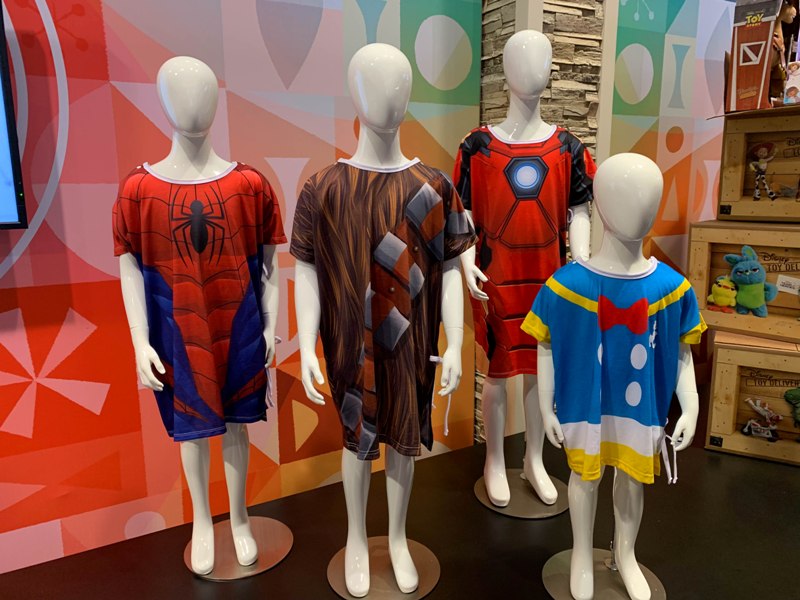 Disney Team of Heroes initiative
It was humbling to walk through the Disney Team of Heroes / Voluntears pavilion and learn about all the ways Disney is bringing magic to children's hospitals. With character hospital gowns, magic windows, and immersive play rooms, Disney's goal is to deliver comfort and inspiration to families with children facing serious illnesses. At the end of the walk-through we were able to put together care packages which will be delivered to children's hospitals. You can read more about the Disney Team of Heroes hospital initiative here.
Photo credit: Disney
Learning What's Coming to Disneyland
The Disney Parks, Experiences and Products panel was packed with fun information about Epcot, Disney Cruise Line, and even a collaboration with Target. But my favorite announcements were about Disneyland, of course! It was announced Disneyland will be getting a new parade next year called Magic Happens! The new floats look absolutely gorgeous and we even were treated to a performance of the new theme song, and it's a bop!
We also learned more about Avengers Campus, coming to Disney California Adventure in 2020. We knew we were getting a Spider-Man attraction, but phase two will include a Wakanda attraction! YES!!! There will also be a new eatery, Pym Test Kitchen, where food will shrink and grow! Giant churros, anyone??
Finally, it was announced Mickey & Minnie's Runaway Railway will open in Toontown in 2022. The attraction will be housed in the El CapiTOON theater where Mickey and Minnie are premiering their new short, "Perfect Picnic." Guests will become part of the cartoon when they board a train with Goofy as the engineer, which leads to an immersive, surprising adventure! Can't wait for this one!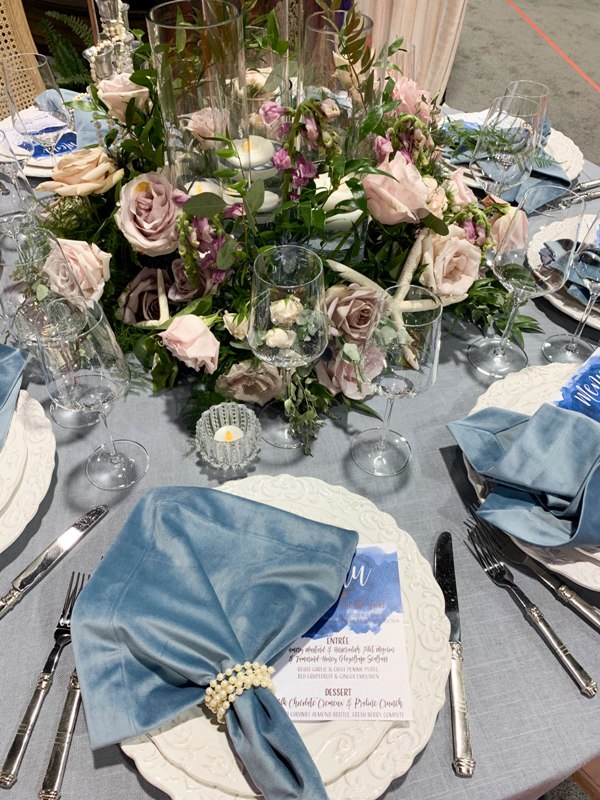 Visiting my friends at Disney's Fairy Tale Weddings
Disney's Fairy Tale Weddings & Honeymoons had their own pavilion at the Expo this year! They had a fun display of a ceremony space and two reception tables decorated with a subtle Little Mermaid theme. Plus they had the "Kiss the Girl" photo op which was on display at the showcase earlier this year! I'm hoping their display encourages more Disney fans to have a Disney wedding!
Live performance of Oga's Cantina music!
While the big panels get all the attention, I think I enjoyed the smaller panels more. I attended a panel called "Music and Sounds of Stars Wars: Galaxy's Edge" where we learned all about the fun atmosphere noises and sounds you'll hear in the land. Did you know the atmosphere sounds change as you go from morning to afternoon to evening to night? Nearly 3000 unique sound files were created for Star Wars: Galaxy's Edge! We were also treated to a live performance of "Oola Shooka" by Judith Hill and her intergalactic funk band! See a video below of the performance recorded by my friends at Laughing Place. At the end of the panel, we all received a really cool "data file" of the Oga's Cantina soundtrack – R3x's Playlist #1! You can find it on Apple Music and Spotify.
Watching Short Circuit!
Another panel I attended was the Short Circuit panel! The Short Circuit program allows Disney animators and creatives to develop and direct their own short animated film (similar to Pixar's Spark Shorts program). We watched six very different and very creative short films and then heard from the creators. They were all unique and amazing! You'll be able to watch them on Disney+ in 2020.
If you attended D23 Expo 2019, what was the highlight for you?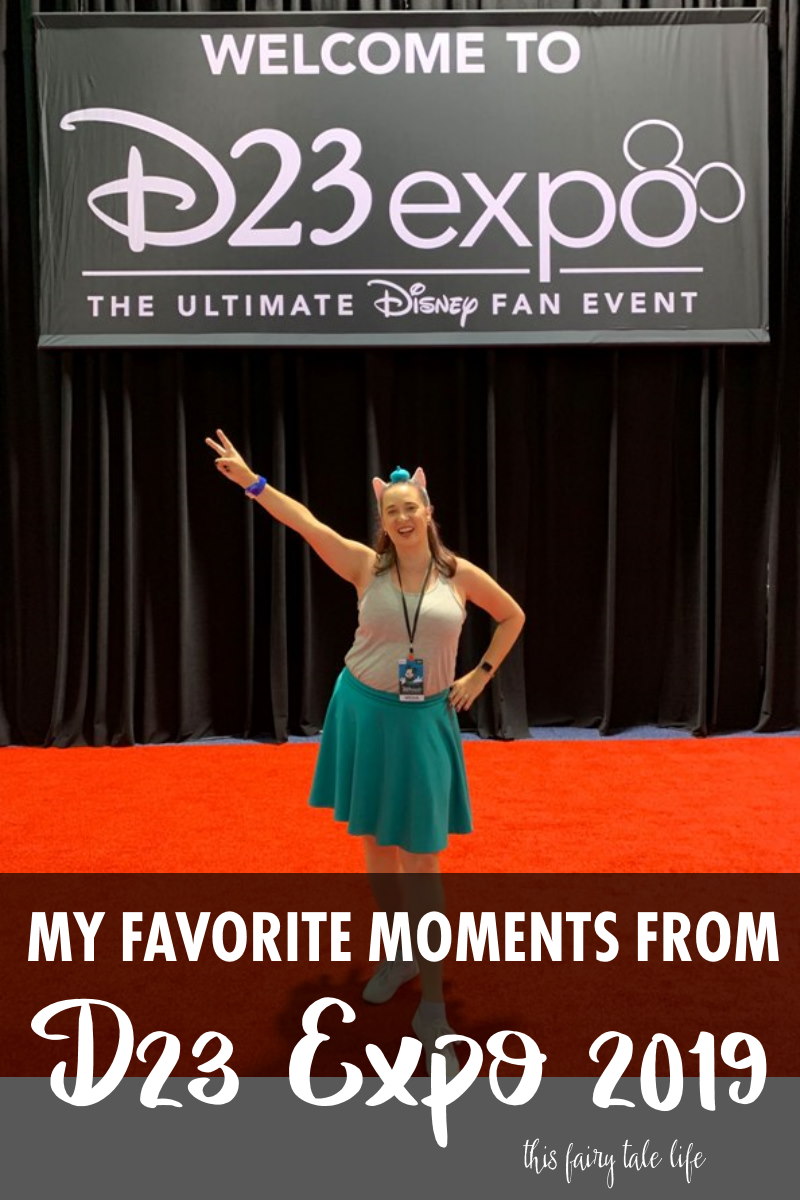 [mv_create key="18″ layout="hero" title="You may also like:" type="list"]