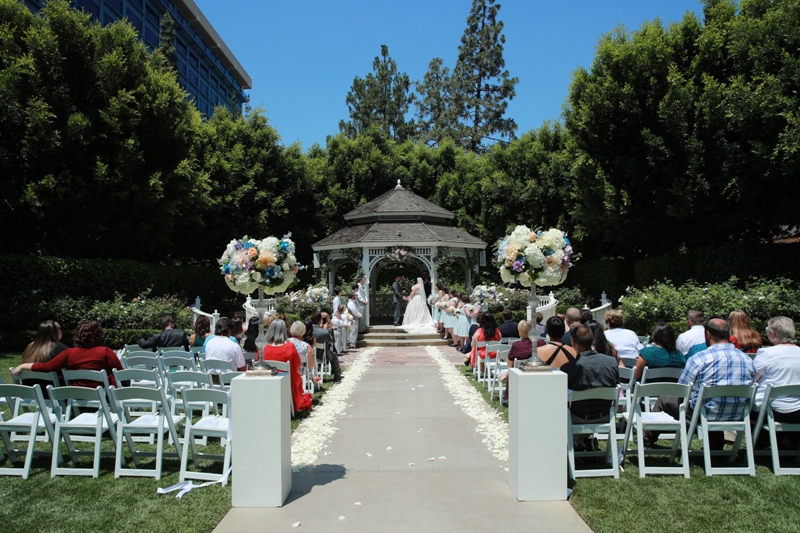 What's better than a summer wedding? A beautiful Disney themed summer wedding at The Disneyland Hotel!
Shaida, a former Disneyland Cast Member, and Michael had the picture perfect day. Their subtle nods to Disney – like Mickey shaped fans and FastPass seating cards – delighted their guests and created a lighthearted atmosphere. I love when couples have fun with their weddings!
This sweet couple also did a private photo shoot inside Disneyland the morning of their wedding, and did a "first look" right in front of Sleeping Beauty Castle! Wow, goals!!!
Congrats on your magical day, Shaida and Michael! Thank you for sharing all the planning details with us.
Beautiful Disney Themed Wedding at The Disneyland Hotel
Photography credit: Beverly Hills Photography
Disney Bride: Shaida, 33, Utah
Disney Groom: Michael, 33, Utah
Wedding date: June 19, 2017
Ceremony venue: Rose Court Garden, The Disneyland Hotel, Disneyland Resort, Anaheim CA
Reception venue: Sleeping Beauty Pavilion, The Disneyland Hotel, Disneyland Resort, Anaheim CA
Guest count: 65
Total budget: Around $40,000
Why did you choose a Disney wedding?
I have been one of the biggest Disney fans my whole life. Disneyland is a family vacation we would take yearly, and it has always been my laughing place. My sister and I worked at Disneyland for a few years, cementing it as my second home. I was lucky that as I dated my now husband, I was able to share my love of Disney, and have been able to take him on trips with me to the happiest place on earth.
There was never any other choice for my wedding location. And because I lived in California for a few years, and we have some family out there, half my guest list is local to the resort which helped with the reasoning of having a California wedding. I did have a smaller local reception for the friends and family who couldn't go to the Disney wedding or who weren't invited due to restrictions.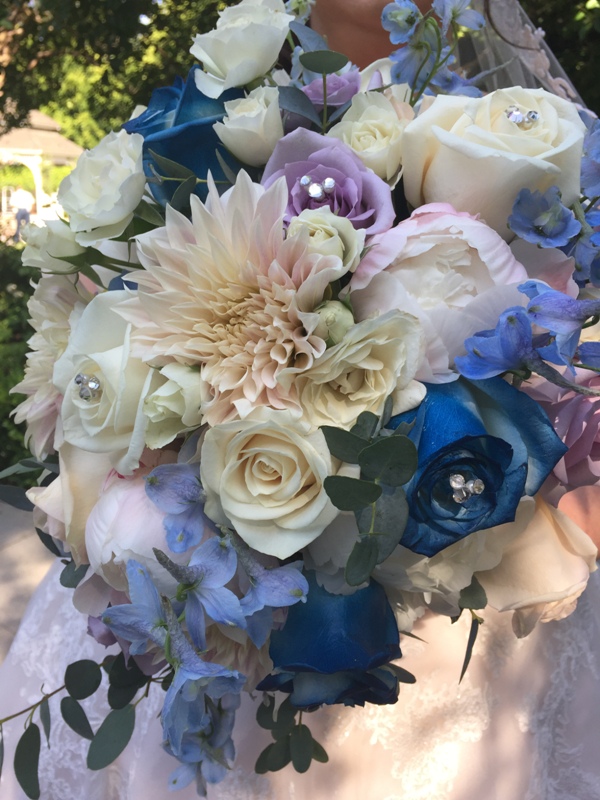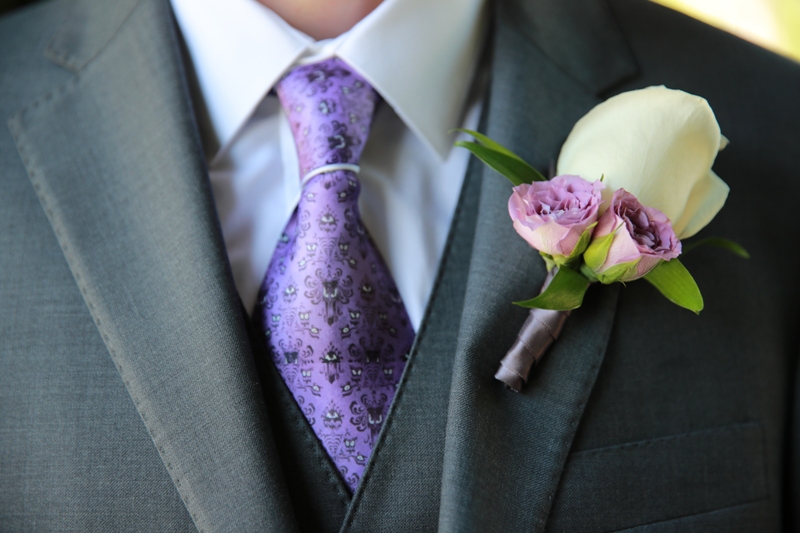 How did your family/friends react to your Disney wedding?
My close family and friends were not surprised, and knew I was planning on getting married at Disneyland. My dad was a little reluctant with me having a wedding at Disneyland (because of his Disney fatigue he has from his Disney-crazy family), but with help of the Disney quality, he grew to enjoy it.
What was your theme?
Disneyland! But I didn't want it in-your-face. I wanted a romantic subtle Disneyland theme. I had FastPasses for our table seating cards, and each table was based on a different land. I used my color scheme through all the decorations. And had a few other Disney (not just Disneyland) touches. My husband and I have a special love of the Haunted Mansion and Nightmare Before Christmas, so we had those touches on his tie/socks/cuff links and the quote on our cake.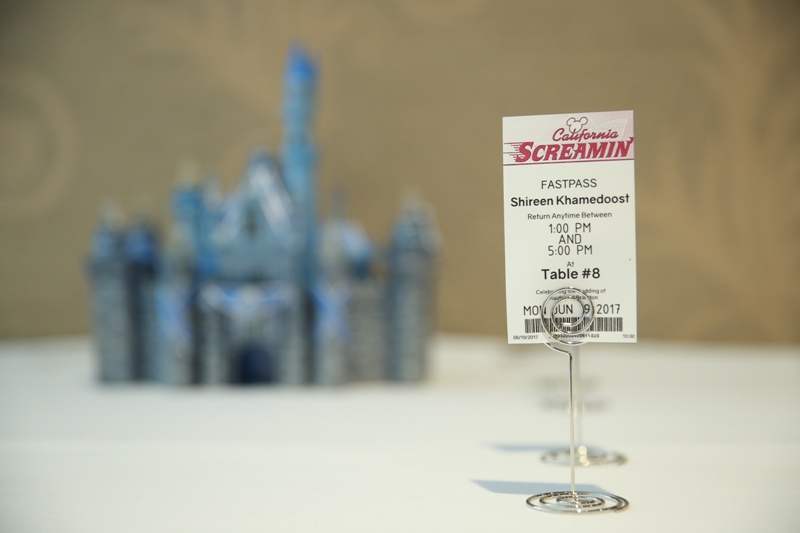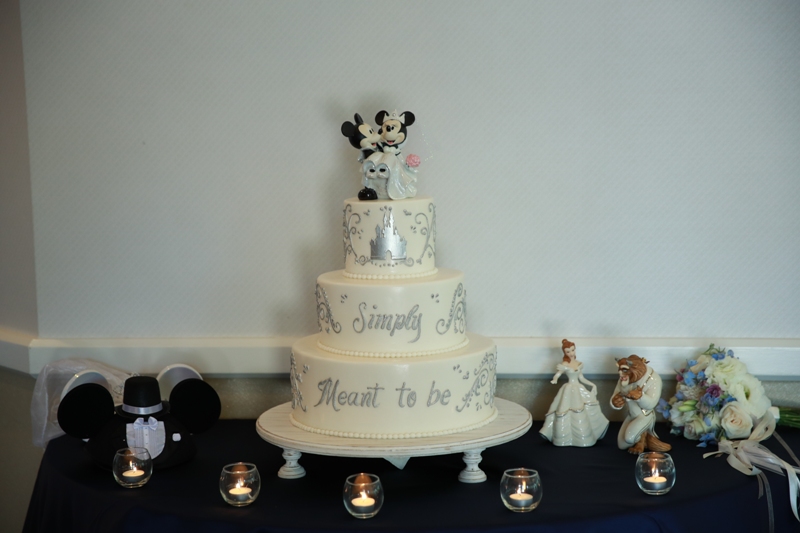 What was your biggest challenge in planning your Disney wedding?
Trying to figure out guest count was my most anxious part. I had an initial list which left out a lot of people. But I was trying to keep the budget as low as possible, so although we had a lot of friends and family, we had to keep a lot out. I kept trying to keep tabs on who would be able to go and who wouldn't, especially since it was a destination wedding.
We ended up having a lot of people who couldn't come for multiple reasons. People who I thought would surely be going to the wedding ended up not. I was having issues trying to figure out the timing of asking the second wave of guests, and trying to get confirmations on who would be making the trip. At first I was worried we would have too many people coming, and then I was worried we wouldn't have enough. In the end, we had a low guest count but we met the minimums.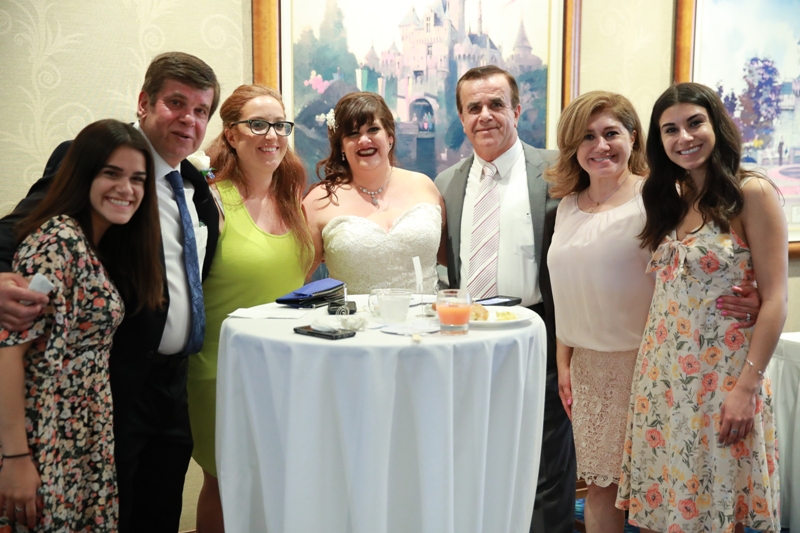 Tell us about your ceremony. Did you include any Disney touches?
We had an outdoor morning ceremony at the Rose Court Garden. I used some of the floral in the ceremony which were also used for the reception. I made Mickey shaped fans which had the bridal party names and wedding schedule on them for our guests. I created a playlist of Disney instrumental songs which I had playing on my phone before the wedding. The bridal party walked down to 'I See the Light' by Jartisto, and I walked down to an edited version of 'Beauty and the Beast' by Emile Pandolfi. Also had a little throwback to Princess Bride by having our officiant start off with the quote "Marriage. Marriage is what brings us here today." (We had him say it normal, so it wasn't silly, but it was really fun for all of us who know where it came from).
Describe your reception. Was it completely traditional or did you do anything unique?
We had our reception in Sleeping Beauty's Pavilion. A lot of it was normal. I did hire a belly dancer to entertain us for a little bit, and get the party started. It was a nod to my Persian heritage, and I think it was a fun event for my husband's family who I don't believe have really experienced. Another thing that was special for my wedding is that it was the same day as my cousin's birthday, so I made sure to recognize that and had it set up for everyone to sing happy birthday to her.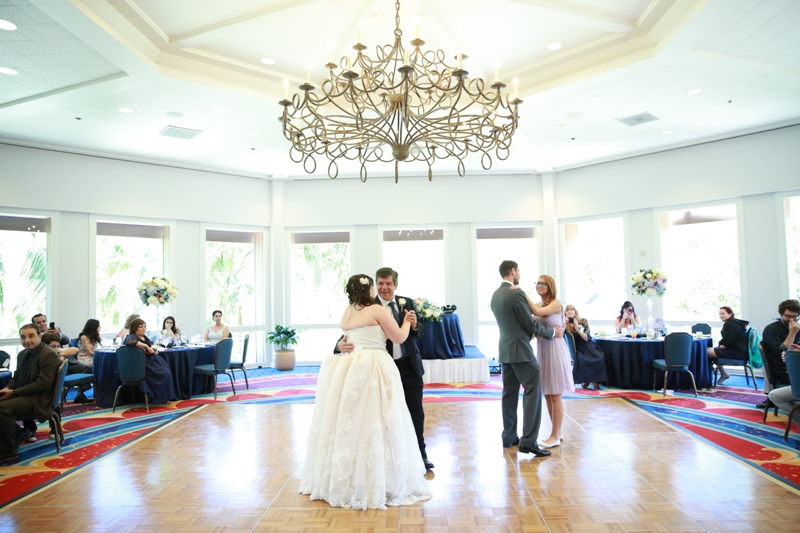 What did you splurge on?
Flowers! Locally, people don't spend a lot of money on weddings and I have not really been to a wedding with grand flower centerpieces, so I really wanted to have those! I just wanted gorgeous flower displays but I wasn't so specific on what types of flowers to use so it wasn't outrageous. I told Disney that I wanted big flowers and what colors, and they used the most price efficient flowers and made beautiful arrangements for me. Getting a hotel room at The Disneyland Hotel was also a big splurge for me.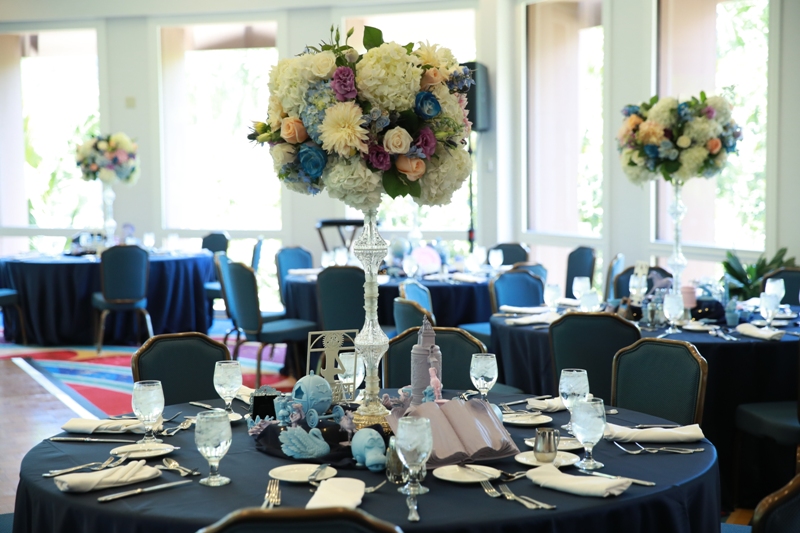 Where did you save money?
I saved money on my and my husband's accessories. I didn't need expensive shoes, I found some cute unique shoes online that were pretty cheap and perfect for me. I also made my own save the date invitations, and other stationary projects. I bought a Cricut, which allowed me to create nice stationary designs.
What was your favorite moment of the day?
Our first look. I ended up doing our Sleeping Beauty Castle photo shoot before the wedding, having it be our first look. Nothing can beat the moment I walked out of the castle, with the view of my husband and Disneyland park all in front of me just waiting for me. It was the most magical experience of my life.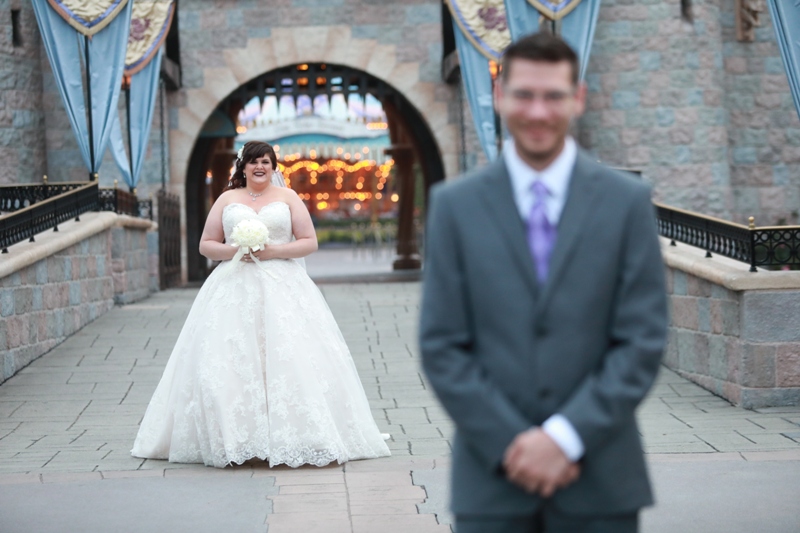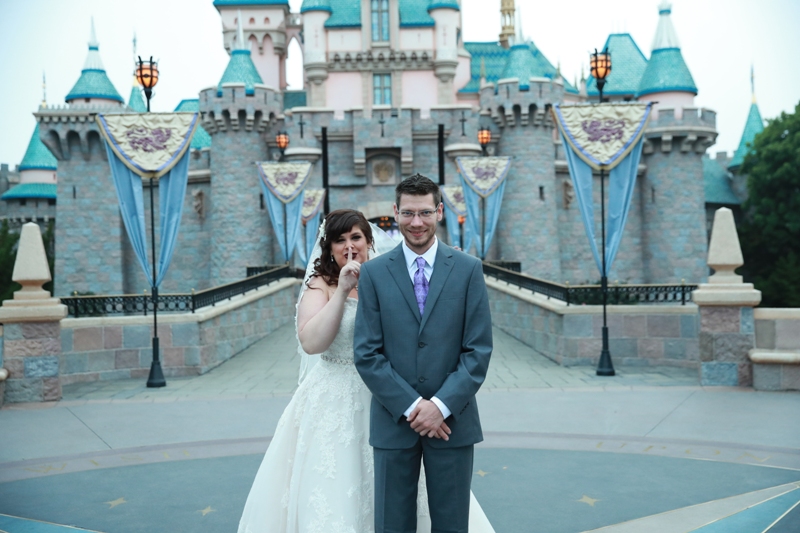 Another special moment of our wedding was our father/daughter dance. It was special because I was able to dance with my dad, and my husband was able to dance with his daughter too. So it was really sweet that we could take that moment to recognize the groom's father/daughter relationship too.
What advice would you give to couples that have just started planning their Disney wedding?
It was so helpful finding resources and groups with other Disney brides! It opens up so much information that you wouldn't be able to find or even think about by yourself! Also, talk with your planner about anything and everything you want or are thinking about. They will help you realize what is possible for you and your wedding.
Also if you have a lot of DIY decorations for your reception, I would highly recommend staying at the hotel where the reception is located. We were able to have the hotel bellhop service bring our decorations to and from the reception locations, worry free.
Any other details you want to share?
I want to share my timeline since it is something no one else does. I had a few different things that came into play for me having the timeline that I did, and it all fell together perfectly.
I wanted to spend money on the castle shoot and getting hair and makeup done, but I didn't want to spend the money to do my hair and makeup twice, and bring the photographer out twice. I am also not local, so our timeline was a little restricted and I had to do the wedding and castle shoot around the same day. There is a chance of doing the castle shoot the morning after the wedding, and some girls are able to keep their hair and makeup looking flawless and be able to use the same makeup for both events, sadly that is not me. The castle shoot was also the most important thing to me, so I didn't want to risk not having the perfect hair and makeup for those pictures.
So I decided to do the castle shoot before our morning wedding and have it be our first look. I always wanted to be married in front of the castle, but due to the high price of those weddings, I wasn't able to do it. The first look was next best.
I woke up early and was able to get my hair and makeup done. We had a multi-room suite at the Disneyland Hotel, so I was able to get ready without my (then) fiance seeing. When I was ready I took the elevator down first, and we found a place for me to stand while my groom headed down after. They brought him to the golf cart, where he sat in the front, then closed his eyes as I was escorted to the back. We drove to the park, they dropped me off in Fantasyland with an escort, and the photographers and my husband went down to the hub. From there we had our first look and took photos all around the castle. The escorts and our photographers have both never done a first look this way, which shocked me! It is just so perfect timewise.
The biggest issue with doing the castle shoot is they didn't have the floral ready for us so I didn't have my bouquet. A friend of mine had a fake bouquet from her wedding a month earlier and she let me borrow it for the photo shoot, and it worked just fine.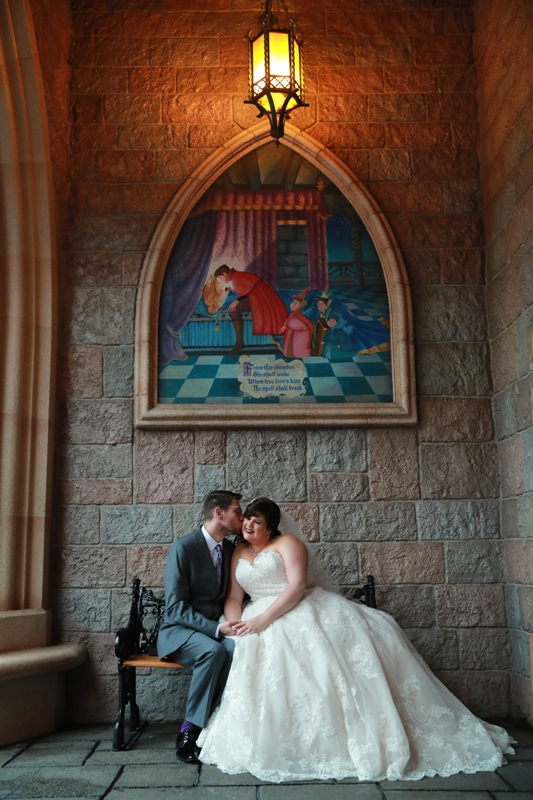 The other issue I was repeatedly warned about is that my dress would get dirty. The bottom of it did get a little dirty, but it wasn't anything serious and chances are I'd probably spill on my dress during the reception, which would be way worse for photos.
After the castle shoot we went to the hotels and took our family and bridal party photos. We had so much time before the ceremony, it was great. We were able to get so many different types of photographs taken since we weren't constrained by time. After that we had a break before the ceremony.
Another helpful thing about our timeline is that I had a lot of DIY centerpieces which would take time to set up. Since we took almost all our family photos before the ceremony, the bridal party and family were free after the ceremony to go help setup the reception and enjoy the pre-reception.
One more thing that I was really happy about was our pre-reception location. The week of our wedding was unusually hot. I was worried about our pre-reception at Adventure Lawn, and if it would be hot and miserable for our guests. I was making sure Disney would put out umbrellas and do what they could to make our guests comfortable while outside. Since it was so hot, Disney decided to move the pre-reception to the foyer/hall area outside of Sleeping Beauty's Pavilion, and I loved it!!! I would highly recommend that location to everyone! It was cool and spacious. Since it was outside of the reception venue, once the decorations were set up, my family and bridal party were able to step outside the door and join the other wedding guests rather than have to hike across the hotel property to go back outside to the lawn.
And because of our timeline I was able to join the wedding guests at the pre-reception too!!! It was so perfect!
Vendor list
Wedding coordinator: Disney's Fairy Tale Weddings
Photography: Beverly Hills Photography
Officiant: Brendan Creecy (Friend)
DJ: Disney's Fairy Tale Weddings
Florist: Disney's Fairy Tale Weddings
Hair/Makeup: Fairytale Hair and Makeup (Stephanie)
Stationery: DIY
Bridal Gown: Fantasy Bridal
Bridesmaids Gowns: Azazie
Men's Formal Wear: Men's Warehouse