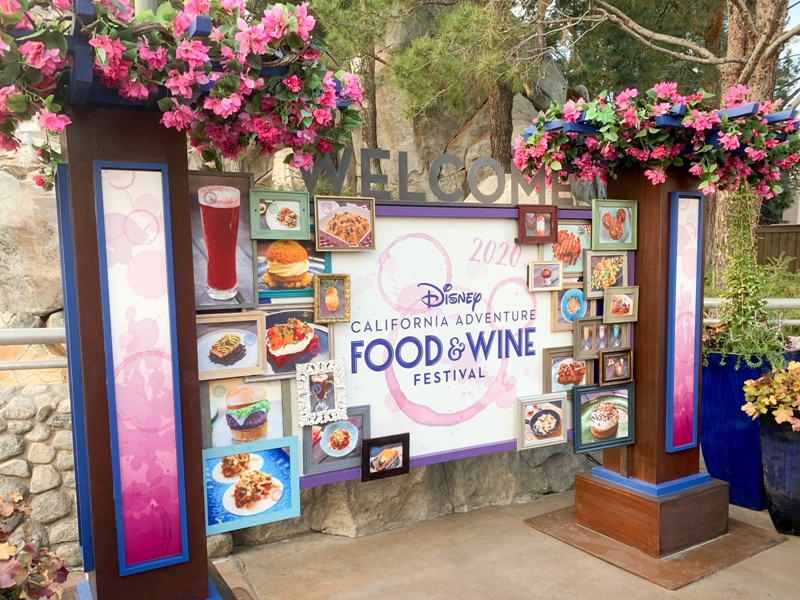 Disney California Adventure Food and Wine Festival has returned to The Disneyland Resort!!
The Disney California Adventure Food & Wine Festival is my favorite time of the year. As a huge foodie I'm always excited to try new foods and sample new wines. I was there on opening day to capture the excitement and chow down!
This article contains affiliate links, which means we may earn commission if you purchase through these links.
Disney California Adventure Food and Wine Festival 2020 – Everything You Need to Know
What and When is it?
Disney California Adventure Food and Wine Festival is a celebration of the delicious foods and spirits of California. Guests can purchase samples of a variety of delicious foods, wines, beers, and other drinks. Seminars, demonstrations, and guided tastings are also available, some free and some for an additional price.
The Disney California Adventure Food and Wine Festival is being offered every day between February 28, 2020 and April 21, 2020. Regular Park admission is required, and food and drink items are an additional cost.
Where to Go
Enter Disney California Adventure and head down Buena Vista Street towards Carthay Circle. Right at the entrance to the Festival Corridor is a Welcome Center where you can pick up a paper map and tasting passport, and ask a Cast Member any questions you may have. Most of the food and wine Marketplaces are located along the Festival Corridor (aka the parade route) in between the hub and the Golden Zephyr attraction. The festival itself extends all the way to Paradise Gardens and also into the Hollywood Land area, so there is lots to explore! And new this year, some Downtown Disney restaurants are serving special dishes and drinks during the festival season.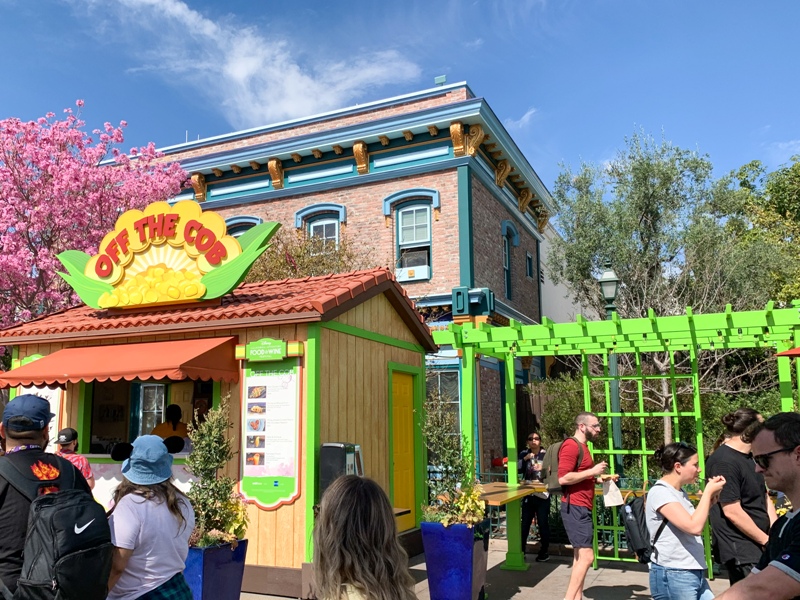 Throughout the Festival area, look for these displays with maps and entertainment guides.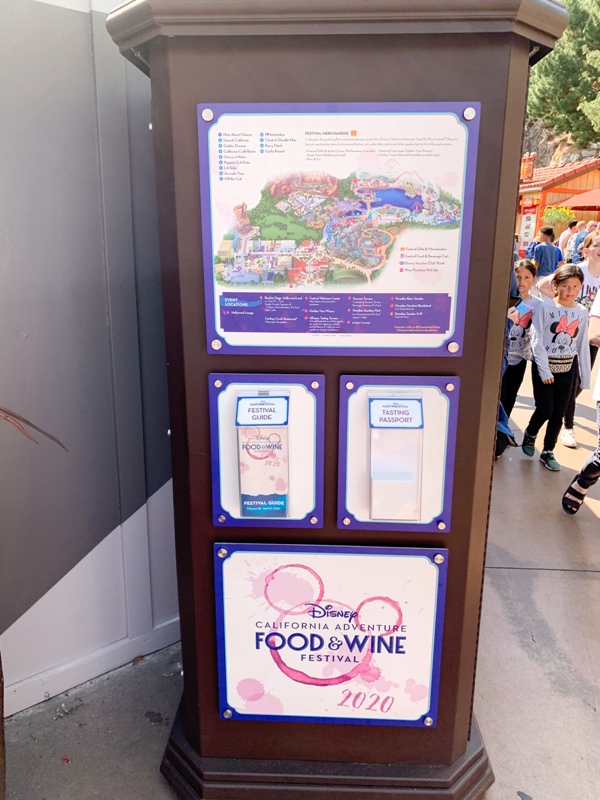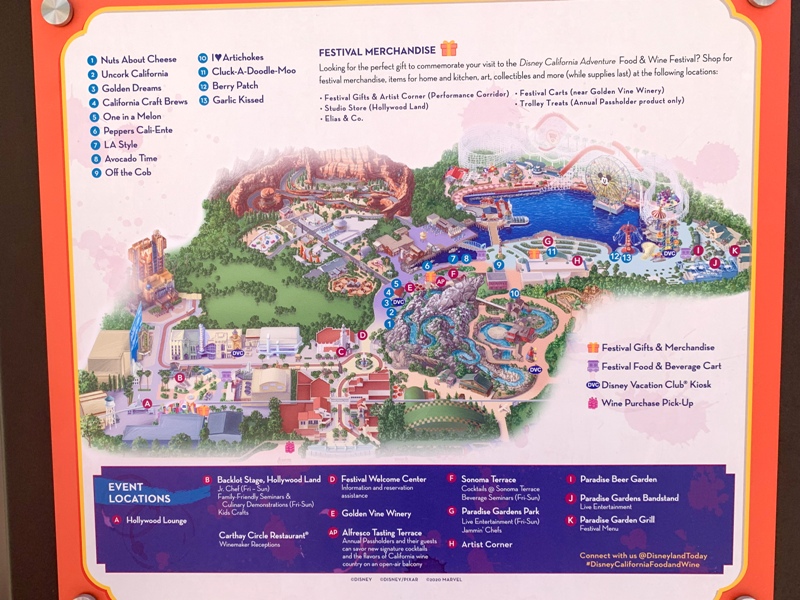 There are 13 Marketplaces total, with 3 or 4 food items and 2 or 3 drink options at each. And they really stepped up the design this year! The signs look amazing, and they light up at night!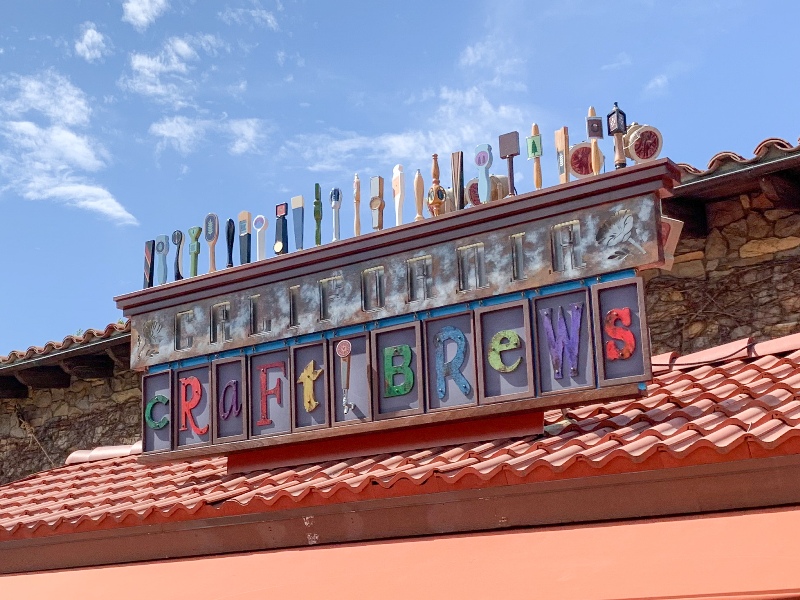 Adjacent to some of the Marketplaces are semi-covered wooden pergolas with counters where you can stand and eat your food. Utensils and napkins are available from self service dispensers. There are also several tables with chairs and cocktail tables set up along the corridor. In between Marketplaces you'll also find kiosks selling official event merchandise, as well as some third-party products.
To order, approach the registers next to the Marketplace, pay for your order, then take your receipt to the window of the Marketplace. Your food and drink items will be prepared quickly, and you'll be given a cardboard tray if needed/requested. You can take your food to the nearby wooden counters or a nearby table. Don't forget to grab napkins and utensils!
You can order any marketplace food item from any marketplace register! Order all your food at once, and then take your receipts directly to the pick-up window of the marketplace. Look for the shortest line and order all your food from there! This is such a time-saver!! Just be prepared with a list of all the foods you want so you don't forget anything. On opening day, we found the shortest lines were at the I <3 artichokes booth, since it's a little out of the way back by grizzly river rapids. you can also mobile order for select locations. marketplaces do not offer ordering, but you festival offerings from paradise garden grill, sonoma terrace, and hollywood lounge.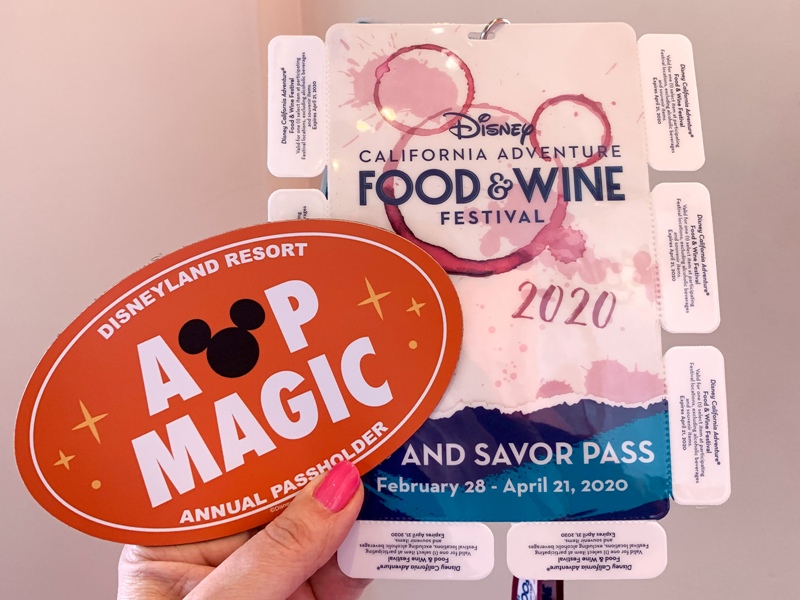 Be sure to also pick up the Sip and Saver Pass! Each tab on the Pass can be redeemed for one food or one non-alcoholic drink item at any of the marketplaces. The lanyard is $56 for eight tabs, making each tab worth $7 (or $51 for Annual Passholders – $6.38 per tab). Food prices range between $5 to $8, so if you use the tabs on the right items this is certainly a good deal. You can also pick up the Sip and Savor pass at multiple locations throughout the Festival. Lines are longest at the entrance to the festival; I suggest picking up your Sip & Savor at either Kingswell Camera Shop on Buena Vista Street, or Embarcadero Gifts near Ariel's Undersea Adventure. (Sip and Saver passes cannot be used with mobile ordering.)
Annual Passholders will also receive a new magnet with their Sip and Saver purchase! (While supplies last.) There is no AP Corner this year.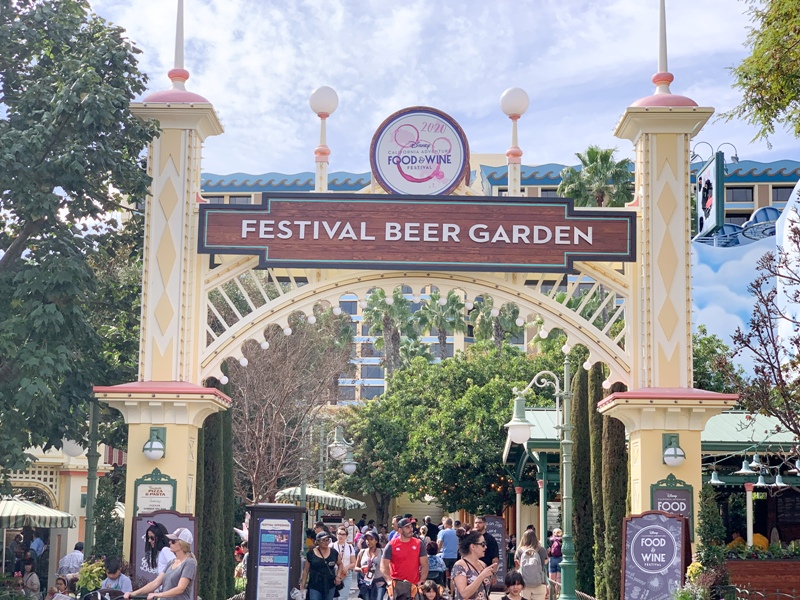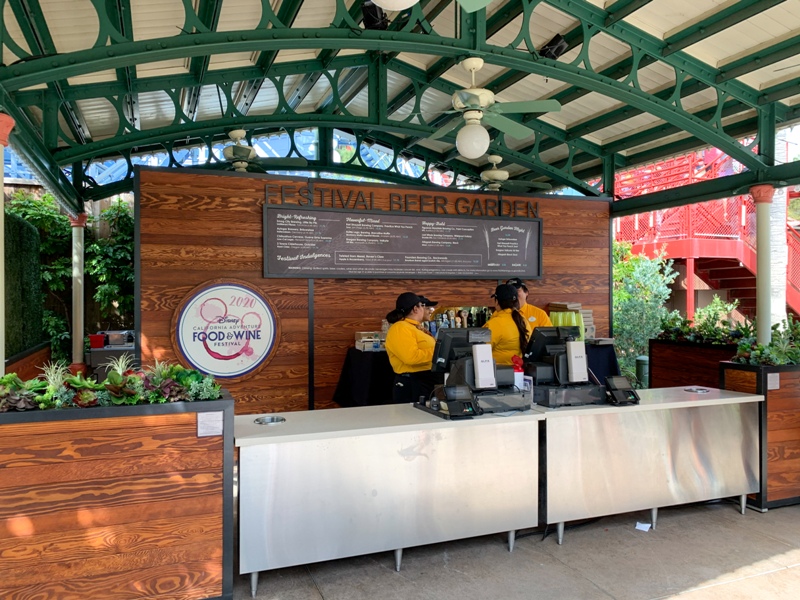 Keep walking into Paradise Gardens and you'll find the Festival Beer Garden. The Paradise Garden Grill also received a menu makeover for the festival (see below for the menu).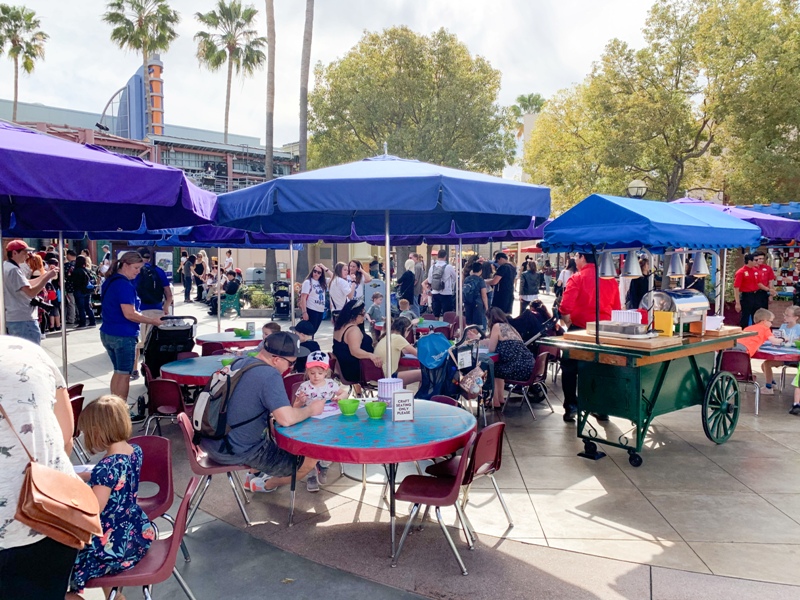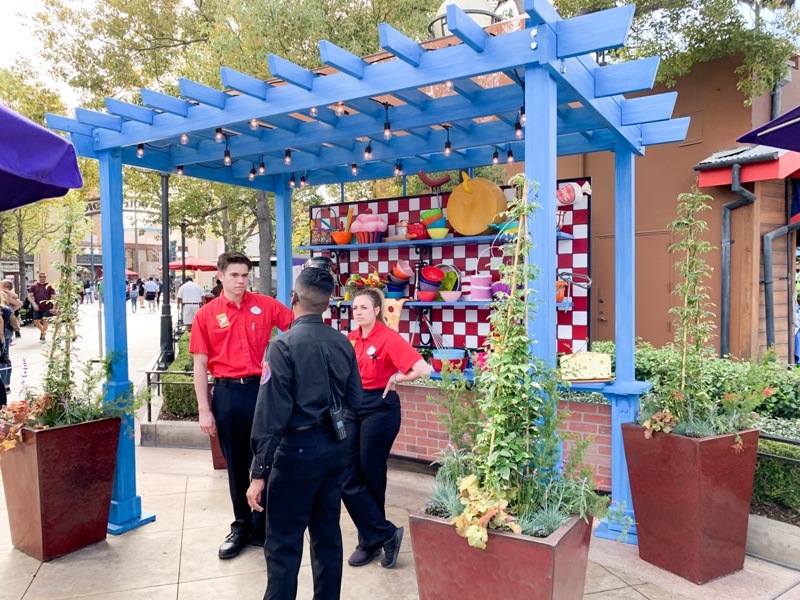 This year the Culinary Demonstrations and Jr Chef experiences are taking place at the Backlot Stage in the Hollywood Land area. The kid's activities and character photo op have also been moved to this area.
Speaking of photo ops, a few of the Marketplaces have cute murals which are perfect for Insta photos! The one with the hearts is at the Artichokes booth.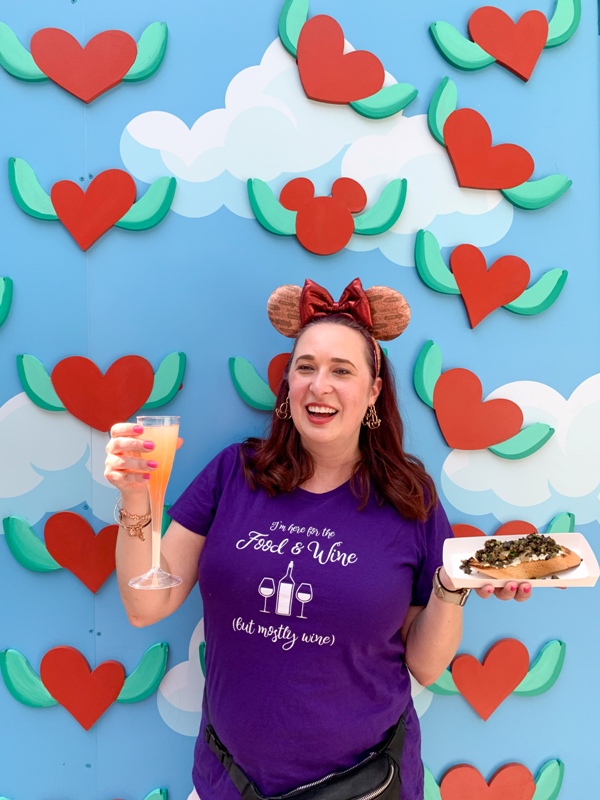 My shirt is my own design and available on Amazon! Click here to shop.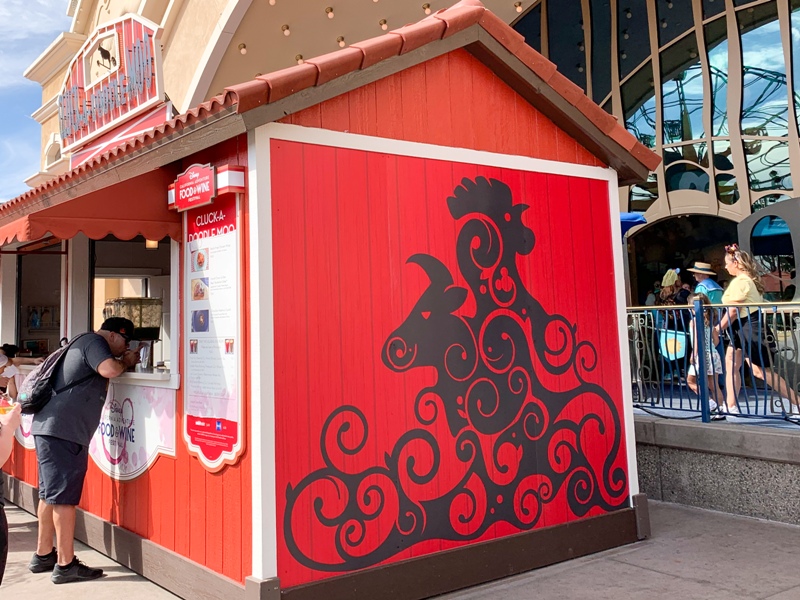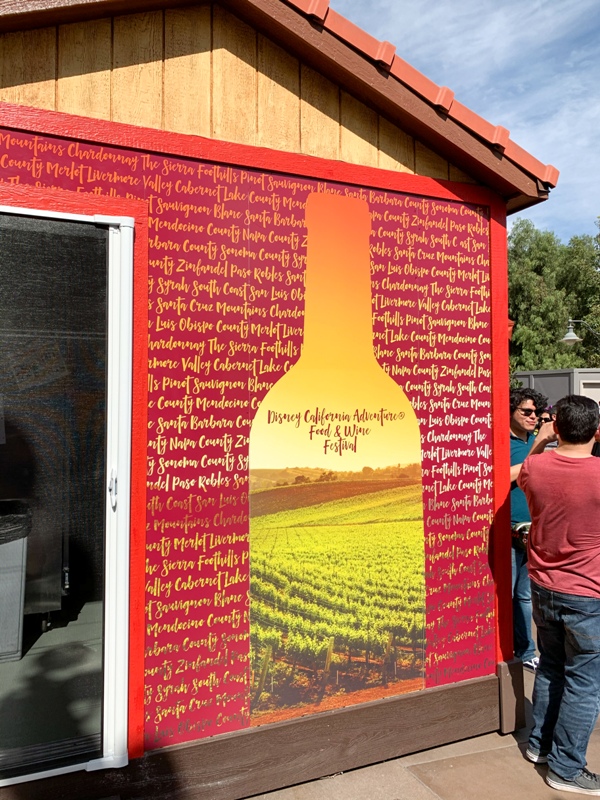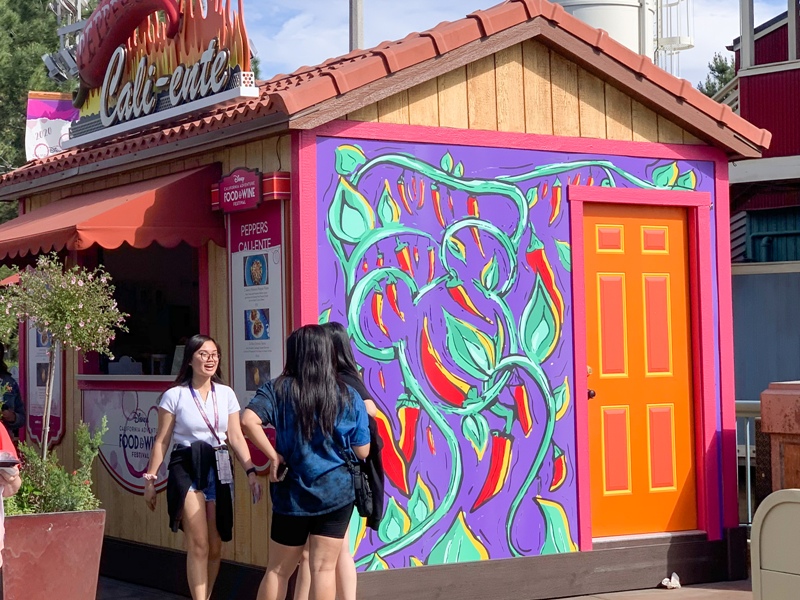 Look for merchandise kiosks along the Performance Corridor and the Hollywood Land area, where you can buy Disney California Adventure Food and Wine Festival branded items such as T-shirts, kitchen accessories, and wine glasses.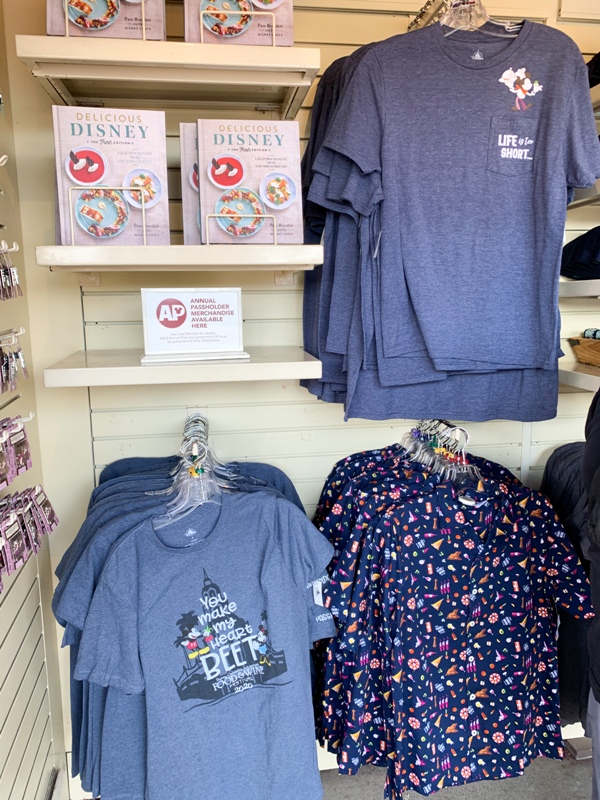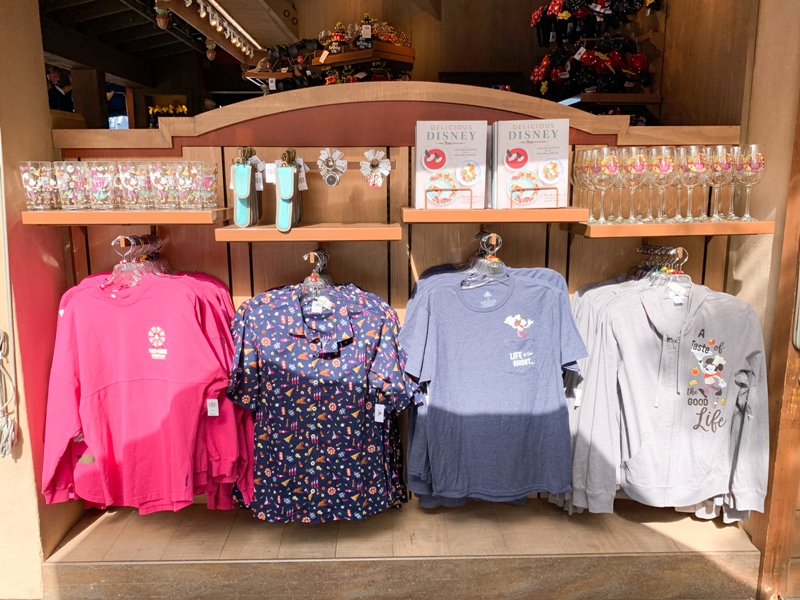 There is also art on display and artist signings! I bought a print had got it signed by artist Jeff Granito!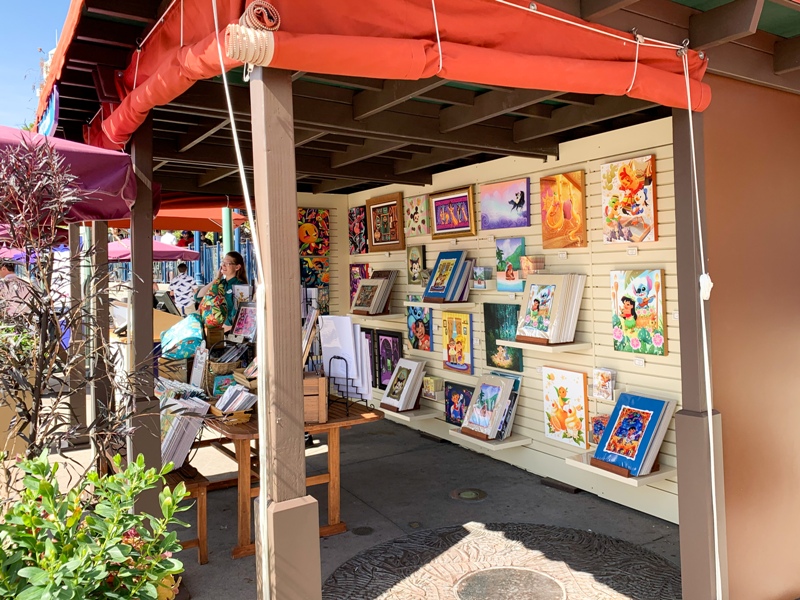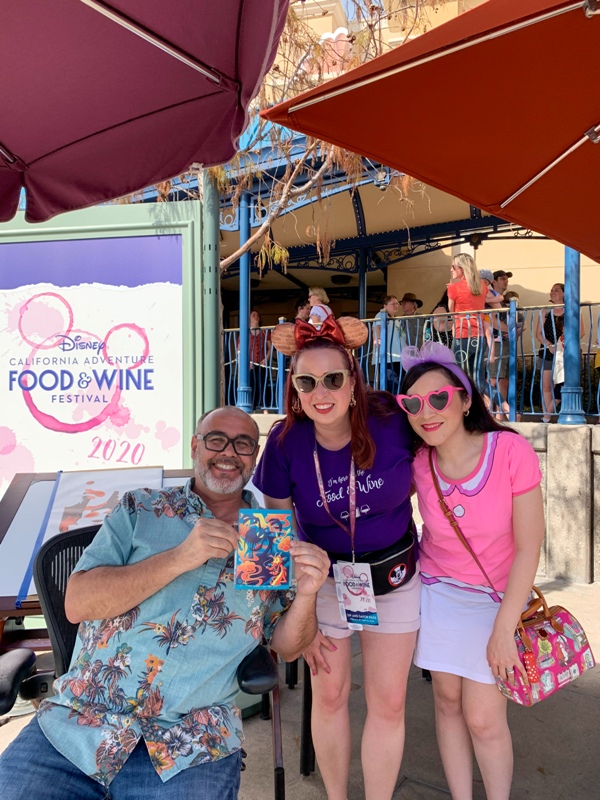 What to Do:
Aside from sampling food, wine, and beer, you can participate in instructor led tastings located at Sonoma Terrace, Paradise Gardens, or The Vineyard Room at Wine Country Trattoria. You can make reservations for these tastings online here.
You can also watch seminars, including celebrity and Disney chefs, or attend special receptions at Carthay Circle Restaurant or The Vineyard Room. Please visit the official Disneyland website for full details/schedule of what's available during Food and Wine Festival.
What to Eat
Obviously you should eat everything! Here's what's available, and what I've tried so far:
Nuts About Cheese: Fiscalini White Cheddar Lager Soup served in a Mini Boudin® Sourdough Bowl (Vegetarian) – $6.75; Impossible™ Cheeseburger Mac & Cheese (Vegetarian) – $8.00; Oikos® Greek Yogurt Banoffee Tart – $6.25; Honey Bourbon Lemonade (Alcoholic) – $13.00
One of two Mac & Cheese options this year! I had the Impossible Cheeseburger Mac & Cheese and I absolutely loved it! The "special dressing" tastes like Thousand Island so it tastes kind of like an In N Out burger. Highly highly recommend this one.
Uncork California: California Artisan Cheese with Central Coast Creamery Holey Cow Swiss and Vintage Cheese Co. Cabernet Cheddar (Vegetarian) – $8.50; White Wine Flight – $17.00; Red Wine Flight – $18.00; Road Trip Mimosa Trio – $17.00; Chandon Brut, Sparkling Wine, California – $15.00
Had the white wine flight and the mimosa flight, and loved both! I think they are the best flights the festival has offered so far. More details below.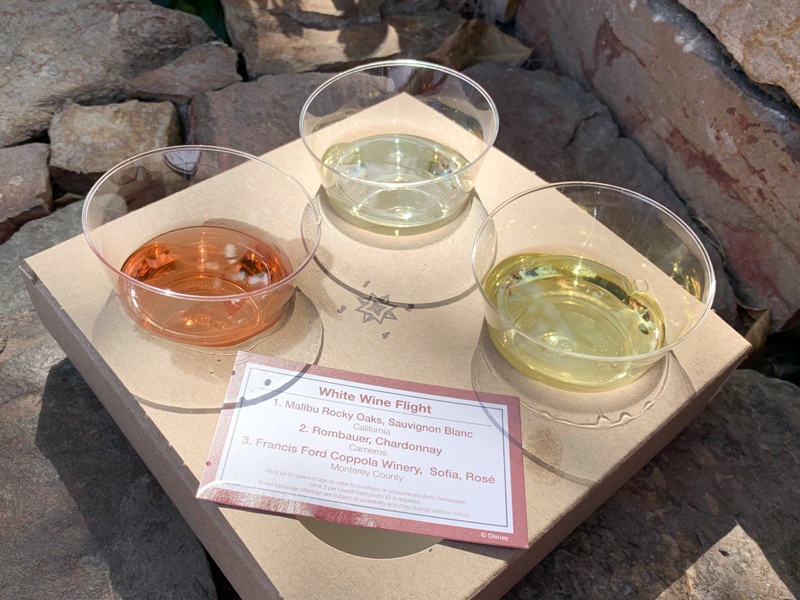 Golden Dreams: Brunch Fried Chicken & Waffle Sandwich with Mimosa-inspired Slaw and OJ Bubbles – $8.00; Seared Verlasso® Salmon with Lemon Pea Purée, Black Rice and Meyer Lemon Relish (Gluten-Friendly) – $7.75; Strawberry-Rose Lemonade (Non-Alcoholic) – $6.00; Fig & Lavender Cold Brew (Non-Alcoholic) – $6.50
I don't like fish but I had a small bite of my friend's salmon dish and … I still don't like fish. My friend felt this dish was a little dry and bland.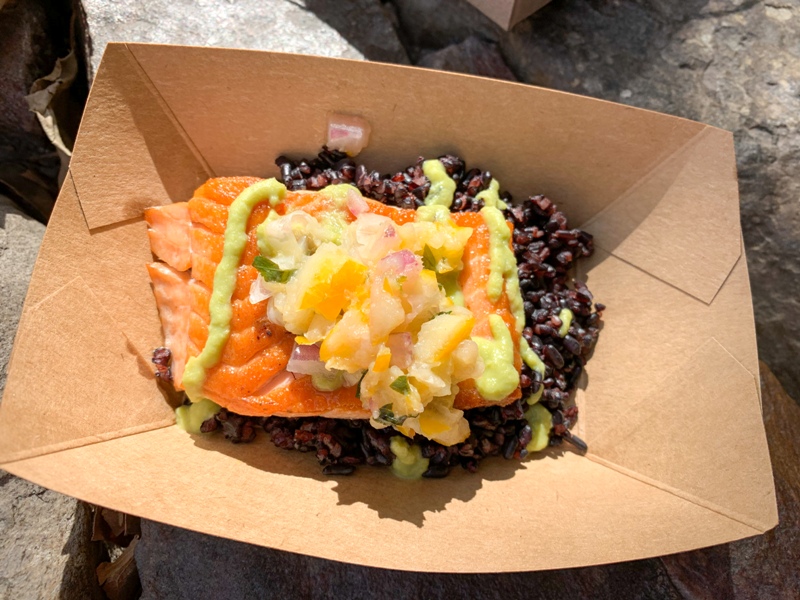 California Craft Brews: Pepperoni Pizza Egg Rolls with Marinara and Pesto Sauce – $7.00; Beer Flight Fun with Flavor – $15.00; Beer Flight Bigger & Bolder – $15.00
The first thing I bought were my beloved pizza egg rolls and they are as amazing as I remember!
One in a Melon (new): Compressed Watermelon and Tomato with Whipped Ricotta and Lemon Olive Oil (Vegetarian, Gluten-Friendly) – $7.00; Poke-style Watermelon with Cucumber (Plant-Based, Gluten-Friendly) – $6.75; Pabana Cream Puff with Mango, Passion Fruit and Banana Mousse – $5.50; Berry Mule – $14.00; House-made Watermelon Agua Fresca (Non-Alcoholic) – $6.00
I love mules so I was super excited for the Berry Mule and WOW – I hated it! I don't think I've ever HATED a Disney drink before but this was just awful. The combo of strawberry nectar and ginger beer was just not at all good. There are so many great drinks this year so don't waste your money on this one!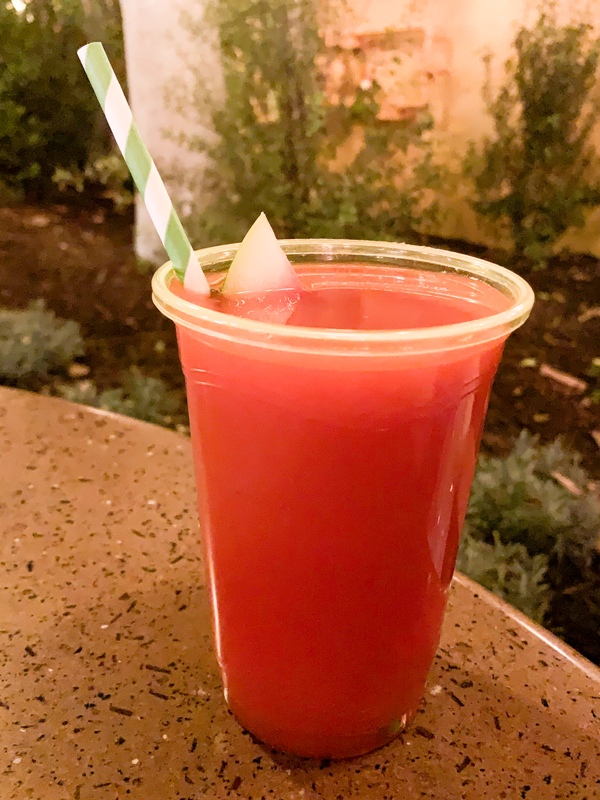 Peppers Cali-ente: Creamy Poblano Pepper Pasta (Vegetarian) – $7.75; Grilled Shrimp Tacos on Jicama Tortillas (Gluten-Friendly) – $8.00; Cantarito-style Paloma – $13.00; Annabella, Chardonnay Special Selection, Napa Valley – $18.00
LA Style: Asian-style Beef Barbacoa Street Tacos – $8.00; Smoked Bacon Barbecue Beef Loco Moco on Rice (Gluten-Friendly) – $7.50; Monkey Bread with Caramel Whiskey Glaze and Candied Pecans – $6.00; Amaretto Stout-Cream Cold Brew – $13.00; Blue Angeleno Cocktail – $13.00
Didn't try the Monkey Bread but asked someone if I could take a picture of theirs because it looked so pretty.
Avocado Time: Petite Impossible™ Burger with Guac and Pepper Jack (Vegetarian) – $8.00; Tortilla-crusted Fried Guacamole with Carne Asada – $8.25; Mezcal Cocktail – $14.00; Chapman Crafted Slow Riser with Coconut, Red Ale on Nitro – $11.75
Off the Cob: Mini Chicken Chimis with Chimichurri Corn Pico de Gallo and Chipotle Crema – $8.00; Shrimp and Braised Corn with Chorizo (Gluten-Friendly) – $8.25; Mickey-shaped Caramel-Peanut-Milk Chocolate Macaron – $6.50; Fields & Orchards with Elderflower and Artichoke Liqueurs – $14.00; Farmstand Punch (Non-Alcoholic) – $6.00
I <3 Artichokes: Fried Artichokes with Lemon Aïoli (Vegetarian) – $7.00; Artichoke Toast with Artichoke Cream Cheese and Olive Artichoke Tapenade (Vegetarian) – $6.50; Lolea, Red Sangria, Spain – $11.00; Brooklyn Brewery Special Effects Non-Alcoholic Lager – $10.00
Had the fried artichokes last year and liked them. This year I had the Artichoke Toast and it was good but has a LOT of garlic, which is not listed on the menu!!! Like, it's not appropriate for the Garlic Kissed booth because this thing is 99% garlic. So just be aware!
Cluck-a-Doodle-Moo: Ranch Fried Chicken Wings with Buffalo Hot Sauce Drizzle – $8.00; French Onion Grilled Beef Tenderloin Slider – $8.50; Chocolate Hazelnut Crunch – $6.50; Kronenbourg 1664 Blanc Witbier – $11.75; Beer Flight – $15.00; Michelada Flight – $16.00
Berry Patch: Raspberry-Lychee-Rose Custard with Mixed Berry Compote – $6.00; Oikos® Greek Yogurt California Berries Summer Pudding – $5.50; Blue Marble Berry Hard Seltzer – $13.00; Blue Marble Tropical Hard Seltzer – $13.00; Ruby Citrus Sparkler (Non-Alcoholic) – $5.00
Garlic Kissed: Black Garlic Soy-braised Pork Belly Banh Mi – $8.00; Carbonara Garlic Mac & Cheese with Nueske's® Bacon – $8.00
Beverages; Aperol Cocktail – $14.75; Wither Hills, Sauvignon Blanc, Marlborough – $14.00
The second Mac & Cheese dish is here, and it's a beauty. Perhaps just a bit too much bacon for me, but it was delicious.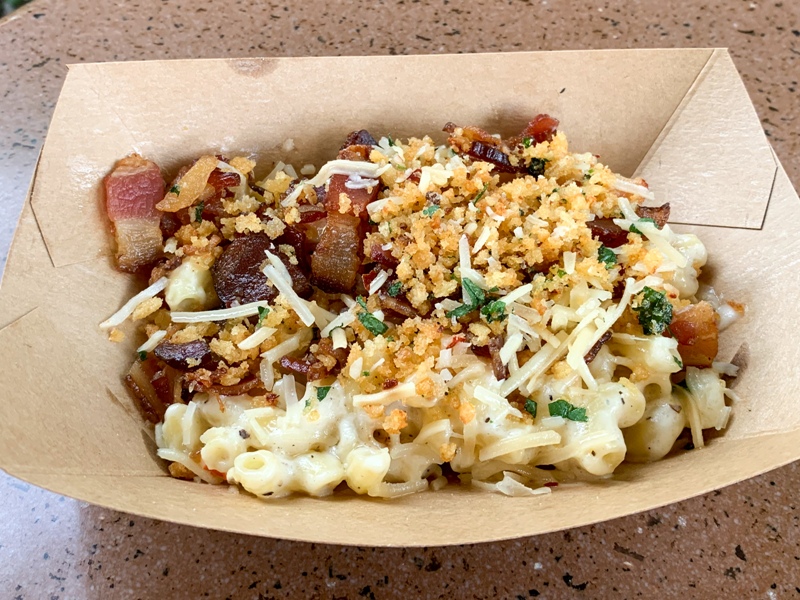 Paradise Garden Grill: Impossible™ Meatball Submarine (Plant-Based) – $11.99; Beer-battered Fish Tacos, with Karl Strauss® Follow the Sun Pilsner-infused Batter – $13.49; Buffalo-style Roasted Turkey Leg with Celery Slaw and Blue Cheese (Gluten-Friendly) – $12.99; Brisket Sliders – $12.49; Brisket Fries – $13.49; Black Forest Parfait – $5.99; Watermelon Vodka Lemonade (Alcoholic, Gluten-Friendly) – $13.00; Matanzas Creek, Sauvignon Blanc, Sonoma County – $11.00; Deschutes Pacific Wonderland Lager – $10.00; Sudwerk Märzen Amber Lager – $10.00; Berry Spectacular Cookie Shake (Non-Alcoholic) – $6.99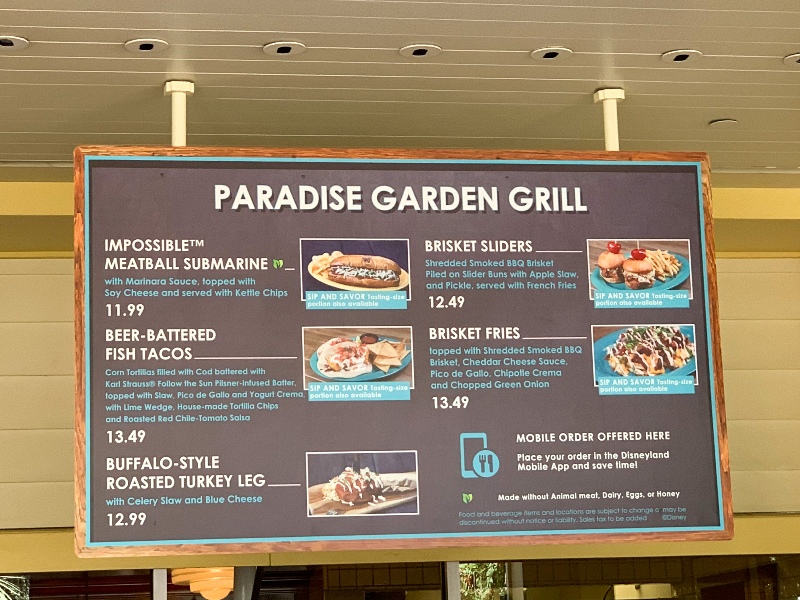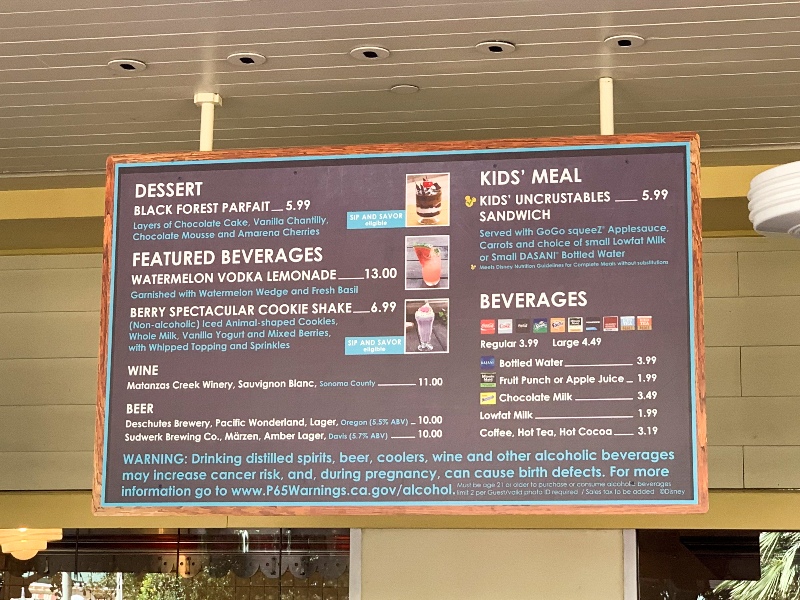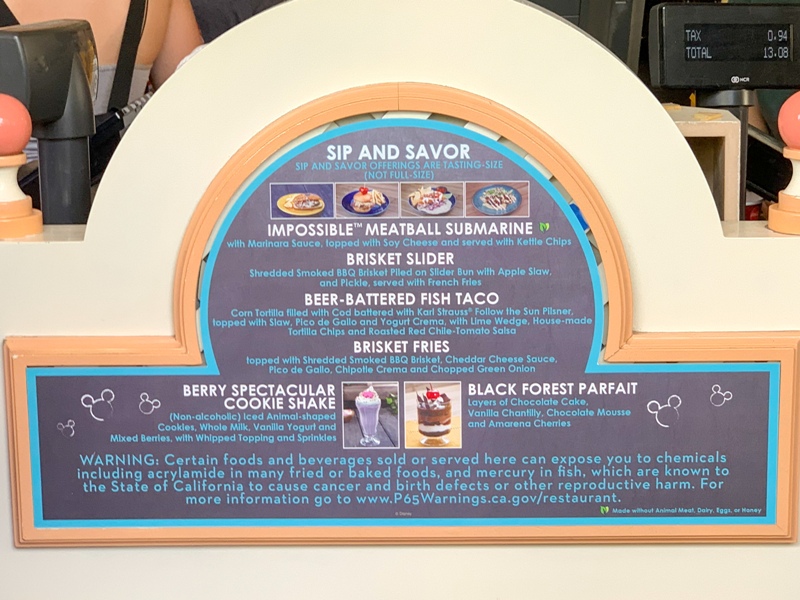 Note there are Sip and Savor sizes for some of the menu items.
I tried the Watermelon Vodka Lemonade and it was the best drink of the day! A tad on the super sweet side but so refreshing and amazing. I really recommend this one! (I forgot to take a photo of it!)
Sonoma Terrace: California Cheesesteak; Italian Meatball Sandwich; Bavarian Pretzel with Cheese Sauce; Triple Chocolate Brownie; Sandy Beach – Green Apple Vodka with flavors of Sea Salt Caramel; Catalina Island – Vodka and Passion Fruit with flavors of Raspberry Lemonade and Lime; Sparkling Greyhound – Vodka with flavors of Grapefruit, Chamomile and Cardamom; Pineapple Passion – White Rum with flavors of Pineapple and Passion Fruit; Firestone Walker Rosalie Beer Rosé; Francis Ford Coppola Winery, Sofia, Brut Rosé, Monterey County; Chandon Brut, Sparkling Wine, California
Some fun sounding drinks here! I tried the Catalina Island cocktail and really enjoyed it! Pictured here alongside the Tropicalifornia Tea, available at the Pacific Wharf coffee cart.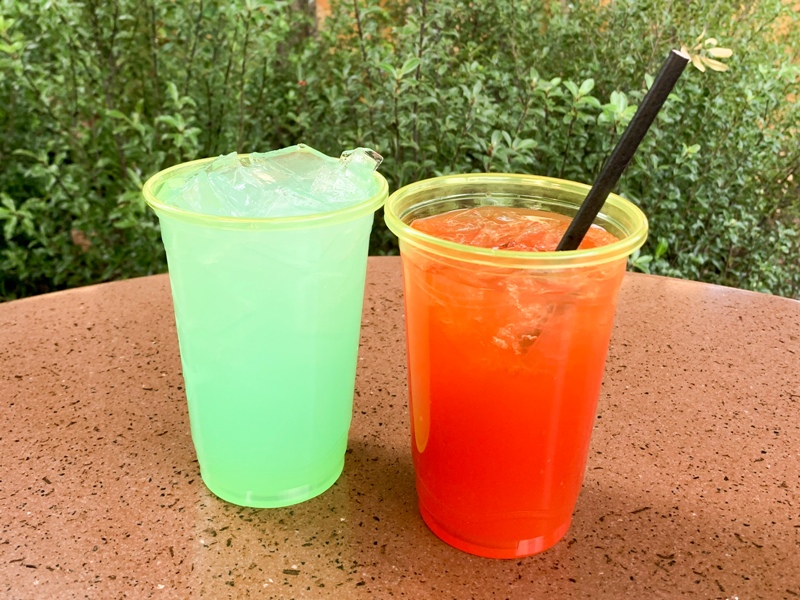 Hollywood Lounge: Leading Role Lemonade – Gin with Lavender Lemonade; Opening Night Cocktail – Banana Whiskey with Cream Soda; Movie Star Mule – Whiskey with Black Cherry and Ginger Ale; On Location Libation – Stone Peak Conditions IPA with POG juice; Backlot Michelada – Tomato-based Michelada with Modelo; Modelo Especial Lager; Hangar 24 Passion Punch Gose Stone Peak Conditions Hazy Double IPA; Honest Abe Limoncello Hard Cider; Bottle Logic Emerald City Raspberry Piña Colada Hard Seltzer; Supporting Role Lemonade – Lavender Lemonade (Non-Alcoholic)
Be sure to pick up a Tasting Passport which you can get stamped as you go from Marketplace to Marketplace. They are free and should be available to get at any Marketplace or the information booth. The Tasting Passport also has a listing of all the Marketplace menus, plus gluten-friendly, kid friendly, vegetarian, and planet-based items.
***NEW THIS YEAR*** Downtown Disney is also getting in on the act! A few locations will be offering special food and drink items during the duration of the Festival. (Note – Sip and Savor and mobile ordering do not apply to Downtown Disney locations.)
Ballast Point Brewing Co: (All offerings also have a specialty beer flight.) Impossible™ Lettuce Cups With Impossible™ Protein, Peppers, Hoisin, Sriracha, Garlic, Lime, Fresno Chilies and Hydroponic Lettuce; The Ballast Point Burger – 8 Oz Kobe & Chuck Blend Patty, Sharp Cheddar, Lettuce, Tomato, Red Onion, House-made Pickles, and Ballast Point Remoulade on a Brioche Bun served with Fries; Cioppino – PEI Mussels, Fish of the Day, Argentinean Shrimp, Spanish Chorizo, Stewed Tomatoes, Chili Flakes, Oregano, Crème Fraiche, Chili Thread, House-Made Pasta and Grilled Baguette
Catal Restaurant: Smoked Salmon Crostini – Whipped Ricotta, Smoked Salmon and Basil Pesto; Burrata – Burrata, Prosciutto, and Balsamic Gastrique; Hand-shucked Oysters with Champagne and Black Pepper Mignonette (Note: only available during happy hour from 3pm to 5pm)
Ralph Brennan's Jazz Kitchen: Creole Cobbler with Beefeater Gin, Santhenay Crème de Peche, Fresh Lemon Juice, and Orange Bitter
Splitsville: Surf & Turf Slider Duo: Salmon Slider featuring House-made Salmon Patty, Sriracha Aïoli, Red Onion, Butter Lettuce and Heirloom Tomato, and Filet Mignon Slider featuring Beef Tenderloin, Béarnaise Sauce, Arugula and Oven-Roasted Tomato
Salt & Straw: Apple Pie with Beecher's Flagship Cheesecake: Warm-spiced Apple Pie Ice Cream with Beecher's Flagship Cheddary Cheesecake
What to Drink
I don't drink beer (I have a barley intolerance) so I can't comment on any of the beers. But I did try the other drink flights.
California Craft Brews – There are 10 beers listed, as well as two flights: Bright & Balanced Flight or Hoppy & Bold Flight. Both flights are $15, and glasses range from $10.75 to $13.
Uncork California – The white wine flight is $17 and includes a Sauvignon Blanc, a Chardonnay, and a Rose. This was a great flight; perhaps the best white wine flight I've had at this festival. A nice variety and all three tasted great.
The red flight includes a Pinot Noir, a Cabernet Sauvignon, and a Red Blend. The red flight is $18.
There is a mimosa flight with three "road trip" inspired flavors: Pacific Mimosa (sparkling wine, coconut, Blue Curacao, and pineapple juice), Mojave Mimosa (sparkling wine, Simply Peach, and Raspberry Syrup), and Sierra Mimosa (sparkling wine, lavender, and fresh lemon juice). Try the flight for $17 or full glasses for $15 each.
I really loved 2 out of 3 of these (I don't like coconut) and I loved the Mojave Mimosa so much I ordered a full glass!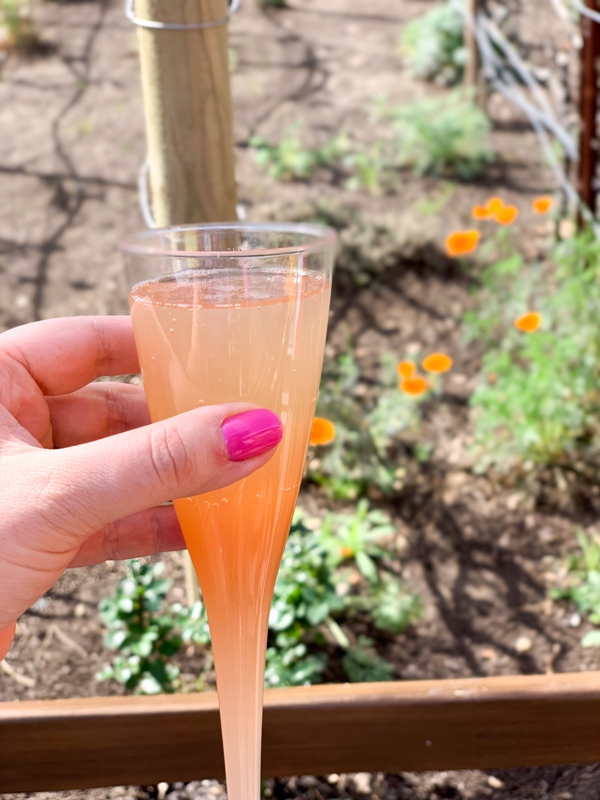 Aside from the three flights and the full glass versions, there is a Chandon Brut available for $15.
Festival Beer Garden – The beer garden located in Paradise Gardens has several beers to choose from, plus a cider.
Hollywood Lounge – This area in the Hollywood Backlot has a wide variety of cocktails, beers, and seltzers to choose from.
***
I'm really excited about this year's festival! I love the new additions and the unique food options. I'm planning to visit a lot and try as much as I can! When you go, don't forget to plan your menu ahead so you can order all at once, bring a hat and sunscreen in case you have to stand in the sun while snacking, and drink plenty of water!