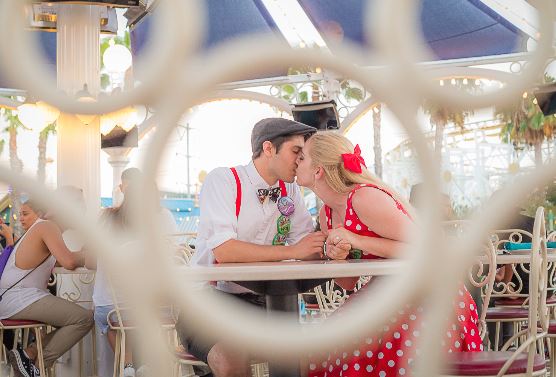 Photo by Mcelvy Studios
Today I'm proud to welcome this year's Real Disney Wedding Contributors! I was overwhelmed with applications and had such a tough time narrowing them down, so as a result we have EIGHT wonderful brides this year who are ready to share their unique wedding planning journeys with us.
This year we will have three Disneyland weddings, three Walt Disney World weddings, and two "At Home" weddings to follow. I'm so excited to have more "At Home" wedding planning stories to share because I think it's important to show you can have a BEAUTIFUL Disney themed wedding anywhere in the world!
One of the best decisions I made when wedding planning was keeping a wedding planning journal – which eventually turned into this blog. I love that I can look back on everything I wrote and everything I was feeling … some of it makes me laugh and some of it makes me angry and some of it makes my eyes well up with happiness. Some of it even makes me roll my eyes, just a bit. Planning a wedding really is a fun time, but it can also be stressful. There is so much emotion that goes into this one day, the big day that kicks off your happily ever after. So I hope these brides enjoy the process of writing about their wedding planning and it helps keep them sane the way it helped me. I also hope all of you out there can relive the joy of wedding planning with these ladies, or get some good ideas or helpful advice for your own planning journey.
I want to thank everyone who applied to be a contributor this year. I can't wait to see your weddings unfold!
Introducing the 2018 Real Disney Wedding Contributors
1. Erica and Diogo
The Disneyland Resort – Rose Court Garden and Sleeping Beauty Pavilion
June 2018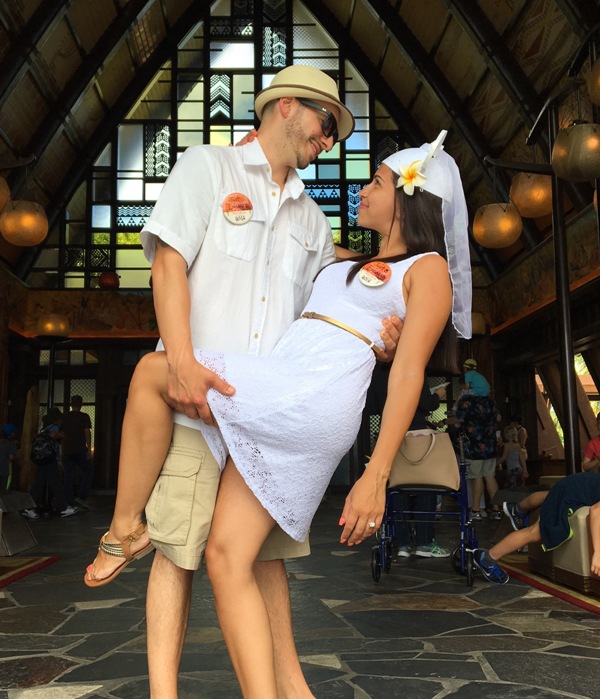 Hello! My name is Erica and my Fiancé is Diogo. We are from the Bay Area and currently reside in Hayward, CA. I moved here from New York City in March 2015, with hopes of starting fresh & living a complete different lifestyle. I met Diogo (who actually lived 3 minutes away from me!) at the end of April 2015, and it was then that I knew he was "the one". We spent the next month going on dates, opening up about our pasts, & getting to know each other, and on June 12th, 2015 he asked me to be his girlfriend. As a sort of celebration, I asked if he would be interested in taking a first weekend trip away together … to Disneyland. Diogo was hesitant at first, as he previously had not so great experiences there. I advised that Disney has been my favorite place since I was a little girl & promised that I would make sure he had nothing but great experiences there with me. He agreed and on June 26th, 2015 we went to Disneyland together & Diogo ended up loving every moment of it!
For our 1 Year Anniversary, we decided to take a special trip to Disney's Aulani Resort in Hawaii. We always have so much fun together at Disneyland so we were very excited to experience Disney in a new way, at a new location! On Saturday June 11th 2016, the day before our 1 Year Anniversary, we were prepping to have a photo shoot out on the beach at sunset. Both dressed in white, and barefoot, we made our way down to the beach where the sun was just starting to set. The photographer was there and ready and began to take some pictures of us near the water as the waves rolled in and out. About 5 minutes into it, Diogo pulled away and got down on one knee. He pulled out the ring box and asked "Will you marry me?" I held back tears as I said "Yes," both in shock and full of happiness. We finished up our photo shoot and made our way to the Olelo Room where we celebrated all night with some champagne. Disney's Aulani became another special place for us, a place we will never ever forget and we can't wait to go back to celebrate our Honeymoon!
I know for me, there were many times where I had given up on love, given up on the thought of happiness with someone … Until God brought Diogo into my life. He is truly the definition of a Dream Come True and I will forever be blessed and thankful to be able to love this man, and receive all of his love in return. Our Once Upon a Time had already begun long before, but now we are officially on our way to our Happily Ever After!
2. Stephanie and Patrick
Walt Disney World – Wedding Pavilion and California Grill
July 2018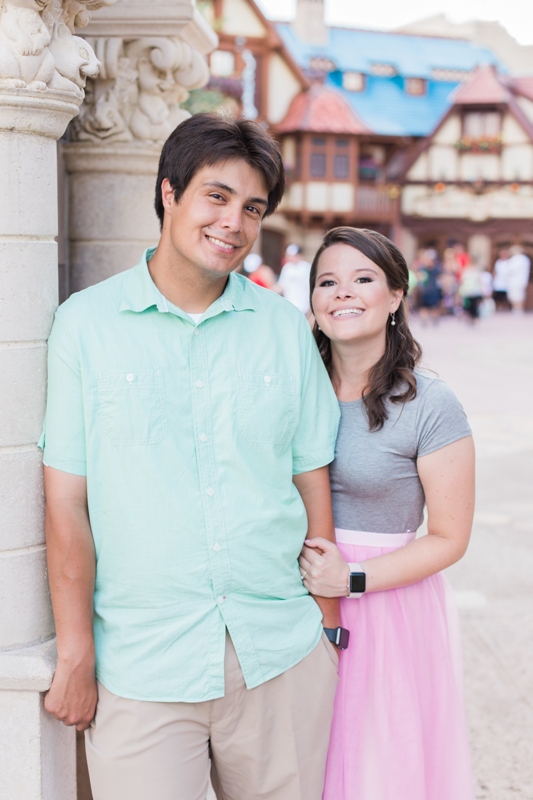 Photo by Jess Collins Photography
There comes a day when something tells you to stay in your pajamas and under a blanket. It's a good instinct. Thankfully, on one particular day, Patrick got me to abandon the comfort of my couch and venture out into the world. That day eventually led us to the local bookstore (where we had our first date). We split up to find books for an upcoming lake weekend. Little did I know, Patrick was setting a plan into motion.
When we reconvened in the G section, Patrick asked for help finding a certain book. No luck. Well, was there anything else of interest on the shelves? Nope. Was I sure? Yep. A little more cajoling, but I remained firm in my assessment that there was nothing we needed on the shelf. Finally Patrick said, "Hey! That author has the same name as me!" I took a closer look and to my surprise, a homemade book was there. Patrick read me the story of our relationship, complete with hand-done drawings (thankfully, the teenager using the aisle to read her texts chose to vacate the premises). Finally, at the last page, he played hard to get and handed me the book. I flipped to the final page and there was a picture of him proposing to me. Then, he was doing it in real life too! I said "yes" and couldn't get the ring on my finger fast enough. Moral of the story? Stephs are terrible finders and would never be in Hufflepuff.
Walt Disney World is a place of magic, fantasy, and wish-fulfillment. Any girl getting married there is a lucky lady indeed. I've imagined my wedding since I was very young. Turns out however that imagination and reality take a little bridging. That glue is called planning! Planning is my wheelhouse. Planning is something Patrick firmly states he is allergic to, like tuna … maybe, he says if he gets it checked then he can't eat tuna anymore. Thankfully, there was one thing Patrick had no trouble sharing his opinion on: CAKE!
Seriously, who knew someone could have such strong opinions on cake. It must be a round cake. Disney does churro? Then we shall feast on churro! The cake topper must be perfect! (He just has no clue what it should be.) Oh, by the way, did I mention Spider-Man would be making an appearance on our cake? Yeah – our most recent BEO update definitely said Spider-man. Well, at our wedding we'll have a round, 3-tier churro and marble cake, and Spider-Man poking his head out between two of the tiers. But, hey, at least I got to choose the topper – it's rose gold. And he can't complain when I get my way on … pretty much everything else. #WeddingPlanning
3. Laura and Johnny
At Home Wedding
July 2018
Photo by Mcelvy Studios
My name is Laura and my fiancé and I are getting married July 2018. I live in Morgan Hill, California and am currently in nursing school (I graduate in May). My fiancé's name is Johnny and we have been together for 5 years this year. We actually met doing the dirtiest thing possible – a mud run. From there we became extremely close friends, but I knew he wanted more (I wasn't ready just yet). A year later I finally decided to give it a chance and it was the easiest and BEST decision I have ever made. He seriously makes me feel like a princess and treats me with the utmost respect. I have never felt more comfortable with anyone else than I am with him and I cannot wait to call him my husband.
I have always been a "Disney Dork" for as long as I can remember and am truly blessed to have found someone who is just as obsessed with all things Disney. So, naturally we wanted to have a Disney wedding and even toyed with getting married in Disneyland. Unfortunately, our budget is around $15,000 with 150 people. It is basically unfeasible unless we want to go into severe debt. To remedy that, we are having our wedding in a friend's backyard. Everything is Disney themed and mostly DIY. Our centerpieces were influenced from the Mickey Pomanders made from this site. For our honeymoon we are headed to Walt Disney World for 14 days (3 of those days will be spent in Universal).
Disneyland is our home away from home. While growing up I have consistently stated that if I had my dream proposal it would be in front of the Disneyland Castle with all of my family and friends. He decided to do just that. Our anniversary happens to fall on Disneyland's anniversary (July 17), so we planned an exciting vacation with friends to help us celebrate. As it turns out he, and all my friends, were in on the proposal surprise. On the day of the proposal we all dressed up in dapper wear (luckily this is what we normally do at Disneyland so it didn't tip me off). We all wanted to go on Space Mountain so my fiancé took our passes and ran to go get fastpasses. The rest of us just meandered around Main Street while we waited. After about 5 minutes one of my friends stated that they wanted to take a picture in front of the castle. We all agreed and moseyed to the castle. That is when it happened.
My best friend placed me right in the front and center of the castle and I saw my fiancé walk out from the castle. He then stood by my side and I noticed that behind him were my mom and stepfather with cameras. They are wedding photographers and were able to capture the entire proposal on camera. My fiancé got to his knee and I immediately started shaking. He opened the box and said "Will you be my wife and go on Disneyland trips with me forever?" Of course I said yes and my family and friends erupted in applause and cheers of euphoria. My fiancé spun me around, which made for some beautiful photos. The following day my parents followed us around Disneyland and took our engagement photos. Not only that, but some of the Cast Members saw us taking photos and chose us to get a private viewing of World of Color as well as start the show. It still feels so surreal that this all happened. This definitely goes down as one of the best days ever.
4. Catherine and Richard
Walt Disney World – Wedding Pavilion and Whitehall Room, Disney's Grand Floridian ballroom
August 2018
Photo by Disney Fine Art Photography
The fairy tale begins with the future Disney bride, Catherine, and the future Disney groom, Richard, meeting on the popular dating app Tinder. Fast forward three years and Richard and I will be getting married August 2018. The wedding will take place at the Wedding Pavilion on Walt Disney World property. The reception will follow in the Whitehall Room and Patio at the Grand Floridian. Our budget is around $15,000-18,000. We will be set on the budget after our wedding consultation in April. We plan on having an intimate wedding of about 30 guests. It will be primarily of family and some close friends. As a Beauty and the Beast fan since I was young girl, our wedding theme will give a gentle nod to the classic. Roses, tea sets, candelabras, and vintage books will adorn the room for our big day.
Richard and I may have met on Tinder but during our time growing up, we had many times we could have met before. Growing up, I went to a small Catholic school, and my fiancé Richard went to the local public school. I required speech and would take a bus from my school to his to receive these services. We may have crossed paths there for the first time. Years later, Rich and I both were avid sport players. I played softball and he played baseball. During our little league years, he played on my twin's baseball team, and I played on his sister's softball team. We may have crossed paths once again. When I was in the seventh grade my family moved across the county. A few streets down from Richard. If I went to public school or he went to Catholic, we would have been on the same bus in high school. Finally, being only a year apart, Richard and I both went to the same college. We were both commuters. We could have met in college.
All these close encounters but it took a dating app to bring us together. We call that fate or in our case, our fairy tale. Any of those other times we could have met and it could have been the wrong timing. Whether we were too young, went to different schools, or were seeing other people, it would not have brought us to where we are today. We were brought together at the right time. Our love was nurtured by our love of sports and our addiction to all things Disney.
In 2016, on a family trip to Walt Disney World, Richard planned to propose. Earlier that evening we were in Epcot with my family enjoying our last night with dinner as a family. Drinks and food were the highlight of that evening. We all had a wonderful evening, reflecting on what a great trip we all were able to experience. On the ride home to our resort, Caribbean Beach, Richard asked if we could go for a walk on the beach with him. This was it. The night I had been dreaming of since I was a little girl, my Beast was going to propose to me at Disney. Just then, the Italian food and drinks started to add up. I got sick. I ruined his Disney proposal.
We went home the following day. A few days later, Richard proposed to me at my house, in the snowfall. I couldn't imagine saying "yes" to the man of my dreams any other way. The following December Richard took me to Walt Disney World for my 25th birthday. It was there that he surprised me with engagement photos in front of Cinderella's Castle. To this day, being in the pitch-black dark Magic Kingdom before hours, with the twinkling lights of the Castle and my man will be the most magical experience of my life, until I get to say "I do" with the same Castle in the background at the Wedding Pavilion. The decision to get married in Disney just seemed to be a perfect fit or in our case just perfect timing, like every other part of our fairy tale.
5. Bianca and Hans
The Disneyland Resort – Brisa Courtyard, Disney's Grand Californian Hotel
September 2018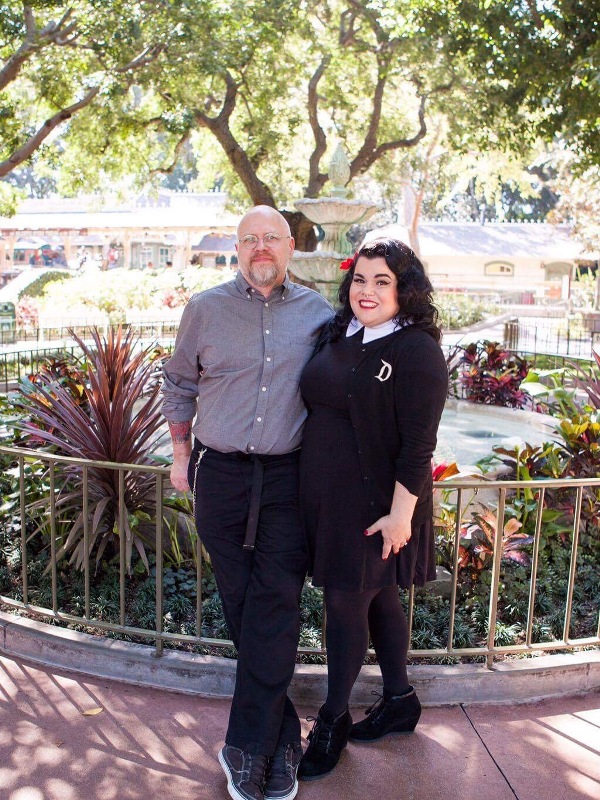 Photo by White Rabbit Photo Boutique
Individually we are Hans and Bianca, together we are the dynamic duo. By day, he is a graphic designer for a very large company in San Francisco; she studied culinary arts and psychology. By night Hans is a professional bass player going on 30 years and has worked for Guitar and Bass Player magazines, also building and repairing instruments for some of the biggest names in the business. As stuffy as that might sound, we are a pretty normal and down to earth pair. In person we might look like the odd couple–we have a significant age difference, Hans is a foot taller than I and we are an interracial couple. Though we have many differences to the outside world, we are two peas in a pod. We both share a love of good food, music and travel. We have both been married before and have children from our previous marriages.
I am a huge Disney fan and have always been. When I was a little girl I dreamed of becoming a Disney animator. Hans is not as keen on Disney as I am, but he is kind enough to indulge and accompany me to Disneyland. He might not be the biggest fan, but he asked me to marry him on New Year's Eve 2015 at the Blue Bayou and we have been seriously planning our wedding ever since.
To be quite honest, our engagement story is rather boring! I knew everything about it; I had picked my ring out a month before we booked our trip to Disneyland. I had booked the room and even our dining reservations. I love a good flash mob and an elaborate proposal that you might see on YouTube or television, but in reality I just wanted something that was low key and between the two of us.
When Hans was ready to "officially" propose (read: buy a ring and get down on one knee), he knew I wanted a Disney proposal. My favorite is the caricature proposal, but when he had tried to contact Disney to schedule one they were booked solid because of the holiday. Instead, he nervously asked for a table by the water at Blue Bayou on New Year's Eve and I figured out what was going to happen. As dessert arrived, he got down on one knee and with tears in his eyes, quietly asked me to marry him. The words "Will you marry me?" were even scrawled out in chocolate syrup on my plate.
Even though I knew what was coming and had been building up for years, it was no less sweet, genuine or tender. He had asked for my parents' blessing on Christmas. Each part of our engagement journey made it all the more real and it was incredibly special. When he asked it was like all the waiting and build up hit a beautiful crescendo and I happily said "yes."
After dinner, we had front row seats to Fantasmic! with souvenir seat pads. It was such a special show! Not only were we right in front for the special dinner and show package, we had just gotten engaged at my favorite place and the view was incredible. After the show we had enough time to go on one ride before the park closed and we ran to get the last tour on It's a Small World. Small World is my favorite attraction and I love Mary Blair, so this made it a perfect end to a perfect day.
We are getting married at the Brisa Courtyard at Disney's Grand Californian Hotel. We have opted for the Wishes package with many additional add-ons including the Mariachi Divas, Mickey and Minnie, a surprise groom's cake, an in-park photo shoot, and lots of wonderful food. We wanted to have a really beautiful wedding for our closest family and a few friends. We plan to have an at-home reception for our extended family and friends after our wedding and honeymoon.
After all this time hoping and dreaming, we are both excited to finally make this beautiful dream a reality and a happily ever after.
6. Nicole and Chuck
Walt Disney World – Wedding Pavilion and American Adventure Rotunda
November 2018
Hi! My name is Nicole and my fiancé's name is Chuck. We are from Butler, New Jersey and are Disney addicts (to put it lightly). Growing up, Disney movies, Disney Princesses, Disney birthday parties, and Disney stuffed animals were my main interests. I guess you could say I was definitely a dreamer. I have a vivid memory from when I was 12 years old of one of my neighbors taking a horse and carriage from her home to a nearby church on her wedding day. I remember being in absolute awe of this real life fairy tale, and telling myself and my parents that was going to be me one day. This image has been ingrained in me ever since that day, and now I can barely put into words how incredible it feels to be planning my very own fairy tale, with not just any horse and carriage, but Cinderella's coach, escorting me to my Prince Charming on my wedding day.
Chuck's proposal last May was nothing short of magical and perfect for us. Over our five year long relationship we have visited Walt Disney World seven times and it has become such a special place for us. Needless to say, I spent a lot of time dreaming of a Disney proposal. On May 12, 2017, my family, Chuck, and I were starting yet another magical Disney vacation at the Magic Kingdom. We made our way up Main Street U.S.A. to the hub grass area where I always insist, despite my brother's objections, on taking some pictures in front of Cinderella's Castle. This time my whole family seemed quite enthusiastic about this, which I found very unusual, but of course I just went with it! After my family took pictures, it was finally time for Chuck and me to take our 'couple's shot.' As the Disney PhotoPass photographer started snapping pictures, Chuck turned to me, grabbed my hands, and began saying, "Nicole, you're my best friend…" We were both crying as he got down on one knee and finished his proposal. Of course I said, "Yes!" This is was such a special moment, and I was so happy that my family was there to witness it! To make it even more magical, Chuck surprised me with matching Disney shirts that said "Just Engaged" on them, and my mom got us our first engagement gift, custom Mickey and Minnie ears that said "Just Engaged" and had the date on them! The surprises did not stop there. That night we had a dinner reservation at Chef Mickey's, and when we arrived and turned the corner to go into the restaurant another surprise was waiting. Chuck's mom had come from Georgia to celebrate our special day with us! After dinner my family had special engagement desserts made for us including a beautiful cake and "bride & groom" themed chocolate covered strawberries! It honestly was the most magical day in Disney, full of amazing surprises around every corner, literally.
Now it is nothing short of a dream to be planning our Disney Fairy Tale wedding! Our wedding date is in November 2018. We chose to have our ceremony in the gorgeous, and newly renovated, Disney Wedding Pavilion, with Cinderella's Castle in the distance as we say our vows. Our pre-reception is going to be at the Whitehall Room and Patio at the Grand Floridian Resort. This venue will provide our guests with both a beautiful indoor and outdoor space to enjoy during cocktail hour, with an awesome view of the monorail as a bonus! Following the pre-reception, guests will be bussed to the American Adventure Rotunda, which is located in Epcot's World Showcase, for our reception. This room is a beautiful, round, ballroom with an incredible domed ceiling that is breathtaking. We will also be having a dessert party outside on Italy Isola during the Illuminations fireworks show, which we are certain will "Wow" our guests! Our wedding budget is around $60,000, and we are doing our best to stick to that cost! We cannot wait to continue with planning what is sure to be the most magical day of our lives, and we can't wait to share the story of our Disney Fairy Tale Wedding journey!
7. Erin and Jimmy
At Home Wedding
November 2018
Photo by: White Rabbit Photo Boutique
Jimmy is great with numbers, and I'm better with words. We met online and quickly discovered that "there might be something there that wasn't there before." We love to travel, and currently, we are working on the six-castle challenge. Only two more parks to go!
After a whirlwind trip to Tokyo Disneyland Resort Jimmy proposed while we were celebrating our anniversary at Steakhouse 55 at the Disneyland Hotel. The evening was the perfect beginning to happily ever after and ended with us viewing the fireworks show.
The next chapter of our story includes planning a November 2018 wedding that is inspired by the enchanting romance of Disney fairytales. The day will take place at a venue in Downtown Los Angeles, and I am thrilled to have the opportunity to incorporate timeless love into our celebration of the beginning of our happily ever after. Ohhhhhh, isn't this amazing? I think wedding planning is going to be one of our favorite chapters of our love story because — you'll see!
8. Sara and Amanda
The Disneyland Resort – Brisa Courtyard and Trillium Room, Disney's Grand Californian Hotel
March 2019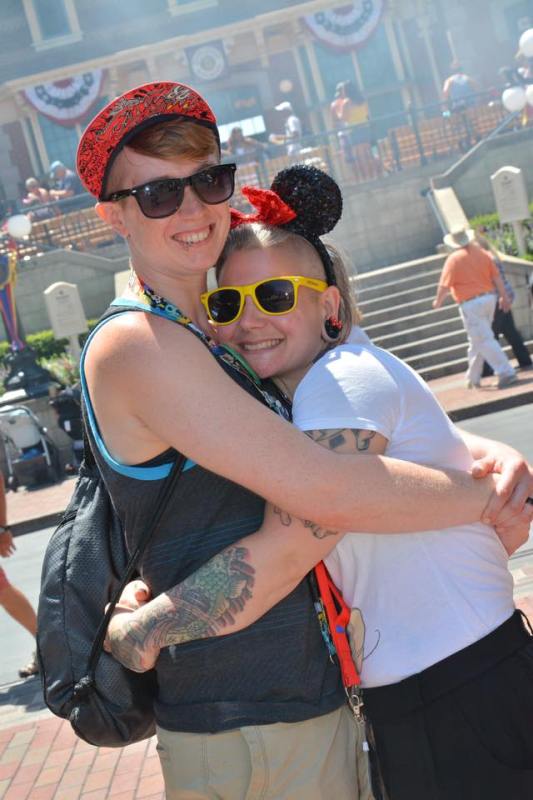 Hi! I am Sara and my beautiful fiancé is Amanda. We live together in Seattle, Washington with our dog MJ and hopefully soon to be puppy, already named, Indiana Jones. Before I even proposed I had my heart set on marrying Amanda at Disneyland. I mean, it is the Happiest Place on Earth isn't it??
Amanda and I began our engagement in late June of 2017 when I proposed to her on the streets of Seattle at the Pride Parade in front of a crowd (dare I say hundreds?) of people. I had spent weeks trying to get her ring size including measuring her finger with a string in her sleep, asking her mom for help by measuring her fingers, and ultimately buying three rings so I could return which ever didn't fit. Her mom was with us, along with my best friend and her husband, and some friends up from Portland that I had asked to help me with my schemes. One of our friends distracted her by asking her to show her where the bathrooms and a convenience store were while I asked the announcers for help with my proposal. Right before the parade started they asked us if "Sara and Amanda" would come up and give a real life demonstration of love. She was in shock when I pulled her out into the street, told the story of our meeting and relationship, and then asked her to marry me. Luckily said yes to my proposal.
We are paying for our own wedding so we had to set our date out a ways to be able to save enough for the wedding of our (realistic) dreams. Our budget is 30-35K and our date is set for March 2019 at Disney's Grand Californian Hotel.
About a year before I proposed we were visiting The Disneyland Resort to take my niece on her first trip to see Mickey. I saved up to be able to foot the bill for the majority of the trip with Amanda, my dad, and my niece Madison. While we were walking through the Grand on our way from Disney's Paradise Pier Hotel, where we were staying, to the park we saw a wedding taking place under the Monorail in the Brisa Courtyard. I fell in love with the idea of getting married under the Monorail, the only thing that could top it would be an in park location. After some pre-engagement research I found that it was something we would be able to afford with some dedicated saving and started listening to the Disney Wedding Podcast, joining Facebook groups, and learning as much as I could about Disney weddings. Good thing she said yes!

Please join me in welcoming our new contributors for 2018!