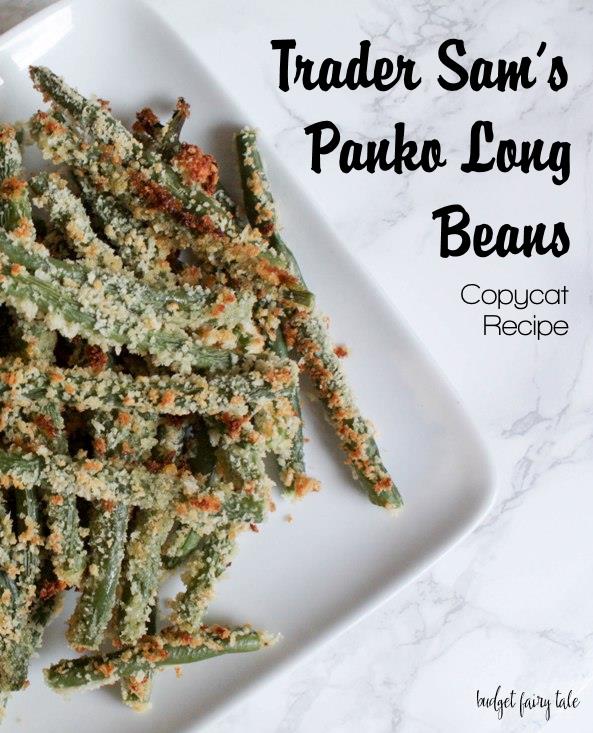 It's no secret I love Trader Sam's, the tiki bar at The Disneyland Hotel, and it's no secret one of my favorite menu items is the Panko Long Beans, which is a mixture of healthy green beans and deep fried pore-clogging deliciousness. I never thought about trying to make them at home until some green beans showed up in my weekly farm box and a light bulb went off above my head, like you see in old timey cartoons. I don't own a deep fryer, and fried food makes my face break out, but I knew I could probably come up with some kind of baked alternative. Also, I discovered during my recipe research that Trader Sam's Panko Long Beans are made with flour and cornstarch, two things I'm not supposed to eat. I will take a moment to accept your condolences …
…
Anyway, I found a recipe on Kitchen Treaty that sounded perfect and is corn- and flour-free!* I experimented with the ingredients until it tasted similar to the Trader Sam's version. Now, it's inherently true a baked version of a fried food won't taste as good, that's just science. And lots and lots of oil. BUT I think these are a really nice and easy "at home" version for when you can't get to the real thing.
*As always, check all ingredients carefully if you have an allergy.
Trader Sam's Panko Long Beans Copycat Recipe
Adapted from Kitchen Treaty
Servings: 4
Ingredients:
1/2 pound fresh green beans, ends trimmed
1 cup Panko bread crumbs
1/4 cup grated Parmesan cheese
2 teaspoon garlic salt
1/4 teaspoon freshly ground black pepper
1 egg
2 tablespoons olive oil
The juice from one small lemon (optional)
Directions: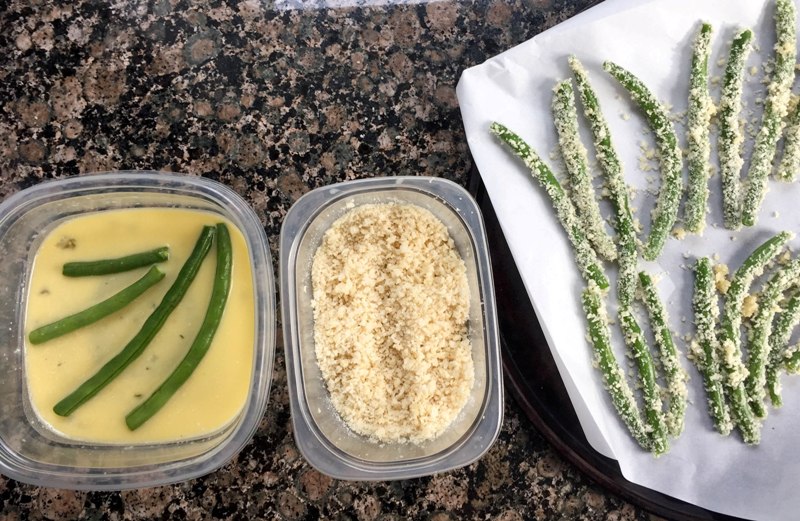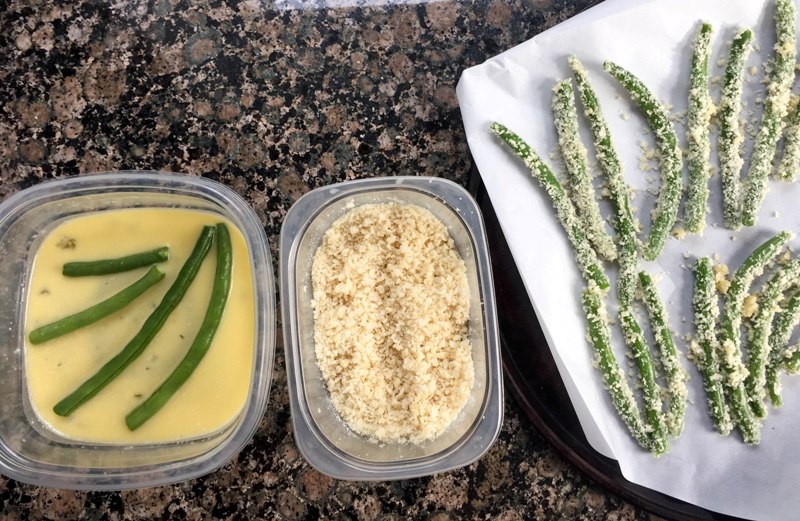 1) Heat oven to 425 degrees Fahrenheit. Line a large baking sheet with parchment paper.
2) In a small, shallow dish (with room for the beans to roll around), stir together the Panko bread crumbs, Parmesan cheese, garlic salt and pepper.
3) Crack egg into a different shallow dish and whisk along with 2 tablespoons water.
4) Working with three or four beans at a time, dip the beans into the egg, then roll in the crumbs, turning and rolling to coat. Gently lay the beans on the baking sheet in a single layer.
5) Evenly drizzle olive oil on top of beans.
6) Bake for 15-20 minutes, until the breadcrumb coating starts to turn golden brown.
7) Squeeze a little lemon juice over the beans if you'd like and sprinkle with additional salt, to taste. Serve immediately.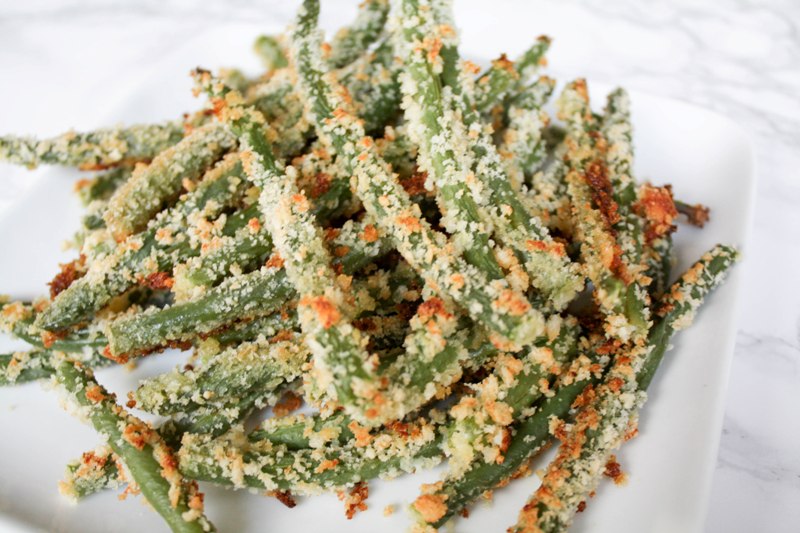 A couple notes:
I'm very sensitive to sodium and while 2 teaspoons of garlic salt seems like a lot, I didn't think these were very salty and I actually added a little table salt to my portion! You can add more or less salt depending on your taste preference.
The little squeeze of lemon juice actually adds a ton of flavor! Try to use fresh lemons if possible.
These don't really reheat well … so just make enough for one meal or snack.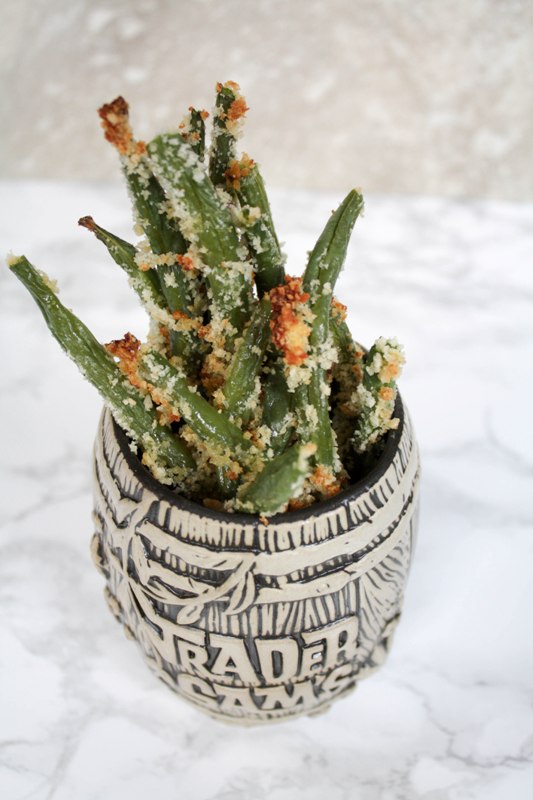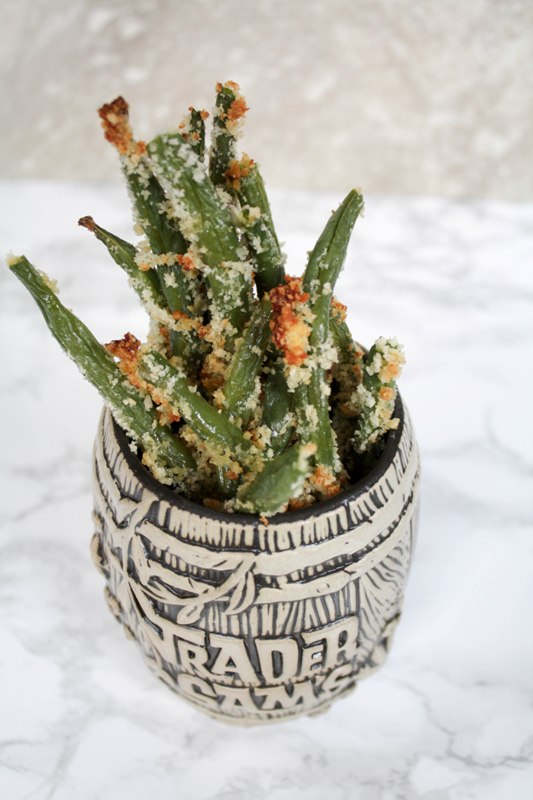 Let me know if you try these yourself! I hope you enjoy them!