This post contains affiliate links.
A couple weeks ago I had the great pleasure of attending the Disneyland wedding of my friends Sylvia and Jeff! I've been friends with Sylvia for a while and I had been watching her wedding planning progress for many months through the magic of Facebook. It was wonderful to finally see these two have their big day and see all of their beautiful DIY items in person. Everything came together beautifully! There was some threat of rain that morning, but the bad weather held off until the afternoon so Sylvia and Jeff were able to say their vows at the Rose Court Garden, complete with the Crystal Coach and Major Domo and a bubble send-off! It was such a lovely and fun day and I'm so lucky I was able to witness it.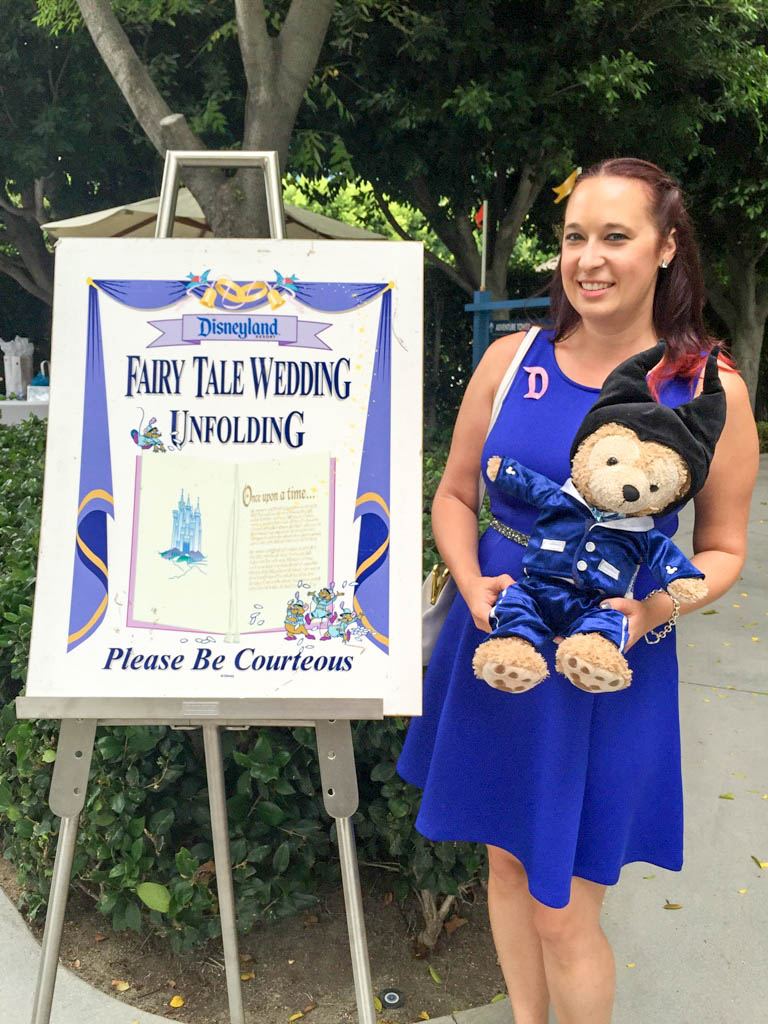 The welcome tables displayed memorial photos, Disney branded tissue packs, tiny containers of bubbles, and programs. Pretty much everything was DIY by the couple! Check out the program fans, which came in very handy when the sun came shining through the clouds during the ceremony. Great work, Sylvia and Jeff!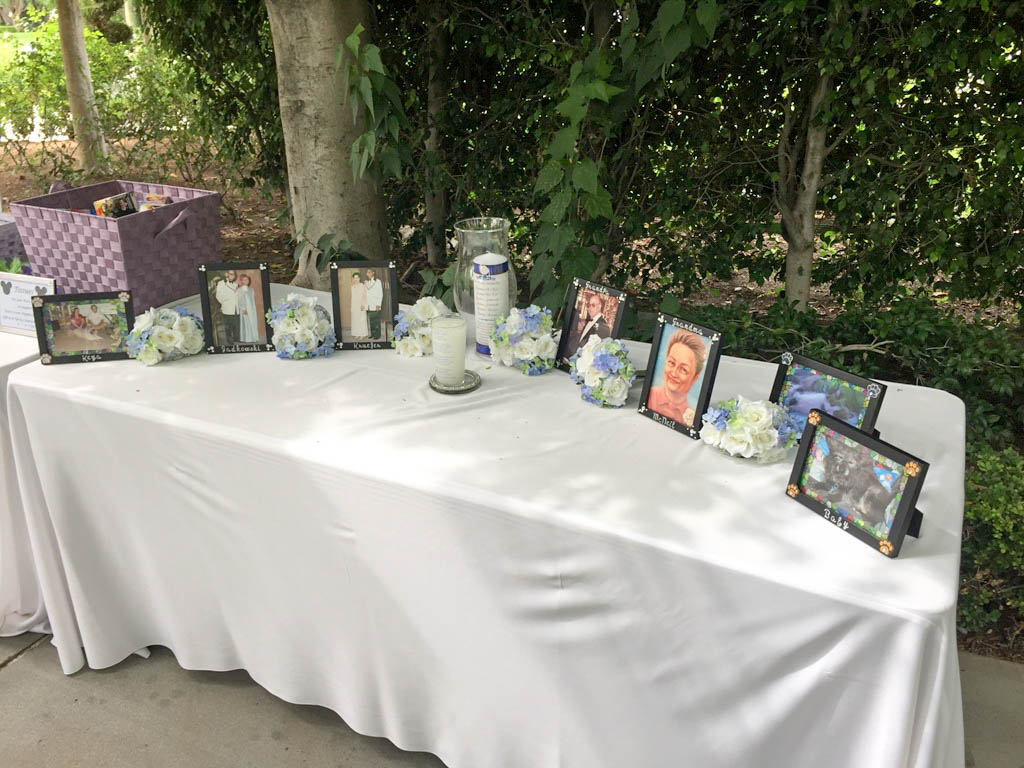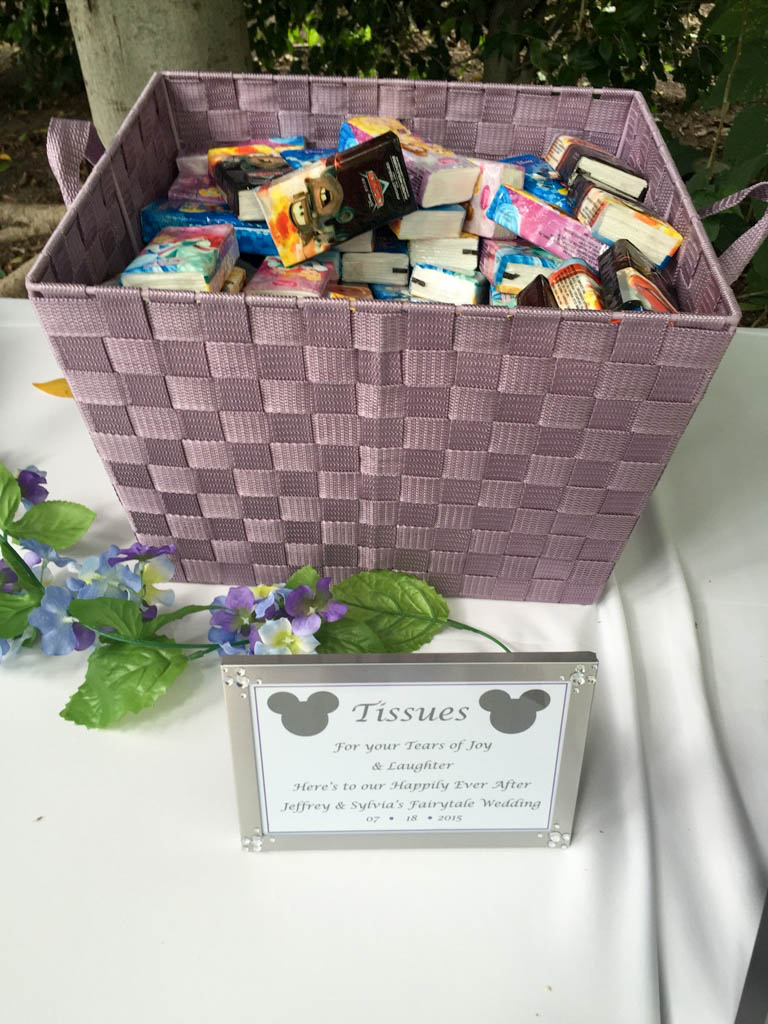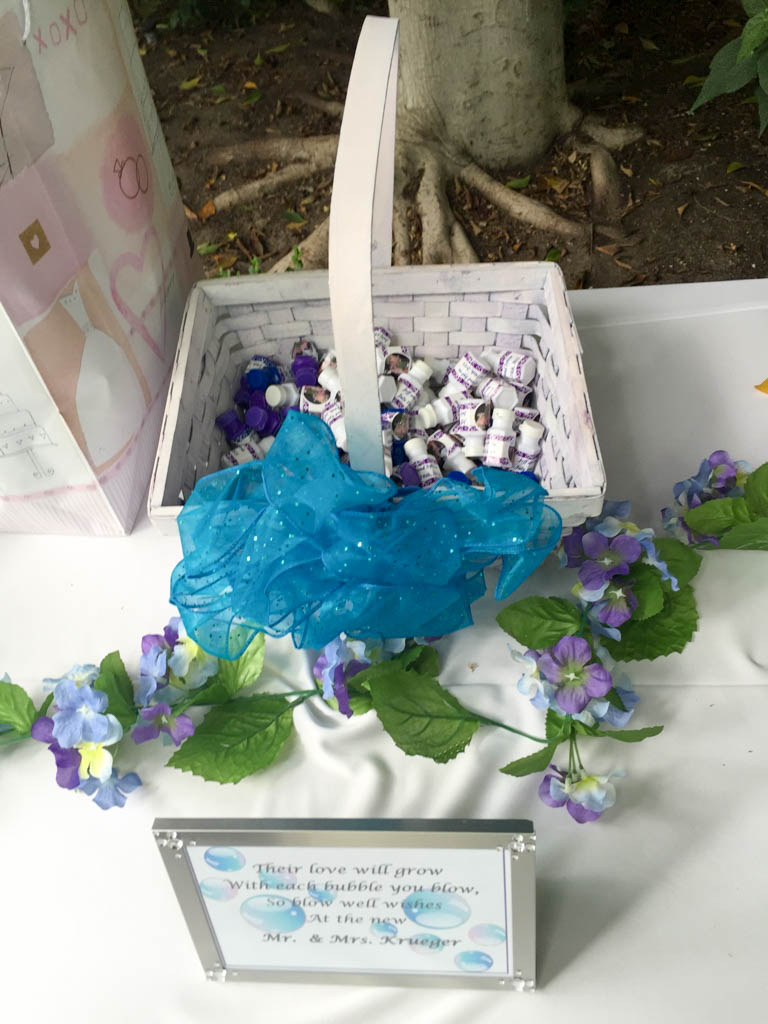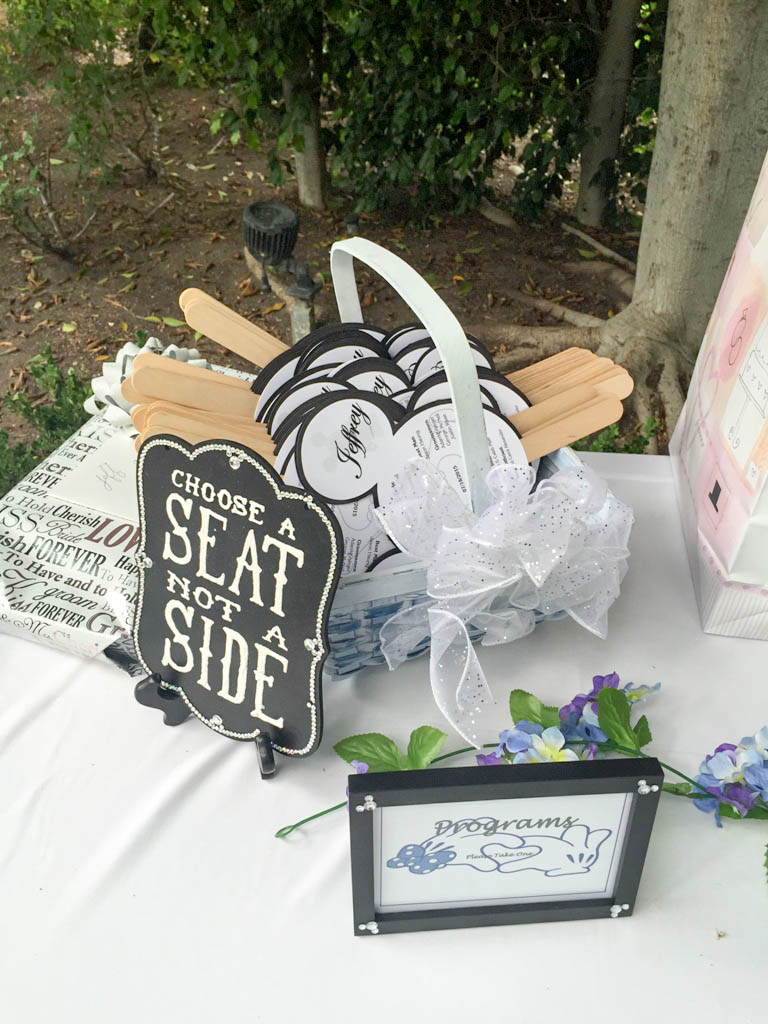 (The little tear on the program was my fault, by the way … it got caught on my purse like 2 seconds after I picked it up because I'm talented like that.)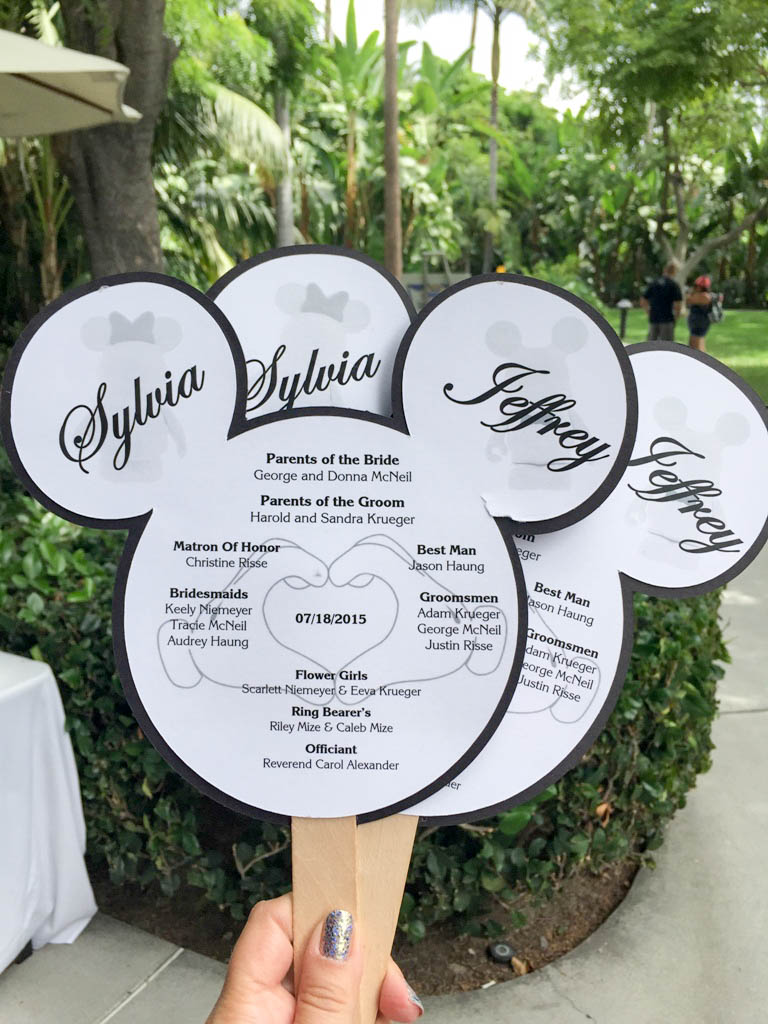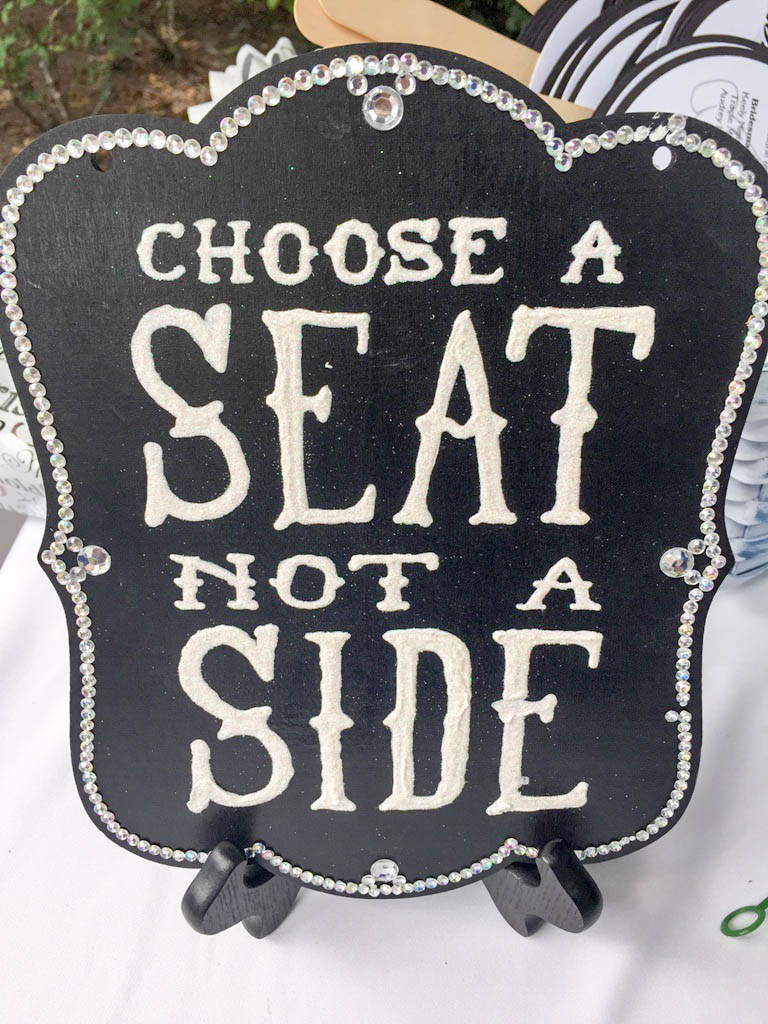 Sylvia and Jeff had a traditional guest book as well as Vinylmation guest books! Although, we found out later the Vinylmations were set here by mistake, but hopefully the couple doesn't mind my signature on their Vinyls … hehe. And do you spot the Hidden Mickeys on their card box?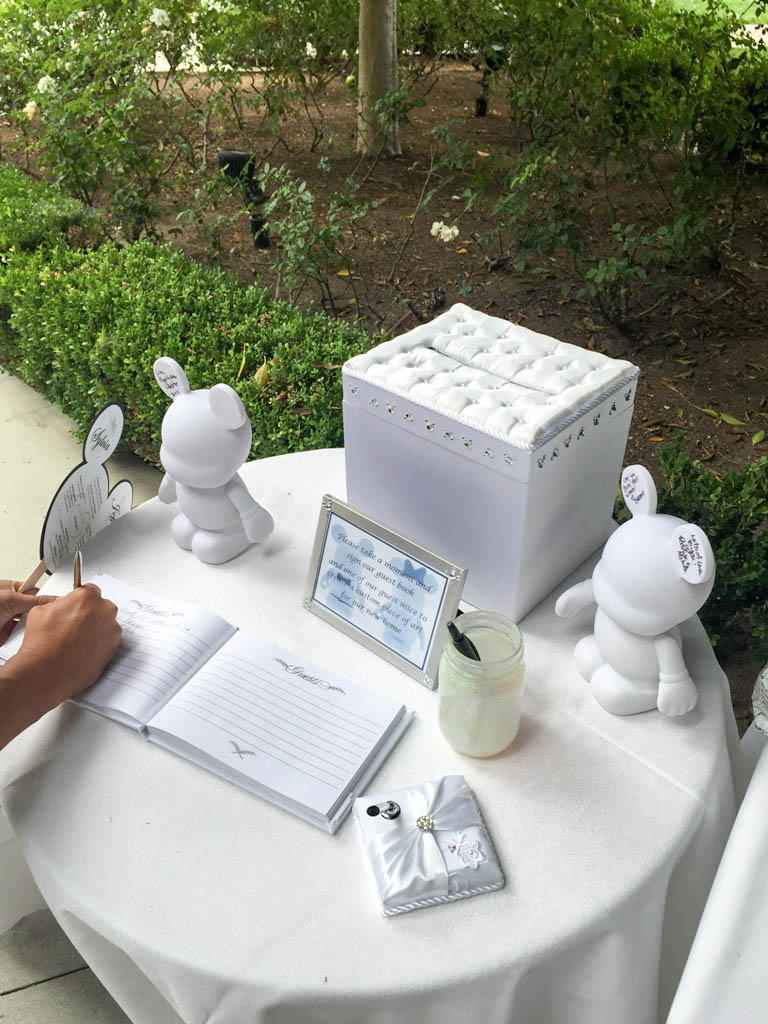 Their wedding palette was purple and royal blue, which was a stunning color combo. The decor was lovely, including the gazebo floral and beading from Disney Floral. The aisle decor was made by the couple!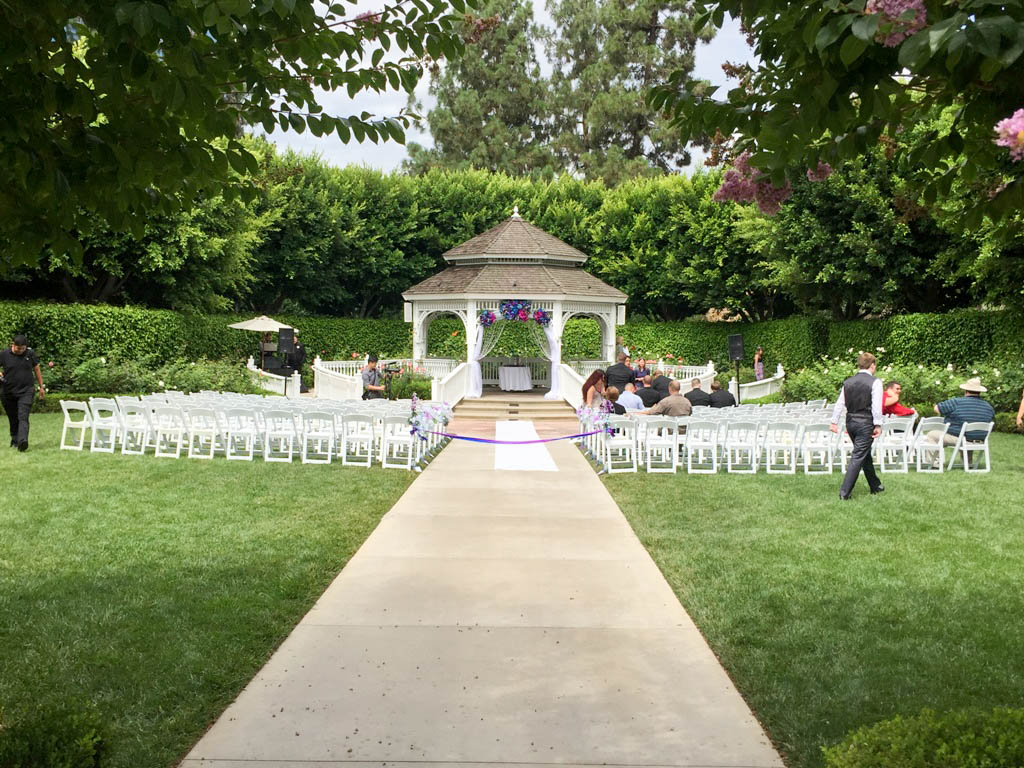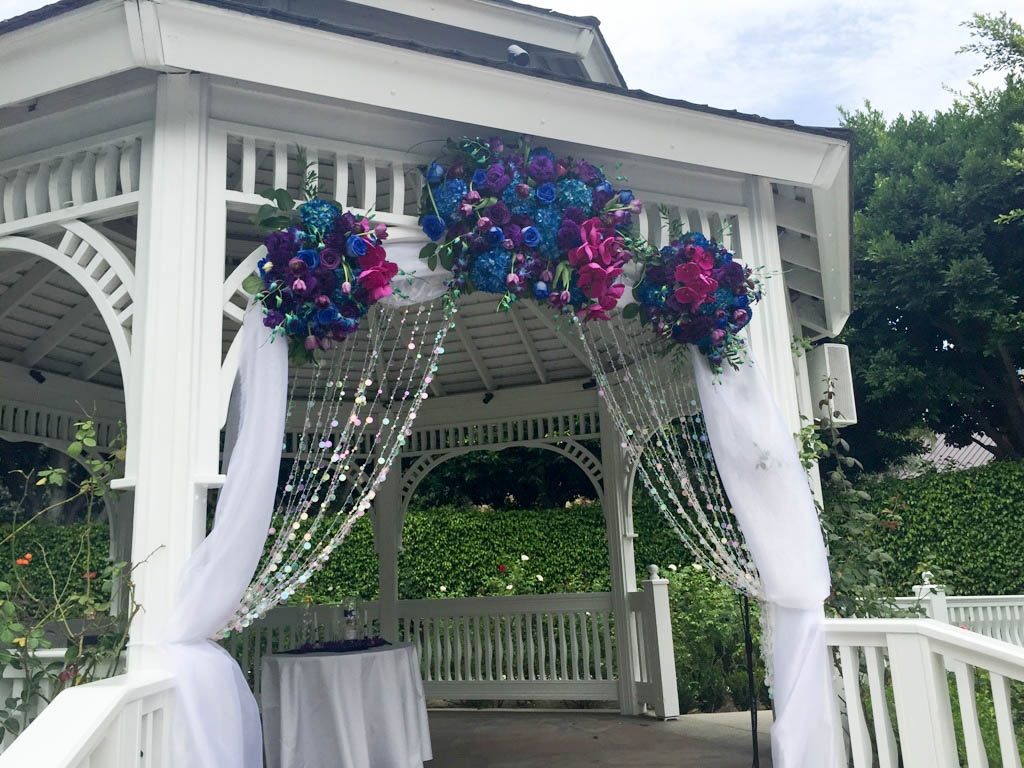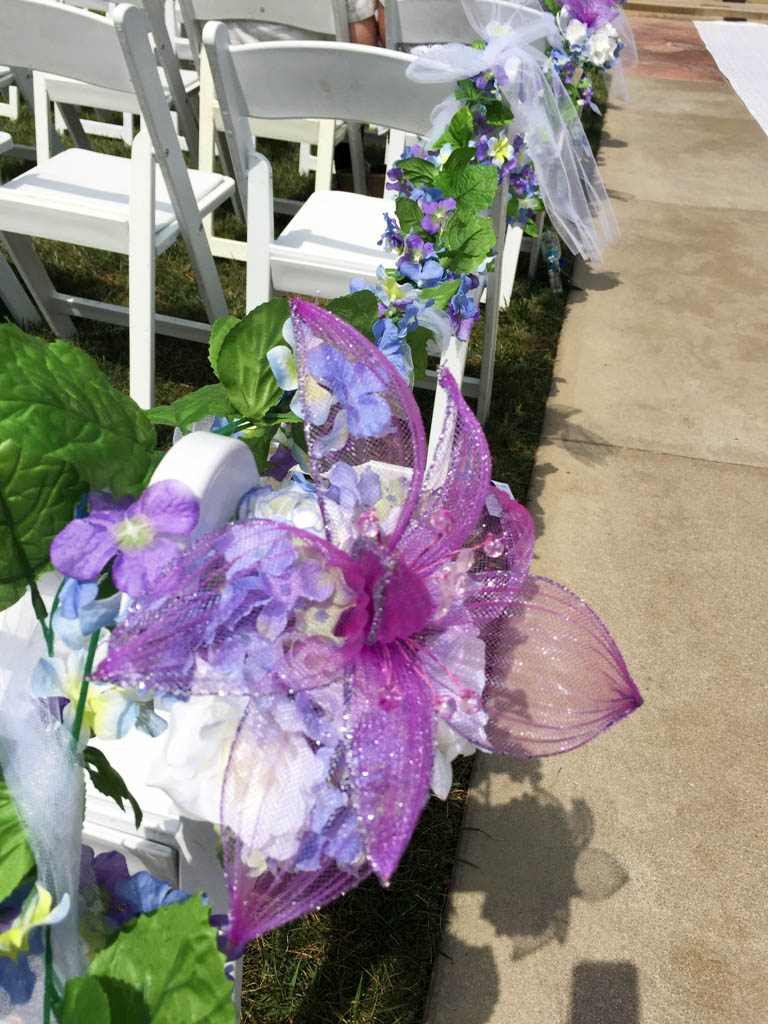 Bubble guns were placed next to all the chairs along the aisle, along with a cute note explaining when to use them.
Sylvia made her grand entrance in the Coach, announced by trumpeters! You can see in the background that the Coach always attracts a bit of a crowd!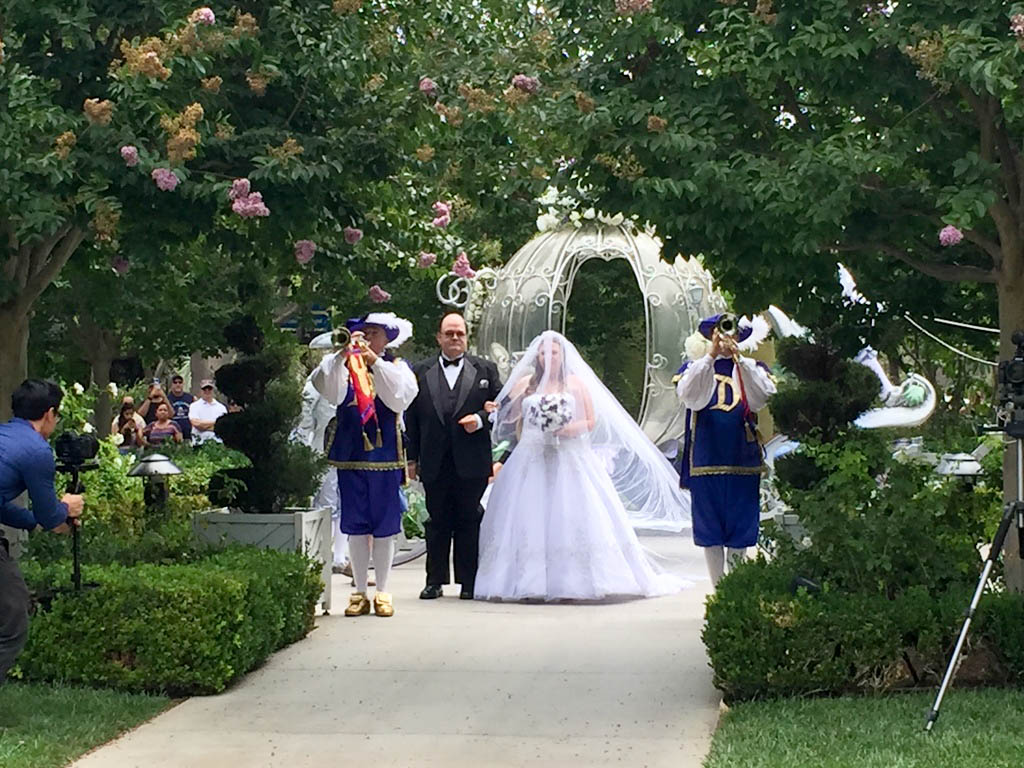 Sylvia and Jeff exchanging vows …
The Major Domo delivers the rings.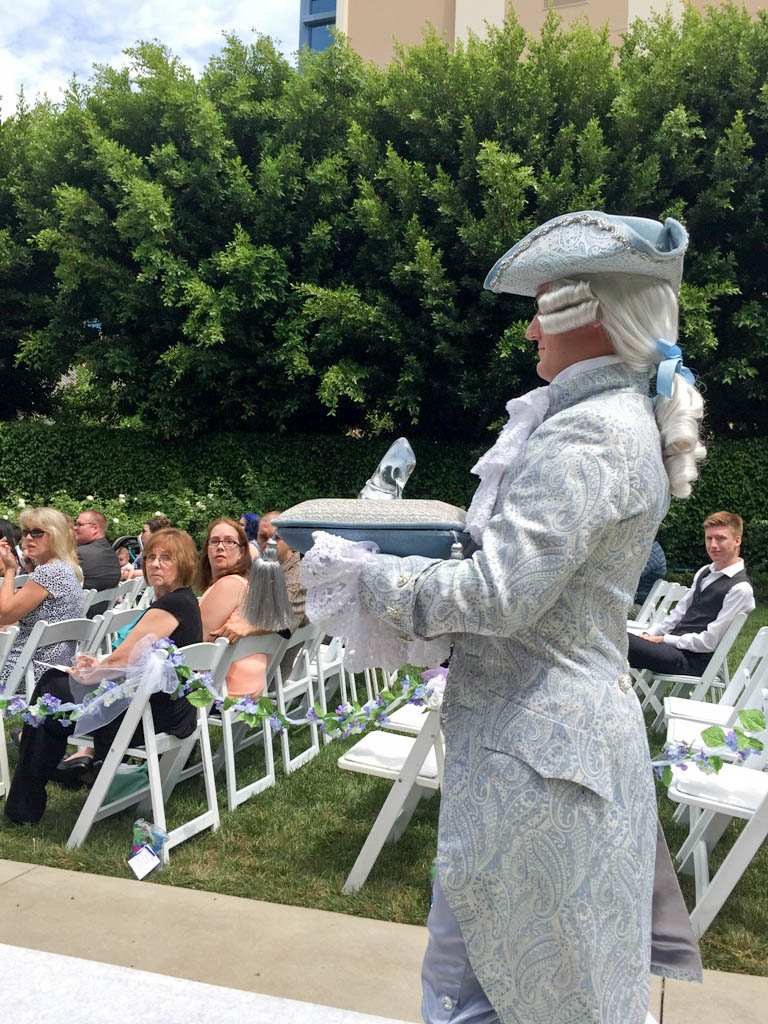 A sweet first kiss, complete with dip!
You can see the bubble guns work beautifully!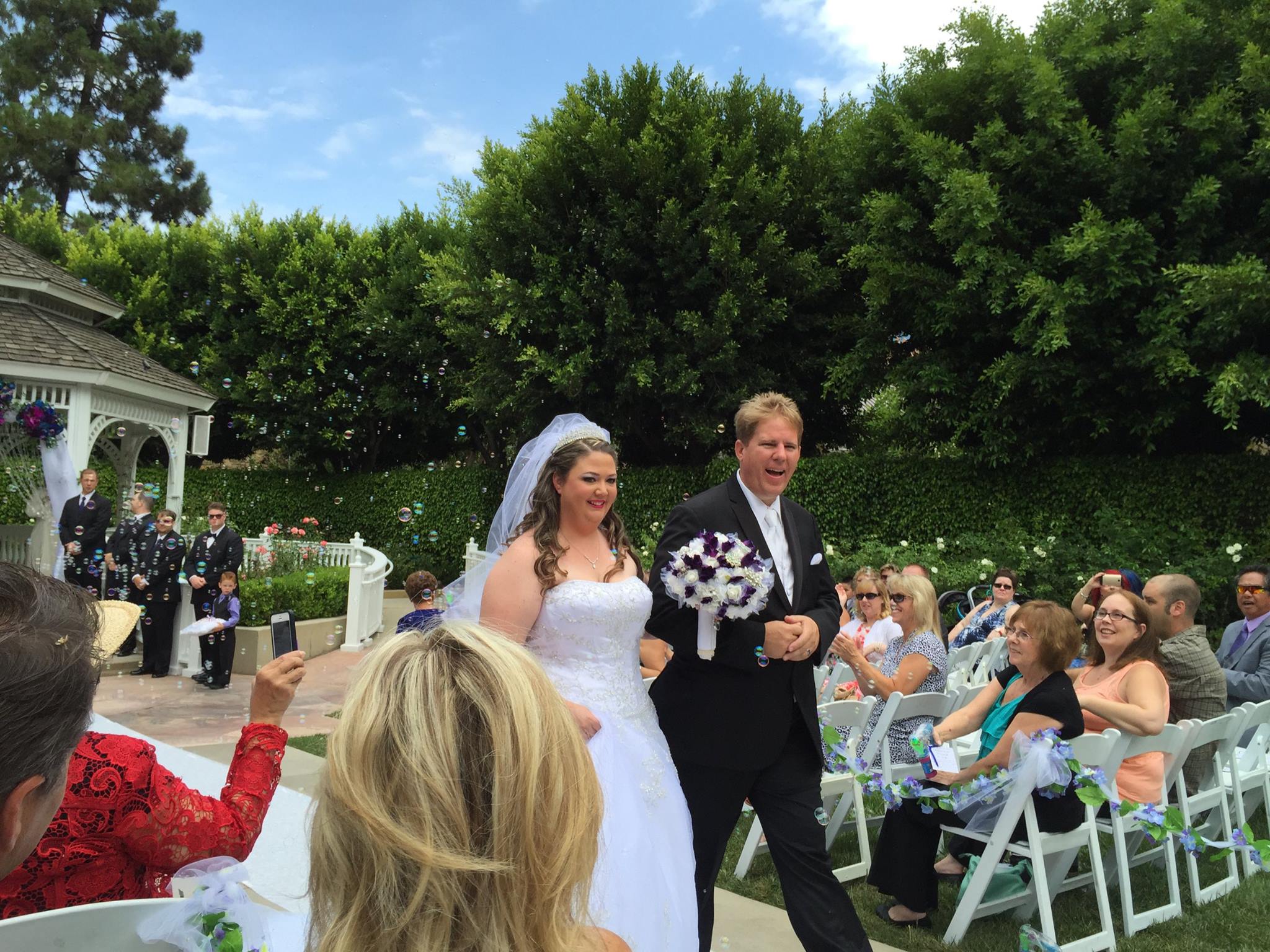 Pre-Reception was originally going to be on the Frontier Lawn, but was moved inside to the Magic Kingdom Foyer due to the threat of rain. This is the now the third Pre-Reception I've attended at this location, and a year ago I didn't even know it WAS a possible location!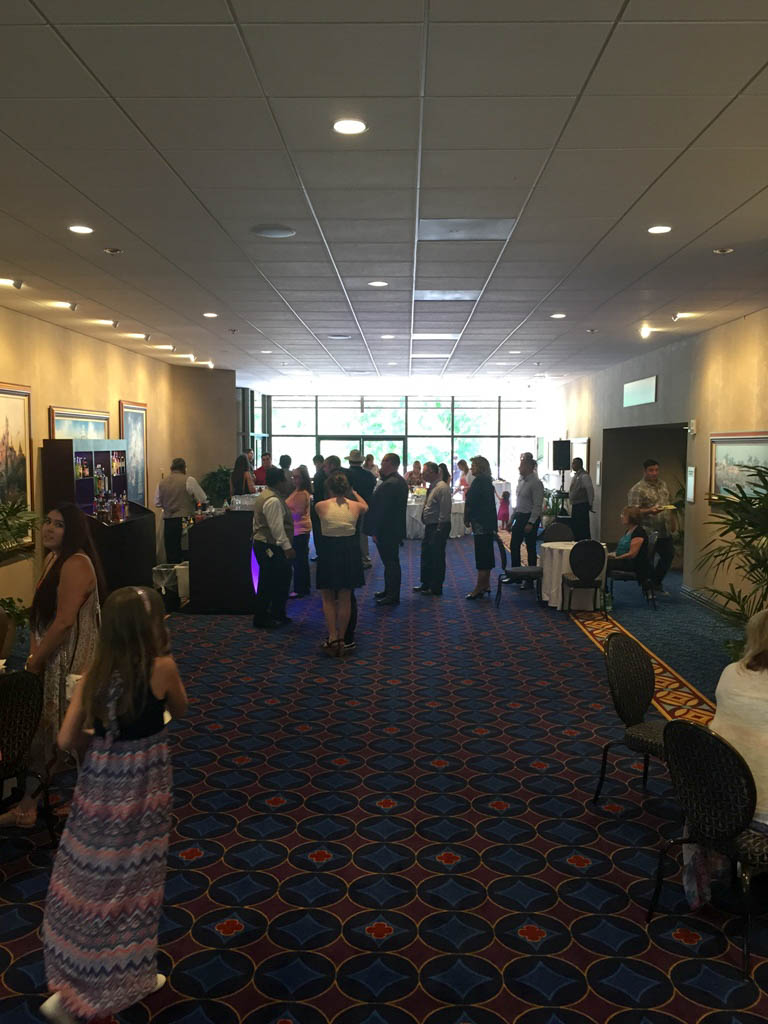 Pictured below is the "Artisan Selection" cheese plate, "Crudite's Array" vegetables and dips, and "Fresh Fruit Array." Plenty of yummy food selections for everyone!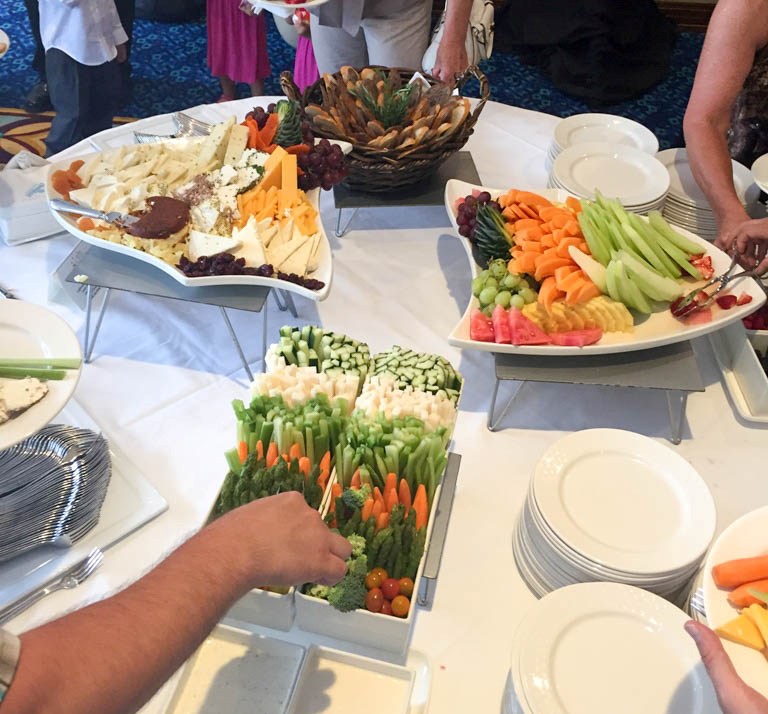 The escort cards were acrylic "glass" slippers, with DIY signs. All the tables were themed after Vinylmations (which were also the guest favors)!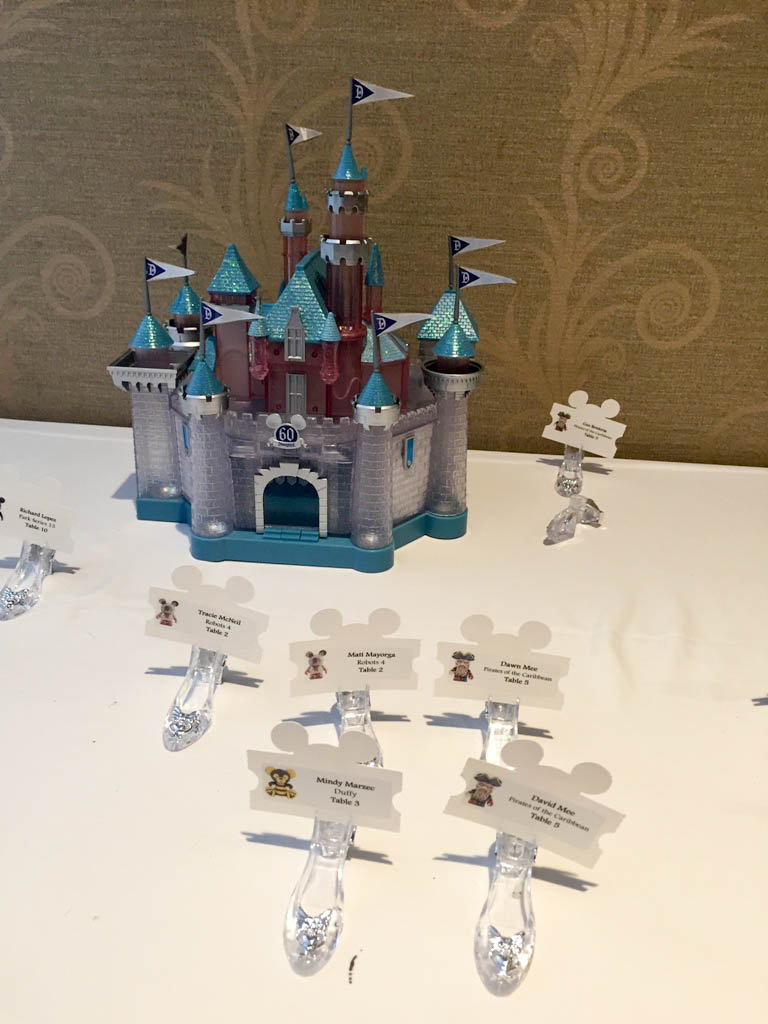 A map of the reception space was displayed to help guests find their tables. I love the super special touch of Disneyland 60 balloons tied to the easel!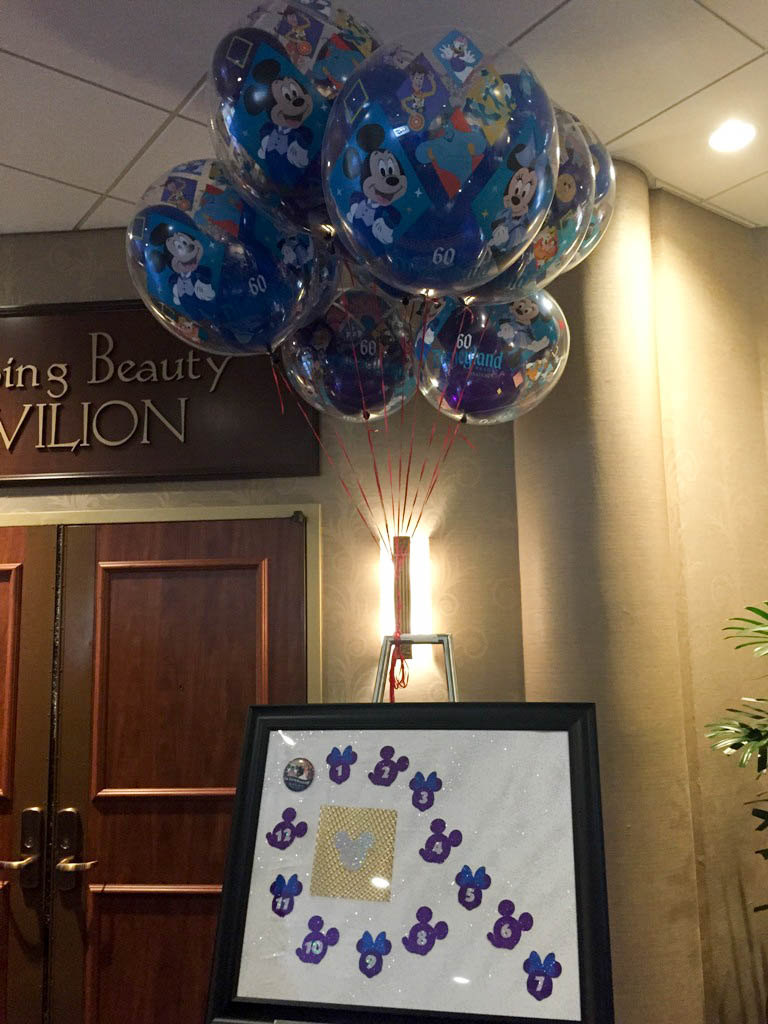 They had these cute custom buttons made with the help of a past Disneyland bride. Love that it depicts the Rose Court Garden!
The Sleeping Beauty Pavilion looked beautiful, with purple linens and blue napkins. This was the fullest I've ever seen the Pavilion, with 12 tables and about 120 guests!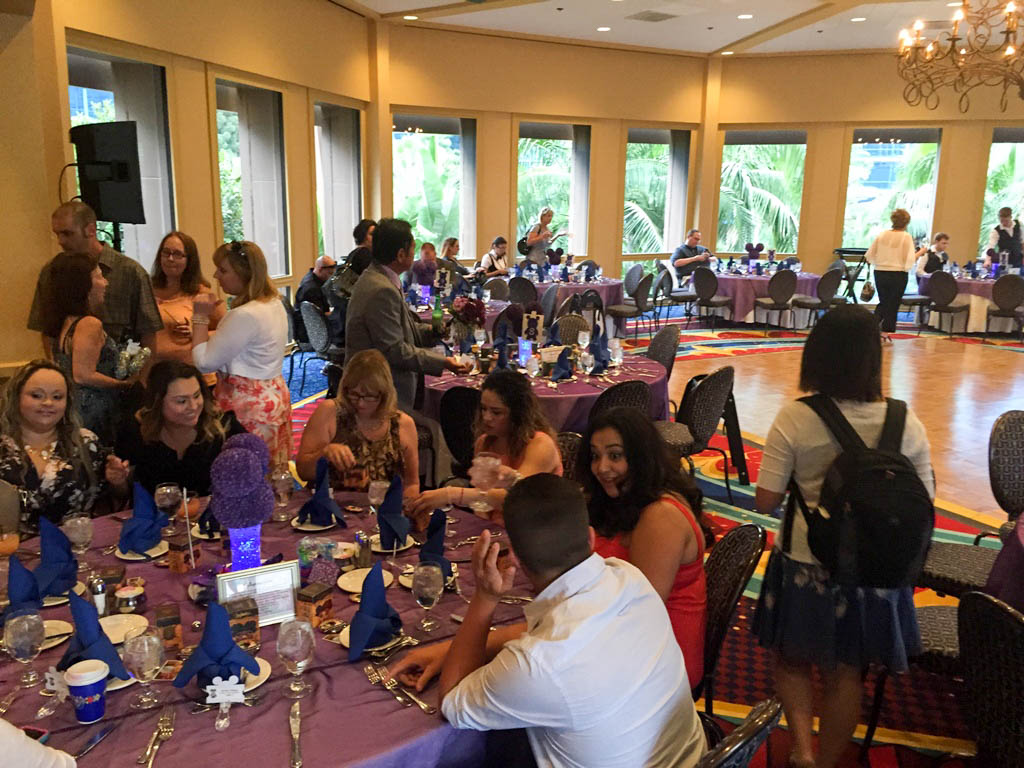 DIY table centerpieces with Water Beads and lights, and Mickey topiary! I also love the sparkle on those table numbers!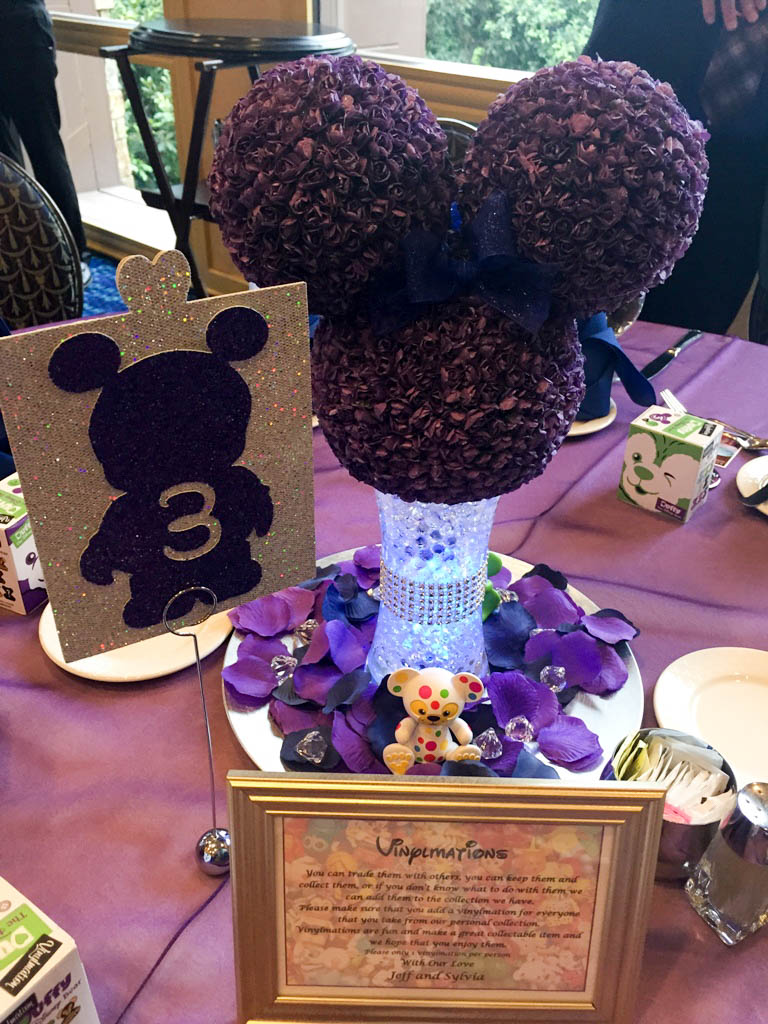 Each place setting had a Vinylmation favor (guests had so much fun trading them!), a button, and a hashtag card.
The gazebo decor re-purposed for the sweetheart table. Love those pops of pink.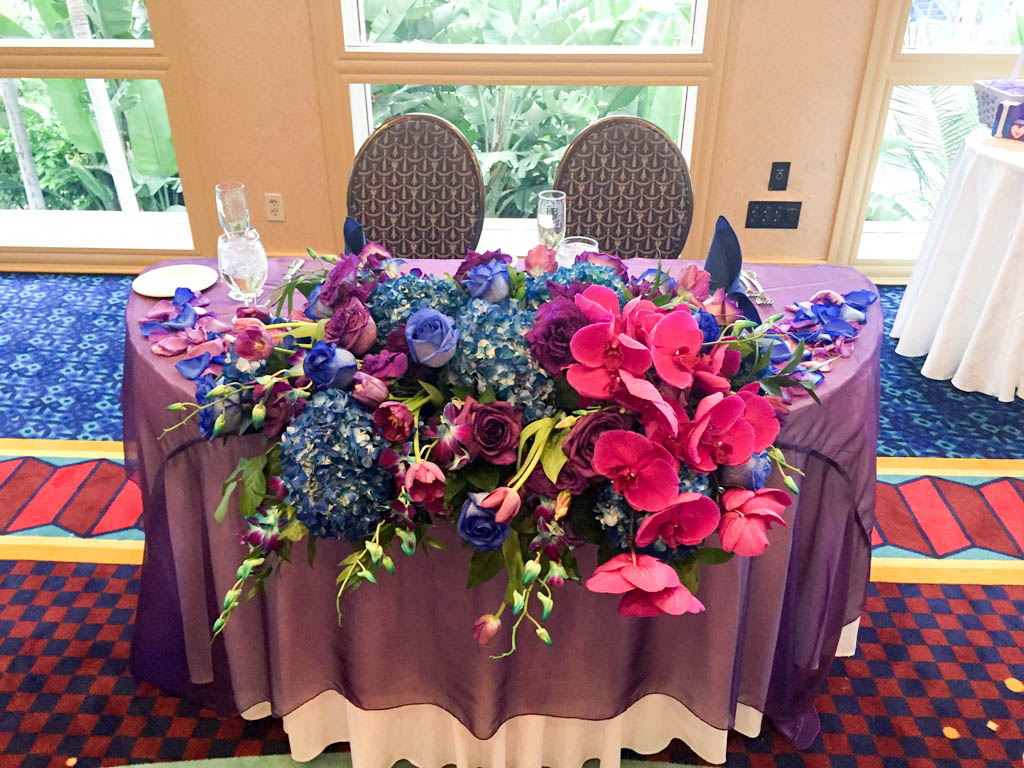 Let's talk about this cake, shall we? Isn't it so gorgeous?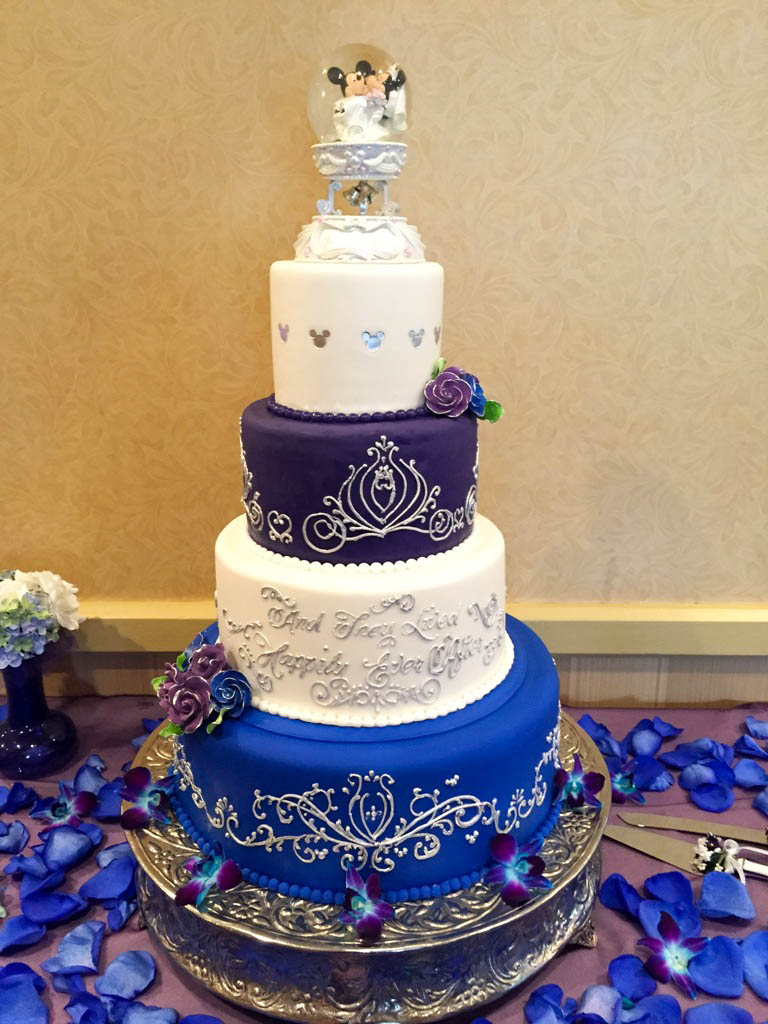 It wasn't too long before the reception got started, with Jeff and Sylvia's grand entrance and first dance to "(Everything I Do) I Do It For You" by Bryan Adams. It was such a sweet moment!
There were some lovely toasts, and then it was time to eat! I love all Disney wedding food, but the buffets are especially nice so I can pick and choose what I want, and how much!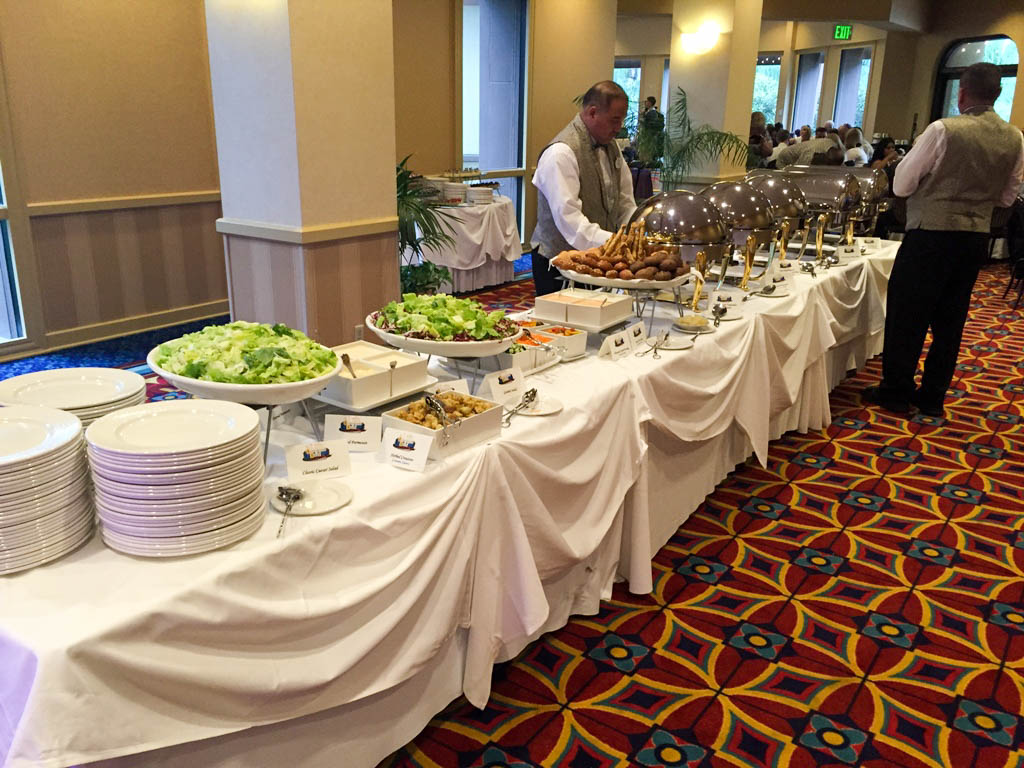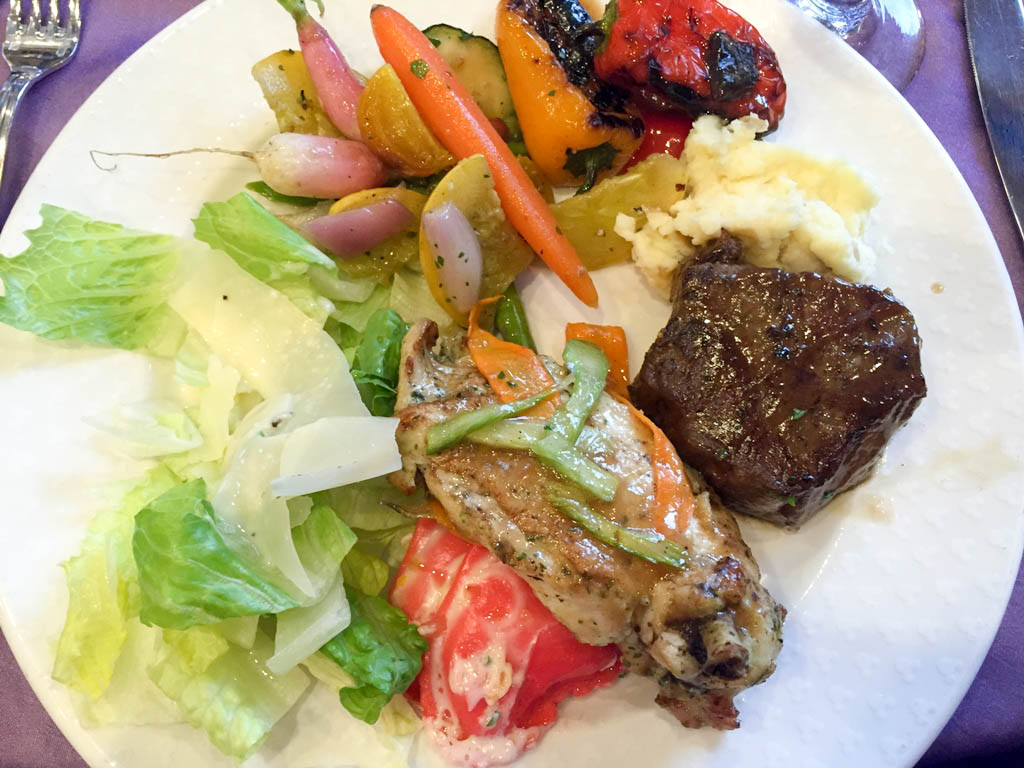 One of the best moments of the reception was when Sylvia surprised Jeff with a Yoda cake! Jeff is a huge fan of Star Wars, and needless to say, he really loved it! Disney bakery did a wonderful job with it, don't you think?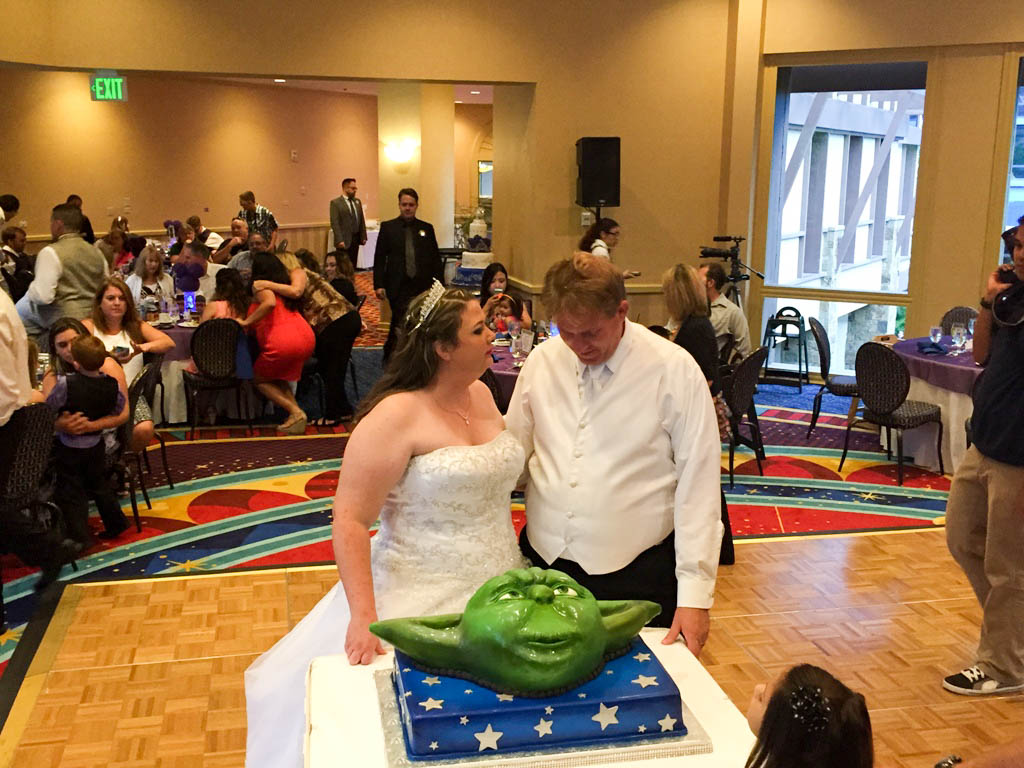 Another great moment was when special guests Mickey and Minnie arrived. After cutting the cake, they led the happy couple to the dance floor. Mickey is always such the gentleman … or should I say, gentlemouse!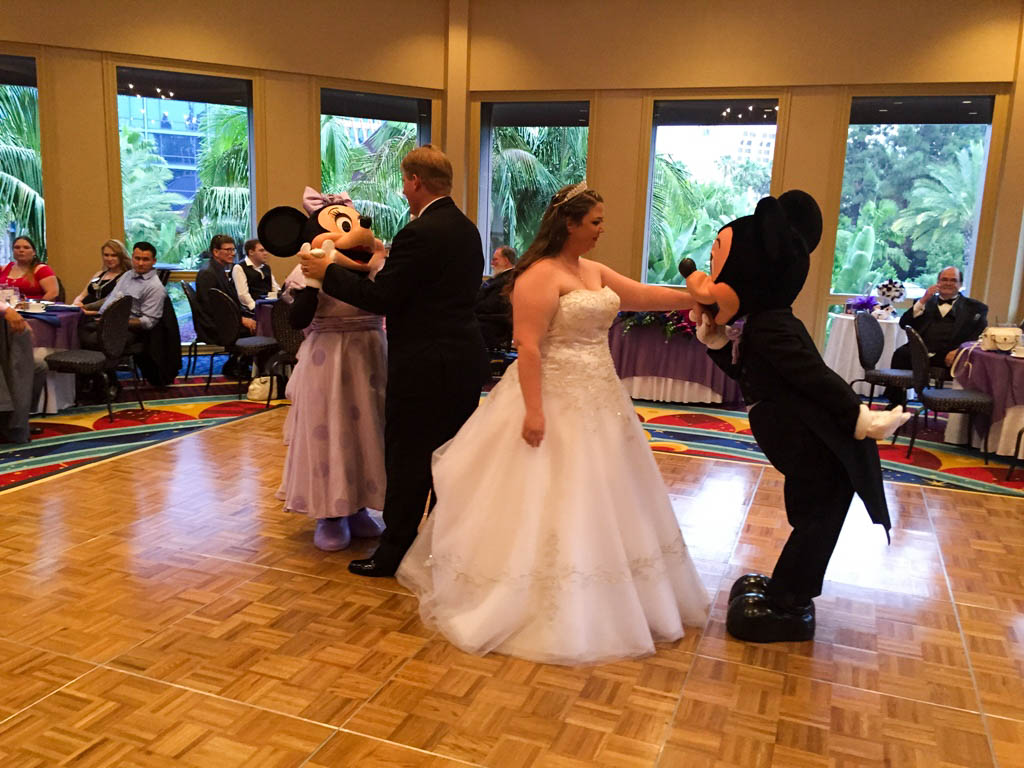 Now for the best moment of any wedding … the cake!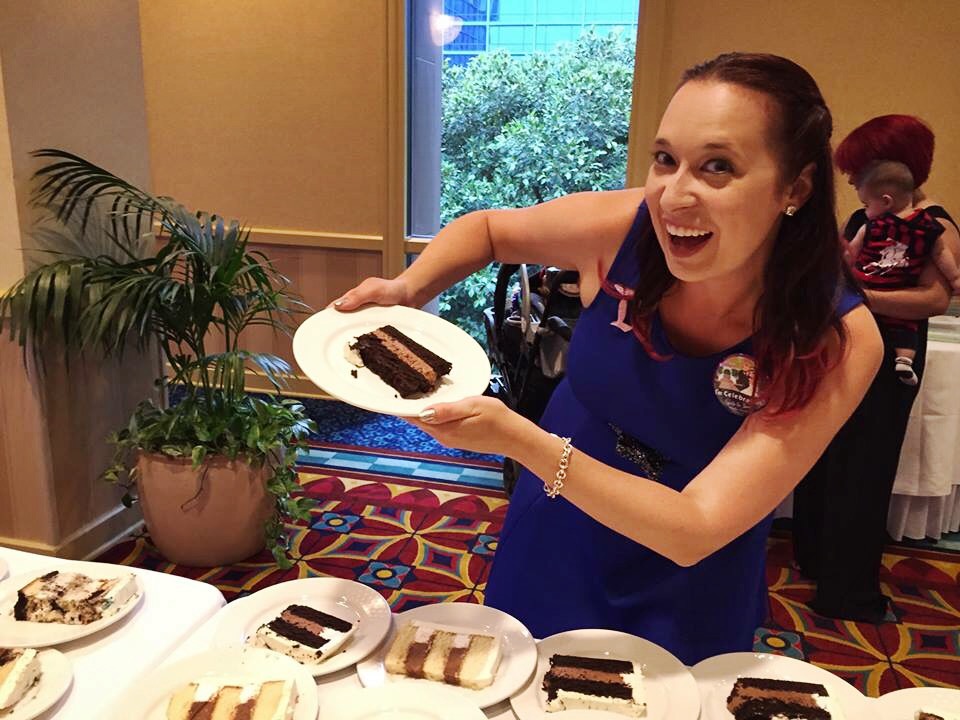 Can you tell it's my favorite? They offered three different cake flavors:
Chocolate cake with chocolate mousse filling
Vanilla cake with chocolate mousse filling
Marble cake with cookies and cream filling
They were all amazing, because all Disney cake is amazing!!!
I worked off all that cake by dancing the afternoon away! Such a fun day! Thanks so much to Sylvia and Jeff for inviting me to be a part of your fairy tale celebration.