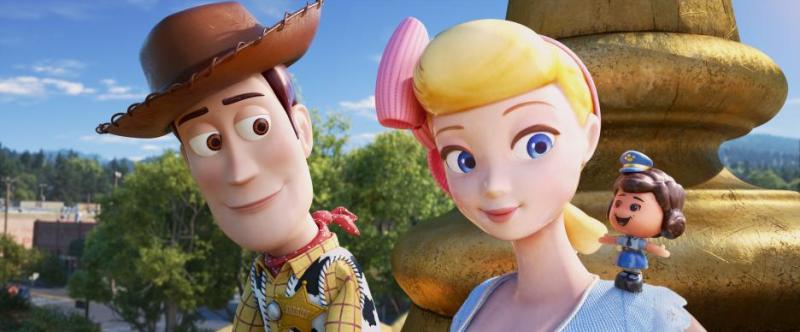 When Toy Story 4 was announced, I'll admit I had my reservations. The trilogy was iconic and the last movie had the perfect ending. Did we need more? Was there even more story to tell?
Well, I'm eating those words now because Toy Story 4 was the final chapter in the story of Buzz and Woody that we didn't realize we needed. I absolutely loved it and rank it as an equal with the other three!
TOY STORY 4 Movie Review
Official movie description:
Woody (voice of Tom Hanks) has always been confident about his place in the world, and that his priority is taking care of his kid, whether that's Andy or Bonnie. So, when Bonnie's beloved new craft-project-turned-toy, Forky (voice of Tony Hale), declares himself as "trash" and not a toy, Woody takes it upon himself to show Forky why he should embrace being a toy. But when Bonnie takes the whole gang on her family's road trip excursion, Woody ends up on an unexpected detour that includes a reunion with his long-lost friend Bo Peep (voice of Annie Potts). After years of being on her own, Bo's adventurous spirit and life on the road belie her delicate porcelain exterior. As Woody and Bo realize they're worlds apart when it comes to life as a toy, they soon come to find that's the least of their worries. Directed by Josh Cooley ("Riley's First Date?"), and produced by Mark Nielsen (associate producer "Inside Out") and Jonas Rivera ("Inside Out," "Up"), Disney and Pixar's "Toy Story 4" ventures to U.S. theaters on June 21, 2019.
Watch the trailer:

It has been 9 years since Toy Story 3 was in theaters, but when we meet our friends on screen again it doesn't seem like much time has passed at all. Bonnie is now in Kindergarten, and the whole gang is there to offer her moral support as she embarks on this new adventure.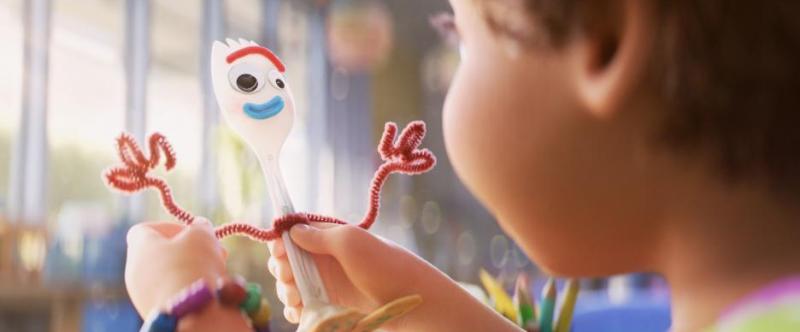 While at Kindergarten orientation, Bonnie makes a new friend – literally. Out of crafting pieces and a leftover lunch utensil she creates Forky! Forky has already become a sensation and the hype does not disappoint. Tony Hale does a brilliant job at playing the nervous and confused spork, and some of the most memorable lines of the movie come as Woody tells Forky about the toys' backstory.
Forky isn't the only new friend we meet in Toy Story 4. There are a bunch of new characters, all equally great. I was most excited about Ducky and Bunny since I love Keegan Michael Key and Jordan Peele, who provide the voices. They did not disappoint! I was worried they wouldn't be in the movie very much but they had plenty of screen time. Can we get some kind of Ducky and Bunny spin-off, please Disney???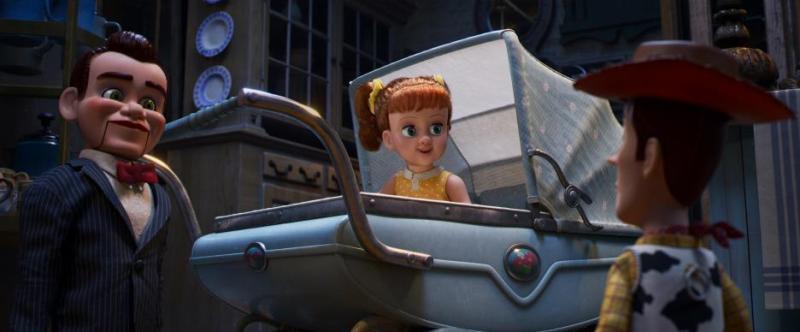 During their adventures the gang also meets Gabby Gabby, voiced by Christina Hendricks. It turns out Woody has something Gabby Gabby desperately wants, and she'll do just about anything to get it. Luckily, Duke Caboom, Canada's beloved stuntman and voiced by the Internet's current boyfriend, Keanu Reeves, is on hand to save the day.
And of course, there's the return of Bo. Bo Peep and her sheep have been on their own for a while and Bo has had to learn to live out in the wild without a kid. She has become a little bit of an action figure, but still made of porcelain. As you can imagine, this causes some … issues. But Bo has got everything under control with the help of a tiny but mighty friend, Giggle McDimples (voiced by Ally Maki).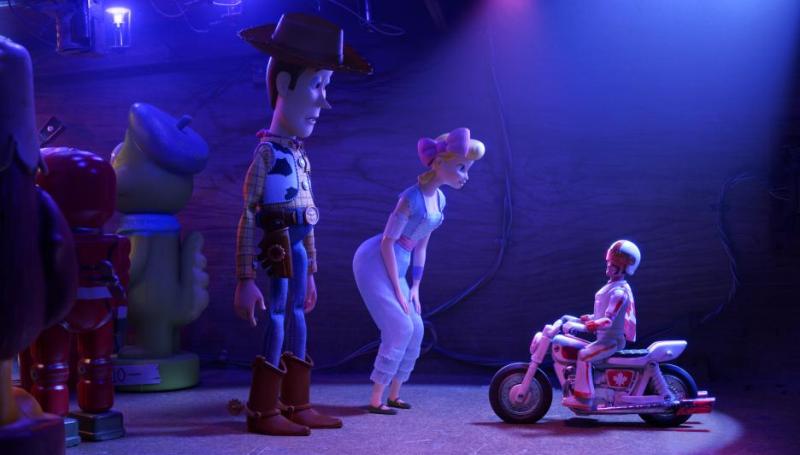 It's tough to talk about Pixar movies without mentioning the animation. The quality is so good and so detailed. The opening scene is during a rain storm and the rain feels so real, it's tough to believe it's all animated. The technology and the artists keep getting better with each movie, and Toy Story 4 is no exception. Do your best to let your eyes wander during the antique shop scenes, and you'll be rewarded with lots of Easter eggs from past Pixar films.
Toy Story 4 has all the action, adventure, and heart of the first three, or of any Pixar movie. Be prepared for an emotional ending that really does feel like a final farewell to the gang we've known and loved for over 20 years.
And be sure to stay in your seats during the entire credits for a fun bonus scene!
TOY STORY 4 is rated G and is in theaters June 21, 2019!