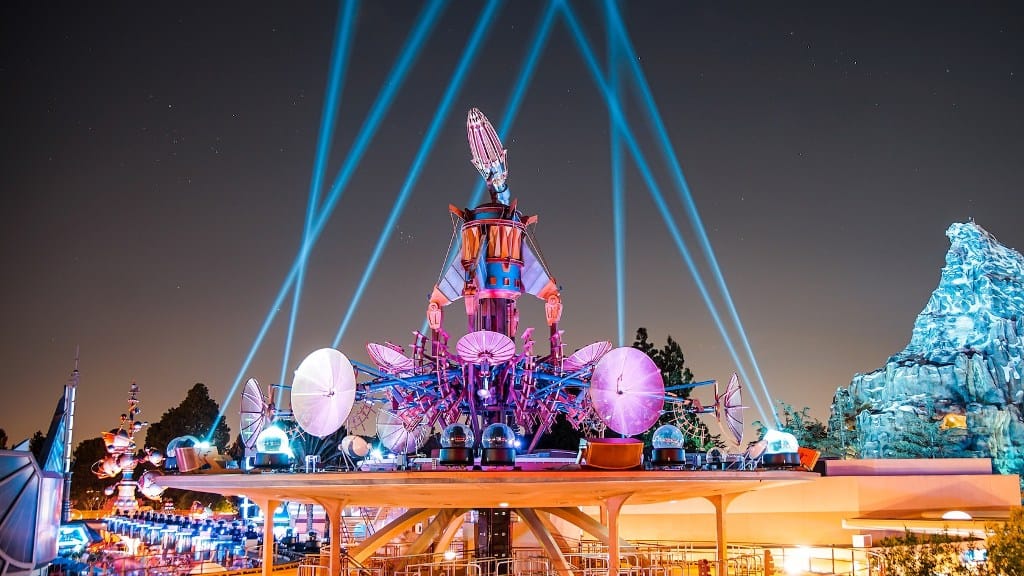 Experience tomorrow, today, in a fun new way! Disneyland Resort just announced the Tomorrowland Skyline Terrace is reopening for Guests on May 20, 2022.
Tomorrowland Skyline Terrace provides Guests with memorable and unique experience during their visit at Disneyland Park, and is a great way to escape the crowds and wind down after your busy day.
All About Tomorrowland Skyline Terrace at Disneyland Resort in California
What is Tomorrowland Skyline Terrace?
Tomorrowland Skyline Terrace is a semi-private experience located on a second floor balcony at the Star Wars Launch Bay building. Guests are treated to dinner, dessert, all-you-can-drink soft drinks and hot chocolate, and unique views of Disneyland Park.
For nights where there are fireworks, Guests can view the fireworks from Tomorrowland Skyline Terrace. (Fireworks performance is subject to cancellation.)
The Tomorrowland Skyline Terrace (formerly Tomorrowland Skyline Lounge) first opened in 2017. That that time, Guests were granted access to the terrace for a two hour block and were seated at either a high top table or lounge furniture where they could charge their phone free of charge, and/or play board games.
When it first opened, the terrace ticket included a dessert box and unlimited drinks. With the reopening of the terrace in 2022, Guests will now receive dinner and a dessert, along with the unlimited drinks. (Note – there is no alcohol served at this event.)
Along with the terrace experience itself, if fireworks are happening that evening you'll have a nice view, although you won't be able to see the projections on Sleeping Beauty Castle.
And characters have been known to drop by to visit with Guests!
Disneyland makes it very clear that all experiences and offerings are subject to change, so don't purchase a ticket for Tomorrowland Skyline Terrace just to see fireworks or get a private audience with Mickey.
For a group of friends who want a unique Disneyland experience, I think this could be pretty cool. I can't wait to check it out for myself!
Where do you check in?
On the day of your lounge reservation, check in at Galactic Grill at window 1, or at the Tomorrowland Skyline podium near the entrance of Alien Pizza Planet.
How long does the visit last?
Your experience at Tomorrowland Skyline Terrace will start based on the time of your reservation. In the past, the terrace closed at 10pm. I am unsure if that will be the same in 2022.
How much does Tomorrowland Skyline Terrace cost?
Price is $60 per person, which includes. You will also need standard theme park admission, which is separate, and a theme park reservation.
What is the cancellation policy?
You can cancel your reservation 2 days prior to your visit. If you fail to cancel at least 2 days prior to your visit, your credit card will be charged for the full price per person.
How do you make reservations for Tomorrowland Skyline Terrace?
Visit the Disneyland website to make your reservations. You will select the date you wish to go, then will be prompted to pay for your tickets. You can make reservations up to 60 days in advance. Be aware weekends and holidays may fill up quickly! If you search for your desired date and it returns no results, it may be already sold out.
Remember, you must also have seperate theme park admission and a park reservation as well. Making a reservation for Tomorrowland Skyline Terrace does not automatically give you a theme park reservation!
Click here to read everything you need to know about visiting Disneyland in 2022.
Is alcohol served at Tomorrowland Skyline Terrace?
No, alcohol is not served at Tomorrowland Skyline Terrace. There are three places inside Disneyland Park where Guests can consume alcohol: Oga's Cantina in Star Wars: Galaxy's Edge, Blue Bayou restaurant, and the members-only Club 33.
Need to Know Information about Tomorrowland Skyline Terrace
Children 3 and older need their own ticket. Children 2 and younger are free. Please note strollers are not permitted in the lounge.
Seperate theme park admission and reservation required.
Same-day reservations may be limited and subject to availability.
Be aware Guests may be seated at tables with other parties.
Note any special dietary requests when you make your reservation, or call Disneyland Dining a few days prior to your visit. The phone number is 1-714-781-DINE.