Did you know you can get a Thanksgiving feast at The Disneyland Resort?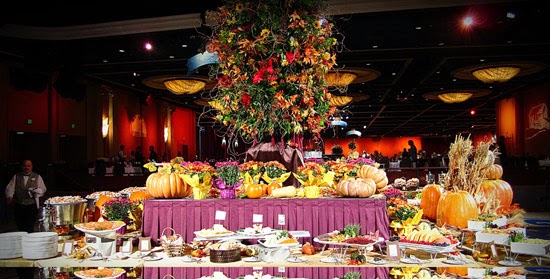 Every year, The Disneyland Hotel offers a huge Thanksgiving buffet inside one of their amazing ballrooms.  The feast includes "Thanksgiving favorites such as carved roasted breast of turkey and prime rib, served with homemade stuffing, sweet potato soufflé, fresh cranberry-orange relish and smashed potatoes and gravy," according to the Disney Parks Blog. They also offer a selection of salads, cheeses, seafood, and of course desserts, including a chocolate fountain! Tickets are available for $79.99 for guests 10 years and older, and $29.99 for guests 3-9 years (not including tax/gratuity). Guests under 3 years are free. A full bar and wines by the bottle will also be available for separate purchase. I have never enjoyed the Thanksgiving buffet at The Disneyland Hotel but I would love to try it someday!
Several other restaurants around The Disneyland Resort are offering special Thanksgiving dishes on Thursday, including:
Turkey pot pie soup in a bread bowl at Pacific Wharf at Disney's California Adventure
Wine Country Trattoria is serving herb-roasted turkey with Yukon mashed potatoes, herb focaccia stuffing, haricot vert, orange-cranberry relish and pumpkin pie for lunch and dinner.
Carnation Café on Main Street, U.S.A., will offer oven-roasted turkey breast, bourbon gravy, cornbread stuffing and pumpkin pie for lunch and dinner.
Blue Bayou is offering slow-roasted turkey roulade with truffle stuffing, roasted garlic Yukon Gold mashed potatoes, cognac turkey gravy, cranberry relish and pumpkin crème brulée for lunch and dinner. *wipes drool off keyboard*
And if the buffet isn't your thing, stop by Steakhouse 55 at The Disneyland Hotel on Thanksgiving night. They are offering a three-course dinner, starting with butternut squash soup or crispy shredded skirt steak with maple clabbered cream. The entrée is roasted turkey Wellington with brioche stuffing, cranberry compote, Swiss chard and wild mushroom gravy. Dessert is sweet potato s'mores with sweet potato cheesecake and salted caramel marshmallow with dark chocolate sauce. Holy moly, that's a Thanksgiving MEAL.
Hungry yet?  You can read about even more Thanksgiving special offerings over at The Disney Parks blog, and then make your reservations by calling 714-781-DINE.
On a serious note, Thanksgiving and Christmas can be a rough time for some people.  With lots of focus on love, family, and togetherness, for a multitude of reasons some people may feel left out and down on themselves.  I know because I have been there.  If you're feeling down on Thanksgiving, reach out to me and say hello!  And remember that whatever you're feeling about yourself is all in your head.  Now go out there and devour an entire pumpkin pie.  I promise it will make you feel better.