For years you would hear me say, "I'm not a Marvel person." I didn't have anything against the franchise, I just wasn't into superheroes and action movies and all that jazz. When Disney acquired Marvel I was like, "meh." The first Marvel movie I watched was actually Ant-Man because, well, Paul Rudd. Am I right, ladies? So when I had the opportunity to see an advanced screening of Doctor Strange I was like, "Well there's no Paul Rudd but I like Rachel McAdams so, alright."
So after loving Ant-Man and after watching Doctor Strange, I am here to announce: I am a Marvel person. I'm not all in yet, I need to see a few more movies because I stand in a 40 minute line to meet Captain America or before I'm on board with Marvel attractions invading DCA. But, yes … I am a Marvel person. You heard it here first.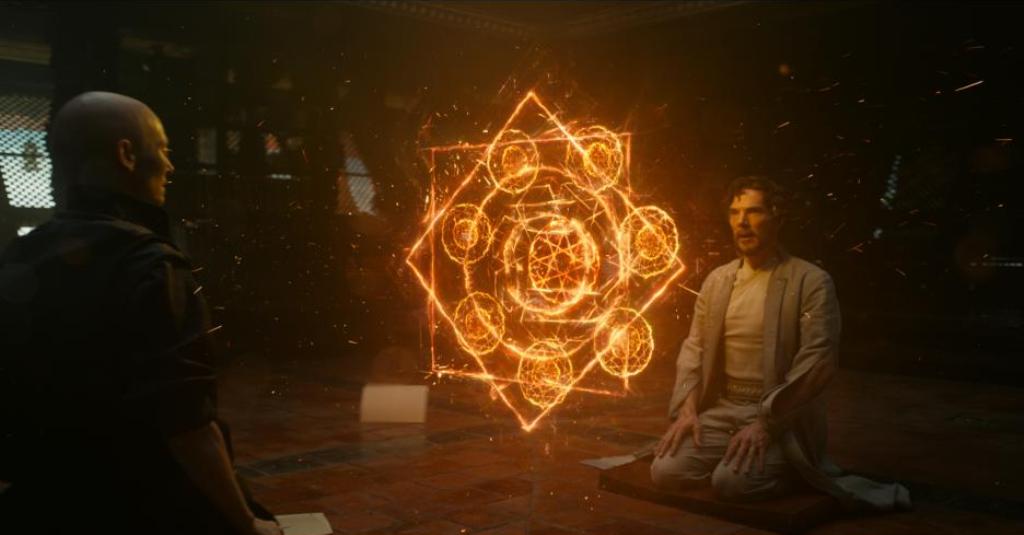 I went into the viewing of Doctor Strange knowing LITERALLY nothing about the plot. I knew the title character wore a cape because I saw it on the poster and I knew it was about magic somehow and magic generally makes me roll my eyes. But I can tell you there was no eye rolling on my part while watching this movie. It was AMAZING.
If you are also not familiar with the story of Doctor Strange, here is the official movie description:
From Marvel Studios comes "Doctor Strange," the story of world-famous neurosurgeon Dr. Stephen Strange whose life changes forever after a horrific car accident robs him of the use of his hands. When traditional medicine fails him, he is forced to look for healing, and hope, in an unlikely place – mysterious enclave known as Kamar-Taj. He quickly learns that this is not just a center for healing but also the front line of a battle against unseen dark forces bent on destroying our reality. Before long Strange – armed with newly acquired magical powers – is forced to choose whether to return to his life of fortune and status or leave it all behind to defend the world as the most powerful sorcerer in existence.
And watch the trailer here:

While the story may sound like every origin story ever – unlikely hero has life changing incident that ultimately gives him magic powers and he must learn to change his ways to save mankind, blah blah – this movie is much different. The visual effects in this movie, which include opening portals into other dimensions and cityscapes folding in on themselves, are so well done it really does convince you there's a whole other dimension of mystic beings who are constantly battling each other so all of us in this dimension can enjoy mocha lattes and shopping sprees at Target in peace. The movie reminded me a lot of Inception, which honestly hurt my brain but also made me say, "Whoa, cool," a lot. This movie also hurt my brain, but not as much because somehow I find the idea of a mystical secret dimension more believable than people having control over their dreams. (By the way, my husband is one of those people who knows when he is dreaming and he can just, like, change what happens. HOW DO YOU LEARN TO DO THAT. Meanwhile I have dreams every night where I'm confronted by all of my ex-boyfriends at once and they chase me until I'm forced to jump off a cliff.)
The movie stars Benedict Cumberbatch as Doctor Stephen Strange, who I initially thought was an odd choice for a superhero-type as I was only familiar with his work from the amazing movie Imitation Game. But I happily admit I couldn't have been more wrong. Cumberbatch mastered the role of the egocentric Strange, who unwittingly finds himself in the center of a battle between good and evil.
Tilda Swinton plays The Ancient One, who becomes a master to Strange and teaches him to use and develop his newfound powers. Swinton plays her role with impressive precision and authority; it doesn't take long to understand why she was chosen for this role.
Rachel McAdams is Christine Palmer, an ER doctor who works alongside Strange. It's clear from the beginning the two have had a tumultuous past. While her character is strong, I wish we could have seen a little more from her. I suppose that is what sequels are for.
Mads Mikkelsen, Chiwetel Ejiofor, and Benedict Wong round out the stellar and diverse main cast.
In case it hasn't been clear, I really enjoyed this movie. This is one of the rare films I will encourage you to see in 3D because it significantly adds to the special effects of time/space traveling and building-morphing trickery. Also don't blink or you'll miss Benedict's abs. Give us more superhero abs, Marvel!!
Doctor Strange opens in theaters across the US on Friday November 4, 2016. It is rated PG-13 for some pretty intense fantasy violence that might be a little too much for younger viewers.
For more behind-the-scenes of this awesome movie, check out my interviews with the cast and creators of Doctor Strange!