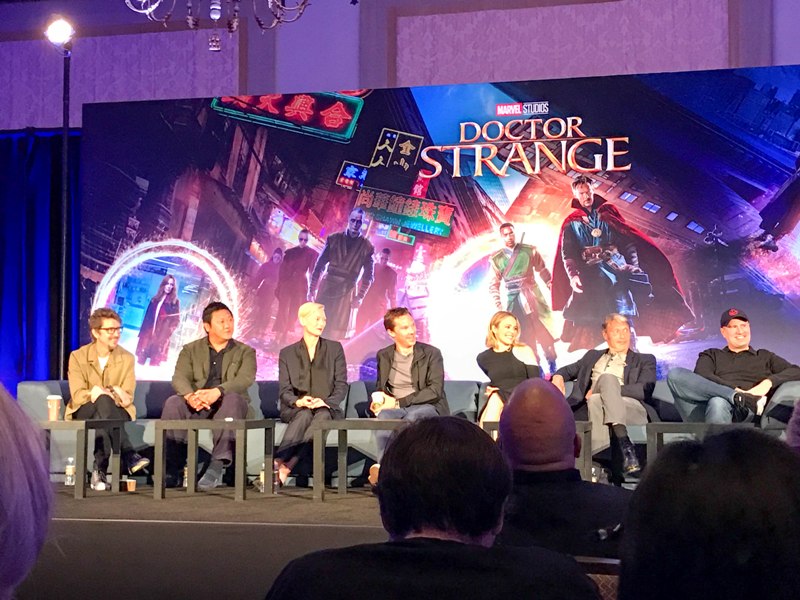 A couple weeks ago I had the pleasure of attending a press conference with the cast and creators of Doctor Strange, the latest movie in the Marvel Universe. I'll be posting my usual review later on in the week, but for now I want to give you a little insight about the movie directly from the people involved with making it!
In case you're not familiar with the story of Doctor Strange (as I was not before screening the movie), here is the official movie description:
From Marvel Studios comes "Doctor Strange," the story of world-famous neurosurgeon Dr. Stephen Strange whose life changes forever after a horrific car accident robs him of the use of his hands. When traditional medicine fails him, he is forced to look for healing, and hope, in an unlikely place – mysterious enclave known as Kamar-Taj. He quickly learns that this is not just a center for healing but also the front line of a battle against unseen dark forces bent on destroying our reality. Before long Strange – armed with newly acquired magical powers – is forced to choose whether to return to his life of fortune and status or leave it all behind to defend the world as the most powerful sorcerer in existence.
And watch the trailer here:
Yeah … it's intense.
Taking part in the press conference were the film's lead actors and actresses:
Benedict Cumberbatch ("Dr. Stephen Strange")
Rachel McAdams ("Christine Palmer")
Tilda Swinton ("The Ancient One")
Benedict Wong ("Wong")
Mads Mikkelsen ("Kaecilius")
As well as director Scott Derrickson and producer Kevin Feige.
You could tell immediately this cast and crew had a lot of chemistry and worked really well together. If I'm being honest, before this movie I was really only familiar with the work of Rachel McAdams. But after seeing the film and attending this press conference, I can easily say I am now a big fan of everyone involved.
ON THE ARRIVAL OF DOCTOR STRANGE IN MCU
The interviews began with the moderator asking why it has taken so long for Doctor Stephen Strange to come to the big screen, considering his first comic book appearance was in the 1960s.
KEVIN FEIGE: Well, it's something we've been talking about for many, many, many, many years, and sometimes things just work out … it'll be our 14th film within the MCU (Marvel Comic Universe) and we always say we have to push the boundaries, we have to keep surprising people, we have to keep making them unique and different, and certainly this movie and this character fits all of that. And also tapping into other dimensions and tapping into sort of that supernatural realm of the Marvel Comic Universe is going to come in handy, you know, as we move forward throughout the Cinematic Universe, so the timing was perfect.
SCOTT DERRICKSON: I think that the comics, as a fan of the comics, growing up with the comics, Doctor Strange was a product of the Sixties and was big breath of fresh air into the world of comics at that time, and as a fan watching movies I felt ready for some new, daring, weird left turns in the world of comic books and the MCU. I think Guardians of the Galaxy was that and, you know, I was so pleasantly surprised when I saw how bold that movie was. So when I came in to meet on Doctor Strange my approach was 'Let's make this as weird in the MCU as the comic was in the comic book world in the Sixties,' and that's what we tried to do.
ON WAITING FOR CUMBERBATCH
The producer and director knew who they wanted for the role of Doctor Strange. The only problem was, he wasn't available.
SCOTT DERRICKSON: Well, what happened was Kevin and I talked about who we wanted in the role and we landed on Benedict pretty quickly and just felt he was right. I flew to London, met with him, explained the movie. I think I had some of my concept art at that point and Benedict really wanted to do it, but he was doing Hamlet in theater in London. So we were a summer release movie, so it wasn't going to work and I came back and I met with a bunch of other actors, good actors, but I just felt like it had to be Benedict and Kevin, to his credit, agreed, and so we pushed the schedule for him.
BENEDICT CUMBERBATCH: Very glad they did. No, it's incredibly flattering. It's a weight of responsibility as well obviously. It's a great motivator to try and do a good job.
ON JOINING THE CIRCUS
The entire cast was asked what it was like being a part of the MCU?
RACHEL MCADAMS: Well, I mean, I was just thrilled, because of this incredible track record, because of that you know so much care and attention and consideration is going to go into the film before you've even begun. And that you're going to get to work with the best of the best in the world, what they do, so it's just this like treasure trove of talent, and you know, so I just couldn't wait to dive into that.
TILDA SWINTON: I keep saying that it's a bit like being invited to join the circus, you know? You get invited to be the bearded lady or the painted gentleman or something and you may have a chance in the future to play with a clown or learn a bit of trapeze or work with the ponies with the plumes. The reason that feels like a correct way to describe it is that everybody's so psyched. I mean, even the Sorcerer Supreme, Kevin Feige's just the super fan of all super fans and he's the master of the big top and it just feels such a lucky break for everybody who's working in that circus top, don't you think?
BENEDICT WONG: Yeah, absolutely. I mean, I'm so thrilled to be a part of this. I mean, growing up a kid I was always collecting Marvel comics and especially SpiderMan comics, and it's just lovely to see my investment as a child has the fruition in my adult life and …
TILDA: Education.
BENEDICT WONG: Yeah. [LAUGHS]. Yeah, so just a wonderful, wonderful time.
MADS MIKKELSEN: Yeah, I mean, can only join these guys. I mean, for someone who grew up with the comic books, basically half of my life I was reading comic books and the other half I was watching Bruce Lee. So when Scott was pitching this story for me, I think 10 minutes within the pitch he said, and there's a lot of kung fu and flying stuff. I said, whoa, hold on, rewind. I'm on. Let's go. It's a childhood dream coming true.
ON LEARNING HAND CHOREOGRAPHY
The characters in this film do a lot of, and pardon my crude language, magic tricks. There is a lot of impressively precise hand movements, and the actors were asked about this.
TILDA SWINTON: Well, that hand choreography is a thing called tutting. We had a proper master working with us for weeks, I would say, I mean, just as much as learning martial arts we were learning how to tutt, with J-Funk who is somewhere here possibly, but if he's not you should go on YouTube and look for J-Funk 'cause he really knows how to do it and he's got properly magic fingers, like, you know, not like our fingers, like real non-CGI fingers. And he taught us a series of extraordinary – very precise movements which have to be super-precise because if you're going to go like that, you have to be at a certain point where the line is going to be drawn between your fingers and you can't of course be in front of your face which was always my issue – I was always in front of my face with it. And then you have to be exactly the right width so that you're in the frame, and it was super-precise and kind of hairy, but really good fun.
SCOTT DERRICKSON: She's right about blocking her face. Half of my direction to Tilda was her doing things like this and saying, great, Tilda, just lower, lower, so I can see your face. Lower, okay.
BENEDICT CUMBERBATCH: But she was brilliant. I mean, she's being very humble about it. She was incredibly good at it. And also because she was instructing Strange at the same time. I mean, there was some quite heavy dialogue going on while she was, you know, drawing a mandala and punching energy and doing very delicate stuff. You did runes with brushes and all sorts of magic stuff which was brilliant to watch.
ON THE SPECIAL EFFECTS AND GETTING TOO WEIRD
The special effects in Doctor Strange are truly revolutionary and mind-blowing. Director Scott Derrickson talked a bit about bringing his vision to life.
SCOTT DERRICKSON: I remember in some of my early meetings saying that I felt like that my goal was for every set piece in the movie to be the weirdest set piece in any other movie, you know. But each one of them would be uniquely odd and unusual and refreshing. And that comes out of movie fandom more than anything else, because that's what I want to see. I want to see event movies that use visual effects sequences for more than just mass destruction, but get more creative with them and find new ways to do them and give me as an audience member some kind of visceral experience that's unique, because the movies that do that are memorable and change the way you feel about cinema in general. And I don't know if we achieved that but it was certainly the goal to push ourselves into something new and something fresh so that the audience would be genuinely surprised in moments and get their money's worth, you know.
ON BECOMING A SUPERHERO
Benedict Cumberbatch was asked how he felt the first time he put on Doctor Strange's Cloak of Levitation.
BENEDICT CUMBERBATCH: I was sort of giddy like a child at Halloween. It was the first moment, really, properly, and Alex spotted it, our brilliant designer who's done a few of these films, and she went, 'Oh, you're having the superhero moment, aren't you?' [LAUGHTER] I went, 'Yeah, I think I am.' You know, this film had lots of alluring qualities, lots of things that made me really want to go to it and this character in particular, and in particular what Scott and Kevin were pitching to me is his trajectory, his origin story and where he was going to lie within the Marvel Cinematic Universe. But the journey he goes on was sort of supremely important to me, and the qualities of drama but also great humor amongst that profundity, and that oddness and unique weirdness and newness that we were going to bring visually. So I'd kind of put the hero thing on the backburner, so when I first had that moment, it really was quite giddy. I just did stand up just giggling. And then the second time it really hit home was near the end of the main body of the shoot, when we were in New York we were on Fifth Avenue and there were as many paparazzi as there were crew, it was getting a little bit surreal – but we were on Fifth Avenue and running down in and sort of jumping, or skipping really, but jumping to fly, and there was the Empire State Building in the same eye line, and it was just a moment of magic to think that the men and women that first crafted these comics on the floors of that building and other buildings in that town, and there I was playing one of those characters.
Doctor Strange is rated PG-13 opens in theaters in the US on Friday November 4.