Hello! Please read me! This is a sponsored post. The company who sponsored it compensated me via a cash payment, gift, or something else of value to write this. I only recommend products or services I use personally and/or believe will be good fit for my readers. All opinions are my own. Thank you Cruzan® Rum for providing product this post!
It always takes a while for fall and winter to hit Southern California, but as I type this afternoon, I'm wearing my flannel jeggings (FINALLY!!) and there are overcast skies outside my window. Nevermind that the forecast says we are going back up to mid-80 degree temps next week, I'm going to enjoy this fall weather while it lasts!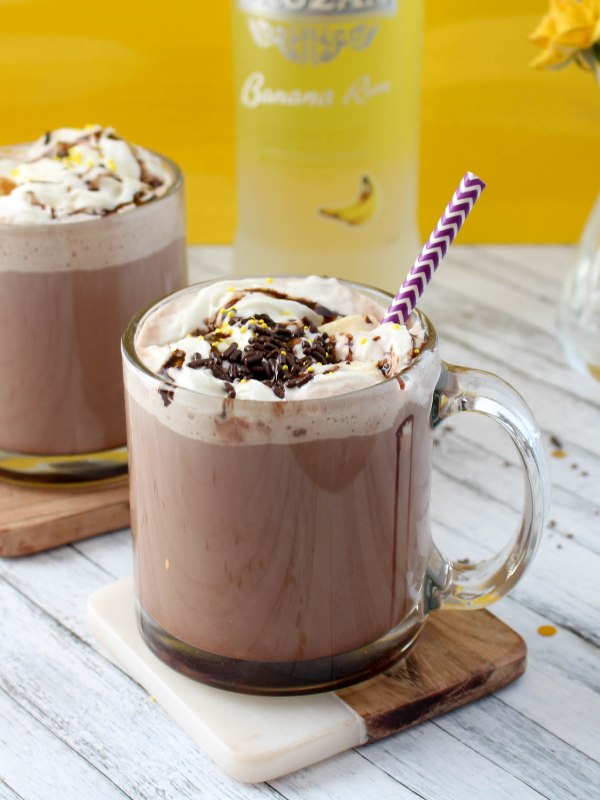 This simple yet delicious drink was inspired by one of my favorite drinks at Rainforest Cafe, which sadly is no longer available. It was a delicious chocolate milkshake with a hint of banana flavoring. When Cruzan® Rum sent me a bottle of their banana rum to try, I immediately thought of this drink and how I could adapt it for the cooler winter weather. This is what I came up with! Only TWO ingredients (maybe three depending on your preference) and so amazingly yummy. You'll feel like a cozy monkey as you're sipping it!
Cozy Monkey Hot Chocolate
Ingredients
Makes 1 serving
2 ounces Cruzan® Banana Rum
6 ounces hot chocolate or cocoa
Optional: Whipped cream topping, chocolate syrup, chocolate sprinkles, sliced bananas
Directions
Step 1: Prepare your hot chocolate or cocoa. You could also use or make chocolate milk and warm it up (that's actually what I did for this recipe).
Step 2: Add a splash of Cruzan® Banana Rum to your hot chocolate and stir well.
Step 3: (Optional) Add whipped cream topping and garnish with chocolate sauce, sprinkles, and banana slices.
So warm! So simple! So delicious! Perfect for a cold winter's day. I hope you enjoy this drink!