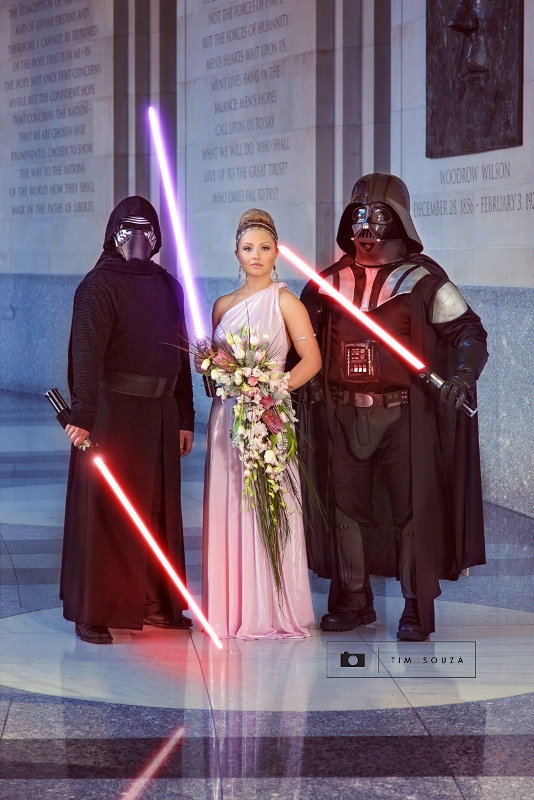 This is the Star Wars fantasy wedding you're looking for.
My jaw dropped when I first stumbled upon these photos via photographer Tim Souza's Instagram account. You know I'm all about everything Star Wars right now … okay, more like everything Star Wars for my entire life. But I just love everything about these photos!
Tim explained these photos aren't from an actual wedding, but were a vision brought to life by married couple Justin and Ruth. Tim explains: "Justin and Ruth are Star Wars nerds and love everything Star Wars. They've been married a couple of years but always wanted a fantasy Star Wars wedding shoot so this was a Disney dream come true. With the help of a few friends and family members everything came together nicely. I was excited about the opportunity and had the most fun I've had in a while on a shoot. We had so much fun capturing these images, and it got A LOT of attention by those passing by. We started outside the Ronald Reagan Building downtown Washington DC, shooting in the arched passage ways before moving inside to the most incredible atrium skylight. Friends dressed as Darth Vader and Kylo Ren, and the couple had their own lightsabers, of course."
Everything about these photos are just perfection. The gowns, the flowers, the costumes and props, even the facial expressions. The style is classic and timeless but there's a modern edge to it. I would totally believe this is a wedding straight from a galaxy far, far, away.
The stunning floral arrangements were provided by Justin's mother, Ella O'Donnell who owns Vintage Floral Design in northern Virginia. I especially love the abstract shape of the bouquets.
The jewelry and headpieces were custom made by Amy Pugh with Amelia Lawrence. And they are spot on. I can picture Padme wearing any one of these headpieces.
Thank you to Tim Souza for sharing these awesome images with all of us, and congrats to the lovely couple on putting together this incredible photo shoot.
Photography: Tim Souza Photography, located in Washington DC