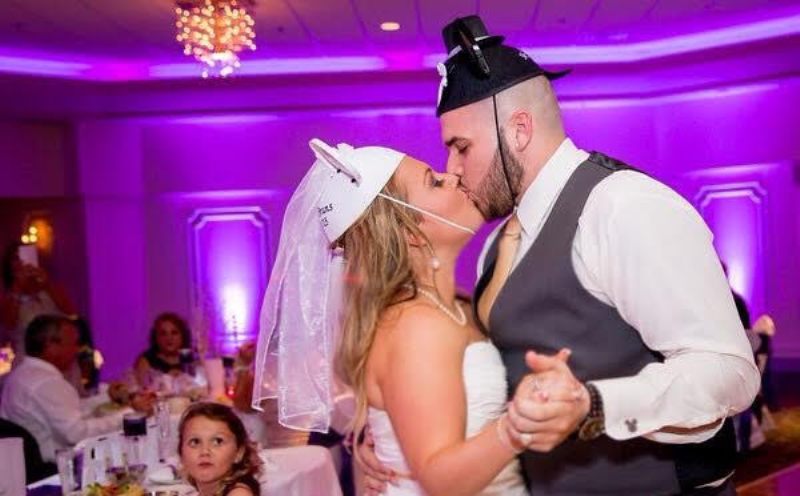 When planning their wedding, Brandi and Christopher had a couple goals in mind: They knew they had to incorporate Disney, and they knew they wanted to splurge on their honeymoon at their favorite vacation spot, Walt Disney World! For the last few years, this couple had spent Labor Day weekend at Walt Disney World but in 2014 things were a little different. During that trip, Christopher proposed to Brandi, with Cinderella as a witness! After that, they knew they had to have a Disney themed wedding! They really brought the fairy tale magic to their at-home wedding in Davie, Florida. With a majestic purple as their primary color, the couple did a wonderful job with their DIY including Mickey shaped topiary, an "Up" inspired card box, a Mickey floral pomander for the bride's daughter to carry, and castle table numbers. Disney touches also included photo booth props, "Happily Ever After" buttons, and Mickey and Minnie bride and groom ears! There were hidden Mickeys EVERYWHERE, including on the cake design, the bottom of the bride's shoes, and the groom's Mickey cuff links. And check out the beautiful purple ombre cake! Everything came together so gorgeously. Great job, Brandi and Christopher! And congrats on your family's Happily Ever After!
Photography: Capture the Bliss Photography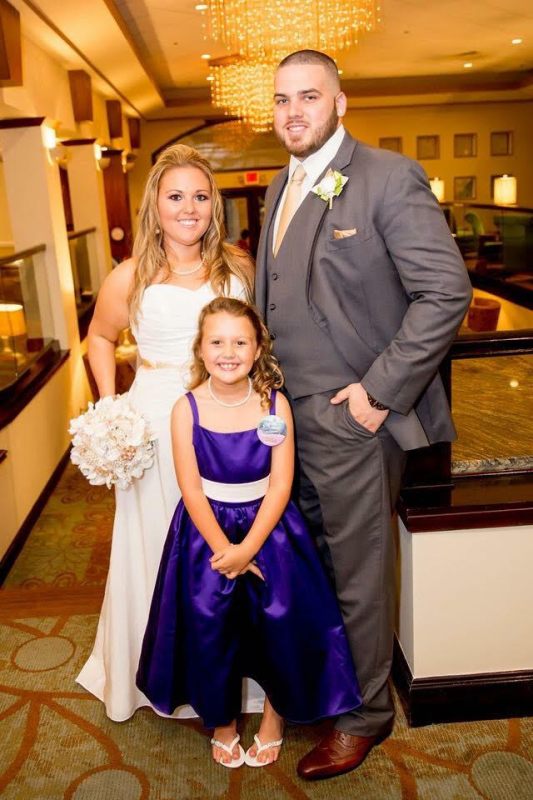 This post contains affiliate links.
Disney Bride: Brandi, 27, Florida
Disney Groom: Christopher, 24, Florida
Wedding date: September 5, 2015
Wedding venue(s): Pine Island Ridge Country Club, Davie, Florida
Guest count: 50
Total budget: $5,000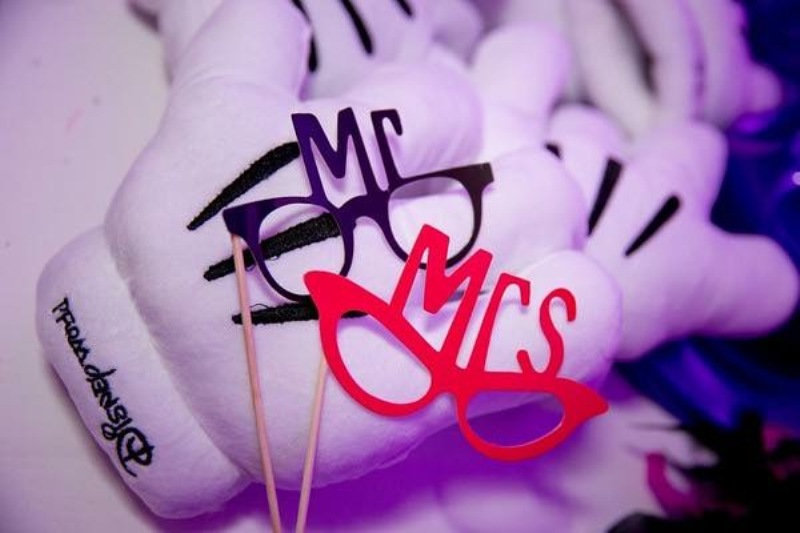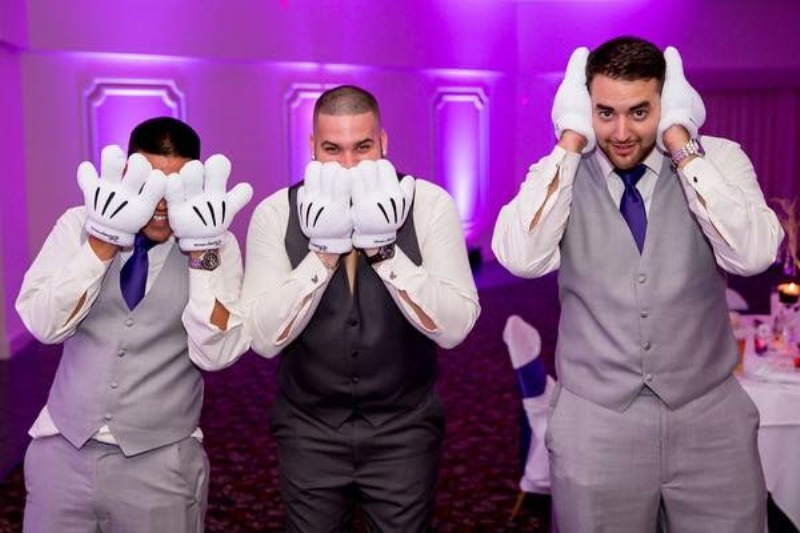 Why did you choose a Disney themed wedding?
I've always been a huge Disney fan. Living only three hours away [from Walt Disney World] that is where most family vacations were held every year. When Chris and I started dating in 2012 we became annual pass holders. We visit approximately 10 times each year. Walt Disney World has become special to us as a couple. We have made Labor Day weekend our annual Walt Disney World trip. On our first Labor Day weekend trip we received an upgrade to a suite at the Disney's Polynesian Village Resort. We were in awe the entire trip. We had such a great experience that year that we decided to make Labor Day weekend an annual trip. On our second annual Labor Day weekend trip, we were upgraded to the concierge level at Disney's Wilderness Lodge to an amazing suite where we could view the fireworks from our balcony. I didn't expect any upgrades this time around because we were upgraded the year before. I thought we were just lucky. Turns out the hotel knew Chris was proposing and did everything they could to make it unforgettable. We got engaged on September 2, 2014. Chris proposed in Fairy Tale Hall while meeting my favorite character, Cinderella. The ring was held in a gold Cinderella Carriage ring box. The date for our wedding was picked so that we could celebrate our honeymoon at Disney's Grand Floridian Resort (my dream hotel – I've always said I would stay there for my honeymoon since I've never stayed there before) on our annual Labor Day weekend trip. We were gifted a honeymoon photo shoot with Disney Fine Art Photography at Disney's Grand Floridian and watched the Wishes fireworks show from California Grill at Disney's Contemporary Resort.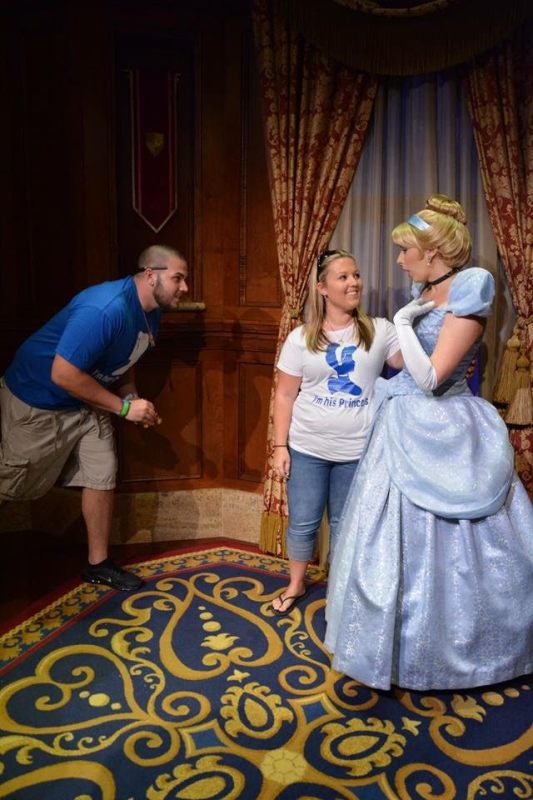 Photo by Disney Fine Art Photography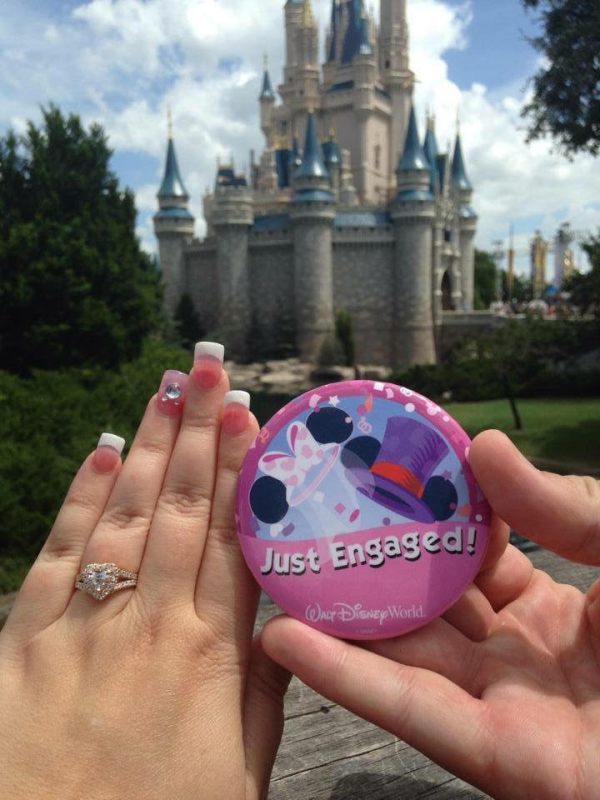 Couple's personal photo
How did your family/friends react to your Disney wedding?
Our families were under the impression that because it was Disney themed it was going to look childish. After the wedding we received nothing but compliments. They could not believe how beautiful the wedding was and how great it turned out.
What was your biggest challenge in planning your wedding?
The guest list. We were on a very tight budget and wanted a small intimate wedding. We both have big families, so narrowing down the list was difficult.
Tell us about your ceremony. Did you include any Disney touches?
We had an "And they lived happily ever after" aisle runner and instrumental Disney music from the Disney Weddings CD was playing when guests arrived. The bridal party walked out to "When You Wish Upon A Star" by Idina Menzel and I walked out to an instrumental of "A Dream is a Wish Your Heart Makes." We played "I See the Light" from Tangled during the family unity sand ceremony. My daughter Callie (the flower girl) held a Mickey flower pomander.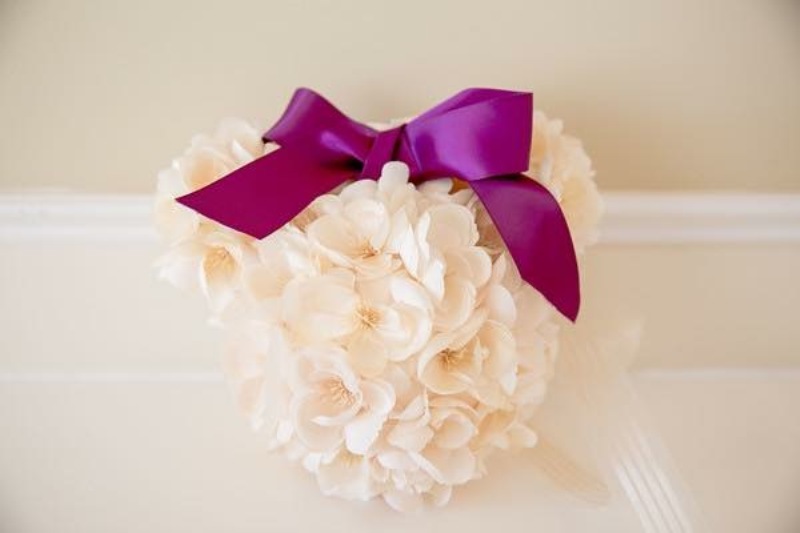 Describe your reception. Was it completely traditional or did you do anything unique?
Instead of the garter toss and bouquet we played the shoe game. The crowd loved it!
What did you splurge on? Where did you save money?
We splurged on our honeymoon at Walt Disney World. For the wedding we found some great deals and I did a lot of things myself. I used all artificial flowers to save a large chunk of money on floral and decor. I shopped around and took advantage of sales. A lot of purchases for our wedding were from eBay! And I bought a template for our wedding invitations and had them printed at Staples.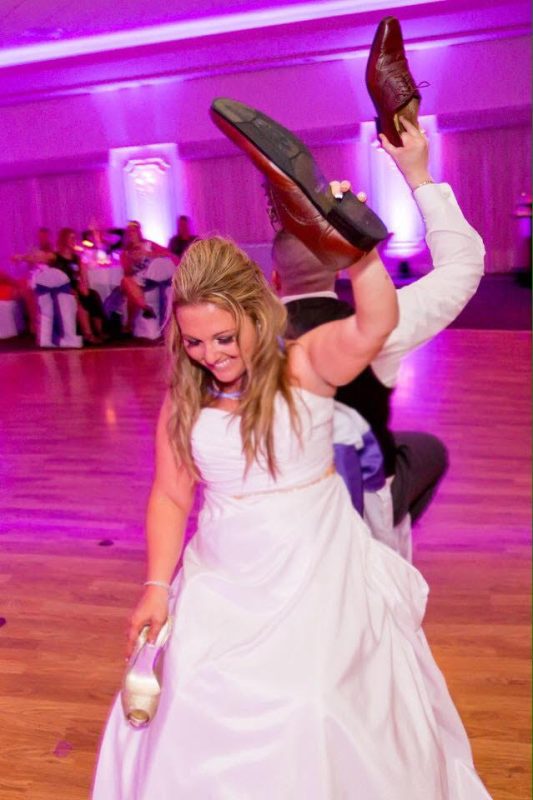 What was your favorite moment of the day?
My favorite moment was the feeling I got when we were pronounced husband and wife. For our recessional, the song "Ever Ever After" from Enchanted played. It gave me the chills.
What would you change if you had to do it all over again?
I would try to not let myself get too stressed out, because everything ultimately comes together. Some of my favorite moments were the ones that weren't planned out!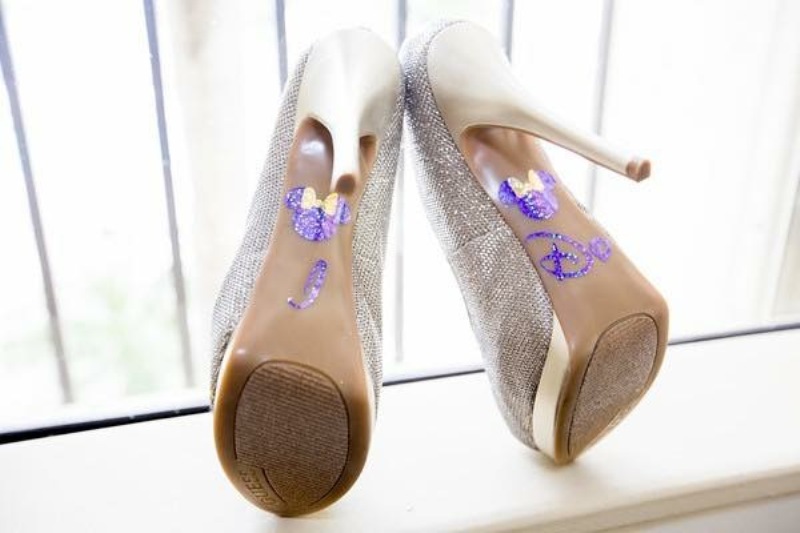 Shoe stickers from Enchanted Bridal on Etsy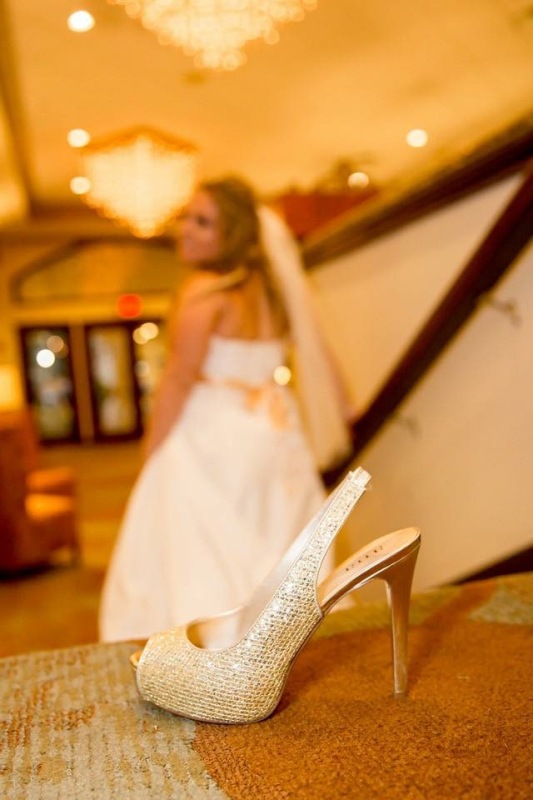 What advice would you give to couples that have just started planning their wedding?
Don't fight over the details of planning. You're marrying your best friend and at the end of the day, none of these small things will matter.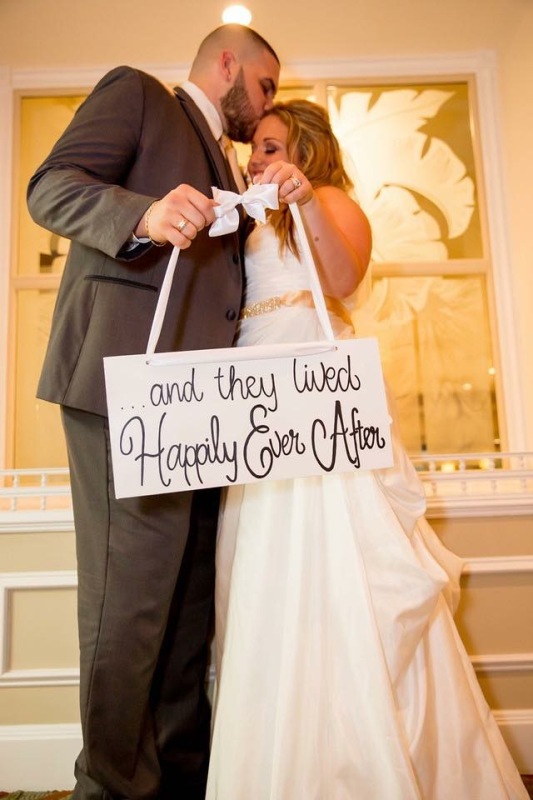 Similar sign from Castle Inn Designs on Etsy
Vendor list:
Photography: Capture the Bliss Photography
Officiant: Nelia Corona
DJ and Lighting: Steve Levy with Galaxy Productions
Hair/Makeup: MAC, Jamie at Redhead Salon
Cake: Yummy! Cakes
Bride's Gown: David's Bridal WG3243
Mr and Mrs Marquee Letters (similar)
Happily Ever After sign (similar)
Minnie Mouse "I Do" Shoe Stickers
"Happily Ever After" Aisle Runner
Mickey Cuff Links (similar)
Mickey and Minnie Cake Topper
Fairytale Luminary Table Numbers
Photo Booth Props (similar)
Disney Wedding Sign (similar)