This post contains affiliate links.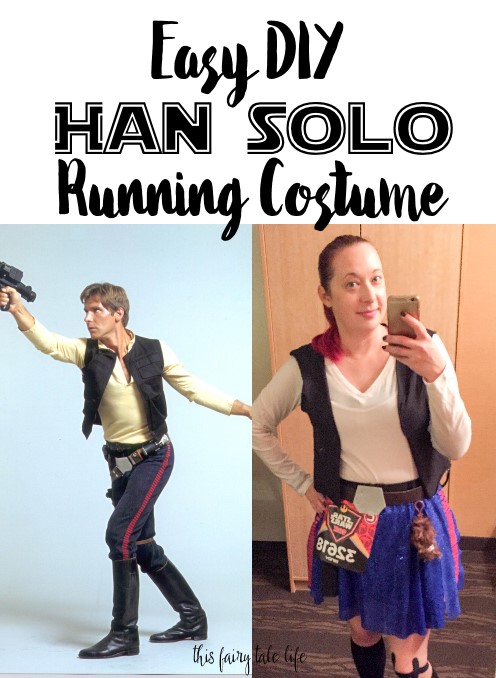 Half the fun of a RunDisney race for me is deciding on, and making, a themed running costume! For this year's Star Wars 10K, I put together a very easy and very DIY Han Solo running costume. I always wait way too long to decide what costume I'm going to wear and then I scramble to buy all the supplies and put it together. It's funny because I wanted to dress as Rey or BB-8 or someone from the new Star Wars: The Force Awakens movie, but I thought the course would be oversaturated with those characters. But this wasn't the case! I saw way more Han Solos than Reys out there! Oh well … I was very happy to pay homage to my wisecracking, sarcastic, forever love, Han Solo.
I started researching Han Solo running costumes and quickly became overwhelmed by the amount of detail people were putting into them. NO THANKS. I had limited time and wanted my costume to be super simple. The skirt was a little complicated but other than that, this was really easy to throw together. Except for maybe the belt. The belt ended up being a bit complicated, but hopefully you can make yours a little quicker after reading about my mistakes. Anyway – here's how I did everything.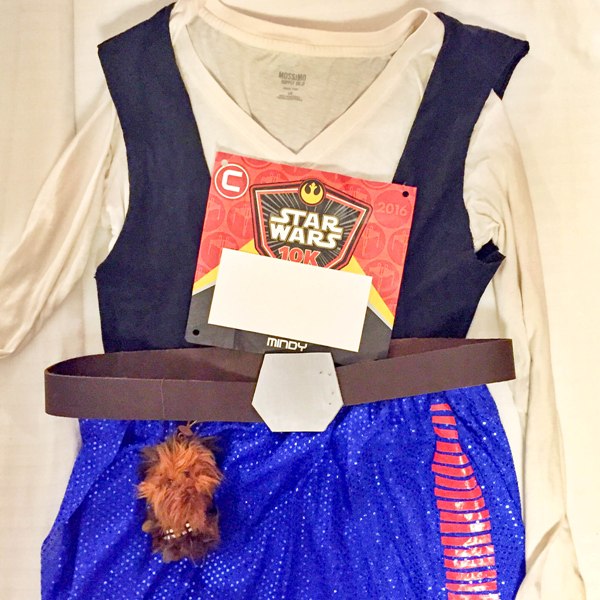 Shirt – The ivory long sleeve v-neck top was a lucky find at Target, just in the regular women's section (similar). It was a little see-through so I wore a white camisole underneath it. Honestly you could do any variation of this top. Han Solo's shirt is ivory, long sleeved, and has a collar, but don't get yourself twisted trying to match it exactly. Any shade of white or ivory, long sleeves or short sleeves, v-neck or crew neck or collared, it doesn't really matter. With the rest of your costume pieces, you'll get the point across.
Amazon does have a couple options, but the right sizes/colors were not in stock for me. Maybe you will have better luck. Check these out:
Ladies Viscose Lycra Long Sleeve Polo Shirt with Satin Collar in Cream.
Thanth Womens V-Neck Short Sleeve Polo Collar Golf Shirt in White. (A couple notes about this shirt … I actually ordered this one in beige and ended up returning it because the color was more nude than white. Like, it literally blended right in with my skin tone. Also, they run VERY small. Based on the comments, I ordered a XX-Large and I'm usually a medium. The size ended up being just right, but the color was not.)
Han Solo Vest Costume — Star Wars Polyester Stretch Fabric Juniors T-Shirt – Keep in mind this is Junior's top so check the size chart. As a women's medium, I probably could have squeezed myself into a XL but it probably wouldn't have been pretty.
Vest – The vest is simply a plain black t-shirt from Michael's with the sleeves cut off. I also cut around the neckline, and cut the bottom of the shirt at the waist. I made a cut down the middle to turn the shirt into a vest. You could stop here, but I did a little more pinning and cutting while wearing the vest to get it sized just the way I wanted it. Then I used fashion tape to secure the vest to the ivory top, so it wasn't flapping around while running.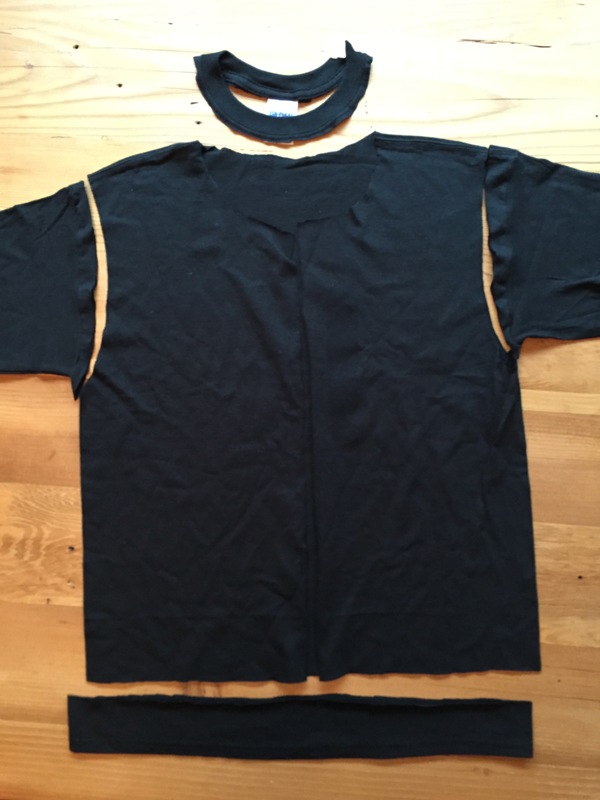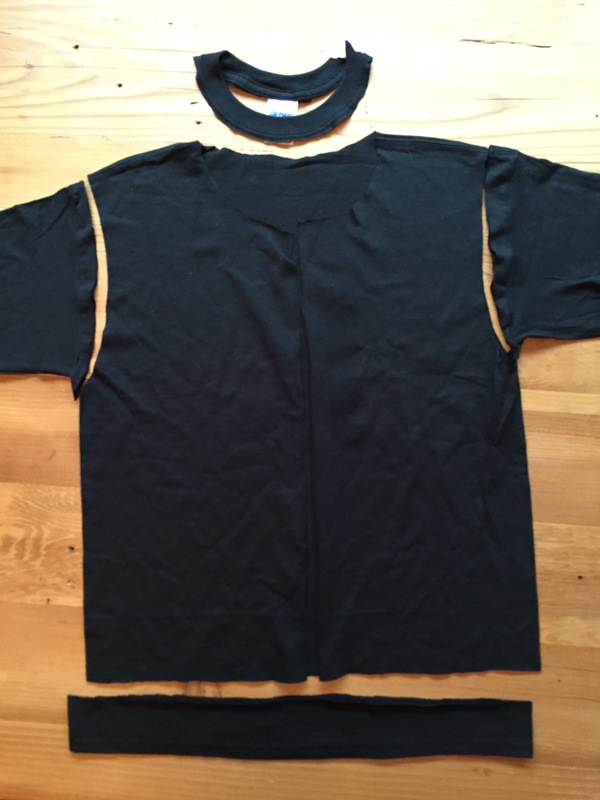 Skirt – I have made a few sparkle skirt overlays for my basic black running skirt, but I haven't perfected it enough to commit it to a tutorial. But basically, it's just a yard of sequin fabric, elastic, Heat n' Bond, needle and thread, an entire afternoon, and a lot of trial and error. Want to make your life easy? Purchase a pre-made skirt from Sparkle Athletic. For a Han Solo costume, you'll want Royal Blue. The Corellian Bloodstripes are made with red duct tape. I purchased a standard roll of Duck brand red duct tape, and with a pair of new, sharp scissors, I cut off several strips of tape approximately 1/4″ wide. This was extremely tedious and time consuming but I really like how it turned out.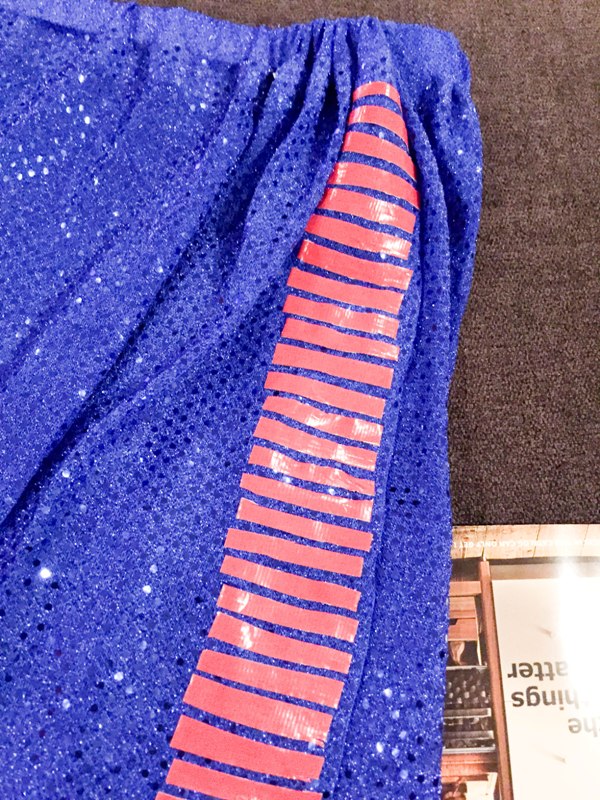 Of course, you could always buy a Han Solo costume skirt or leggings, but where's the fun in that?
Belt – Oooooh, the belt. This was the trickiest part of the costume, and it still wasn't perfect in the end. But here's how I made it. The actual belt is a 1 1/2″ by 42″ brown leather strip from ArtMinds, bought at Michael's. The belt buckle is made from white craft foam painted silver. Here's how I got the shape: I found a picture of Han Solo and opened it in Photoshop. I enlarged the … ummmm … belt area, and then added a layer. I used the line tool to trace around the belt buckle. Then I copied that layer into a new image with a white background, and saved as a .jpg. (I uploaded the final image below to save you all that work, although I do recommend staring at an enlarged image of Harrison Ford's belt area for a while, at some point in your life.) I then printed the .jpg, and resized using trial and error until I printed a suitable size. I then cut out the belt buckle shape and traced it onto the white craft foam, then cut it out. I actually did this twice and glued the two pieces together, just to give it some extra stability. Then I painted it with silver acrylic paint and let it dry overnight.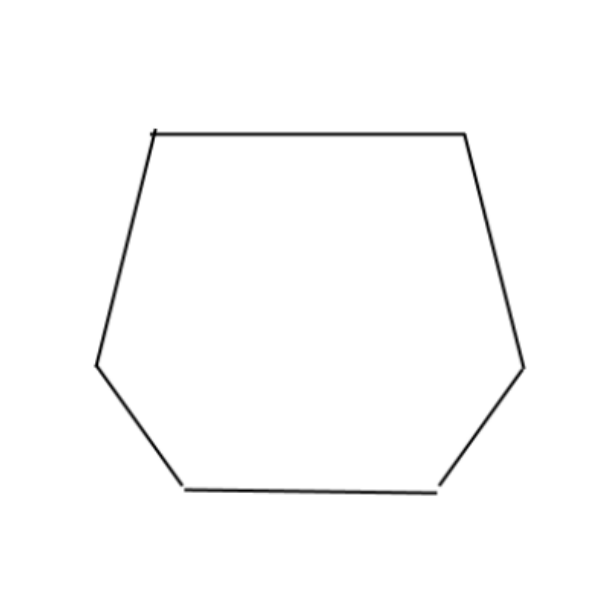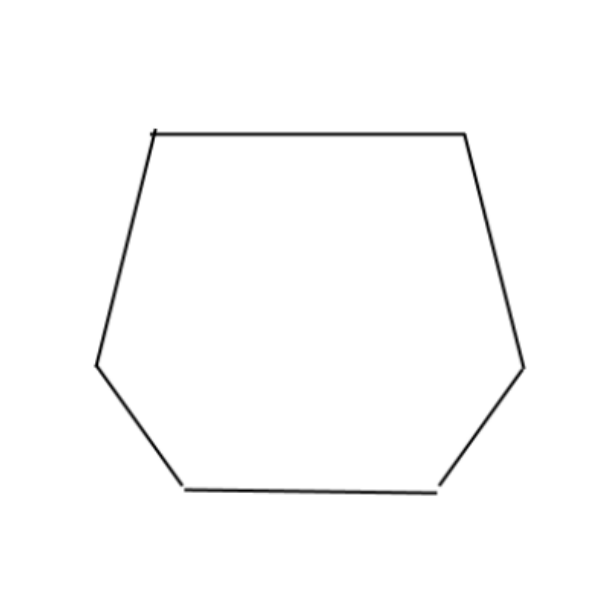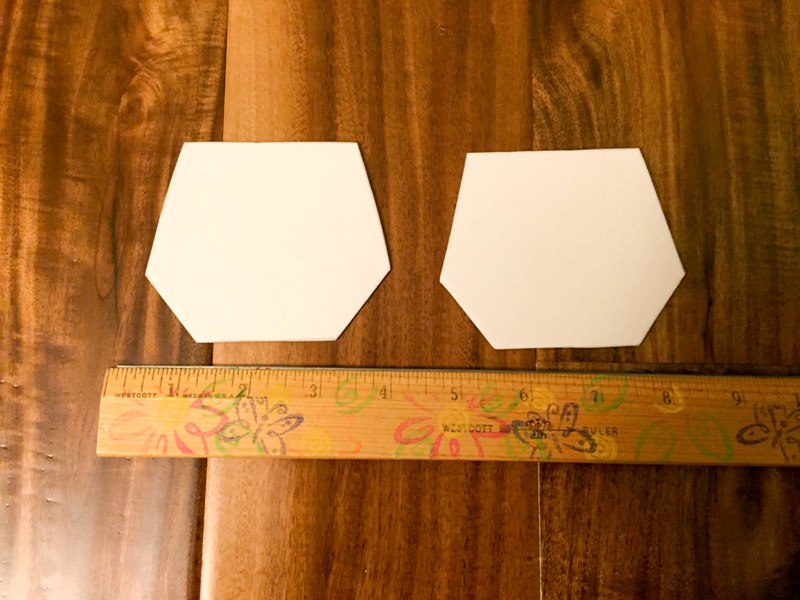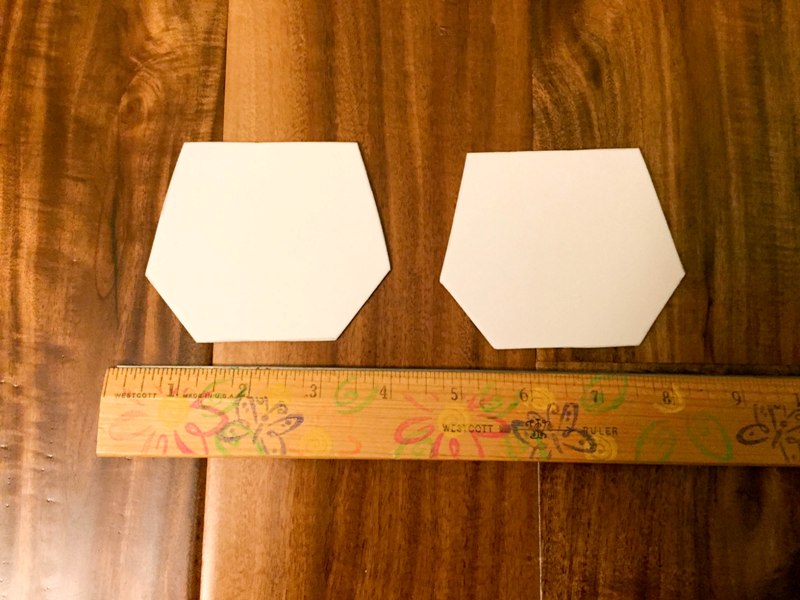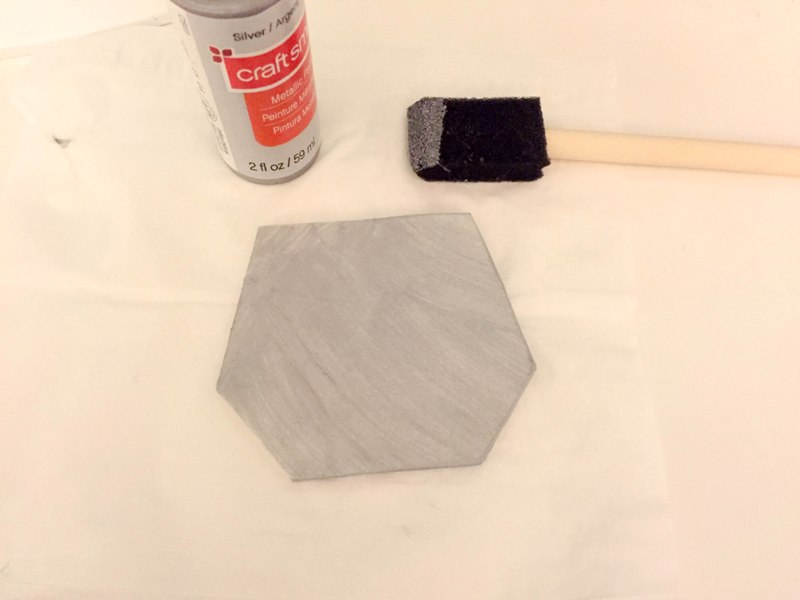 Attaching the belt buckle to the belt ended up being tricky. I could not find a glue to stick to the leather. In hindsight I think I could have used a nail file to file down the leather and make it rough, and the hot glue would have stuck better. But since I was making my belt the day before the race and running out of time, I ended up stapling everything. I stapled the belt buckle to one end of the belt, then stapled velcro to the other end of the belt. I glued the matching piece of velcro to the underside of the belt buckle.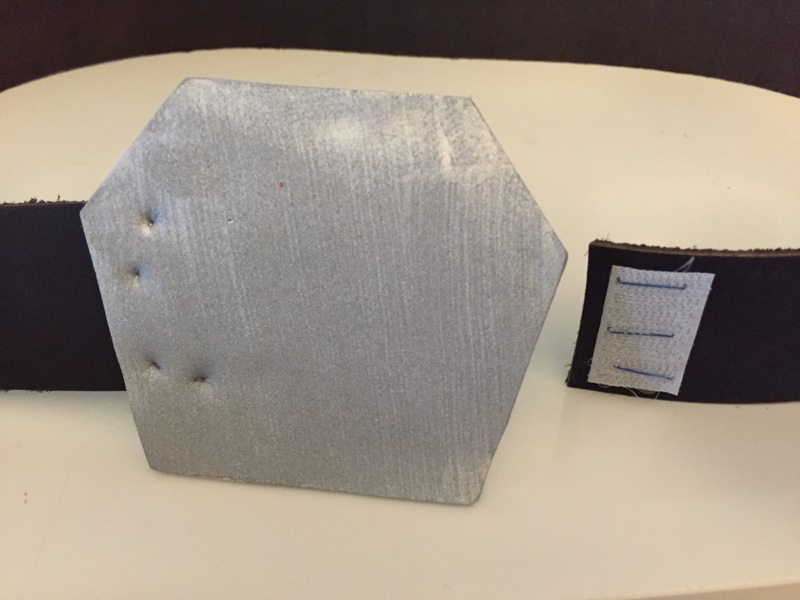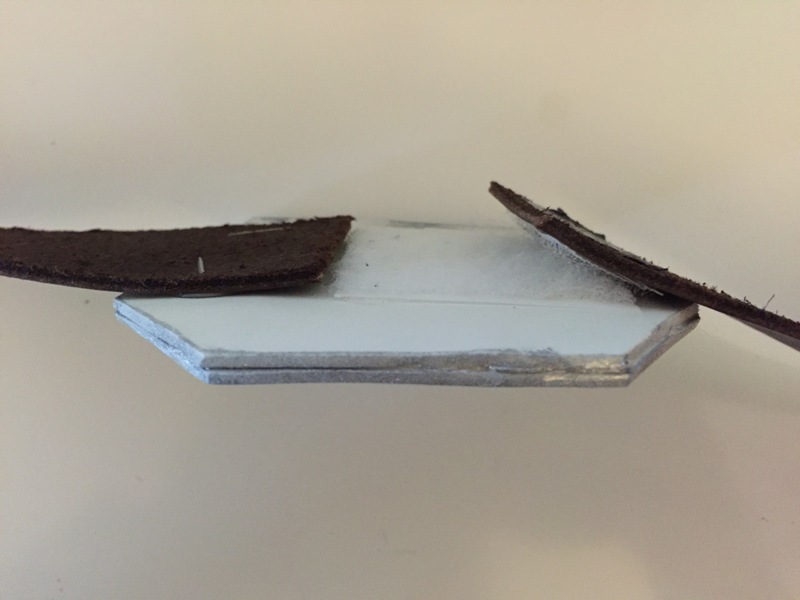 If all this sounds like too much work, a simple brown belt like this one will do in a pinch.
Chewie – I originally wanted to get a Chewbacca Itty Bitty but my local Hallmark store was sold out. I found this little Chewie dangler at Target in the toy section (similar to this one), and having the clip actually worked in my favor. I used brown embroidery thread to tie a loop around the belt and used duct tape on the underside of the belt to keep it in place. And then I clipped Chewie to the loop. He did flop around a lot while I was running, and if I were a serious runner it would have been annoying. So good thing I'm not a serious runner.
I topped the costume off with black compression socks, to match Han's kneee-high black boots. And that's how I made my Han Solo running costume! I wanted to also make a visor with "Nerf herder" written on it but ran out of time. Turns out I didn't really need a visor since it was overcast all morning, but feel free to steal this idea.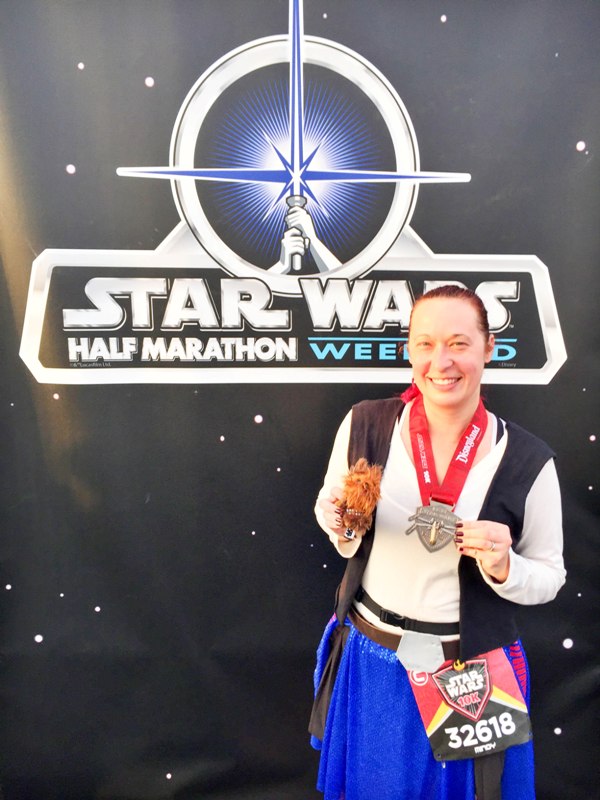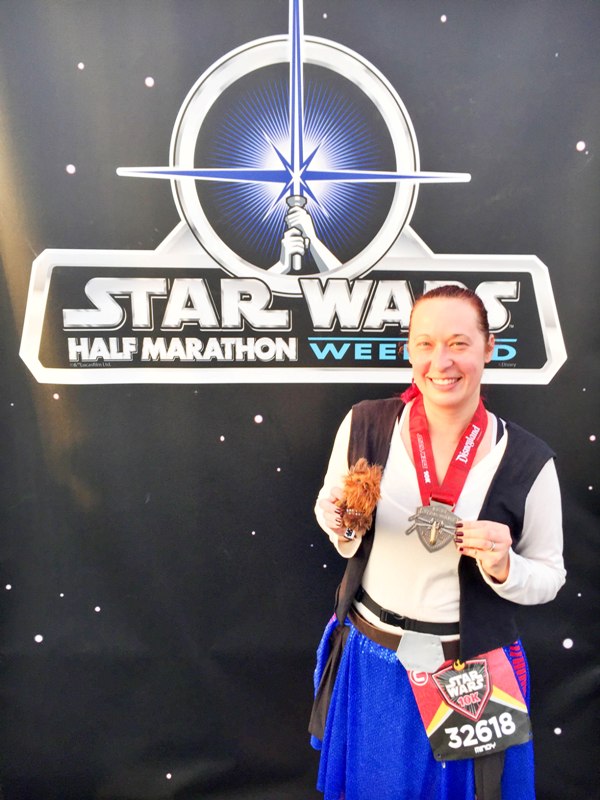 Finally, if making a costume is not your thing, consider the Star Wars Her Universe Han Solo Costume Dress. I saw a lot of women running in this dress during the 10K.
Han Solo stock image from ManualWall.com