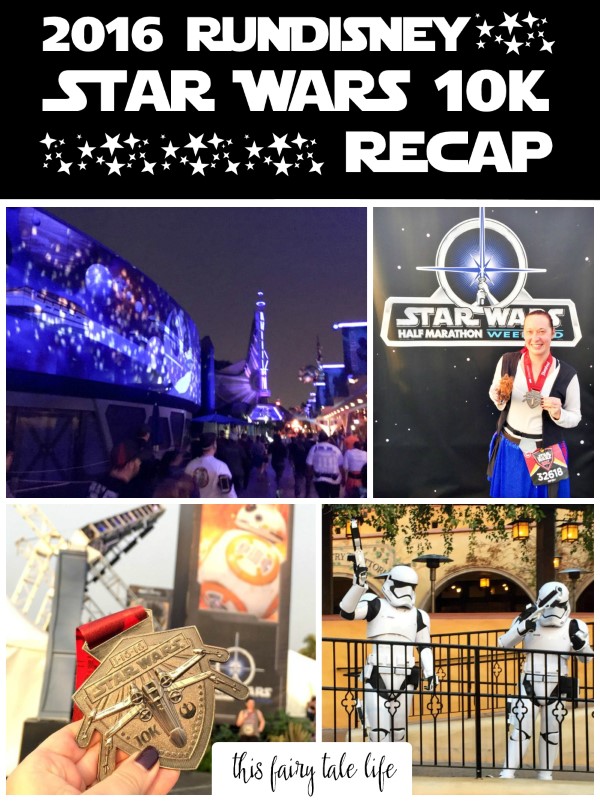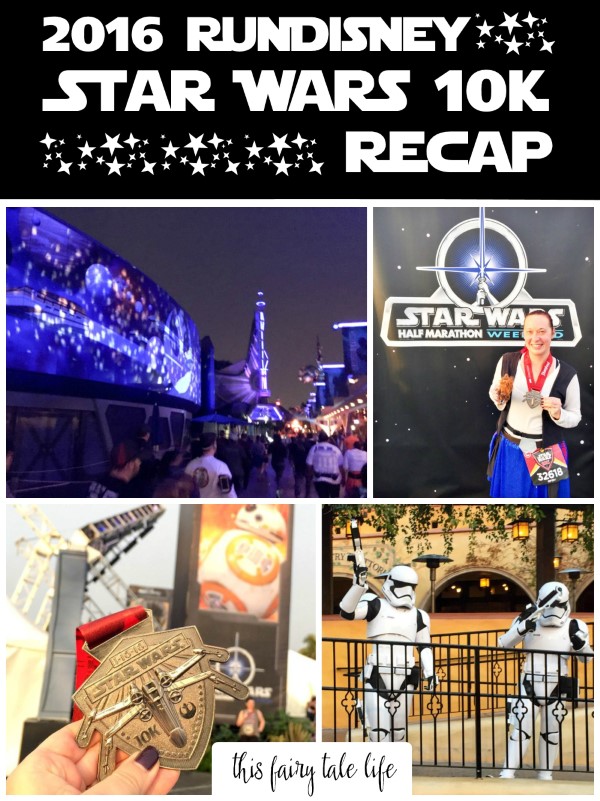 I just returned from another super fun run Disney race at Disneyland – the second Star Wars 10k! This race was a first for me – I was sick! I've done a number of races where I was sick before the race which messed with my training, but recovered before the actual race. This was the first time I participated in a race while sick. I just had a little head and chest cold, but still … it was not fun! So I hope this was the first and the last time I race while sick! But The Force must have been with me on this day because I ended up having a pretty decent race.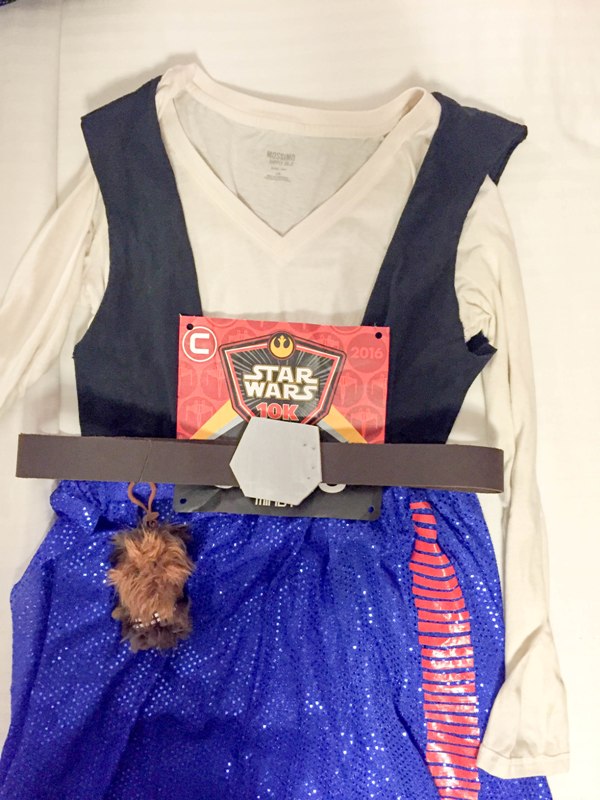 First, my costume. I decided at the last minute to make a Han Solo costume and I kept it really basic. I got the off white long sleeve V-neck at Target, a lucky find after ordering a top off Amazon that did not work. The black vest is an altered basic black t-shirt from Michael's. I made the blue running skirt overlay; the Corellian Bloodstripes down the sides are cut strips of red duct tape. I wore it over my basic black running skirt. The belt is a strip of brown crafting leather and the buckle is white craft foam painted silver and attached with Velcro and staples. It was Velcro and hot glue but I had a glue snafu at the last minute and staples, while not pretty, fixed it in a pinch. My little Chewie pal is from Target.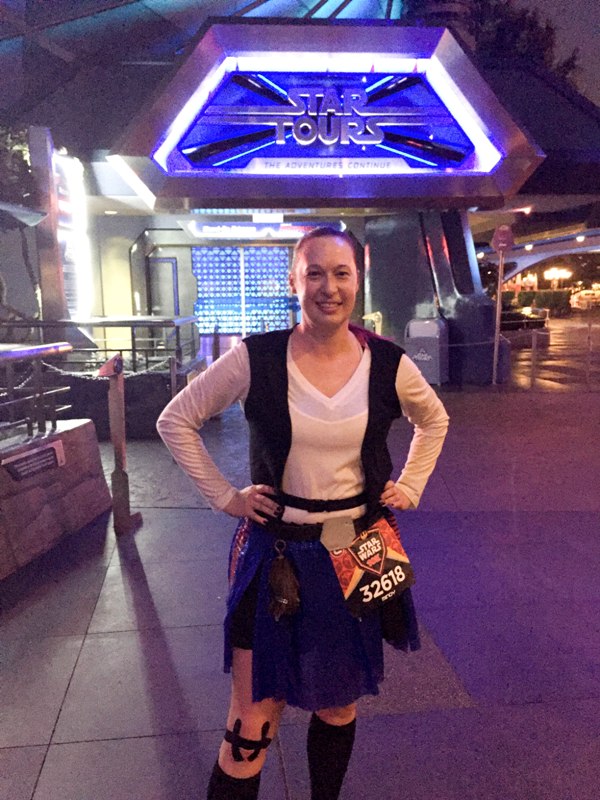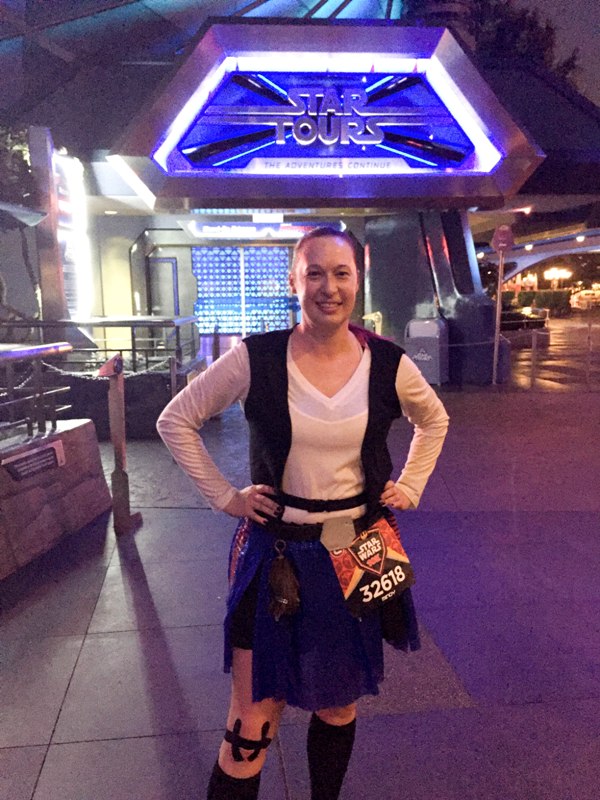 This was my first race with the new security measures and there were some changes. Last year I walked out of my hotel and straight into my corral. Not this year. This year everyone was forced to walk all the way around the start/finish area and walk through bag check. There was a lot of security presence and bomb sniffing dogs. I didn't see anyone get stopped for their costume so I'm not sure exactly where that was happening. The start of the race was much more organized and there was much more staff on hand making sure everyone had bibs and were headed into the correct corrals. I thought I was leaving my hotel with plenty of time but due to the changes, in the end it took about 30 minutes of walking to get into my corral (in the past it would have taken about 10 minutes). So plan ahead!
The announcers kicked off the race but C-3PO and R2-D2 were sorely missed! C-3PO's banter was the highlight of the race for me last year. I hope RunDisney brings them back! The bulk of this race was within either the parks or the backstage area, which I really like. The streets of Anaheim can be very boring. I do enjoy that, with four 10k races every year, each race course is different. This course was very different from last year's Star Wars 10k, and I think I liked this course better since we got to run through the castle and Downtown Disney.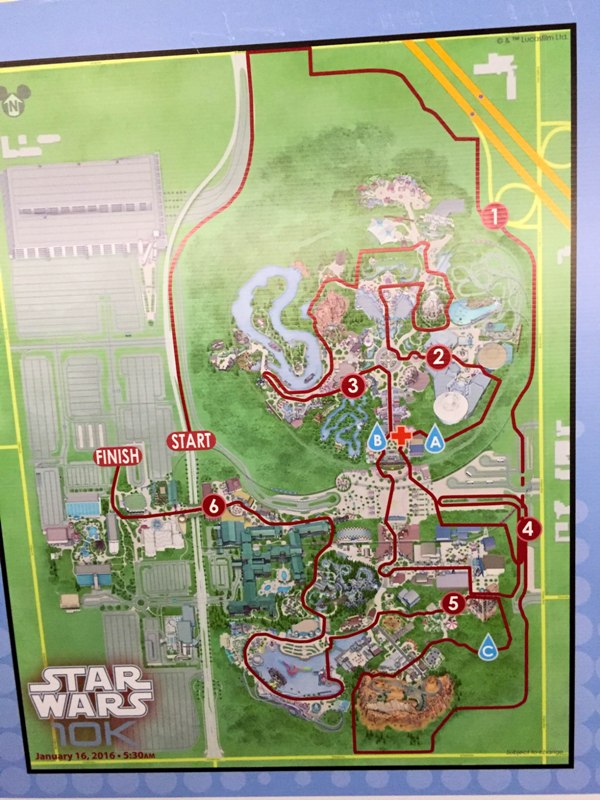 It seemed to me that this race had the most character and photo ops I've ever seen during a 10k. The first character stop was for Boba Fett, and it's interesting it was in the backstage area. All the characters had a special backdrop, which correlates to the new wedding character rules which also state the characters can only take pictures against a backdrop. It's nice to see Disney have some consistency! Along the course I also saw Chewbacca, characters from Rebels, R2-D2 and C-3PO, Stormtroopers in two different spots, and the highlight of the course, BB-8. BB-8 had a wait time of 45 minutes when I went by or else I would have stopped because I would love a picture with BB-8! Towards the end of the course there was a photo op with a trash compactor from A New Hope, Endor Speeders from Return of the Jedi, and in the "family reunite" area there was a backdrop of Hoth from The Empire Strikes Back. Again, the lines were way long for these! But I like that RunDisney is adding new experiences and options for runners, especially after the race.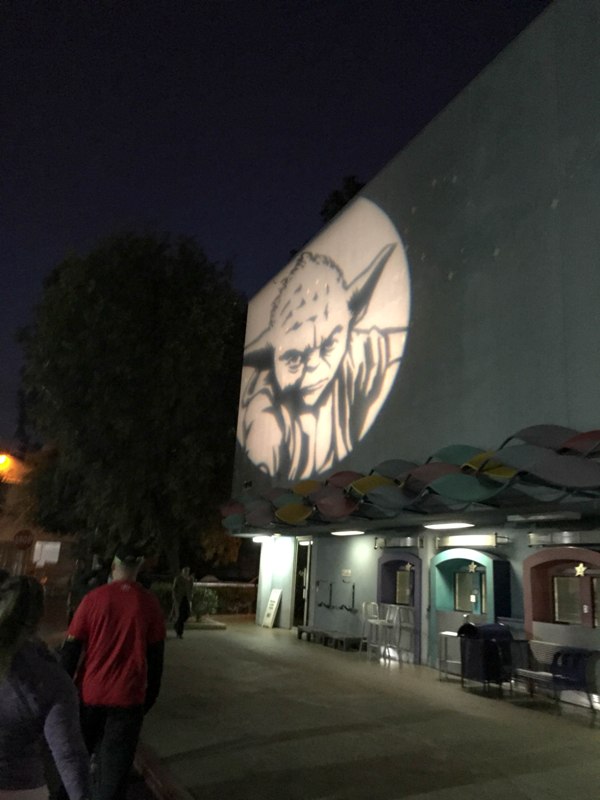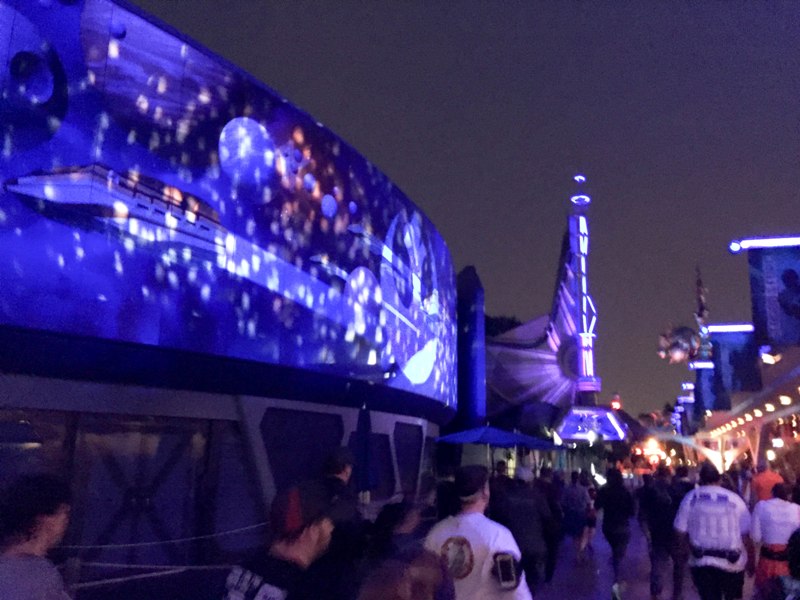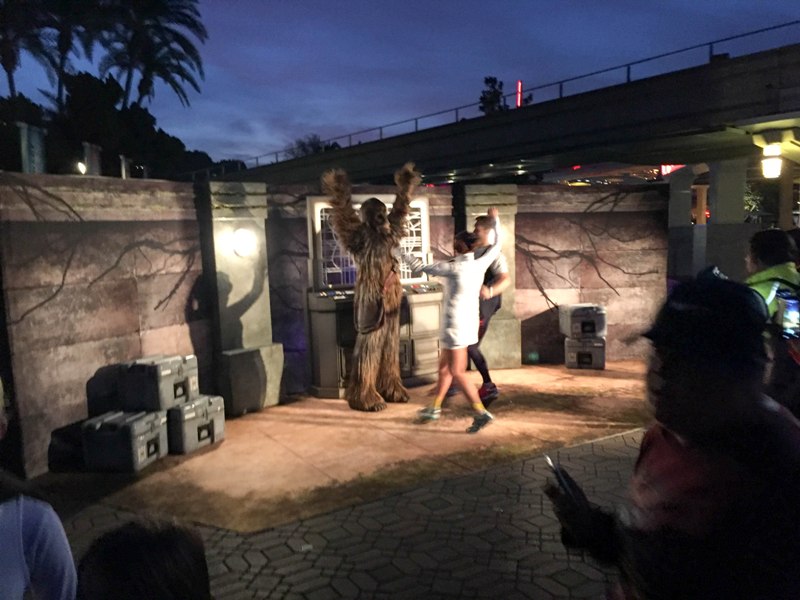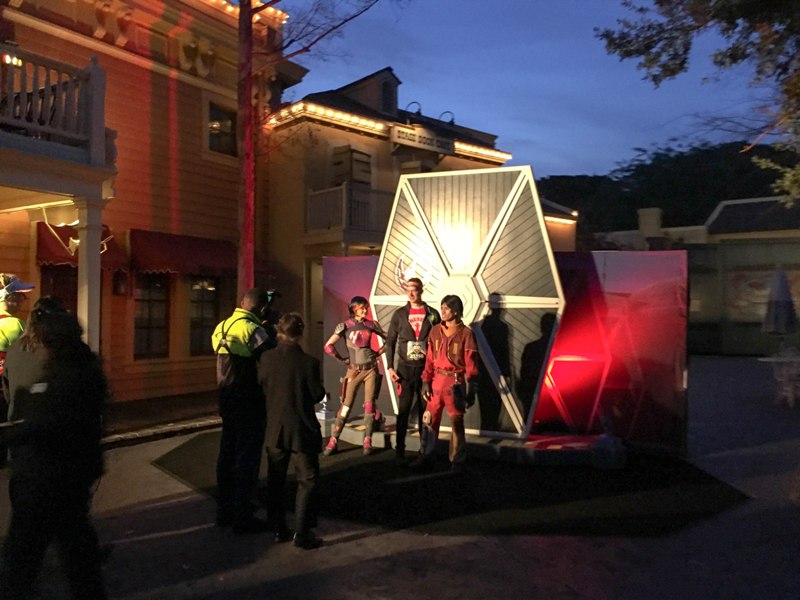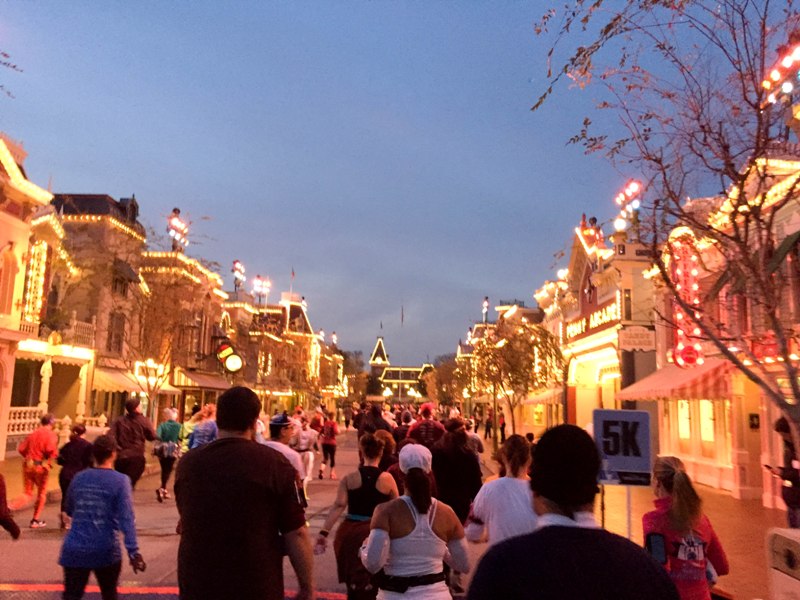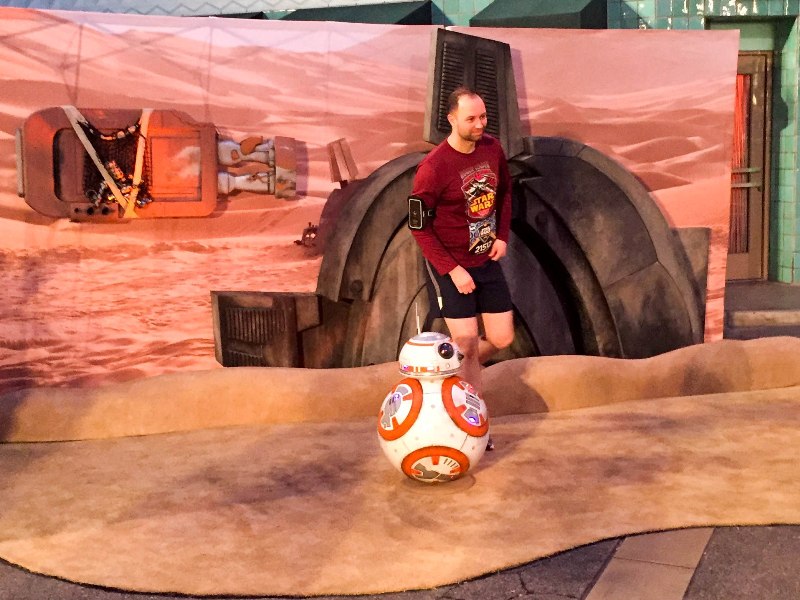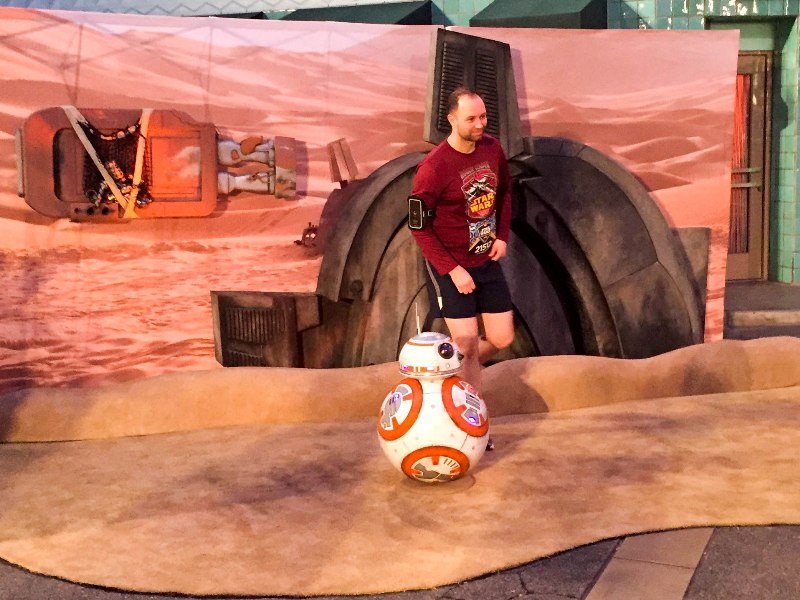 I'm pretty sure this is the same George Lucas I saw at last year's Star Wars 10k (of which my photo made it on Buzzfeed)! The Lucas costumes crack me up.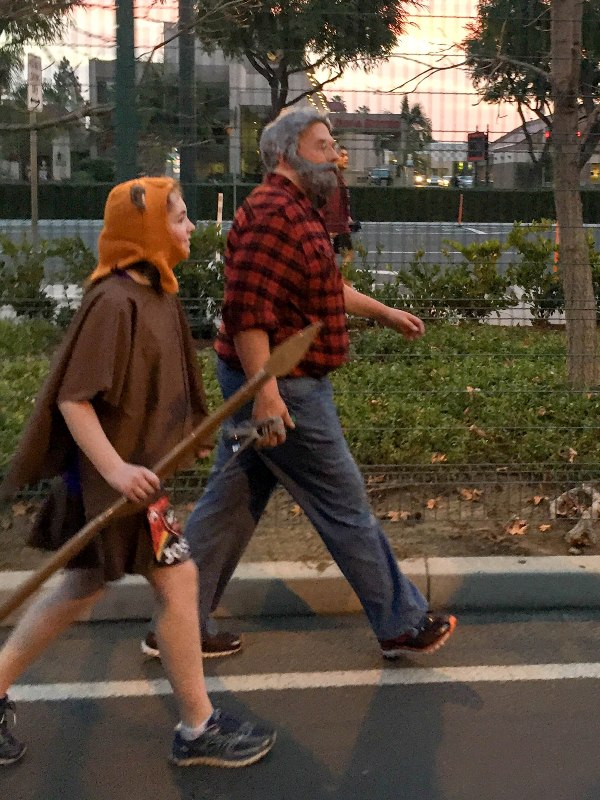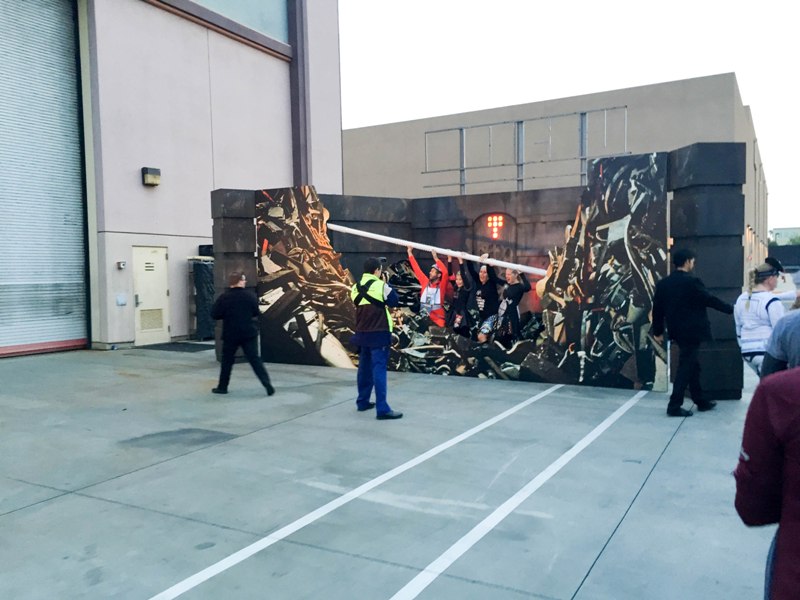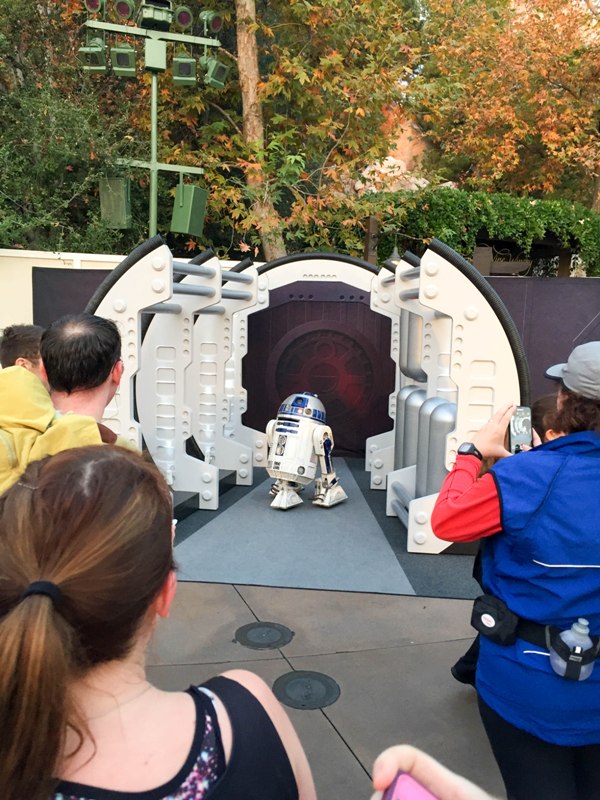 Hidden Rebel insignia …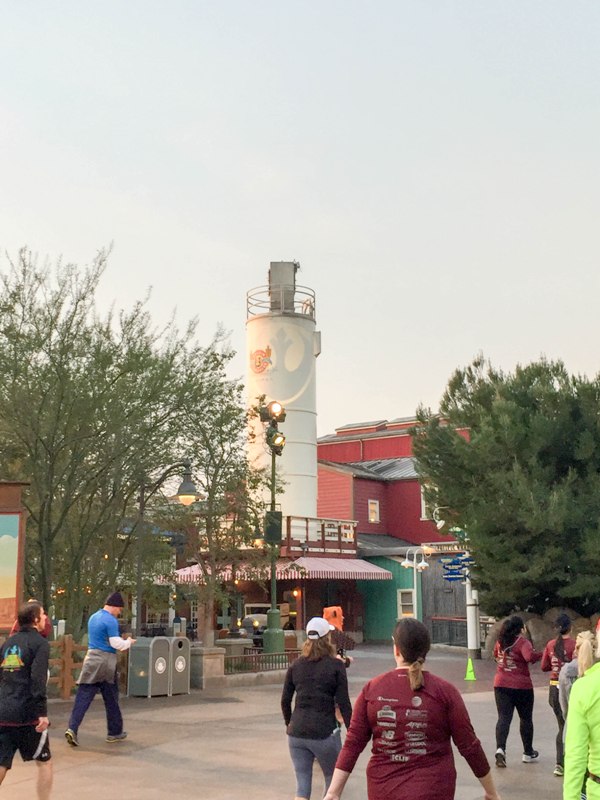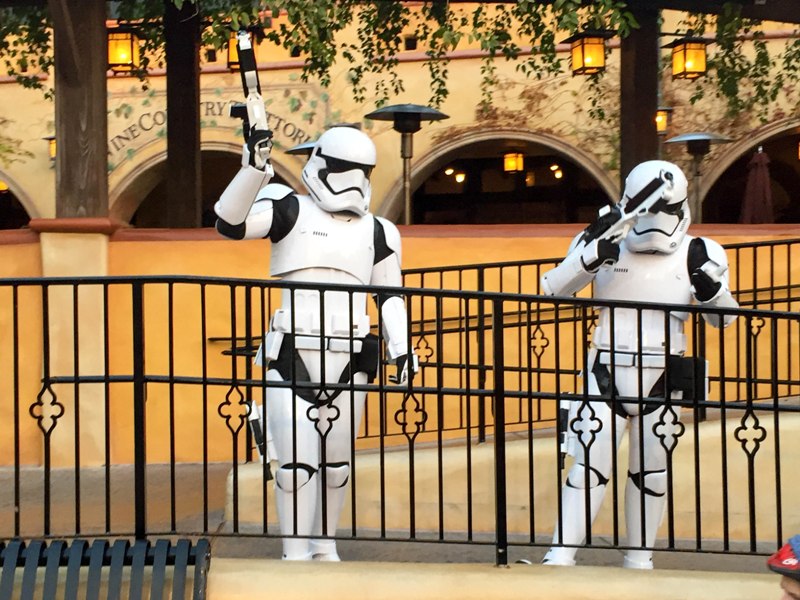 I loved running into this Lando! She was perfect!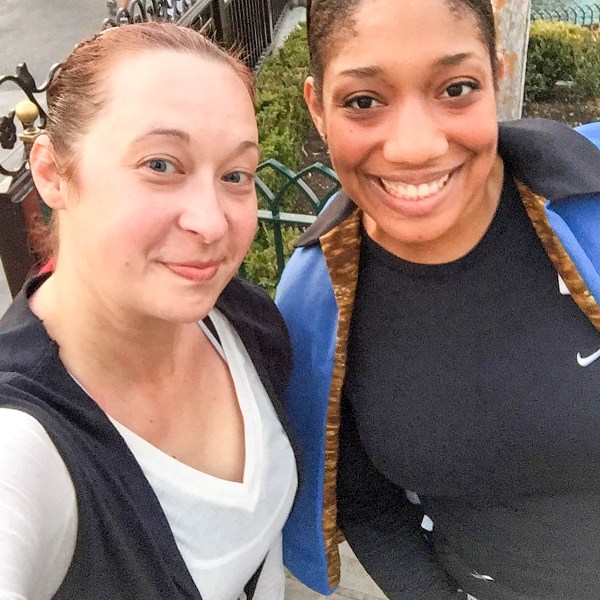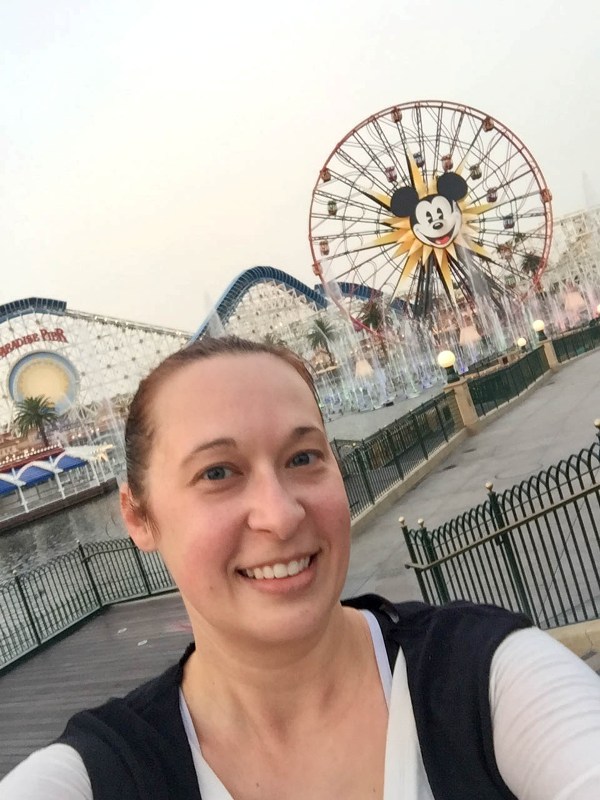 A couple Reys and a Luke …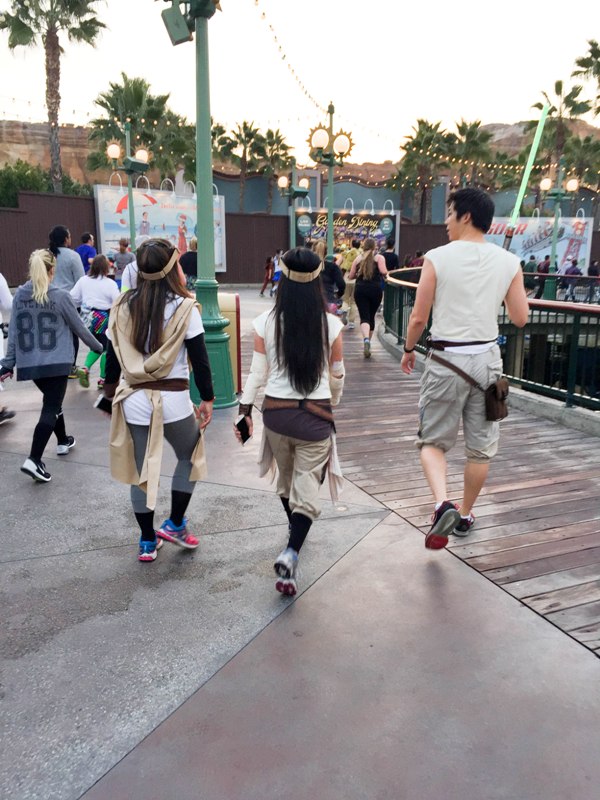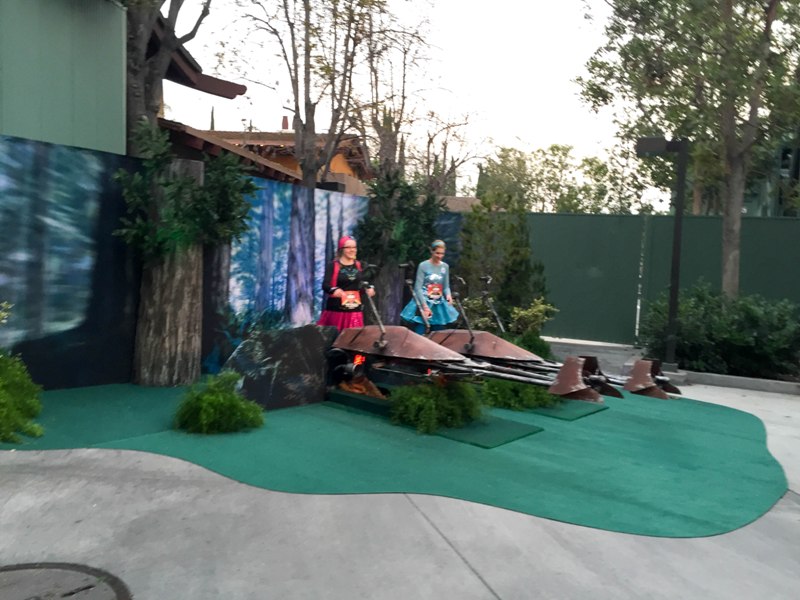 Finished … victory!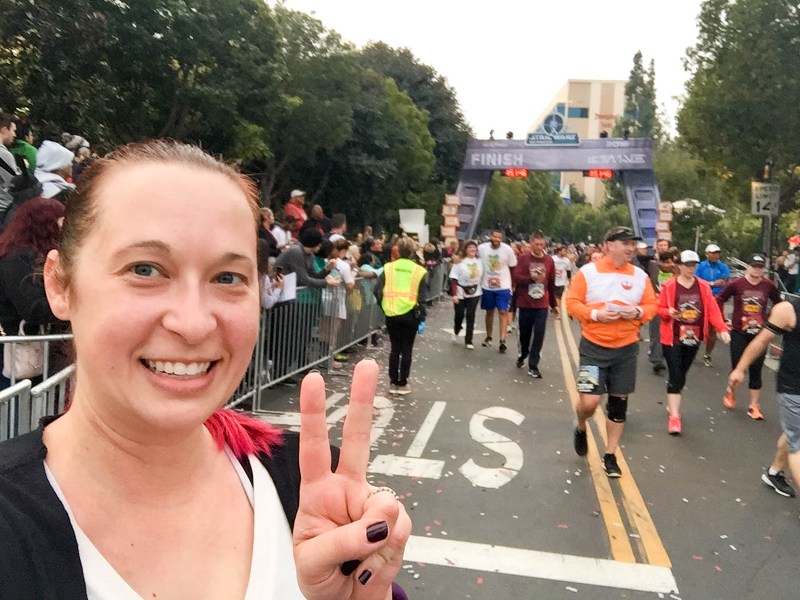 Love the spectator signs!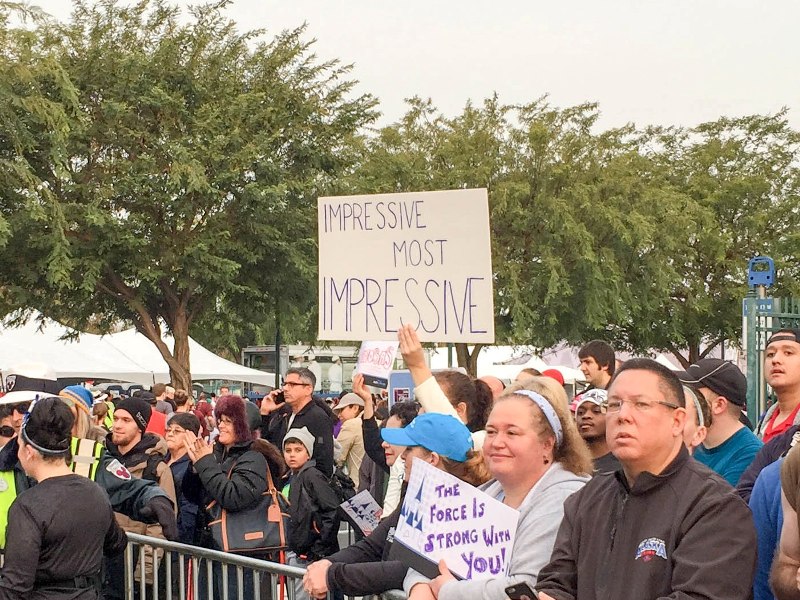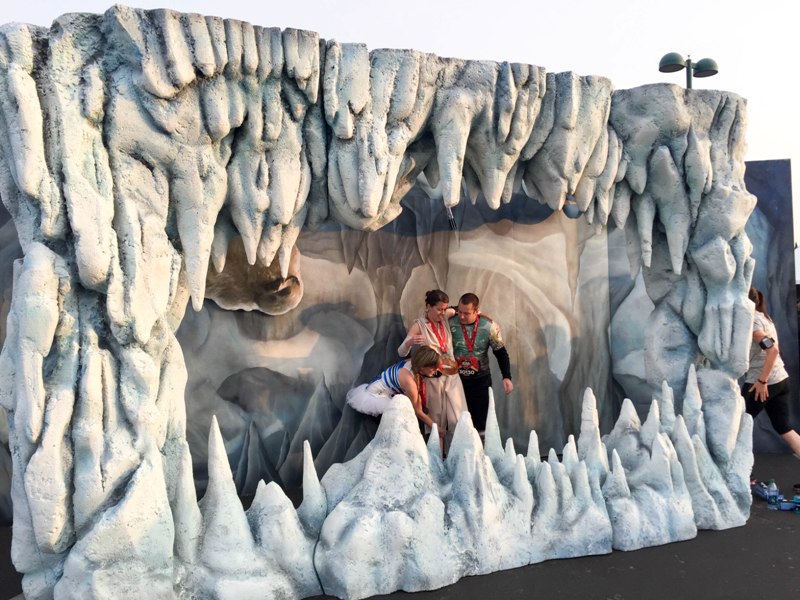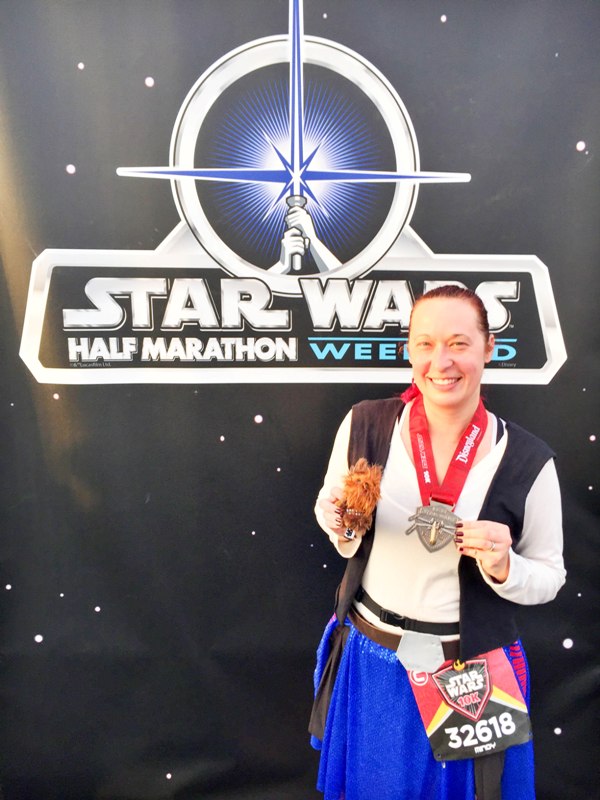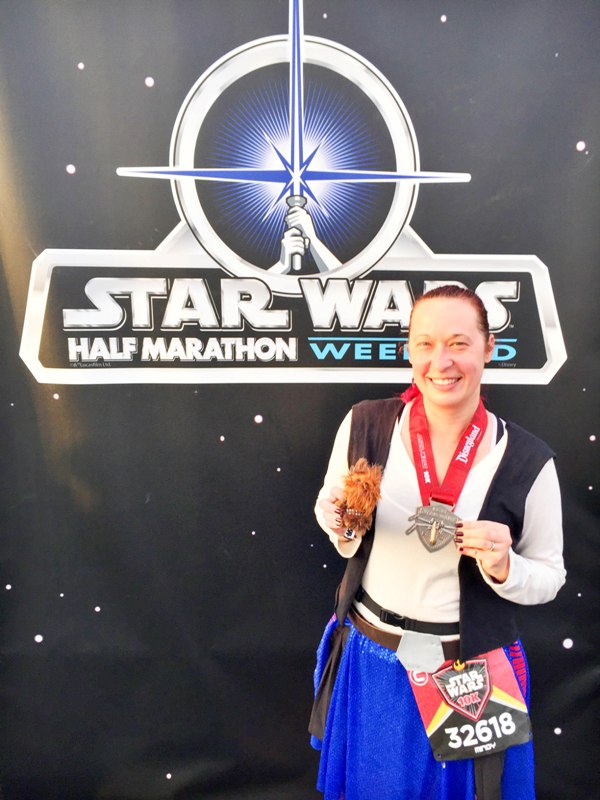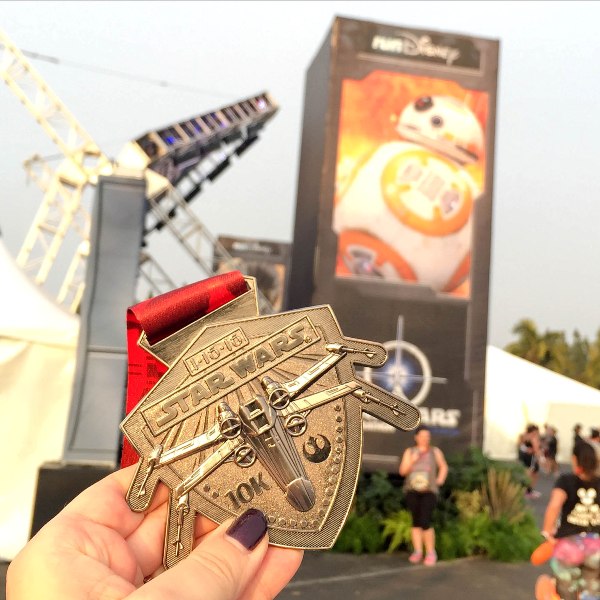 Physically I was feeling pretty crummy at the start of the race and walked the entire first mile. This is the first race in a while that I planned on running without a friend, and I was actually happy about that since it meant I could really go at my own pace. (Although I do really love when I have a race buddy!) I started to pick up some steam while we were going through the parks, and towards the end as the course went through Downtown Disney and lots of spectators are cheering you on. Seeing as how I was so sick, I'm very pleased with my time.
Official time – 1:33:52.
Pace – 15:07
After the race I went to Trader Sam's for my traditional race day Kah-blue-ie. I'm so glad Trader Sam's now opens at 10:30 AM during race weekends!
I want to thank RunDisney Cast Members and the wonderful volunteers for another fantastic race. One thing I missed this race were the high school bands and cheerleaders. They always bring the energy! I'm thinking some of the extra photo ops took the place of the bands and cheerleaders but I hope RunDisney will bring them back for other 10ks this year.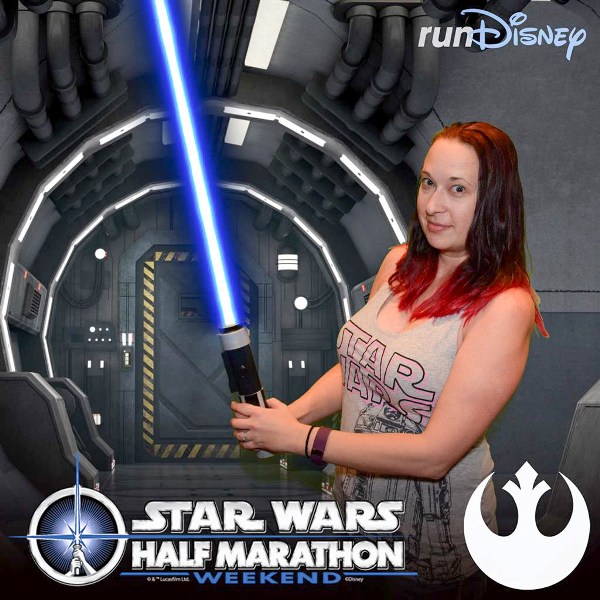 Did you run the 2016 Star Wars 10k or Half Marathon? What did you think of this year's race? Or have any questions about RunDisney? Leave me a comment and I'll do my best to answer!