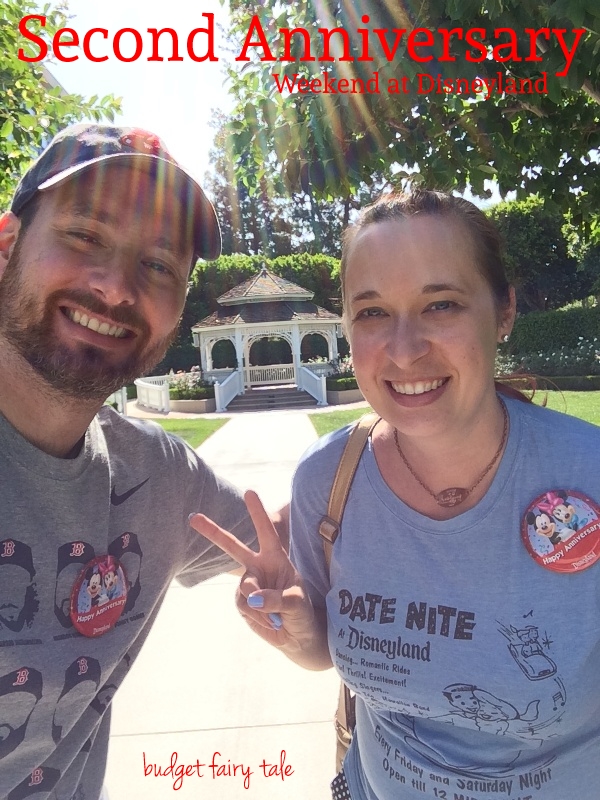 Tough to believe another year has passed since our wonderful Disneyland wedding, and what a year it was. We bought a house, I was laid off, Mr. BFT got a new job, we experienced some loss, and adopted a cat … ultimately our relationship is stronger than ever and I'm happier than I've ever been. We had a lot to celebrate this year and we both have been crazy busy, so a trip to Disneyland to celebrate our second anniversary was a break we both needed!
We arrived to The Disneyland Hotel around noon on Saturday and checked in. We were given the option of waiting for a King bed room to be cleaned … or we could take a double Queen room right now. We consulted and decided it would be worth it to be able to stash our stuff and freshen up a bit before hitting Downtown Disney for lunch. I had to laugh when I recalled the mini-nightmare of our check in for our wedding, and how easy this check in was for our second anniversary. If only all check ins could be so easy! As our Cast Member was processing our reservation he told us he was able to give us a magical upgrade to a pool view room! Yippee!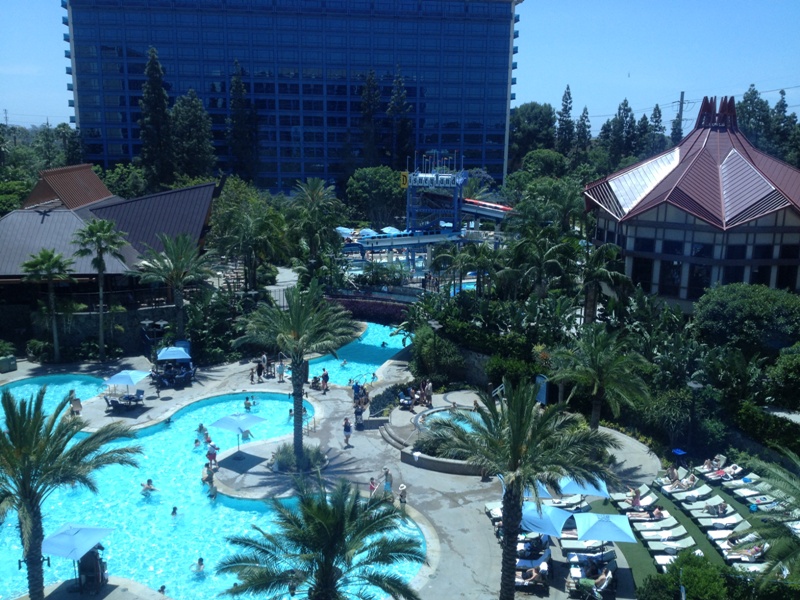 We were on the fifth floor with a perfect view of the classic Disneyland entrance sign over the Monorail Pool as soon as you walked in the door.
We freshened up and headed back out for lunch. We decided to go to our Welcome Dinner venue, Naples, and got a nice seat on their patio. We ordered salad and pizza to split and I ordered an Italian Margarita, my wedding drink! It was a great way to start our weekend.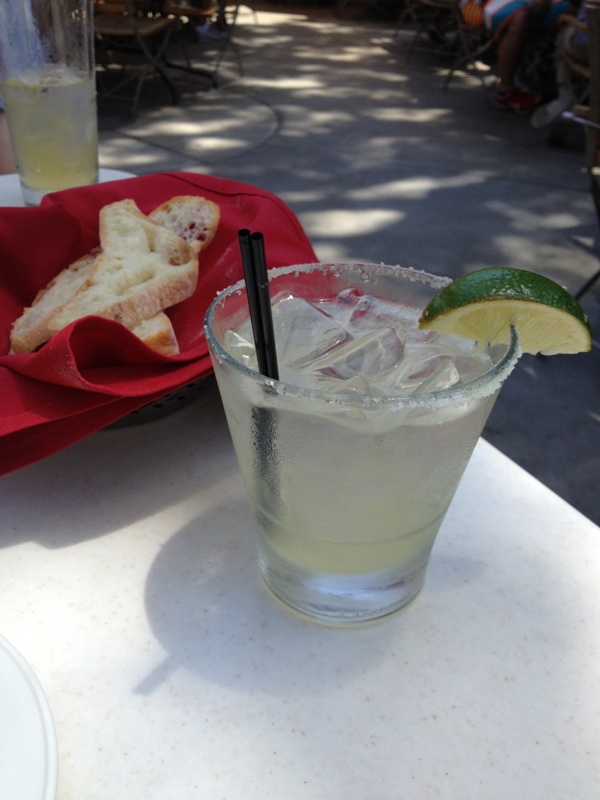 After lunch we headed back to the hotel and got ready to hit the pool, which was CROWDED. We did a couple laps around the pools looking for two open lounge chairs. We had all but given up when we spotted a group leaving and nabbed two chairs, while two older ladies on the other side nabbed the other two! Good thing there was enough because a fight would have broken out, I'm sure. We ordered a couple Ka-blue-ies and I took a nap while Mr. BFT read. It was a good couple hours by the pool.
Soon it was time to go back to the hotel to change for our 6pm reservations at Napa Rose. You may remember for our one year anniversary I wore my "Day After" dress to our private dinner with the Sixth Floor Balcony experience, and learned I couldn't fit into my dress anymore. Well I still can't fit into my dress. It zips, but I can't breathe. And I was so uncomfortable for that dinner so I decided for year 2 I would wear a different dress. I still wore my wedding shoes and jewelry, and also a fabric flower hair clip made from one of our wedding centerpieces. I was sad and disappointed I couldn't wear my "Day After" dress but let me tell you, a couple hours later when I was full of steak and cake, I was blissfully happy to be in a stretchy dress.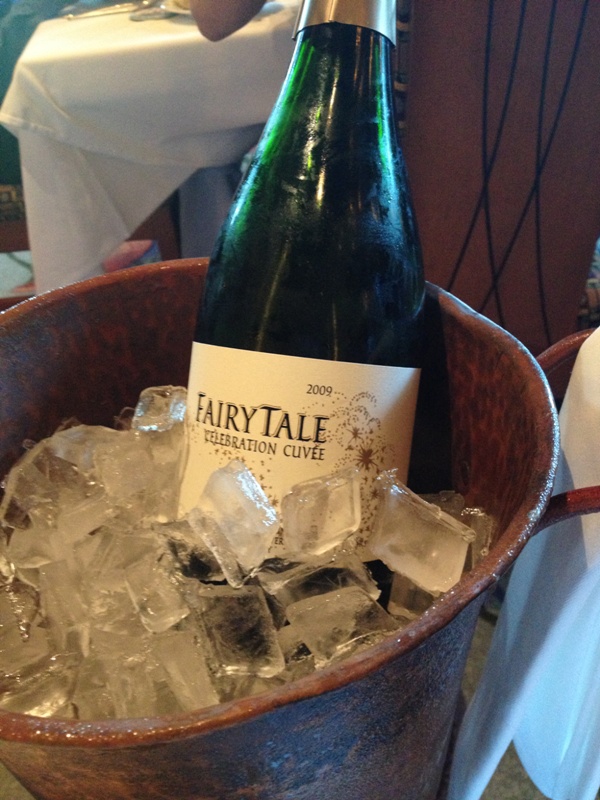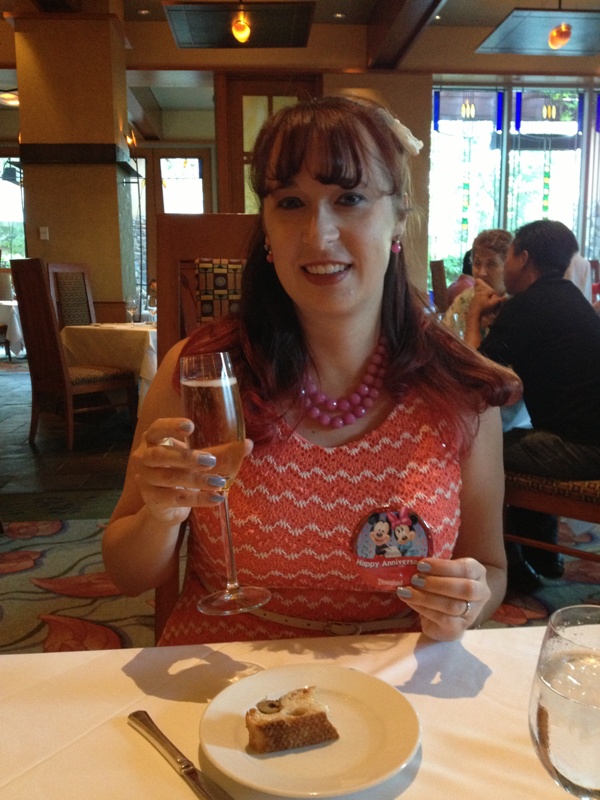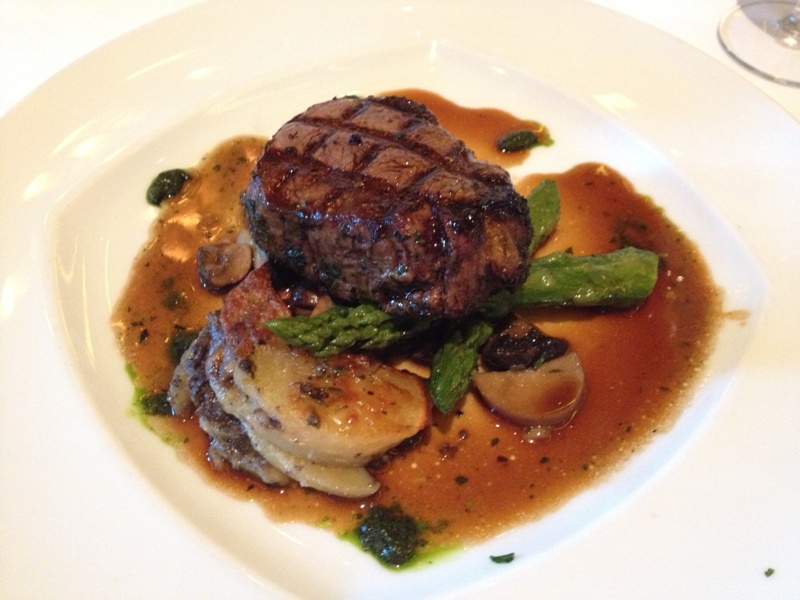 For our dinner we splurged on a bottle of Fairy Tale Cuveé (which at $60 is crazily the second least expensive champagne on the list) and I'm glad we did because it was super tasty, and we got to take our bottle back to the room for mimosas the next morning. I also pre-ordered a small cake like I did last year, only this year I tried a new flavor and opted out of paying the extra amount to have it decorated like our wedding cake. This year I chose white cake with white chocolate mousse buttercream filling and fresh raspberries, with a chamboard soak. And I chose correctly. It was amazing. There's a big difference between whipped cream filling and buttercream; both good in their own ways.
What was shocking was the way the cake was decorated. I asked for a plain cake because I didn't want any of the standard characters on white chocolate that come complimentary with the cakes and I didn't want to pay extra for decorations. The CM on the phone said, "Really? You want just a plain cake with 'Happy Anniversary?'" I reiterated that I didn't want to pay anything extra but to surprise me with the decor. And surprise me they did. Our cake was gorgeous!
Our server asked us, "Do you know which is my favorite hidden Mickey in the entire resort?" And I said, no what? And she said "THE ONE ON YOUR CAKE!" I was cracking up.
Our server took a couple photos before taking the cake back to be served and boxed up. They even added a scoop of ice cream with our cake slices! The chocolate reminded me of the ice cream we served at our Dessert Party.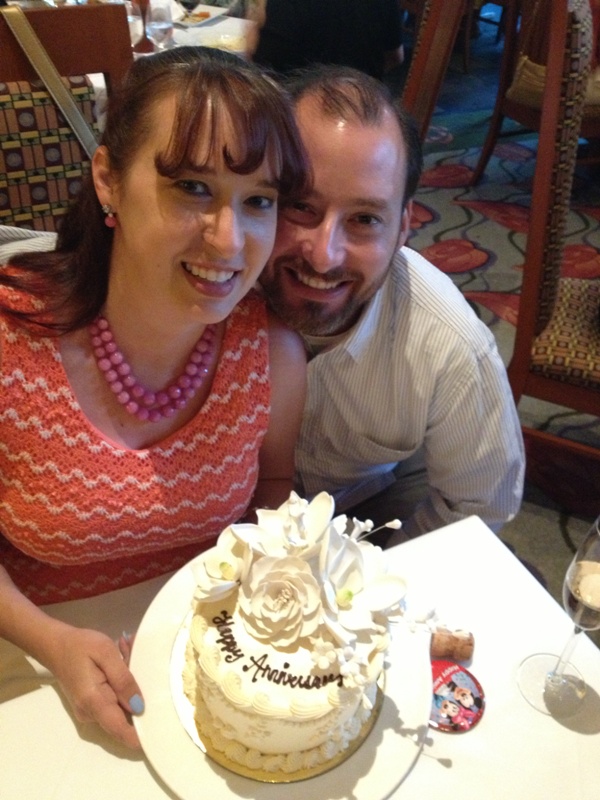 After dinner our plan was to roam Downtown Disney and get some drinks but we were so full and slow from our dinner and dessert that we were in bed and watching TV by 9pm. I think we are officially an old married couple.
The next day (Sunday) we took advantage of our Magic Morning Hour in DCA and rode Radiator Springs Racers, Midway Mania, and Soarin' Over California all before 8am! Then we walked back to our hotel to shower and pack up before our 10am breakfast reservations at Carnation Cafe. We were smart enough to stop at Tangaroa Terrace and pick up some OJ for those mimosas I mentioned earlier.
After checking out of our room, we found we were running a bit early so we decided to take the monorail over to Disneyland. We just missed one train and were the only ones on the platform, so I asked if we could ride in the front on the next train. We were told we could as long as it wasn't full with guests doing a round trip from Disneyland. I seriously can't remember the last time I rode on the front of the Monorail. It has been at least 10 years, maybe 15.
Once we got into Disneyland we detoured to pick up Fastpasses for Big Thunder before arriving at Carnation Cafe for breakfast. I ordered the newly revived Eggs Benedict and they were good although not the best I've ever had. We had a nice table in the shade and the CMs were very friendly. It was a nice meal.
As soon as we left Carnation Cafe the Main Street Band stopped and played Under the Sea right where we were standing! What luck.
We then made our way over to Big Thunder. Neither of us had ridden it since it reopened. The new effects were awesome. It's nice to have this ride back; we both missed it.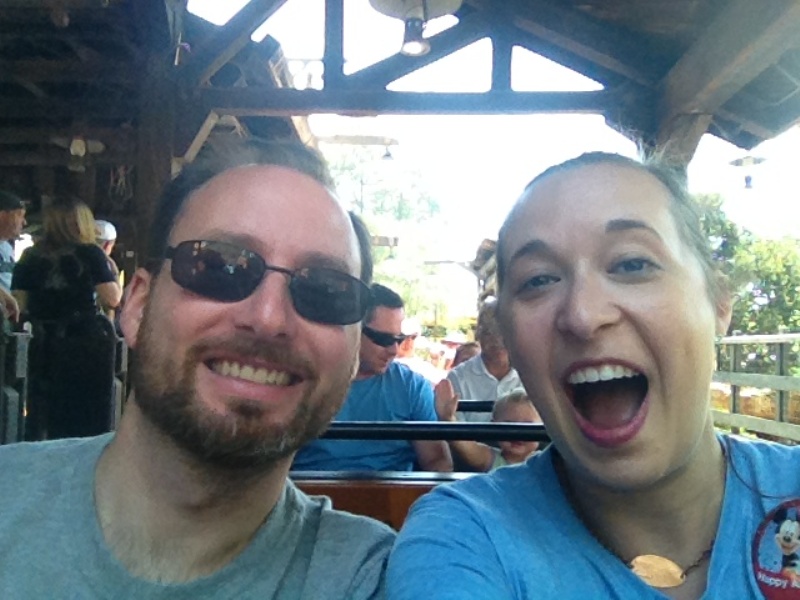 Next we decided to head to Carthay Circle for a drink before our lunch reservations at Blue Bayou. On the way out of Disneyland I came across a bachlorette party. I asked if I could take their picture for the internet and they obliged!
After our drinks we came back over to Disneyland and did some attractions in Tomorrowland before heading to Blue Bayou. I was curious how the restaurant would look while Pirates was under refurb. Normally they close both together. But Blue Bayou was still nice! The water was mostly drained but you could hardly tell in the dark. At lunch we got a special treat from Mickey for our anniversary.
Since we could only eat half our lunch, we decided to take the rest with us and head home. On the way out, we found a group of ducklings with mama which we watched for a while. Then we stopped by the Rose Court Garden for a quick pic before jumping in our car and heading home.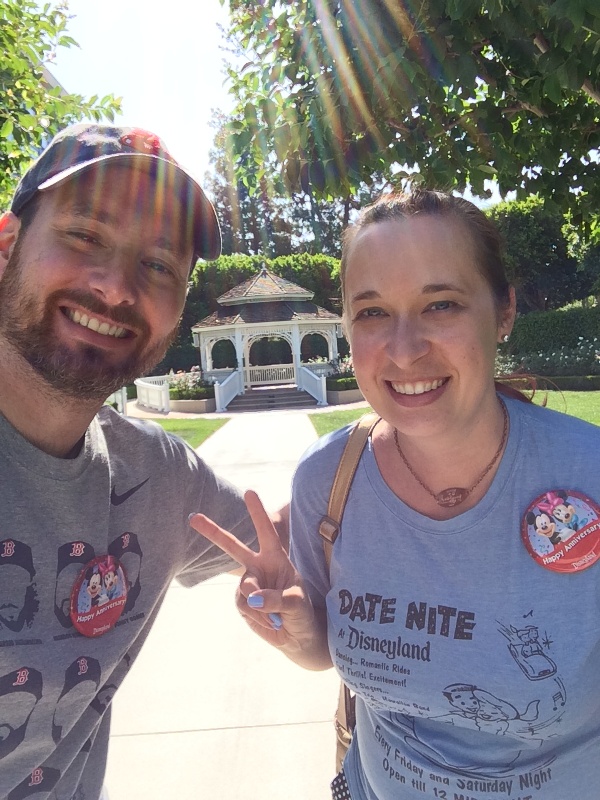 We had a great time at Disneyland, but our actual anniversary on Monday was just as nice! We exchanged gifts – I gave Mr. BFT the cotton print I made, and he surprised me with a mount for our guest book baseball bat! So now we can hang it on the wall and display it. He told me he had a really tough time explaining to his co-workers how a baseball bat mount was an acceptable anniversary present.
For dinner we ate our Blue Bayou leftovers, so it was like having a little piece of Disney at home! We also brought out our wedding champagne flutes and a bottle of Magicale. Sadly I got deep into work and forgot to eat cake that night, but I made up for it with two slices on Tuesday. I wish that was a joke.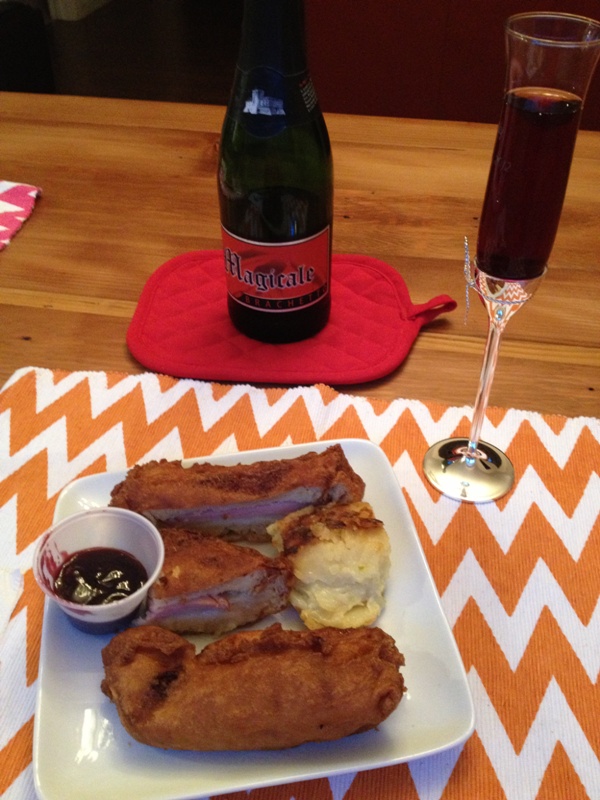 Two years since my dream Disneyland wedding and everything seems to be going wonderfully. Can't wait to see what year three has in store for us.