You may recall Paty and Travis from their creative Mad Tea Party engagement photos. Today we are bringing you their at home Disney wedding!
For the most part their wedding was traditional. But they added some hidden Mickeys and other Disney elements to celebrate their Disney side.
You'll see lots of hidden Mickeys, like on the bride's shoes, garter, bouquet, and ceremony flower arrangements.
Their card box was a treasure chest themed after Pirates of the Caribbean, surrounded by cute Disney themed photos and signs. The programs resembled Park Maps pamphlets and the tables were named after Disneyland attractions, using vintage posters in colorful frames.
Paty and Travis even had Mickey and Minnie wedding ears waiting for them at their sweetheart table!
Last but not least, I spy a Mickey groom pin on Travis' lapel and an awesome gobo on the dance floor. I wonder if their first dance song was a Disney one?
This is probably one of the best Disney themed weddings I have ever seen, either in-park or at-home. Congrats, Paty and Travis! Enjoy your Happily Ever After!
Photography: Jim Kennedy Photographers
Ceremony & Reception Venue: Turnip Rose, Costa Mesa, CA
DJ & Entertainment: Tim Espinosa
These pink glitter shoes are a dream … complete with a hidden Mickey!
This sign is so cute! Get your own similar Disney Couple Names Sign template here.
Paty and Travis also set up a "Be Our Guest" welcome table, where they used "I'm Celebrating" buttons from Disneyland as escort cards! Brilliant! You can even see the guests were wearing them during the reception.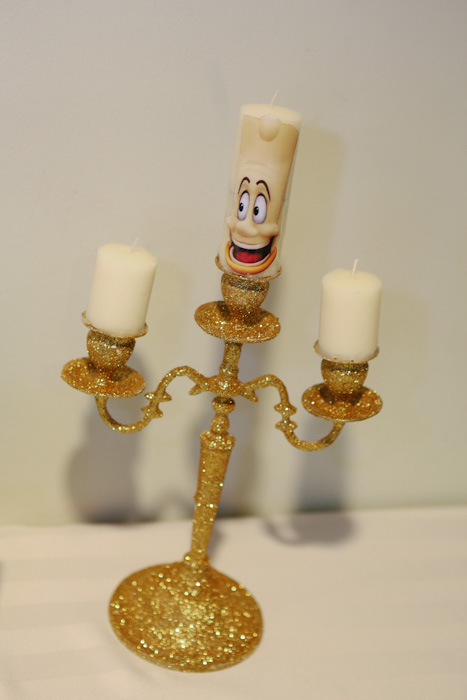 These table names are so clever and simple! Just print out vintage Disneyland attraction posters at home and put them in a decorative frame. You can spray paint the frames to match the poster or your wedding colors!
The cupcake "cake" top tier featured a familiar couple and those Mickey cookie favors look too good to eat. Do the cupcake colors remind anyone else of World of Color? Or just me?
This looks like the party of the year!
What a fun group! Congrats to Paty and Travis on your happily ever after! Thank you so much for sharing the details with us!