Earlier this week I attended the Queen of Katwe red carpet movie premiere at the El Capitan theater in Hollywood! Hopefully you're following me on Snapchat so you saw all the behind-the-scenes adventures. (If not, make sure you remedy that by following me @mindyjoym!) It was a really fun evening, highlighted by a great movie with an inspiring message. I'll do a movie review a bit later, but for now I just want to give you a glimpse of what it's like on the red carpet!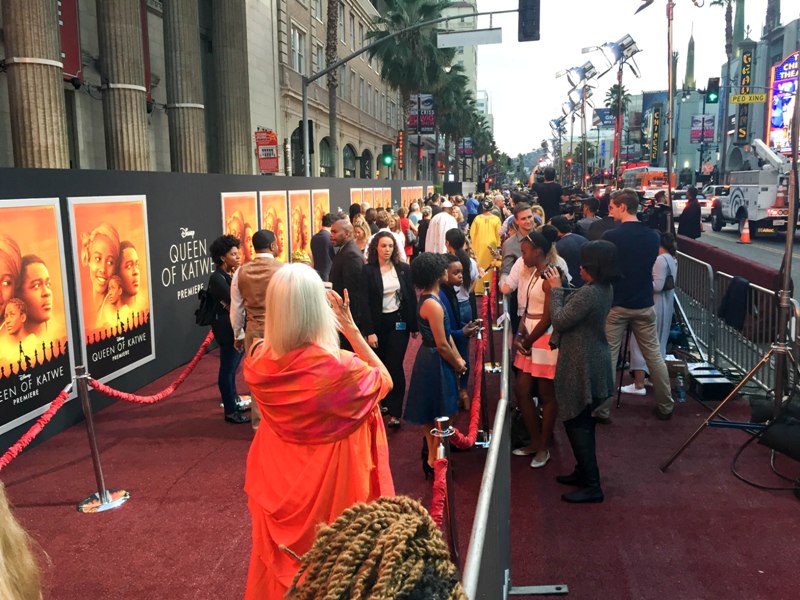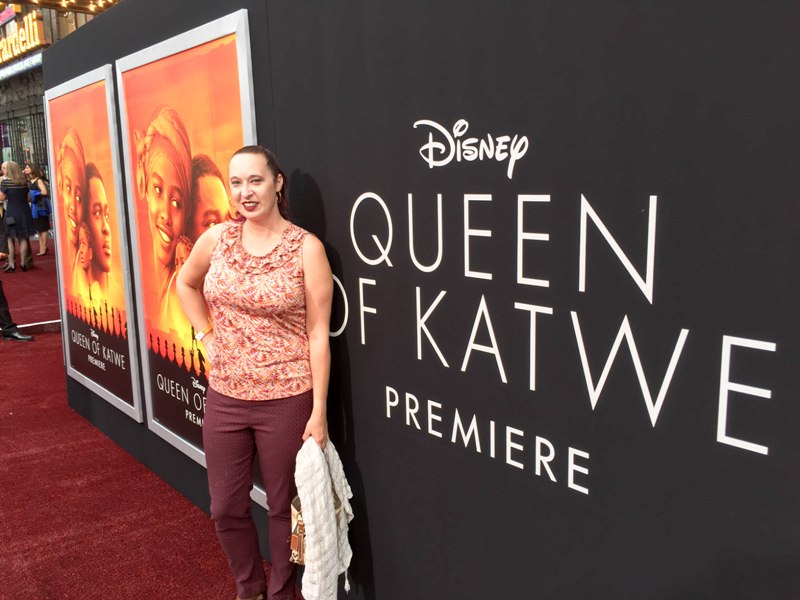 My husband and I arrived on the early side, which means we were ushered into the theater before we had a chance to see any of the stars of the movie. I was hoping to catch a glimpse of Lupita Nyong'o because she's one of my style icons and is so flawless, in general. As I was in the theater I was watching the official Disney Snapchat account and they were showing her arriving and I was like, ::crying emoji:: … so close yet so far.
I want to give a quick shout out to Soular. These solar powered backpacks were on display on the red carpet, demonstrating how they can harness the energy of the sun to power this light bulb. Soular offers a 1 for 1 product. When you purchase one of their backpacks, they provide a solar powered backback to a child in Kenya, which gives them enough light every day to finish their school studies.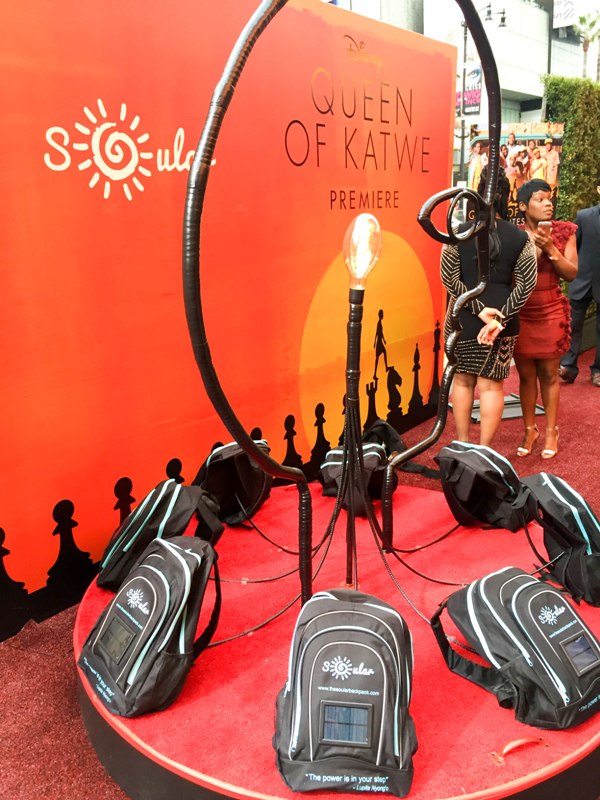 In the lobby of the theater they had some items from the movie on display, including a chess board and one of Lupita's costumes. If you go see the movie at El Capitan this weekend, I'm guessing these items will still be on display!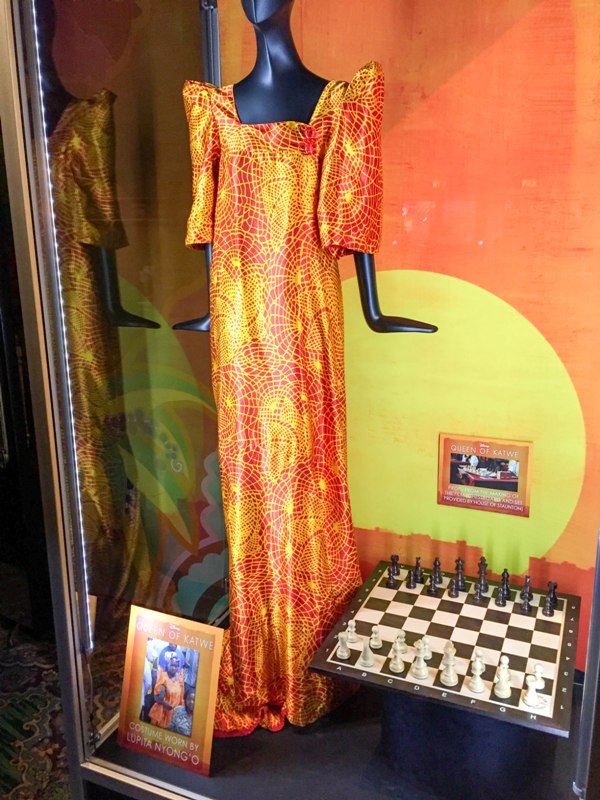 The movie itself was so good; again I'll be doing a full review about the movie so more on that later.
After the movie we were escorted across the street to a private party at the Hard Rock Cafe. As soon as we walked in we were greeted by servers with trays of wine, beer, and champagne. This was my kind of party.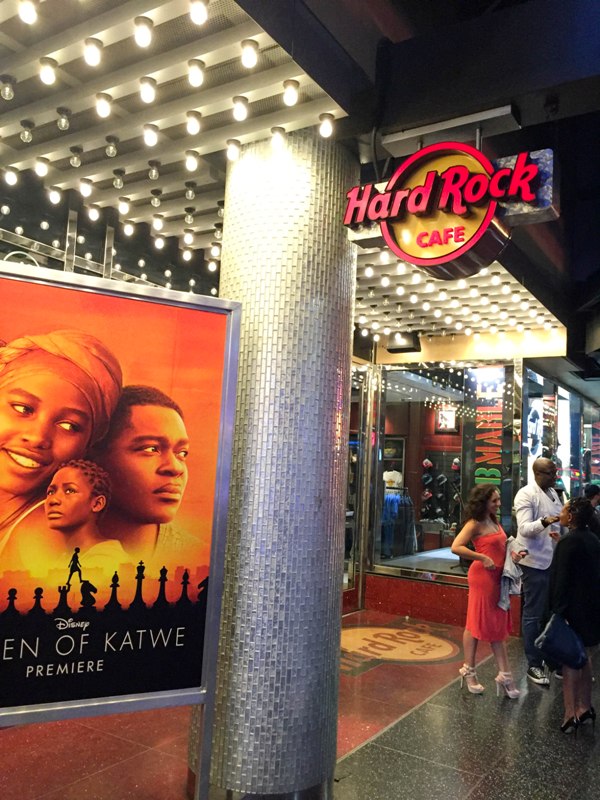 Next we made our way through the crowds of people to the yummy buffet. We had our choice of salads, grilled veggies, sliders, and sweet potato fries. I tried a little of everything because it would be rude not to, right?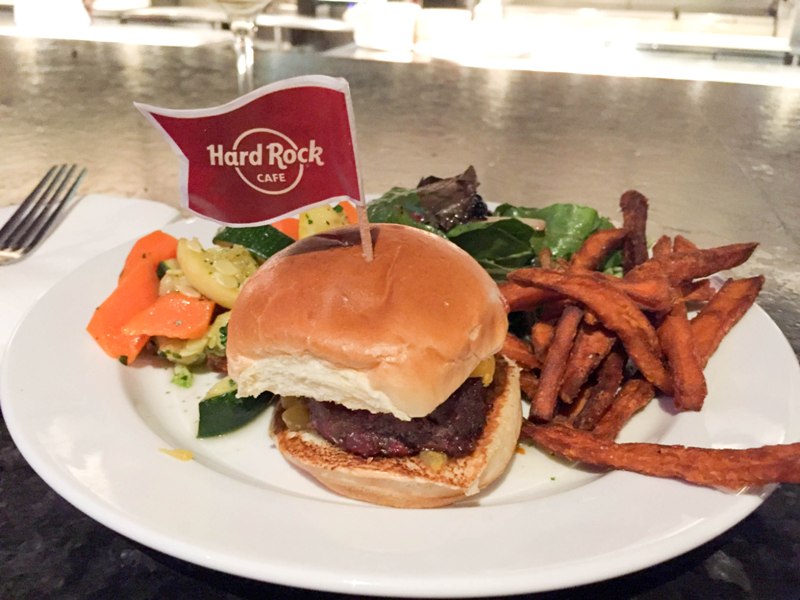 Tim and I found a little section of the bar counter to stand at, and we enjoyed our dinner while talking about the movie. I know most people like to go to "dinner and a movie," but Tim and I generally prefer "movie and a dinner" so we can talk about the movie we just saw over dinner! So this worked out perfectly for us.
After dinner we walked around a bit and made our way to the dessert buffet. We enjoyed an assortment of cookies, mini apple tarts, and cookies and cream cheesecake shooters – which were as amazing as they sound!
After mingling with a couple other bloggers, Tim and I found our way to an empty cocktail table, where we stood while we finished our drinks. Next thing we knew, a dance party was breaking out in front of us! It took us a couple seconds to realize it was led by two stars of the movie – Madina Nalwanga and Martin Kabanza! Leave it to the kids to bring the party!
But if that weren't enough, soon we realized the area was getting much more crowded – it's because Lupita, the goddess herself, had taken to the dance floor! That's her in the light purple in the center.
I would have loved to had a moment with her but it was impossible. She was surrounded by an entourage that included a bodyguard that was AT LEAST 7 feet tall. You can see him in the picture above; he's not hard to miss. So I settled for a far-away selfie.
After a few minutes of dancing Lupita was whisked out of the room (we couldn't see her but could track her bodyguard's head through the crowd), and we left shortly thereafter because, how can you top that? I can't believe I was just a few feet from Lupita!! What a fun night.
Here are some official photos from the premiere, including some of the dance party I witnessed!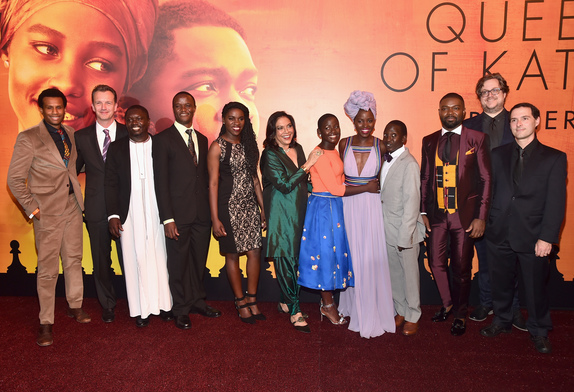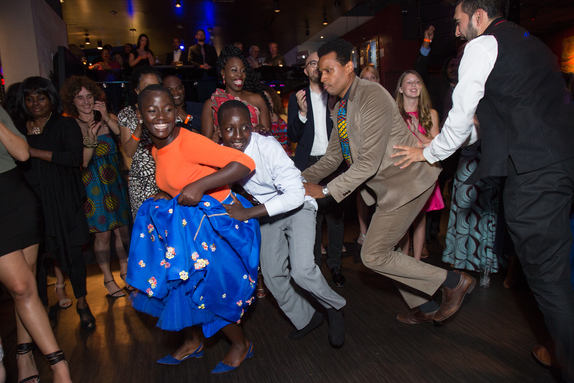 Thank you Disney for another fun party. Queen of Katwe is beautiful and I suggest everyone go out and see it. It opens in limited release on September 23 and full release on September 30. A wonderful and inspiring movie, especially for young (pre-teen and teen) girls.