This post contains affiliate links.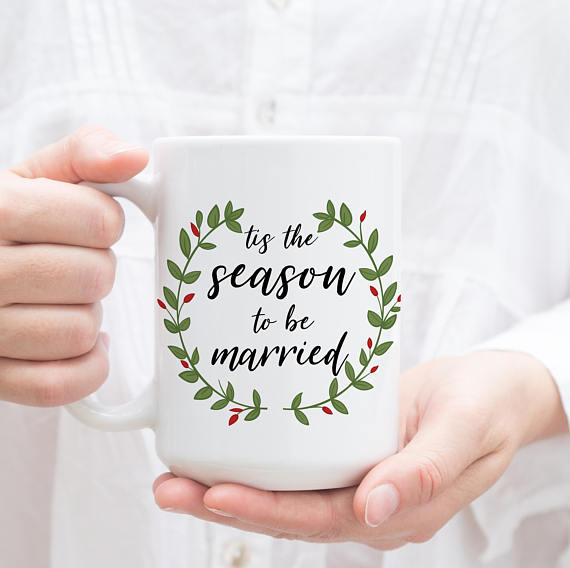 Tis the Season to be Married mug by MilkandHoneyLuxuries on Etsy
Disney Bride Jamie is planning a Disneyland wedding at the Rose Court Garden and Sleeping Beauty Pavilion for February 2018.
Every once in awhile right in the middle of the holiday season … a bride finds herself planning a wedding.
***
We are planning for our Disneyland wedding in late February. At first I was super intimated about planning our happily ever after during the hectic holiday time but I have found a way each month has helped us plan and saved us money. Disclaimer: Planning a wedding during the holiday season is hard and takes a lot of organization and caffeine.
Planning a Wedding During the Holidays? Here are Tips to Save Your Budget and Sanity
October
Halloween is costume and candy time. Things can get spooky this time of year but heading into planning became Spooktacular when I took advantage of this time because of all the sales on decorating items. I noticed there were a lot of sales on things that aren't even Halloween related. I bought tealights, candles, lanterns and flowers for bouquets making. We saved a bunch with pre-Christmas sales and last season summer items. I had to balance my time with Halloween festivities and DIY wedding crafting. Thankfully I had enough candy to have a sugar rush during the long nights of crafting.
November
Here's where it is starting to get tricky. Not the planning … I'm talking about my waistline! (LOL) Between all the great holiday food and candy, I have to remember to portion control and up my exercise so my wedding dress still fits in February. In November my shopping focus has been on wedding accessories. I have noticed a price drop in jewelry, shoes, and – since I am getting married at Disney – I am playing up the fairy tale princess theme a bit. I found beautiful tiaras and hair accessories that fit my theme had dropped in price. Maybe it was the fact that Halloween just ended or that Christmas and holiday parties are just around the corner, but it was a great time to get all the sparkly items to deck out me and my wedding party.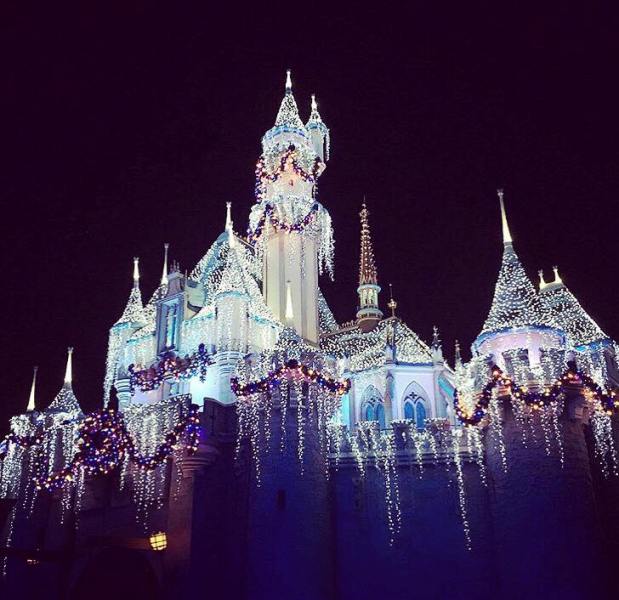 December
With Christmas around the corner, this will be the ultimate balancing act. For me, I am a mother first. That being said, we all know the fine balance between Christmas magic making and now wedding planning that I will endure. For those who know me, I apologize now. For this month most of my focus will be on family, friends, and festivities which means I will have to have my "A game" on when it comes to wedding planning. Most of my funds for this month will be sucked up with my Christmas budget and my oldest daughter/ maid of honors birthday. Early in December I will be having my bridal shower, too. My bridesmaid Ashley and maid of honor/ daughter Hannah are throwing me a holiday-themed shower at my house. I am so excited my house will already be decorated for Christmas so that makes things easier! We will be serving brunch and doing a make your own mimosa and Bloody Mary bar. So my savings for my wedding this month will be on decor for my shower since I own it all. Tie in your festivities with the holidays and save on decor … even Santa would be impressed!
January
The new year brings new hope and more planning – this is my crunch time! Two months before the wedding and I am hoping to pick up all those last minute items. I cant wait to see all the after Christmas sales! I also am going to refocus my health regime and start my paperwork of marriage license, name changes, etc. At the end of January, my girls and I will be back at it again for my bachelorette party. We plan to doll up all dapper and hit the town!
February
Awww, the month of love. I am very excited for this month because I am getting married in February!!! In the month of love I will be getting my last little things. Our wedding colors are wine & grey with hints of pink and lots of metallic such as silver, gold and rose gold. I am hoping the colors of the season will be on sale. Also in this month (mom don't read this – LOL) I will be buying my honeymoon attire. I will be taking advantage of all the Valentine sales taking place right before our wedding. In early February I will also be trying to focus on preparing for the wedding with loving on myself a bit with some self-care treatments and spa time, so I am nice and relaxed on our big day.
Has anyone experienced wedding planning crunch time during the holidays? What are your tips?
Comments
comments