This is a sponsored post. The company who sponsored it compensated me via a cash payment, gift, or something else of value to write this. This post also contains affiliate links. I only recommend products or services I use personally and/or believe will be good fit for my readers.
It's mid-December, and it never fails … I'm trying to do too many things at once and my brain feels like it's going to explode! This #girlboss life is no joke, but I'm learning as I go along. A big thing for me this year was doing my best to stay organized. For some reason I can keep my personal belongings all neat and tidy but when it comes to work I am all over the place, and it really takes strong effort on my part to keep some sort of order in my business. Even if you don't run your own business, do you have trouble remembering what to do and when? Or trouble remembering what day it is? Sound familiar? If so, you may just need a few handy-dandy organizational tips. Here are a few things that have saved my sanity this year!
Tips for Staying Organized in the New Year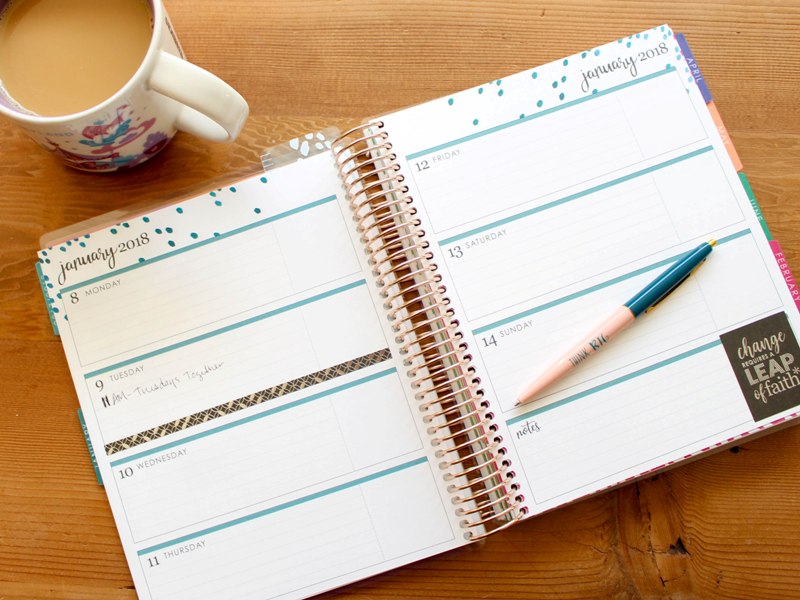 1. DO LESS. One of the best things I did for myself this past year was say "no" more often. I feel like I really wear myself thin sometimes, with so many places to go and people to see. I slowed down this year and did more things for me. I meditated and did yoga nearly every single day. I built up my strength with more run-walking and weight training. I read more books. I signed up for less free business education webinars and did more of my own creating. I said "no" to the people and things that didn't serve me in a positive way. And I feel much better for it.
2. PURGE. As you know, this past year I started designing and selling shirts, and I bought a few of my designs to wear and photograph. Between that and the LuLaRoe Disney collection my closet became stuffed. Every time a new shirt was delivered and every time I did laundry, I felt so stressed out. Finally I did a huge purge of my closet. I got rid of the things that didn't fit me right, or designs and patterns I've outgrown. Now in the morning I know whatever I grab to put on will be awesome. You're in your closet and dresser drawers every day, so keep them organized and you'll feel so much better.
3. TIDY UP YOUR DESKTOP AND PHONE. I remember last year when I ran out of hard drive space on my laptop. Every day, I was pulling out an external drive and transferring files. Finally I bought a new hard drive and docking station and set up a permanently-connected external hard drive and my life changed. Transferring old files and pulling up random old files became much easier. I also created a system of folders for my desktop that contained two categories – Work and Home. Everything goes under those two files instead of all over my desktop. The same thing goes for apps on your phone. Clean up the ones you never use, and put your most-used apps towards the front so you're not scrolling through searching for them every time.
4. WRITE STUFF DOWN. (I really wanted to say "WRITE S*!% DOWN" but I try my best to keep this blog PG. So if I'm cursing, you know I'm serious.) If something is not on my calendar, it doesn't get done. I use my Google calendar sometimes but I *LOVE* my paper planner. I've been using one for years. For 2018 I'm trying out the Erin Condren LifePlanner and I'm loving what I see so far.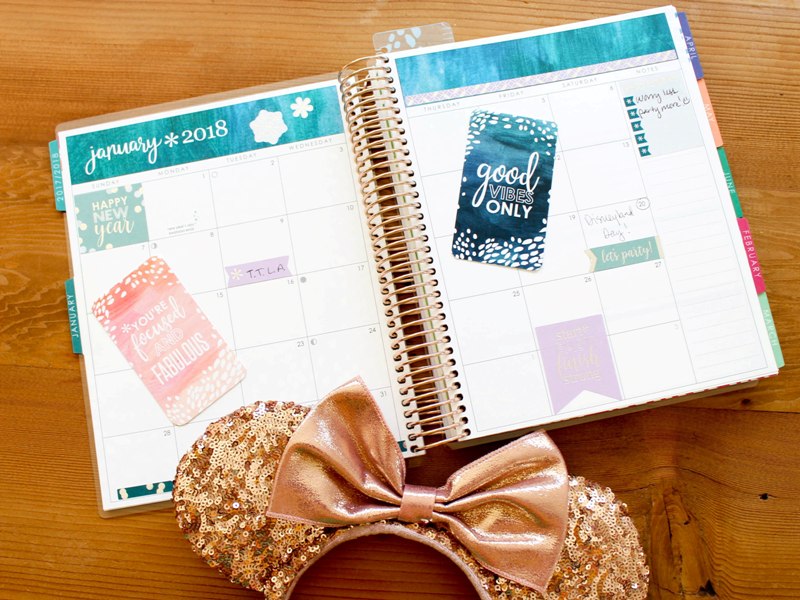 First of all, can we say gorgeous?!? There are lots of rose gold designs this year and they match my ears, so you know I love it. And it comes with free personalization for the cover, which just gives you an extra sense of ownership and pride regarding the notes you're jotting down inside. (Oh, by the way, most covers are interchangeable, which means you can swap it out for something fresh mid-way through the year or change the cover to match the current season or holiday!)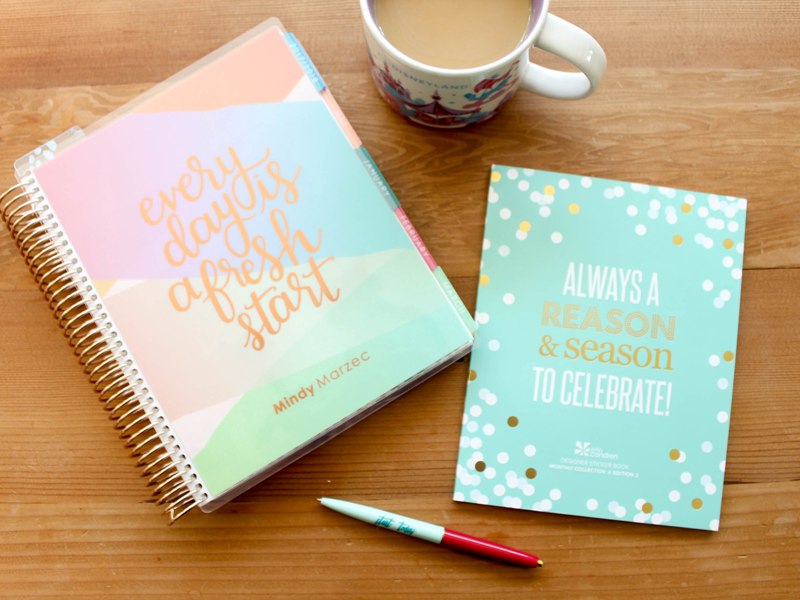 There are three calendar layouts to choose from – Horizontal, Vertical, and Hourly. I chose the Horizontal layout so I can write out long notes.
You can also choose a colorful or neutral color scheme … of course I chose COLOR! Every month represents a fun new color, just a little something extra to look forward to every month.
The planner comes with some of the standard things you'd expect … a year-at-a-glance calendar, blank pages for notes, etc. But the Erin Condren LifePlanner has some fun extras, like motivational quotes, a place to write out goals, TONS of fun stickers, and even a couple coloring pages!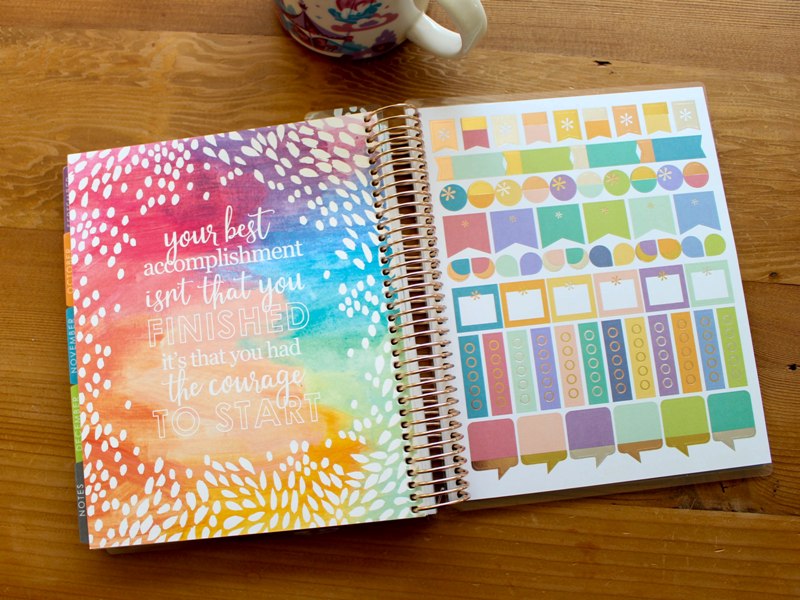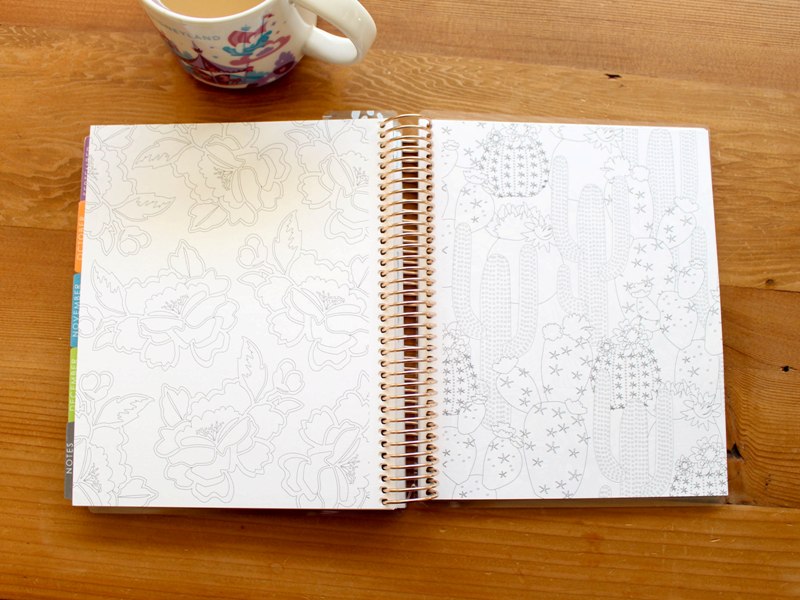 Every planner also comes with a bonus pouch of fun surprises, including compliment cards, gift tags, and coupon codes for your next purchase. You can also clip the pouch to your planner for some extra storage for recipes, stickers, or pens!
Speaking of stickers, the cute stickers are part of the fun of using an Erin Condren LifePlanner! I picked out the Monthly Collection Designer Sticker Book, which has a page of stickers for each month of the year. Who knew staying organized could be so adorable!
If you need a new paper planner, it's not to late to order your own Erin Condren LifePlanner!
***
I hope these suggestions help you get organized for the new year. It's so much easier to stay organized when you have a clean space and fun accessories to help you out!