This is a partnered post with CK Mondavi and Family. All opinions are 100% mine. Search #PairnPost on Instagram and Twitter for more recipes and wine inspiration!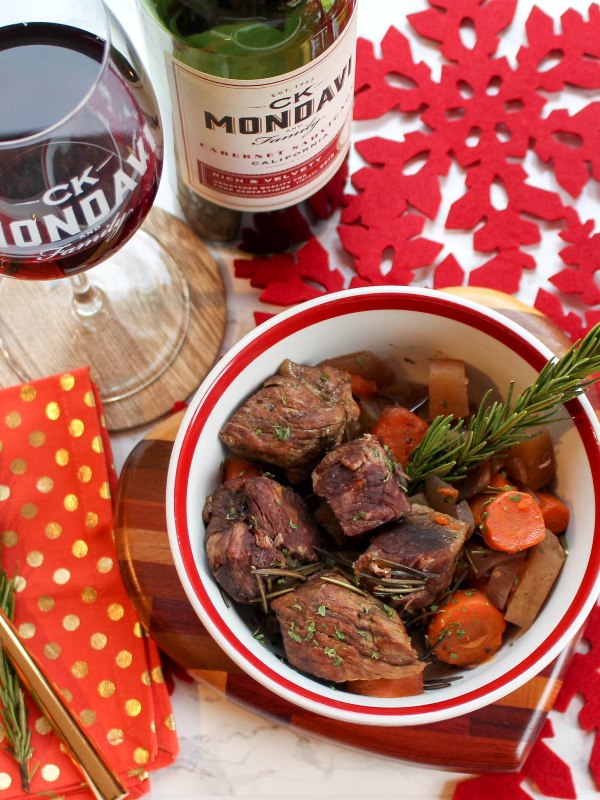 When winter comes around, the slow cooker becomes my best friend. I've made many a recipe in this appliance, but before now I had never prepared one of my favorite dishes – roasted lamb. I've had some of the best lamb dishes at The Disneyland Resort and I knew whatever I prepared at home probably wouldn't compare but I have to say I was pleasantly surprised with how this came out. I think my secret ingredient – a cup of CK Mondavi and Family Cabernet Sauvignon – helped a lot. Don't forget to pour a glass to pair with this recipe, too, because a full-bodied cab goes perfectly with this hearty lamb dish.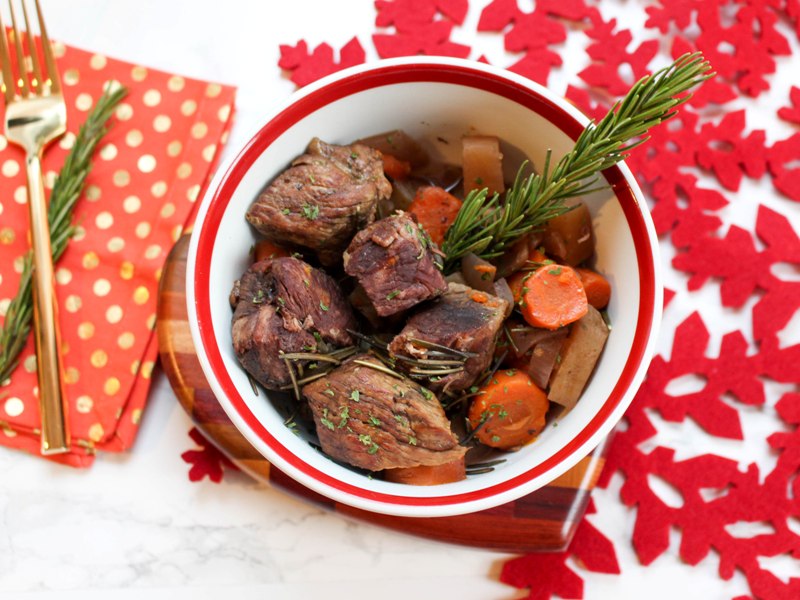 Slow Cooker Garlic Rosemary Roasted Lamb
Ingredients:
1 pound (approx) lamb loin chopped
3-4 medium sized gold potatoes
6 carrots
1 yellow onion
1 cup beef broth
1 cup red wine (I like CK Mondavi and Family Cabernet Sauvignon)
3 garlic bulbs
3-4 sprigs of rosemary
Olive oil
Directions:
1. Grease the slow cooker insert with cooking spray.
2. Chop the potatoes, carrots, and onions into bite size pieces and place inside the slow cooker. Mix well.
3. On the stove, heat up a little bit of olive oil in a frying pan over medium heat. Place the chopped lamb into the pan and keep turning until the lamb pieces are browned on all sides. This should only take a minute or so.
4. Turn off the stove and transfer the lamb to the slow cooker, laying on top of the veggies.
5. Mix 1 cup beef broth and 1 cup red wine and pour evenly on top of the ingredients in the slow cooker.
6. Add salt and pepper on top of the ingredients to your liking.
7. Peel the garlic bulbs and chop the "tip" of the bulbs, exposing the garlic cloves. Nestle the 3 bulbs inside the slow cooker on top of the ingredients.
8. Arrange the rosemary sprigs on top of the ingredients.
9. Cook 6-8 hours on LOW or 3-4 hours on HIGH.
10. When done cooking, carefully remove the garlic bulbs and the rosemary and discard. You can add loose rosemary leaves to the dish if you like.
Stir everything well and transfer to a plate or bowl. Personally I discovered I liked to eat this dish in a bread bowl. It's kind of like a stew except it's not thick; however you can thicken the leftover sauce by heating it in a saucepan with a little bit of flour or cornstarch.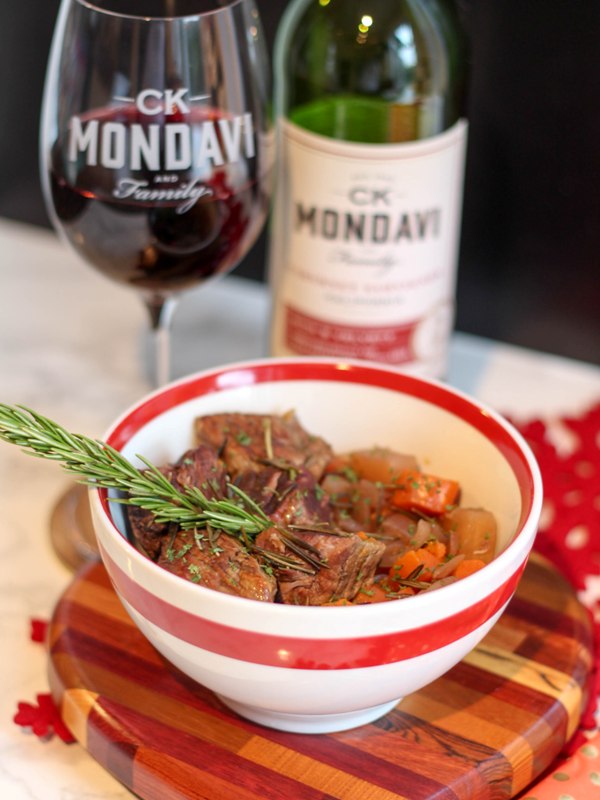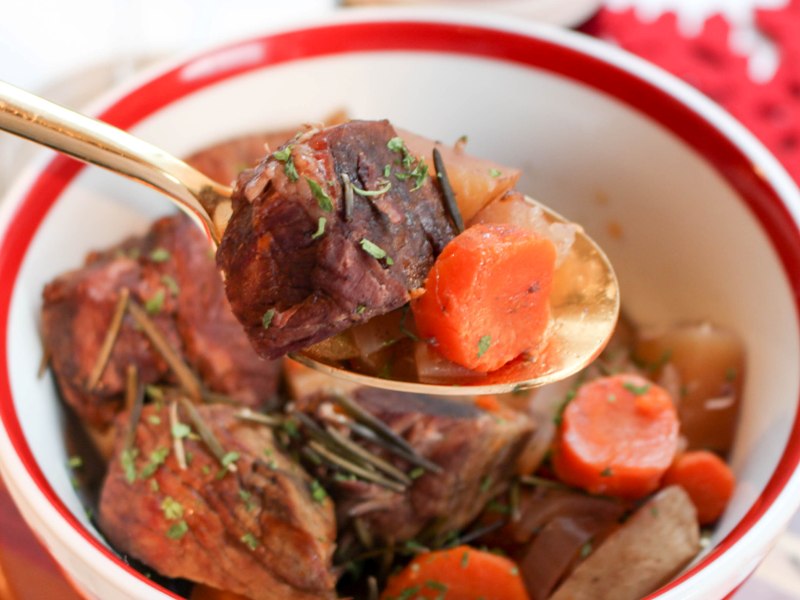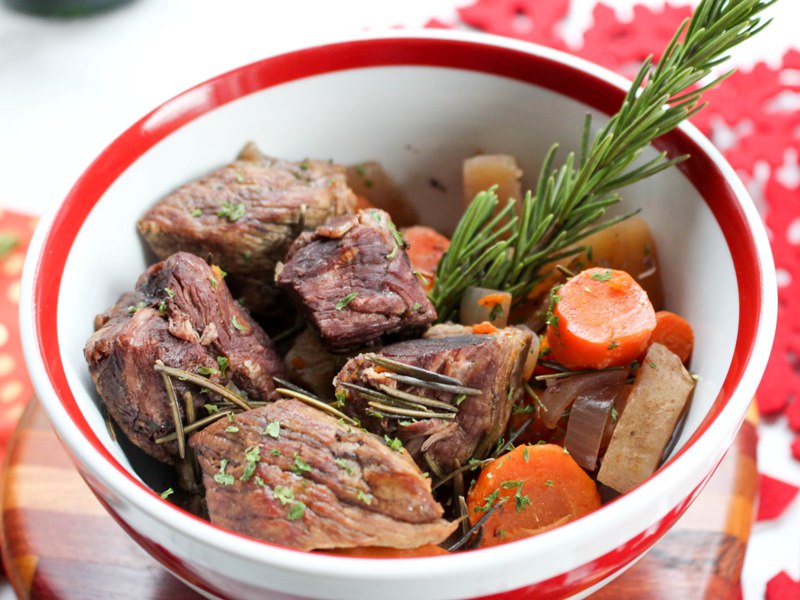 This is the perfect dish for a chilly evening! I can't wait to make this one again.
Thank you CK Mondavi and Family for sponsoring this post. Follow CK Mondavi and Family on Facebook, Twitter, and Instagram.