¡Ole! Cinco de Mayo is coming up so I thought I'd make a pair of festive pinata Mickey ears to wear in Mexico. Yes, that's right, I'm spending Cinco de Mayo in Mexico! I'm also going to take these ears to Epcot next week to wear while I'm sipping margaritas in fake Mexico. Now, the name of these ears is a little misleading, because it's not an actual pinata, so try to explain that to anyone who appears to be coming at your head with some kind of whacking stick. To make these ears, I used the same fringed tissue paper method as my Mickey and Minnie pinatas (and those ARE actual pinatas, if that is the sort of thing you are searching for). I totally love how they came out! Even my husband commented on how colorful they are. And I said, "Good, because you are the one who has to stand beside me while I wear them in Mexico!" That guy … what a trooper. Anyhoozle, I hope you enjoy my latest ears tutorial!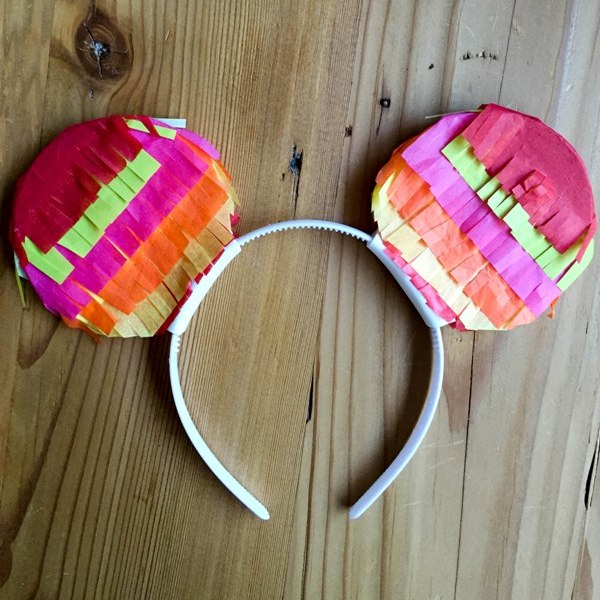 Pinata Mickey Ears
Supplies
Bright colored tissue paper (4 or 5 colors – I used red, pink, orange, yellow, and green)
Scissors
Glue stick
White plastic headband
White craft foam
Hot glue
Steps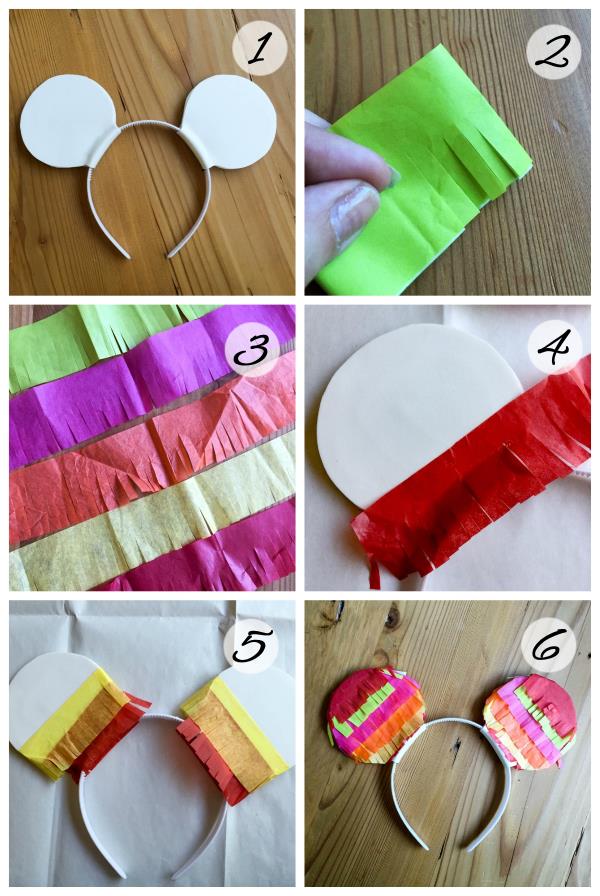 Step 1 – Cut your mickey ears from foam and glue them to the headband. See this post for detailed instructions and ears template.
Step 2 – Choose four or five colors of tissue paper. Cut off a strip about an inch and a half thick, and about two feet long. For each strip, fold it over several times until you have about four layers. Use scissors to cut fringe, about half way from the bottom.
Step 3 – Repeat Step 2 for all the colors. When you unfold them, you should have long pieces of tissue with fringe all along the bottom!
Step 4 – Use the glue stick to apply a strip of fringe to the bottom of your foam ears. Just glue the solid part, NOT the fringe part. Start on one side, then wrap around the other side of the ear and glue down. Cut the excess tissue and then glue down the ends.
Step 5 – Going up the ear, continue adding different colors of fringe tissue. The fringe should be positioned so about half an inch of the below fringe is peeking out.
Step 6 – Once you've covered the entire ears, trim any excess fringe from around the bottom and sides of the ears, so you can once again see the round shape.
Wear your ears while stuffing your face with tortilla chips and salsa! Enjoy!