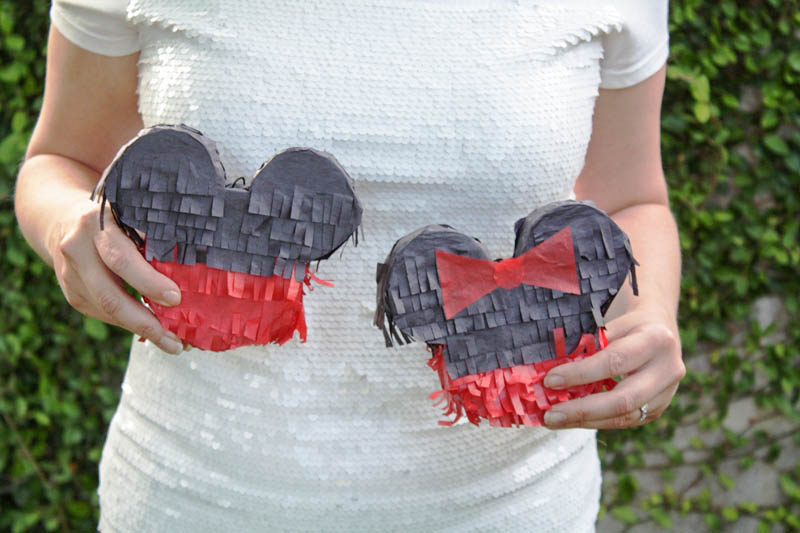 Ole! Everyone loves a party, and you can't have a party without a piñata! So this year I thought I'd try my hand at making my own!
I've seen them a million times on DIY blogs, so how hard can it be?
Well, it's not exactly HARD but these suckers took a lot of time. So if you have the patience and a free afternoon, you can have an adorable Mickey Mouse piñata of your own.
And it's easy to make a Minnie piñata by just adding a tissue paper bow!
How will you celebrate with these piñatas?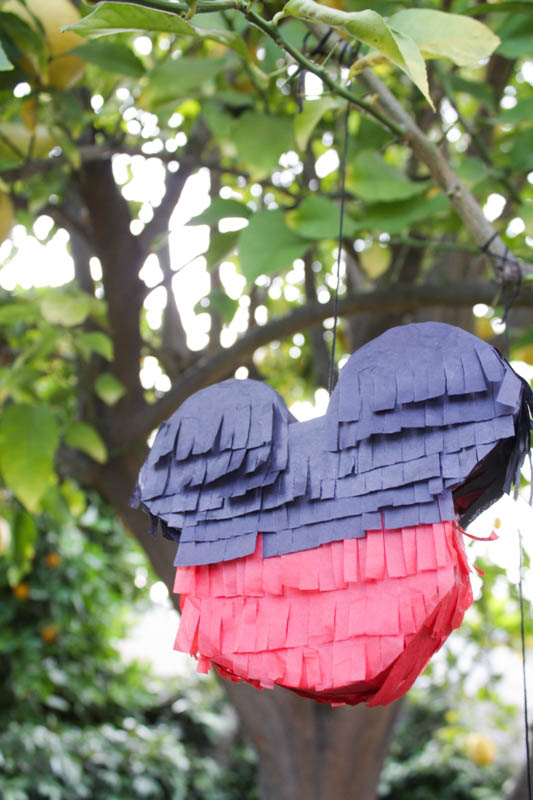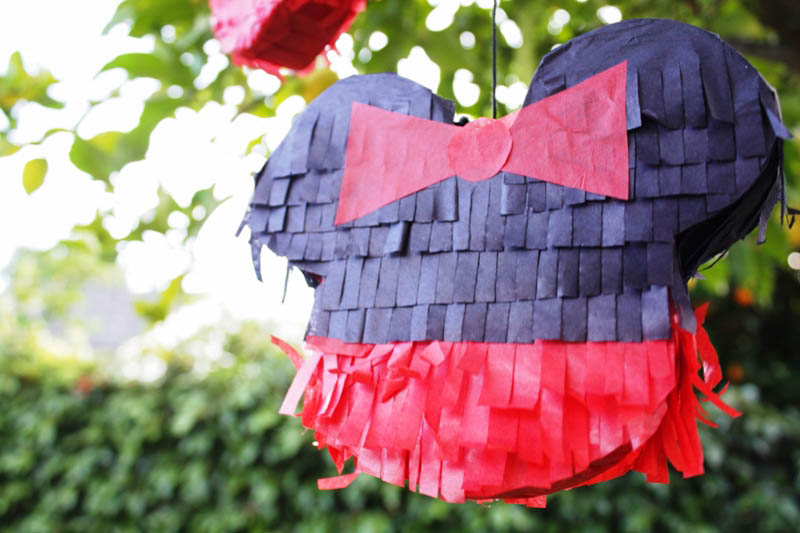 Make Your Own Mickey Mouse Piñata
This article contains affiliate links, which means I may earn a commission if you make a purchase.
Supplies
Cardboard
Thin cardboard from cereal or frozen pizza box
Black and red tissue or crepe paper
Scissors
Glue stick
Masking tape
Mickey head template
Black thread
Candy (optional)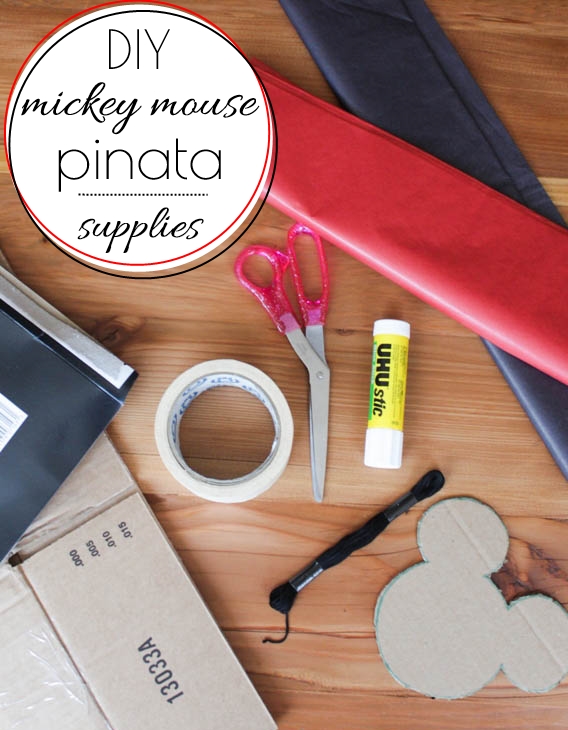 Steps
Step 1 – Using your Mickey head template, cut out two shapes from the thick cardboard. Here is a template you can use. You'll need to enlarge this to get to your desired size. I did this by importing the image into MS Word and playing around with the size.
Step 2 – Cut a 1″ – 2″ strip from the thin cardboard. Using the masking tape, tape it along the edge of one of the Mickey cardboard shapes. You can be as messy with the tape as you need to be, because all of this will be covered by crepe paper!
Step 3 – Tape the second Mickey cardboard shape to the thin cardboard, leaving a flap at the top for candy. You should now have a Mickey shaped box.
At this point, if you want, fill your piñata with candy, then tape the flap closed.
Step 4 – Tape a piece of string to the top of the piñata (between the ears).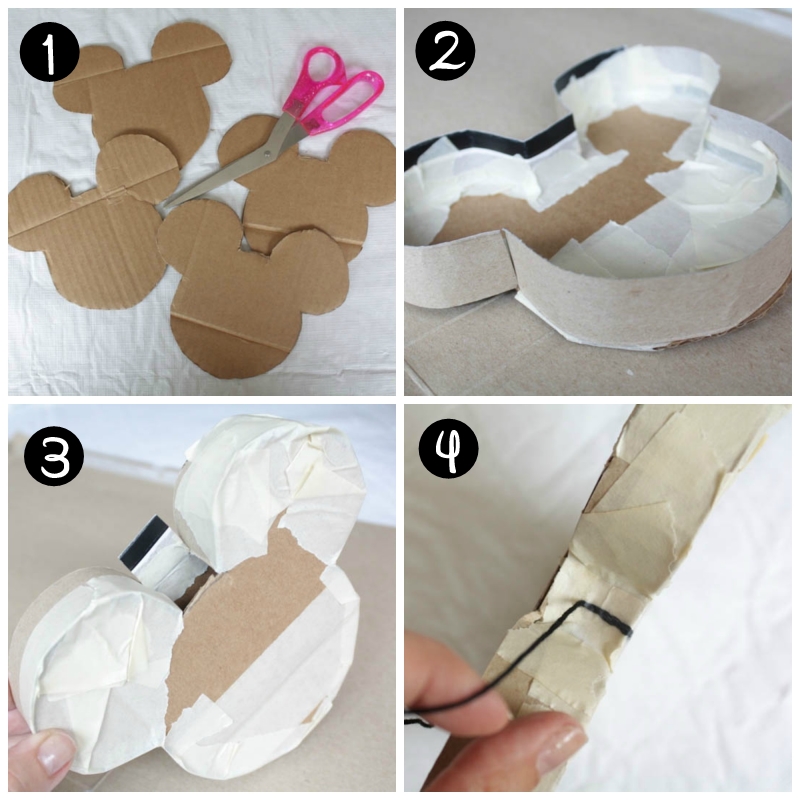 Step 5 – Cover the bottom of the Mickey box with red tissue paper (below the ears) and the top with black tissue paper. Again this can be messy because the majority is going to be covered with fringed tissue paper. Don't cover the string! make sure you tape the paper down around it, but not on top of it.
Step 6 – Now we are going to cut some fringe strips of tissue paper. If you're using new tissue paper, it's probably already folded lengthwise. Leave it folded lengthwise and cut a 2″ – 3″ strip off the end.
Step 7 – While your strip of paper is still folded, use your scissors to cut fringe. When you're done, unwrap the paper and you should have several strips of fringed paper.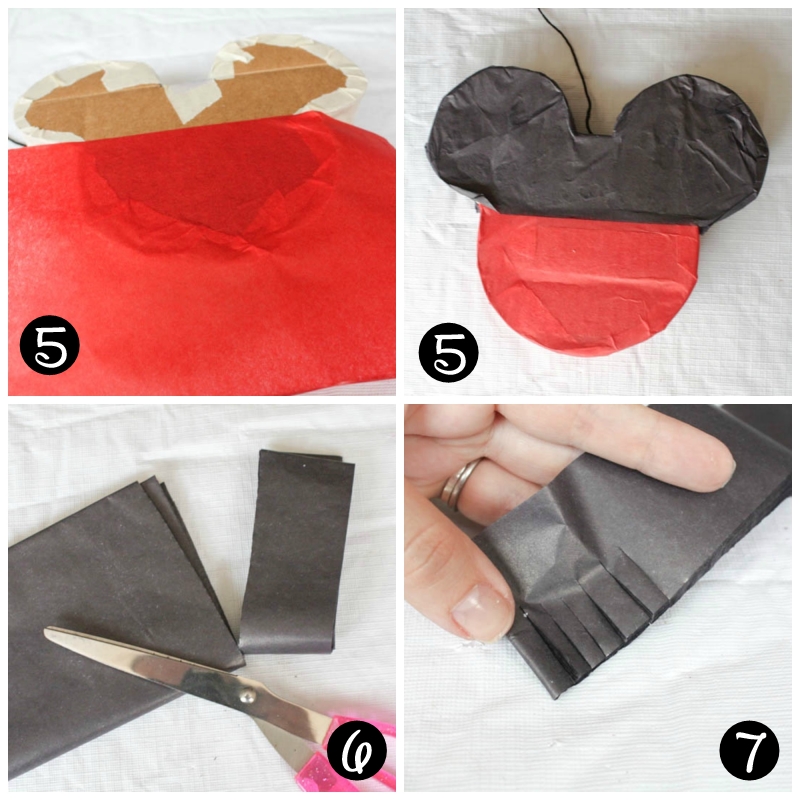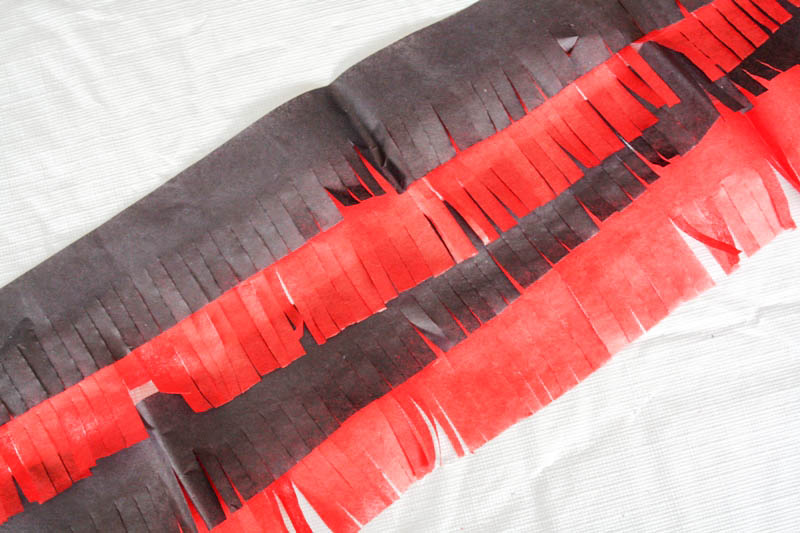 Step 8 – Use the glue stick to apply a strip of red fringe to the bottom of your piñata. Continue until the red section is covered.
Step 9 – Use the glue stick to apply the strips of black fringe to the top of your piñata. The ears are a little tricky!
Step 10 – Trim the edges of the fringe along the Mickey shape. Like a little haircut!
Step 11 – Add small strips of fringe along the side of your piñata.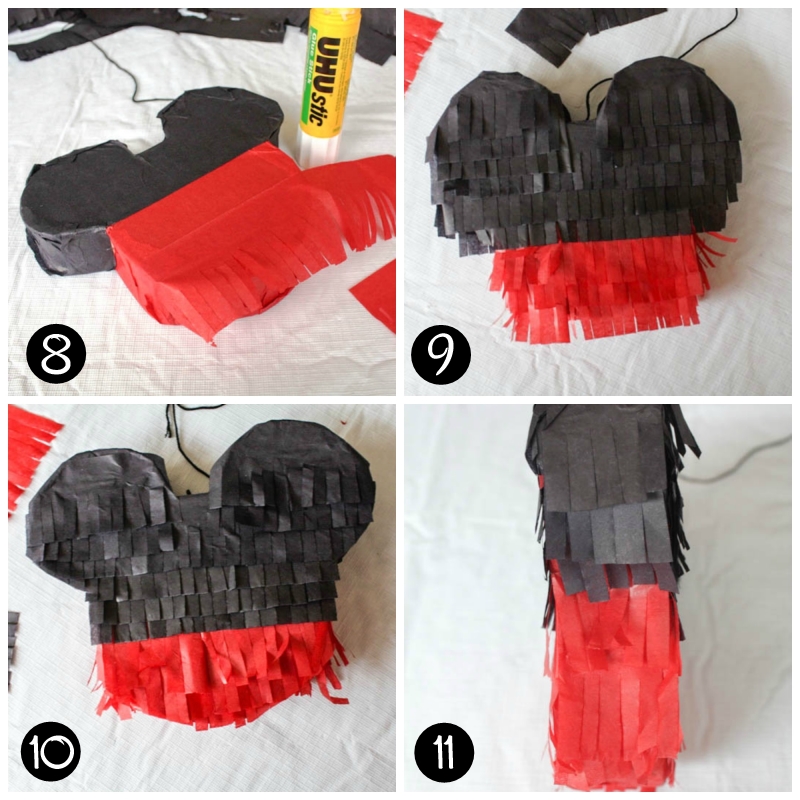 Step 12 – To make a bow for Minnie, fold a piece of tissue paper in half and cut a skinny triangle, leaving it connected at the fold. Unfold and you will have a bow shape. Cut out a small circle (I used the glue stick cap as a template) for the center of the bow. Repeat so you have two of each. Glue the bow to the piñata in the center below the ears. Glue the circle in the middle of the bow. Repeat on the other side.
Hang your Mickey Mouse piñata outside. Enjoy then destroy! Although these guys may be too cute to smash.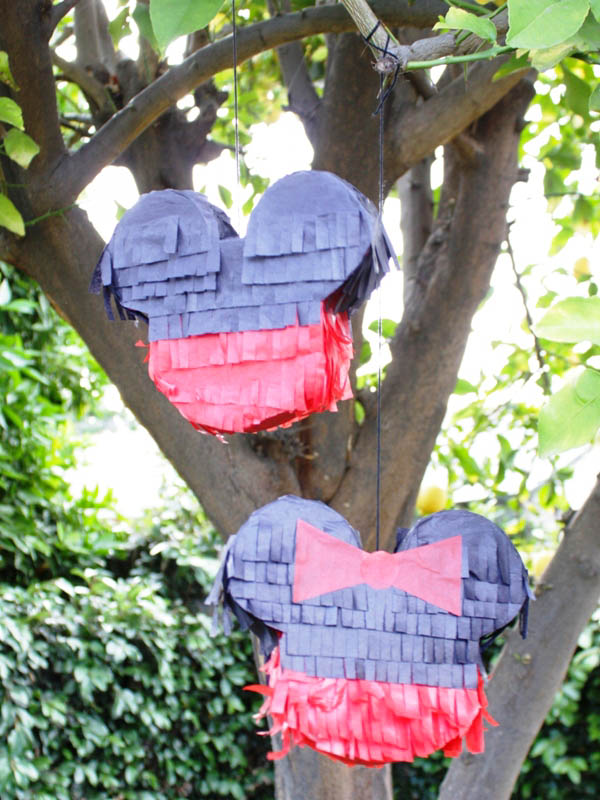 Some ideas for using a Mickey Mouse piñata or Minnie Mouse piñata:
Birthday Party
Graduation from Kindergarten or Elementary School
Baby Shower
Back to School celebration
Halloween or Christmas
No special occasion needed!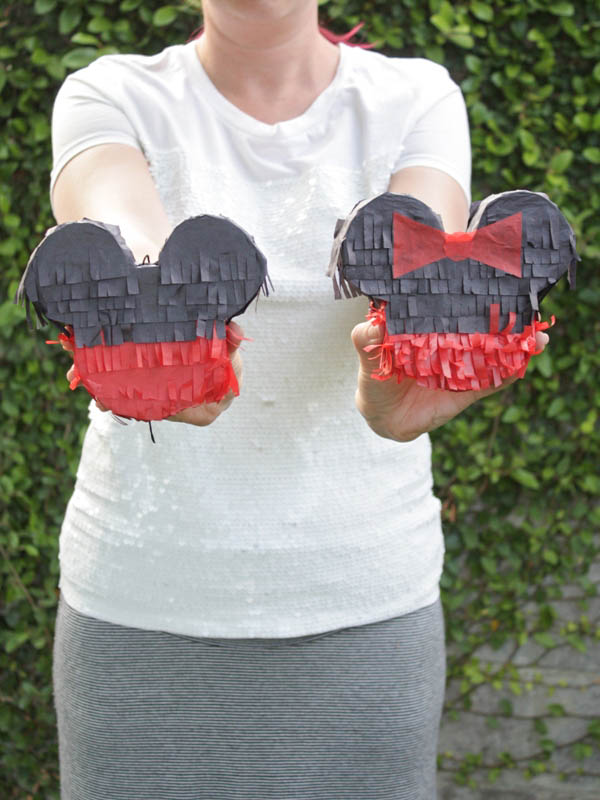 How will you celebrate with your Mickey Mouse piñata?