This post contains affiliate links.
I love when my Disney wedding friends have Disney babies! Jenifer and I planned our Disney weddings "together" even though I was married in California and she was married in New Jersey. I loved watching her wedding plans unfold, then seeing everything in action at their Little Mermaid themed wedding, and now their family is expanding! Jenifer and David have been putting together a Peter Pan baby nursery with tons of fun details. Their little baby is already so lucky! See how many Disney items you can spot …
Jenifer and David made this Peter Pan mural by having a large sticker printed, then carefully adhering it to a wood backing that sits a couple inches away from the wall. The entire mural is outlined with rope lighting, so it also acts as a nightlight! Then the framing was applied to hide the rope lighting from view. It's a beautiful focal point of the nursery!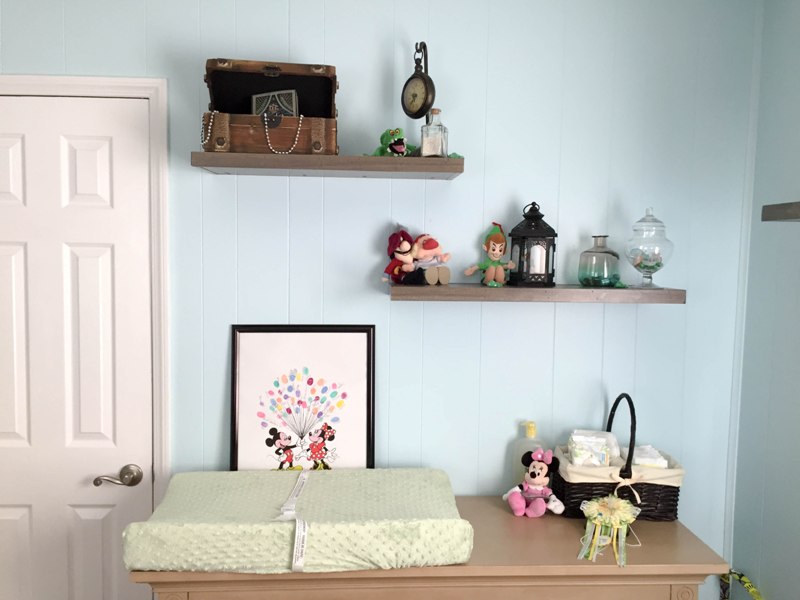 Lots of fun Peter Pan details sit atop the shelves above the changing station, including Peter and Hook plushies, a clock, a lantern, a jar of pixie dust, and a treasure chest. The Mickey and Minnie thumbprint guest book from Jenifer's baby shower is from SpecialPrints on Etsy.
The glider is decorated with a baby Dumbo plushie and a custom pillow from Ena's Bazaar on Etsy. The quote, from Peter Pan of course, reads:
"You know that place between sleeping and awake, that place where you still remember dreaming? That's where I'll always love you."
The sex of the baby will be a surprise, so they kept all the color palette gender neutral with pastel yellow and green.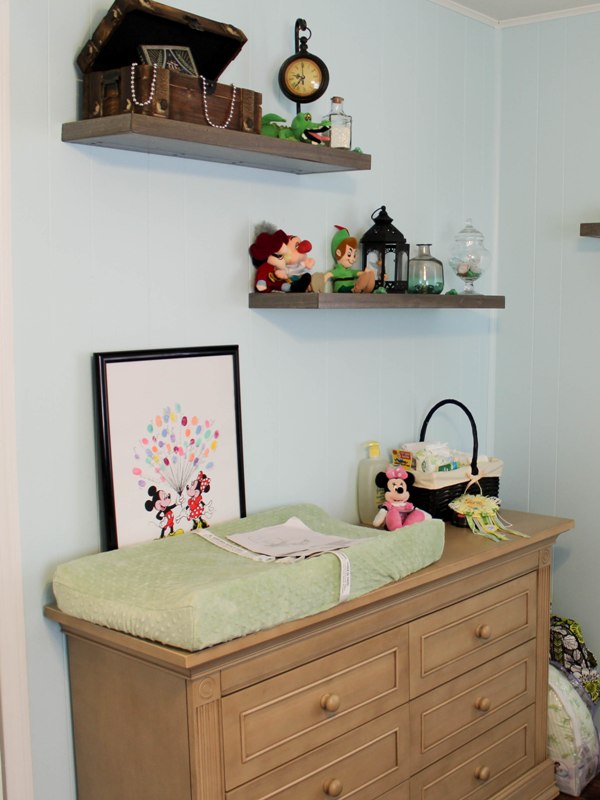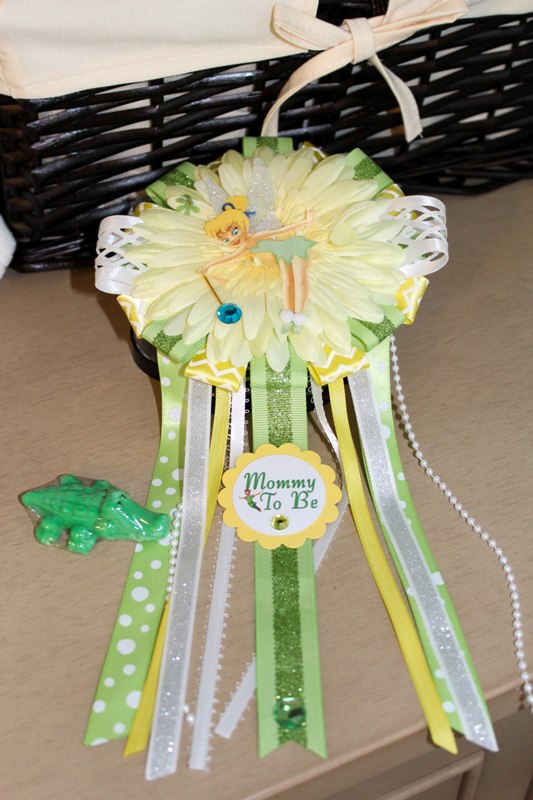 Do you see this cute Peter Pan crib bedding? It was made by Ena's Bazaar on Etsy. (Note – Unfortunately it appears this Peter Pan fabric is no longer available, but feel free to still reach out to Ena's Bazaar. She does a lot of custom orders and has access to a lot of cute Disney fabric – if you have an idea, send her a message!)
Last but not least, the Fab 5 (plus Daisy) are looking over baby from a shelf. Nothing beats the classics!
Thanks for sharing your Peter Pan nursery details with us, Jenifer!